Travel – O Fair New Mexico

While I have heard many people talk of visiting The Land of Enchantment for the shopping, art galleries, historical churches, and perusing items available at craft shows or the items available from the local Native American artisans, when I think of visiting the Albuquerque/Santa Fe area my thoughts turn to two of my favorite activities: golf and casino gambling. Though it is true that the area is rife with turquoise garnished items of jewelry, multiple galleries, and specialty shops, there is also plenty of what I consider to be above average golf courses and a plethora of establishments within a close drive willing to entertain your wagers in games of chance if you are so inclined. 
Albuquerque is a short flight from the DFW metroplex, and the drive can easily be made in a day if you prefer to load up your sled and make the trip west with your buddies and clubs. While a little over 600 miles is a full day, it isn't bad, and you will have the convenience of a vehicle at your disposal and no worries about your sticks being lost or damaged in transit. Regardless of how you choose to travel, you will require lodging for your stay. I know there are plenty of hotels available that can accommodate you, I have no doubt there are also a good variety of VRBO or Airbnb options. 
My personal preference would be to set up home base at one of the two casinos at the opposite ends of town. My choice would be the Sandia Resort and Casino located right off of Interstate 25 on the north edge of town, but if you prefer Isleta Resort and Casino at south end of town about a mile off of the same Interstate, I won't quibble with your choice. One note to consider, while the first two full weekends in October will historically provide you with chamber of commerce weather, this is also the time of the year when the Albuquerque International Balloon Fiesta occurs, so if you choose to visit during that event, make your lodging arrangements well in advance.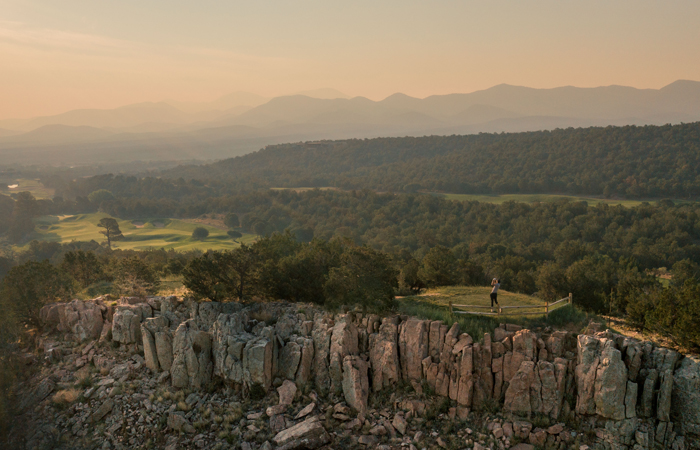 While the local cuisine is adorned with names that will make you think you are going to be getting the familiar Tex-Mex to which you are accustomed, I would equate the southwestern flair available in the Duke City to be more of a cousin than a sibling to what you have come to expect when you sit down for a meal that starts with chips and salsa. I firmly believe there is plenty of room for both to co-exist peacefully in the world; you should just be aware to expect a slightly different spin when you order your enchiladas. One other note of caution: when you order a chile burger in Albuquerque, it is likely to be different than what you will get when you order a chili burger back home. A few places that I prefer to dine at when I am in the area are El Pinto, Garduno's, or Little Anita's. In addition, if you want to get a filling breakfast before heading to the links for a day of golfing, try Weck's; the four-egg omelet will see you through a good portion of the day.
With four casino options within easy driving distance, if your luck is not going well at one, you can always make a quick drive to try to change it if need be. They all provide a full array of table games, craps, poker rooms, and rows and rows of slots. A recent addition is the opening of sports books within the casinos, so if you have an itch to place a sports wager or two before hitting the links, they can scratch it for you. Most have plenty of dining options and spa services available within them. Chances are good there is also a stay and play option available if you are so inclined to bundle up one or two of your rounds at that locale. There is no ante required to gamble in New Mexico, but there is one thing you should be aware of. While alcohol is available within the casinos, you can only consume it in the bars; spirits at the gaming tables are not allowed, plan accordingly.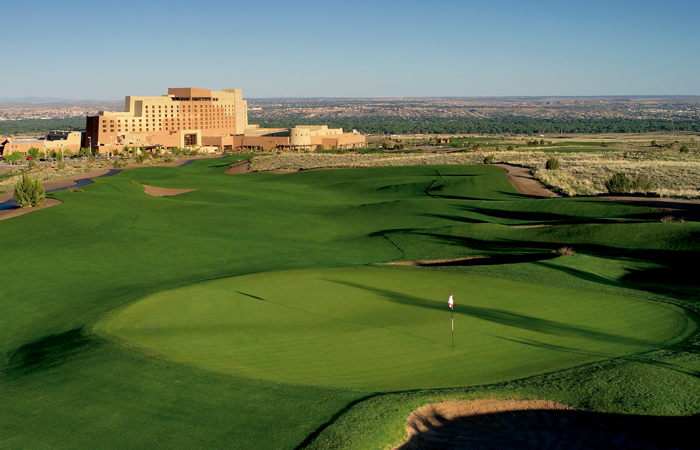 Concerning your golf, here is a list of the places I would consider. Many of these have online booking options and have always been accommodating to me when I have called them a few weeks out while planning my trip. Hopefully, you will have similar luck. If you are interested in playing a value-priced municipal course, try Arroyo del Oso. I have always found it to be in good shape and it holds a soft spot in my heart, since it is the course I was playing the first time I broke 90. The Championship Course at the University of New Mexico will provide you a nice test and has a green fee of around $75. If you like to play it back, it will challenge you, but be aware playing from the back two tee markers requires permission. Sandia Golf Club is located adjacent to the Sandia Casino and is a very nice resort-style course framed by the desert. Reasonably priced with a rate in the $80 range and a great patio with a view of the mountains where you can settle your wagers while enjoying a post-round libation. Isleta Golf Course, less than 20 miles south of Albuquerque and across the street from the casino of the same name, has three individual nine-hole courses, so the opportunity to play 27 different holes can probably be negotiated. Rates are in the $60-70 area.
 Another 27-hole option is available a little to the north and a little to the west at Santa Ana Golf Club, the many-time host of the New Mexico Open. There is also a casino and hotel associated with it. They also have an arrangement with a sister course, Twin Warriors, which is a resort course located adjacent to a Hyatt Regency, another lodging option, albeit a little further out. The rates at Santa Ana are in the $65 range, while Twin Warriors is around $125. Cochiti Golf Club provides a nice Robert Trent Jones layout that is about halfway between Albuquerque and Santa Fe, and a little west off Interstate 25 that will set you back about $65.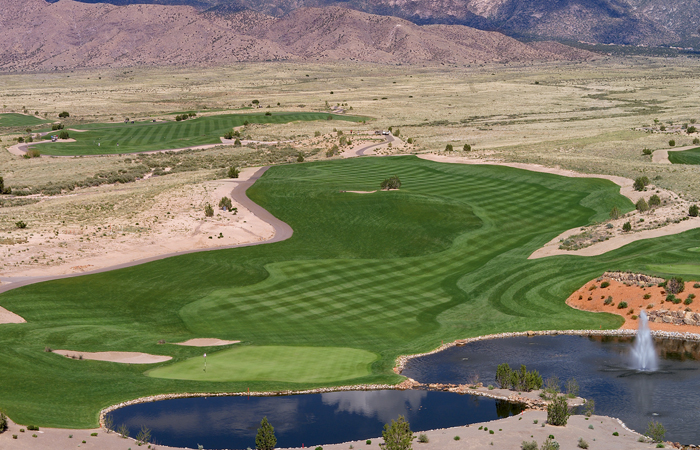 For those willing to travel a little further, head north on I-25 and venture a little past Santa Fe to the town of Espanola and play a round at Black Mesa Golf Club. The course will ask a lot from you, you will suffer some bad bounces and tough breaks, and you may have to avoid an occasional bit of bramble, but your efforts will be rewarded with some magnificent views and great sightlines while you traverse a spectacular piece of land. With a price tag of less than $100, the drive is a worthwhile endeavor. Last but not least is Paako Ridge Golf course, located adjacent to the Sandia ski area, east of town off I-40 and 10 miles or so north on Highway 14.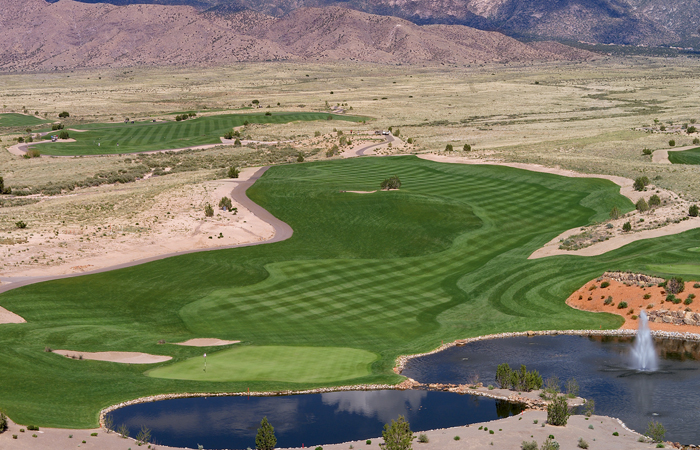 A few years ago, I would have offered to refund your green fee if I suggested this course to you and you were not satisfied, but an ownership change and a green fee that is now in the $250 range has caused me to rescind that offer. I'm not saying it is not worth the money, but at that price point, you have to be the judge. They have 27 holes available, but I am partial to the original 18. If you do decide to make the trip, it will be a fun round that will challenge you while providing you some great sightlines and a 100-yard green. See if the top tees are available for play on 16 and make the walk up to the top tee box on 17, which provides a panoramic view of the entire golf course. 
If you and your group are looking for something different, head to the west and give the Albuquerque/ Santa Fe area a try. Once you've golfed it once, chances are you will look forward to going back and giving it another go.