Golf Science – The Male vs. Female Golf Swing

It is always an exciting time of year when the LPGA Tour makes a stop in Los Angeles, but in 2021 it was especially thrilling to see all the color and crowds (albeit small) after an entire year of lockdowns and limited travel opportunities. One purpose for attending the Hugel-Air Premia LPGA Open was to assess how female golfers have progressed over the past few years, as there has been an increasing spotlight on women's needs and rights.
Of course, there is no golf course designed specifically for women or golf clubs particularly suited to a variety of female capabilities. Might there at least be some LPGA Tour players who are coached by women?  
When asked, Charlie Hull, who is coached by Brit Matt Belsham, said that while Belsham uses the latest technology for his male players, with her it is mainly about ball flight as she is very much a "feel" player. Albane Valenzuela of Switzerland also believes in a simple approach. Her father is her golf instructor. He played college golf at UCLA and had a great amateur career. They, too, do not use any "technology" because her dad likes to keep it simple and is "old school." He believes mainly in having good posture, good tempo and just playing golf.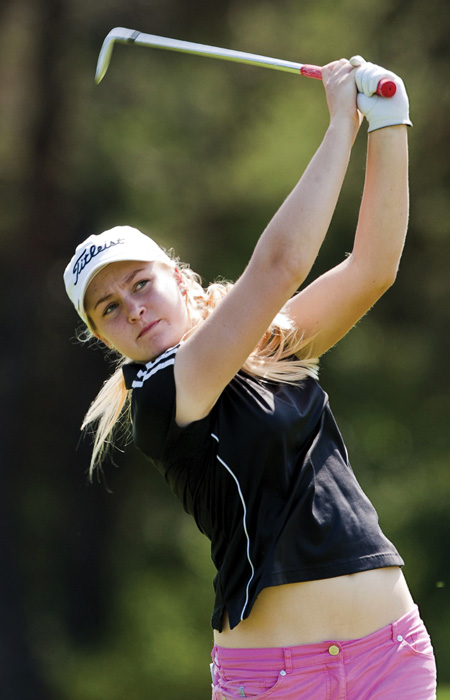 We hear of many female Tour players with their fathers as coaches. Why is that? Is it too much of an expense to have a credentialed golf instructor? Is technology and cutting-edge scientific golf instruction not as important for female golfers?
Some female players do use technology, or rather, their coaches have them use it. For instance, Marissa Steen and her golf instructor, Tim Lambert, visit a biomechanics professor about once a year, and she gets her golf swing assessed in a laboratory with high-end motion capture and force plate tools. She says that if she has any tension in her swing, the professor's tips help to free her up to swing better. 
So, one could say that some LPGA Tour players are "feel" players, while others are being exposed to, and use, a lot of the technology that their male counterparts often seek and are regularly exposed to. We may never know which approach is better, as both groups have seen success over the years. What we also do not know is whether women should be taught essentially the same swing as men, or whether they might be better off with a swing that takes into account their differences.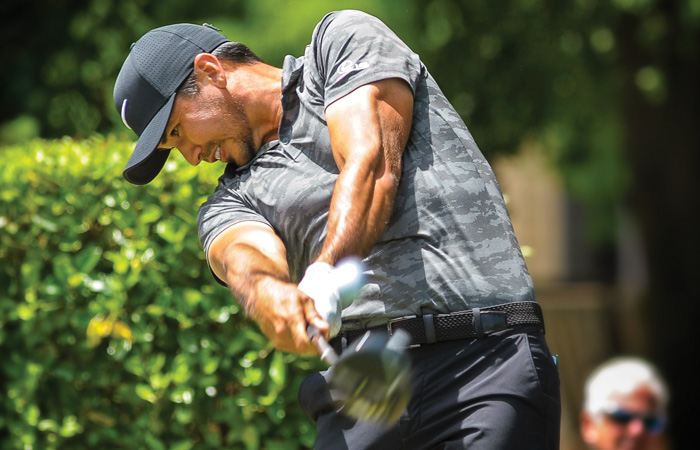 How might we understand the differences? One research paper (titled 'Thorax and pelvis kinematics during the downswing of male and female skilled golfers' by Horan et al. published in 2010) actually listed all the significant differences in the movements of 19 highly skilled male golfers and the same number of highly skilled female golfers, all below a 4 handicap and all using their drivers. 
Although one would imagine females would have slower-moving pelvises, the paper did not list angular pelvic rotational velocity as being significantly different. However, females had significantly slower thoracic rotation velocity, indicating something was slowing down female swings as the energy was passed up the kinematic chain from pelvis to thorax.
Delving further into the results, it appears females have a greater amount of forward tilt during their downswings, while males have a greater amount of side-bending tilt. Could there be something about these differing tilts that makes women's swings slow down significantly from the time they move their pelvises as rapidly as men, to the time the thorax or upper torso is significantly slower?
We will never know until more research is done on female swings, to include women of all skill levels. And we will never know if more women would not quit the game of golf soon after taking it up, if golf holes had a length that was more woman-friendly, and if golf clubs were designed to be meaningfully, not superficially, different for women, too. 
As for the golf swing? It must be far more woman-friendly than it currently is.
Dr. Kiran Kanwar, golf science consultant, is the developer of The Minimalist Golf Swing System – 100% scientific, simple, and specific. She has M.S. in sports science and nutrition, a Ph.D. in biomechanics, an anatomy a degree in Kinesiology and is an LPGA Master Professional. Visit her websites www.YourGolfGuru.com and www.mgs.golf