Drive Time – 2021 Mini Cooper SE Hardtop 2 Door

Let's face it; the electric car era is officially upon us and will be for the foreseeable future. Yes, it's a tough pill to swallow for us old-school combustible gas aficionados, but we all better prepare for the inevitable. 
Fortunately, there are some fun rides to consider when contemplating your next green vehicle. One is the exceedingly fun 2021 MINI Cooper SE Hardtop two door. It's unique, quick, nimble and eccentrically quirky to put miles of smiles on your face.
The 2-door Cooper SE is slightly less practical than its 4-door siblings but delivers miles of smiles barreling into turns with more interior space than you'd expect. And with a base price of only $29,900, it's a terrific option for young and mature drivers alike. It was so much fun that I shed a tear returning the test car after a week of giddiness.  
The F56 chassis (launched in 2014), carries forth the iconic exterior styling, delightfully distinctive displays and punchy performance that regularly attract smiles and curiosity in the driveway or parking lots. Think Austin Powers cool and kitschy with new tech and throwback instrumentation. Older baby boomers will fondly harken back to falling in love with 60s-like styling.
SKIN
The Mini Cooper SE 2-door hardtop is an eye-catching array of sporty styling with a multitude of unique paint options. The tester (provided by Mini of Plano) is adorned in White Silver Metallic with just enough black trim to bring the eye candy. In fact, dozens of customizable visual options are available to individualize your model. 
The squarish roofline adds to the mystique. It allows for large windows that provide maybe the best visibility of any hardtop ride I've experienced and surprising headroom. Happily, the roof rails are gone adding to the cool silhouette. You can add a multitude of appearance options including racing stripes. 
Standard rounded LED headlights and its illuminated lighted rings are excellent, and the LED taillights depict the British flag. Everyone got a kick out of that. Given its electric-power, there are no exhaust pipes.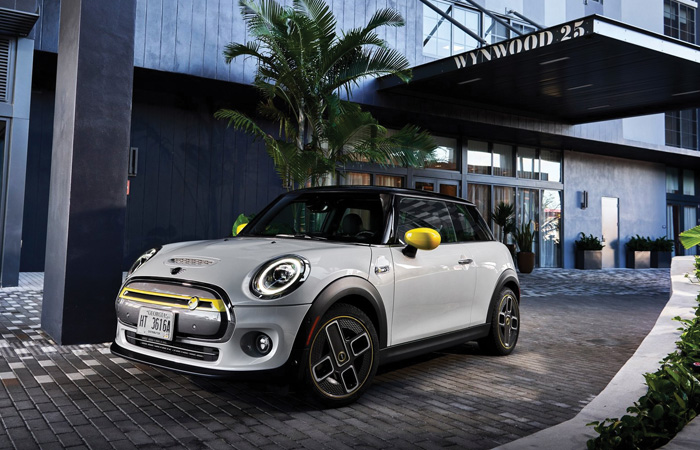 PERFORMANCE
The MINI Cooper SE Hardtop 2-door is a blast to drive–like an upscale go-cart. A spirited motor delivers out 189 hp and 199 lb-ft is quick enough (0-60 in 6.1 seconds). A speed governor limits the high range to 91mph. The stiffer body, suspension, lower center of gravity and lighter curb weight provides a sharp athletic driving experience. It doesn't feel jumpy, and the diminutive size allows for easy parking. It's really an exhilarating ride when pushed. There's not much front-wheel torque steering as well). Active Driving Assistant with front and rear collision warnings are welcome safety features. 
You can choose Green, Mid or Sport. Sport brings noticeable changes in steering feel, throttle response and remaining mile range. Run flat rubber with 17" cool MINI E-Power Spoke 2-tone rims are grippy too and hitting the curves in exuberant fashion is consistently rewarded. Me likee. 
Fuel efficiency is incredible at 108/115/100. Yes, the driving range at 114 miles is a bit light, but just right for normal short commutes. Mini includes a TurboCord that can work with either 120- or 240-volt outlets. Plugged into the latter, you can top off a full charge in eight hours. A Level 2 charger will do the deed in four hours.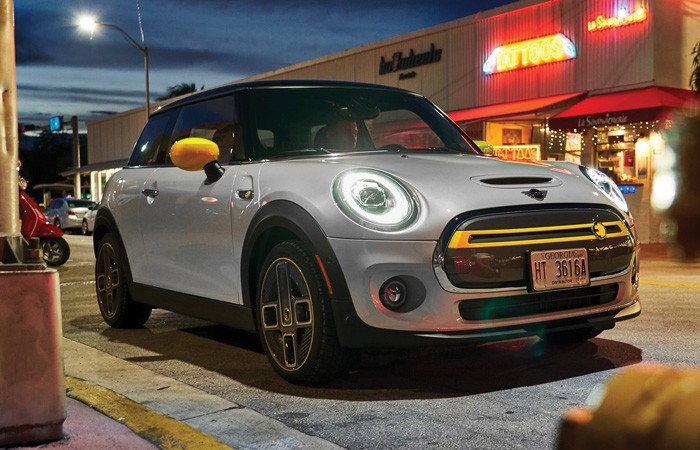 CABIN
While the driving dynamics are highly engaging, the interior is equally delightful, roomier and more upscale than you'd assume (MINI is owned by BMW). Fit and finish are excellent. Front seat room is ample enough for this size vehicle. The eye-catching double-contrasted stitching Chesterfield Leather Satellite Grey seats (similar in quality as in a BMW 7 and X7-Series!) are beautiful, comfortable and supportive. The quirkiness continues with 8-way manual adjusted front seats. However, the interior provides little space for knickknacks – especially if you use the wireless charger in the center armrest. 
The heated seats and adjustments make for a comfy ride no matter the distance. A meaty leather-wrapped steering wheel is excellent and manually tilts. 
The higher roofline provides generous headroom in front and surprisingly in the rear once you squeeze yourself inside. The double-pane panoramic roof illuminates the entire cabin and has manual sun blinds when desiring a darker atmosphere. Opening up the sunroof and both windows delivers a refreshing convertible feel as well.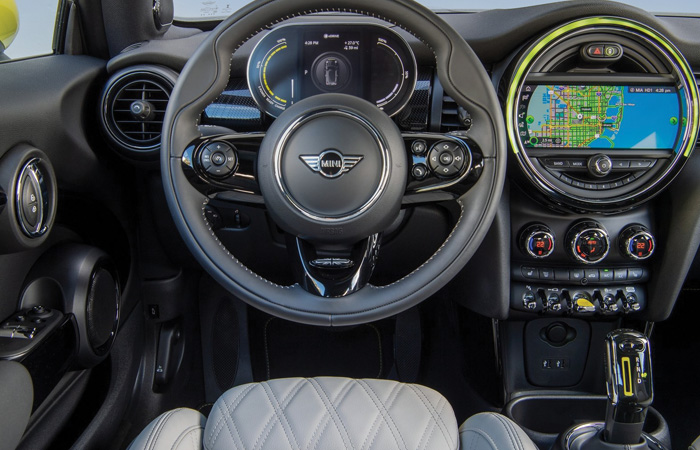 The BMW-inspired infotainment controls are a breeze to use. A 6.5" touchscreen (upgradable to 8.8") is exceptionally clear and easy to read. I love their crisp fonts. Old-school levers and switches and ambient in the console are a delightful touch. The RearView camera is HD quality and the Head-Up display rises from the dash shows the speed and speed limits. An illuminated British flag motif is displayed above the glove compartment. 
As mentioned, the sight lines are incredible and large side view mirrors virtually eliminate blind spots. Cargo room is a bit challenged (8.7 cu.ft.) with the rear seats up but expands to a workable 34 cu.ft. with the 60/40 split rear seats folded down. You can fit four golf bags inside that arrangement. There is a clever extra cargo hatch underneath the rear floor. 
TECH TOYS
The Harman Kardon audio system is excellent and Bluetooth streaming is superb. Apps like Spotify are easy to use. Apple CarPlay is standard, but Android Auto isn't available. The MINI Remote Services app allows you check on car stats. It's the wave of the future and works impeccably.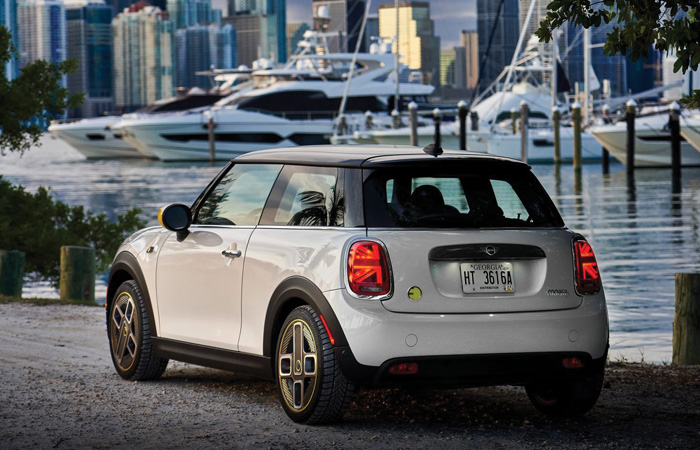 The 2021 MINI Cooper SE Hardtop 2-door is a compelling package for young and old alike. The delightful iconic exterior, old-school instrumentation and edgy performance brings grins a plenty. The price is attractive too with the tester at $39,625. Subtract the $7,500 energy tax refund (see your CPA for details) and add in the zero-maintenance perfect predicted reliability ratings make it a must drive when contemplating your next sporty sub-compact. Yes, the MINI is a terrific reminder that MAXI fun is indeed available in a quiet and power-efficient package. 
Scorecard
Golf Bags: 4(!) with rear seats down
Curbside Appeal: Deliciously unique and eye-catching presence 
0-60: 6.1 seconds
Ponies/Torque: 181hp/199 lb.-ft.
Gas Mileage: 108/115/100, 114 mile range
Must-Haves: Iconic trim
Warranty: 4-year/50,000 miles, complimentary maintenance 3yr/36k miles
Base Price: $29,900
Price as Tested: $39,265 with possible $7,500 energy rebate
Who Buys It? Those desiring a uniquely styled ride with giddy performance
Finish Line: A great treat in the E-subcompact category 
Test-drive the 2021 MINI Cooper SE Hardtop 2-door at MINI of Plano.