Hamm's Meat + Market Cut of the Month: Fiesta Foods

For starters, no fiesta is complete without some heat. So, to add some spice to our meal, I smoked some Texas Twinkies. These are super simple and are always a crowd pleaser, especially for those chili-heads among us. 
There are a couple ways to do these stuffed jalapeños. You can either split the peppers down the middle (which I have found to be the easiest way), or you can core the pepper from the top, using a paring knife to extract the seeds and membranes. They also make a special jalapeño corer that you can get on Amazon if you want to make it super simple. And one other pro tip … make sure you use some nitrite gloves as you prep the peppers, because the oils can be tough to wash completely off your bare skin, and you don't want any incidents with your eyes, nose (or other regions) later on down the line. 
After you have prepped the peppers, now we need to make the mixture for stuffing. Use some softened cream cheese, some cheddar and pepper jack shredded blend, and whip the two together until mixed well. I also add a tablespoon or so of Worcestershire sauce to add some other flavor components. In addition, feel free to use your favorite BBQ rub in the mixture, as well. I added a little bit of MeatChurch Holy Cow in with the mixture to give it a peppery pop. 
The next question is whether you want to add any protein to the mixture. Some people will just roll with the cheese blend inside, but others might add chopped brisket or even sausage or chicken to the mix. For mine, since they are serving more as an appetizer for our fiesta, I chose to keep the cheese blend only, but feel free to experiment any way you see fit. 
Once you have stuffed your peppers, now we will wrap with your favorite bacon. Feel free to choose your favorite here, but one bit of advice I can give you is to stay away from the thick cut variety, as it tends to not want to cook all the way through and gives the finished product a rubbery/raw bacon texture that isn't very pleasant. Once you have wrapped the peppers in your favorite bacon, secure the strips with a toothpick and give a final dusting with your favorite rub. Although I used MeatChurch Holy Cow for the stuffing, for the outside, I prefer something that has a little sweet and a little heat. So I use a combination of half MeatChurch Holy Voodoo and half Honey Hog Hot, which gives a little sweetness on the front and a little tickle of heat on the back end.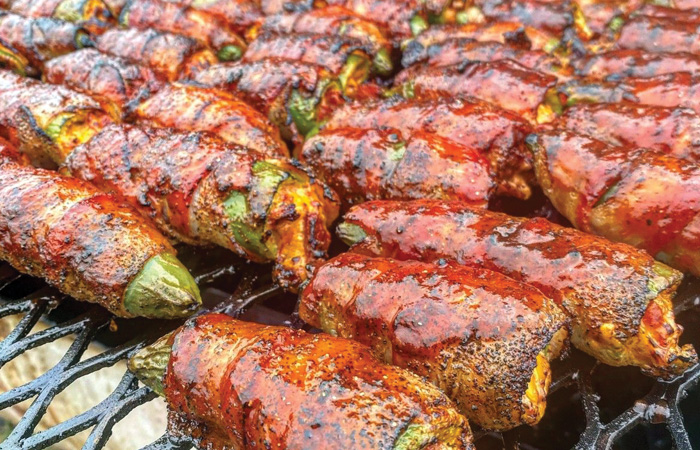 Once prepared, smoke the peppers at 275 degrees for 60-90 minutes or until you are satisfied with how the bacon looks. From there, let rest about 10 minutes and serve. 
If you really want to add some substance to the stuffed jalapeños, then there is a variation known as the "Armadillo Egg." For this version, eliminate the bacon, and instead, encase the whole pepper in a ball of ground beef or pork. Then, as they near finishing, brush with your favorite BBQ sauce. These are more of a meal than an appetizer, but they are equally delicious. How you choose to do the stuffed jalapeños is up to you, but there are multiple variations to enhance your backyard fiesta. 
On to a second appetizer that is perfect for your Cinco de Mayo shindig. If you have ever been to a true Mexican feast, then you have likely had tablitas. Tablita means "little plank" in Spanish, and when you see these little bits of meaty goodness, you will understand how they got their name. These less-than-half-inch-thick cuts come from the beef short rib. They are typically cut crosswise across the bone and have enough marbling to really give you a great flavor profile. 
Seasoning tablitas is simple. Of course, you could marinate them if you choose, but a simple salt, pepper, garlic rub will work just fine, as you don't want to overwhelm the favor you get from the meat. 
There are several ways to prepare tablitas. You can boil them and then sear them on a hot grill. You can sous vide them to assure a consistent temperature, and then again sear off over your favorite wood or charcoal. I chose the simple over-the-fire technique for mine, as I let them come almost to room temperature to assure an even cook, then heated some charcoal screaming hot and seared them to a nice mid-rare. The great thing about tablitas is they don't take any time at all. For medium, you might be looking at three minutes a side. They're simple and delicious. If you want to eat them as a meal, try serving them with some fresh-made guacamole and some roasted potatoes. It's a meal fit for a king. 
Another great item for your Mexican fiesta is tamales. Hamm's has partnered with The Tamale Company, which hand-makes their masa-fueled creations. They come in standard cheese and jalapeño versions, as well as a chicken tomatillo, ancho chili pork, black bean and corn and a spectacular beef tenderloin. Tamales can often be dry and hard to choke down, but the craftsmen at The Tamale Company produce a product that not only boasts unique flavor profiles, but stays moist during their easy preparation, which can be done in boiling water or even in the microwave.  
For our main course, we are going to serve up one of our favorite Tex-Mex dishes … fajitas. Fajitas are super easy, and with the pre-marinated beef and chicken from Hamm's, half the battle is already complete. The chicken comes from Bell & Evans, which specializes in organic birds. If you haven't tried organic chicken, then you don't know what you're missing. The chicken is 100 percent air-chilled, meaning they don't need to use chlorinated water to chill the birds like most producers. There is a noticeable difference in flavor and freshness. The beef is from HyPlains Farms and is the finest you can find on the retail market.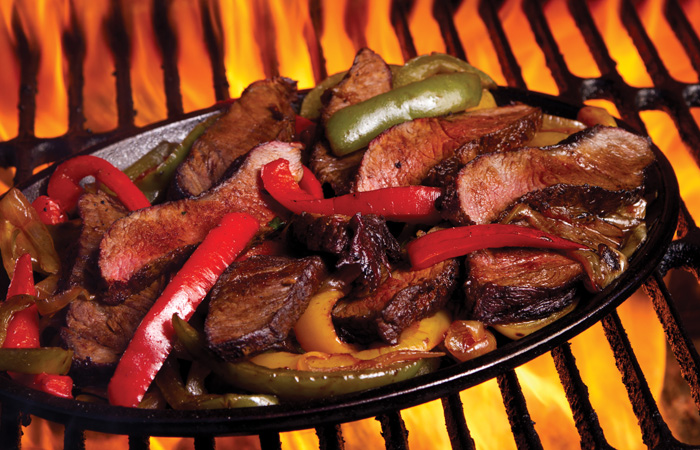 Both beef and chicken are pre-seasoned, but a little extra marinade love won't hurt if you're not pressed for time. The dry seasonings for the chicken are some smoked paprika, some cumin, chili powder and a little chipotle, which adds a nice smoky heat to the bird. The beef is done in a similar dry rub, but with a little twist, there is a little lemon pepper mixed in to add a bright pop to the meat. Lemon has long been a secret of mine, as I will even fresh squeeze a little bit over my final beef fajitas while they still sizzle on the platter. You will be surprised how much brightness and additional pizazz the lemon adds to the dish.
The fajita meat is easy to prepare and doesn't take much time to cook, as it is a thin cut. Again, charcoal, flat-top, cast iron or propane grill are all acceptable ways to cook, but the flavor really shines through with a coal preparation. I chose to do these on my Blackstone, as it's easy and quick. Careful with the beef, as you want to make sure you don't overcook it. A nice medium is perfect for fajitas, but feel free to cook to your preference. With the chicken, just be sure to have a meat thermometer handy so you can pull it off at 165 degrees. This assures the chicken is cooked but won't dry out. As with any other meat preparation, be sure to let it rest for at least a few minutes before slicing. 
If you are looking for a good quality salsa for your Mexican cuisine, then I highly suggest making your own. If you have never tried to make your own salsa, it's not terribly difficult, and there are tons of recipes online to give you some guidance. When I prepare mine, I will smoke the tomatoes, onions, jalapeños and the garlic on my Traeger before blending it all together with some cilantro, lime juice, salt, pepper, cumin and a shot or two of tequila (this is optional, but it does add another wonderful flavor component). 
If you don't want to mess with making your own, Tony and Sarah Smith at Hamm's have you covered, as they offer a variety of locally made salsas to accompany your favorite tortilla chip. One of my personal favorites is Cita's Salsa. They have several varieties, including the Fiery Fiesta, which has plenty of heat to get your attention, but won't have you running for the milk in the fridge. If you do want something that will really put some lead in your pencil, then try the CaroLena Reaper, which features Carolina Reaper peppers, which can reach over 1.5 million on the Scoville scale. Yeah, that's hot. 
Any one of these Tex-Mex inspired favorites would be perfect for your next backyard fiesta. Of course, if it's just taco Tuesday, Hamm's can get you hooked up with some great quality 80/20 grind ground beef with some of their house-made seasoning to get take your next taco night to the next level. 
There you have it. Some great ideas for your next Mexican fiesta. As usual, this is just a guide and by no means the gospel. There are multiple ways you can switch up these preparations or flavor profiles to suit your taste and satisfy your fiesta guests. Disfrute de su comida, mis amigos!