Drive Time – 2022 Cadillac CT5-V Blackwing

So, here's the dilemma. You still have a pair and crave the need for speed. Like space shuttle, sucked-back-in-your-seat G-force speed. A giddy, testosterone-infused dragster thrust. However, you're still saddled with schlepping the kids around and require a trunk for the honey-do cargo. What's a speed freak to do?
The 2022 Cadillac CT5-V Blackwing is what. And it's the last Cadillac V (along with its smaller sibling CT4-V Blackwing) petrol car, so grab one before a sad extinction to become an instant collector's missile. 
Built with an unabashed nod to the proud American muscle cars of yore, the V-Blackwing is a gleeful manly ride. In fact, it's the last Cadillac production V8 sports sedan you can grab to boldly go up against those heralded imports. Thus, it not only blisters straight-aways, but can corner smartly, too. 
Nothing screams Vroom like good 'ol American-powered ingenuity. It's not exotic, quaint or subtle, but rather a sledgehammer of massive ponies to rock your world.  The CT5-V Blackwing delivers you from point A to B faster than surfing the Net while masquerading as a luxury family car to boot. God love America. 
Skin
The CT5-V Blackwing's' styling is already distinctive with unique angular lines that prevent mistaking it for everything else in the parking lot. The fit and finish are exemplary for a domestic or foreign ride. The Blackwing offers a more aggressive front-end, signature-bladed headlights, expanded air intakes and a blacked-out grille. My tester with gloss black paint, polished 19" aluminum rims, quad tailpipes, aggressive spoiler and enlarged hood to hold the rumbling beast displayed an assertive warning to its fearsome capabilities compared to the base model.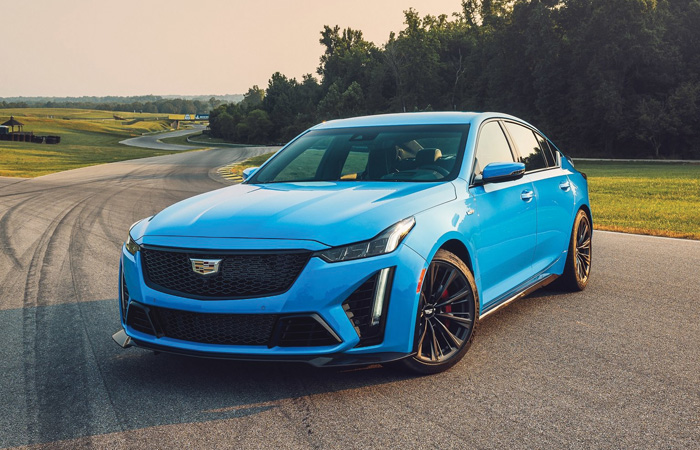 Performance
The 6.2-liter, 668 horses(!) and 659 lb.ft. torque supercharged/intercooled engine delivers jaw-dropping power with a 0-60 in 3.6 seconds. A top speed of 200 mph. The low growling rumble will satisfy the hot-rodder, yet won't shake and wake the neighborhood. V for Velocity. 
Cornering compares to many of the pricier foreign cars via the fast-acting Magnetic Ride Control suspension, using shocks that electronically react every millisecond to varying road conditions. You may choose between four driving settings, but even the Sport mode dampens harsh surfaces well. Your spine will thank you. 
The four-step programmable exhaust note is to die for, being relatively quiet in the neighborhood before ramping up to a delicious roar on the open road. It was my soundtrack of choice barreling on the asphalt. Four driving modes provide a welcome comfy ride for passengers or spinetingling response when desiring maximum thrust and cornering. 
Most importantly, fast cars need to stop – like quickly. Massive painted Brembo brakes and burly performance-staggered Michelin Pilot Sport 4S rubber keeps this bad boy in line. Good thing, to, as on a super-secret patch of asphalt, I quickly got the rocket Blackwing to 135mph and back to legal limits before the boys in blue could throw me in the pokey. I am in love. 
The 10-speed tranny shifts effortlessly. However, there's an optional manual gearbox, as well! Car aficionados lament about zero stick shifts left to play with, so this gives you the giddy choice. 
The only "downside" is the engine gulps its fuel at 13 mpg. So be prepared to be on a first-name basis with the gas pumps. But performance-lovin' fans realize the tradeoff is a wee sacrifice for the perpetual grin plastered on their face.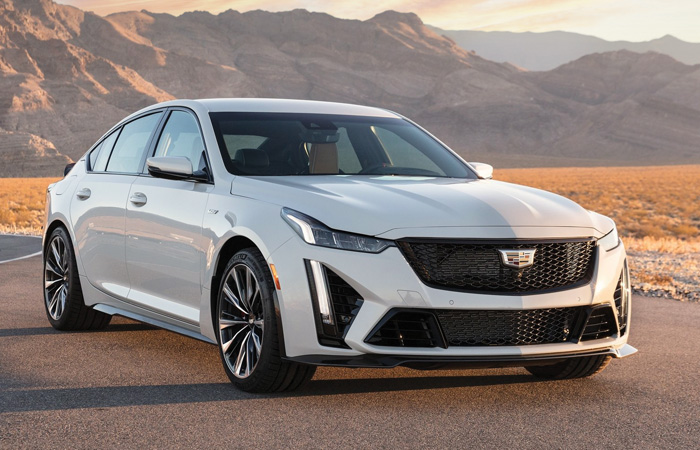 Cabin
You might think this rocket would offer primitive comfort inside. Forget that – it's still a Cadillac. The capsule's materials best any of the American cars and rival the imports. Handsome contrast colored with nicely ventilated Nappa leather seats bolster the hips and torso to better keep ya glued in when barreling into the corners. They are heated and cooled, too. 
The attractive V-shaped center console includes nicely displayed buttons that are easy to navigate. The 8" infotainment display is smaller than its competitors, though. 
The dash and upper doors have textured leather and contrasting stitching. The beefy steering wheel (check out the sweet optional suede wrap) includes buttons for shifting, menus, audio and hands-free phone calls. LED ambient lighting gives off a subtle glow. The back seats are roomy enough and do fold down for extra storage.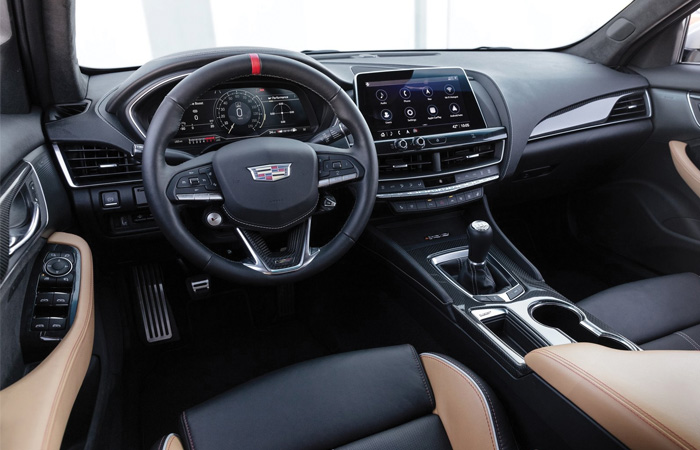 Tech check
 There's no shortage of stupendous technology. The updated 8" diagonal infotainment touch screen is clear, easy to read and manage. It mimics hand motions like an iPad as you can move icons, shrink or enlarge the data and display a bunch of preset radio/XM satellite stations and phone numbers. It includes 3-D Navigation maps, Doppler radar, and the Natural Voice-Activated prompts work instantaneously to any voice. You'll appreciate the terrific Apple CarPlay/Android Auto synching up your smart phone to display your home screen apps. There's a handy slot to wirelessly charge your phone. Even the vent power noise is lowered when receiving a call. 
Thankfully, positioned under the info screen are the most used climate control buttons. I appreciated the radio channel dial in the console to swiftly change stations without continually hitting the screen. Redundancy is abundant with no less than three volume controls. 
The optional 14-speaker AKG Sounds system is outstanding with four programmable distinct cabin sound settings. It's crystal clear and delivers near perfect audio acoustics. 
Finally, the CTS-V Blackwing starting price of $87,000 is a relative bargain compared to its import competition. A fully loaded Blackwing maxes out at $125,000. If you've previously forsaken Made in U.S.A., check out the CT5-V Blackwing when quenching your ravenous speed fix. 
Cadillac says they'll move 3,000 units of the CT4 and CT5 rockets. Need I remind you this is the proud V gas-powered line's last lap. Thus, if you find the opportunity, pony up and feel loud and proud doing so. America the Beautiful, indeed.
Dilemma you say? I say not.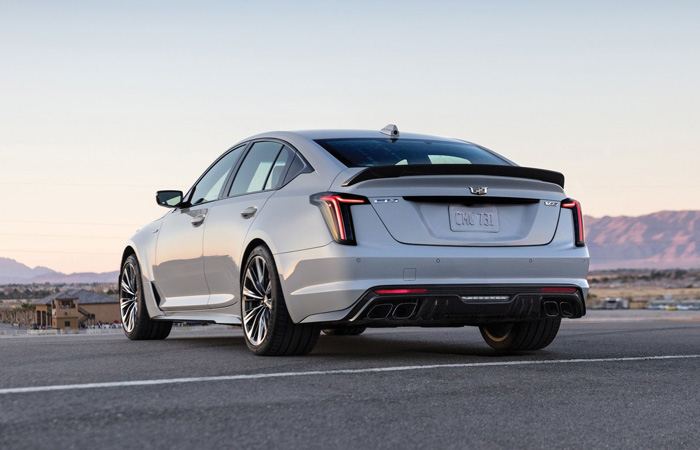 SCORECARD
Golf Bag Storage: Maybe two
Curbside Appeal: The V badge screams hot rod greatness
MPG: 13/21
0-60:  3.4. Yes, that's correct
Must-Haves: Dry clear asphalt to enjoy it 
Warranty: 4-years/50,000 miles
Base Price: $84,990
Price as Tested: $114,000
Who Buys It?: Those looking for an All-American exhilarating sports sedan
Finish Line: Exemplary patriotic package of style, stupendous performance and luxury 
Test-drive the 2022 CT5 V Blackwing at Crest Cadillac in Frisco.