Hamm's Meat + Market Cut of the Month: Chicken

If you have been following along as we have continued our meaty adventure, then you have now heard some tips and tricks for both beef and pork, but what about our friend the yard-bird? Chicken is a staple of dinners across the country, night in and night out. It's healthier than red meat, cheaper and more versatile, so it's not a shock that chicken makes its way on to plates a lot. So, what can we do to break up the monotony of the same old baked or grilled chicken breast? Well, this month, we show you a couple of ways to prepare chicken that will leave your family and your guests stupefied!
The first preparation we will discuss is the simple but delicious spatchcock method. Now, if you aren't running in many barbecue circles, then you may not be familiar with this method. Essentially, spatchcock is removing the backbone from the bird and then laying it flat on your smoker or grill. The advantages of this preparation include even seasoning, even temperatures throughout the cook and getting that crispy skin everyone enjoys on a quality bird.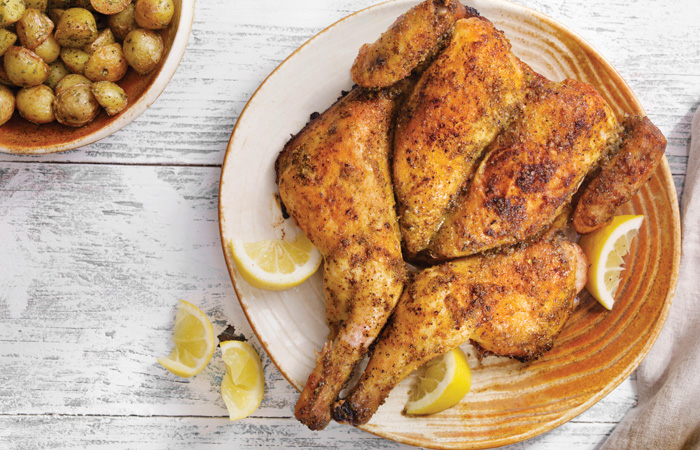 One great way to get the chicken ready for this cook is with a simple overnight brine. In the past, I have used a pickle juice brine with some brown sugar, creole seasoning and some buffalo sauce. Or you can choose a simple salt, sugar, soy and water brine. You can find other brine recipes online and use them to decide which one works best for you. If you do choose to brine, soak the bird overnight and then pat dry before seasoning.
To prep the chicken, you will need some good, sharp kitchen shears to remove the backbone. Once you have accomplished this, evenly season with your favorite rub. For my cook, I chose MeatChurch Holy Voodoo, which adds a little kick, but feel free to use whatever you prefer. If you are planning to pull the chicken for another use afterwards (chicken and dumplings for example), you might lean toward something simpler, like salt, pepper, garlic and some rosemary. If you're looking for something specific, Pinterest has various rubs and ways to season. 
Once you have seasoned the chicken, it's time to choose a cooking temp. If you want more smoke, then obviously you want a lower cook temp and a longer cook. I have found to get the skin crispy, it is better to run on higher heat for a shorter period of time. I set my Traeger Pro 780 at 450 degrees and let it come to temp for about 15 minutes. From there, lay the chicken skin side down and allow to cook for about 10-12 minutes or until you are satisfied with the nice char on the skin. Once done on the skin side, flip and close the lid. Monitor the bird and temperature probe the thickest part of the breast meat. Once the breast has reached an internal temperature of 165 degrees, the chicken is done. As with any other protein, you will need to let the chicken rest for a few minutes, so the juices redistribute after hitting it with the high heat. After a rest, slice, pull or serve however you prefer.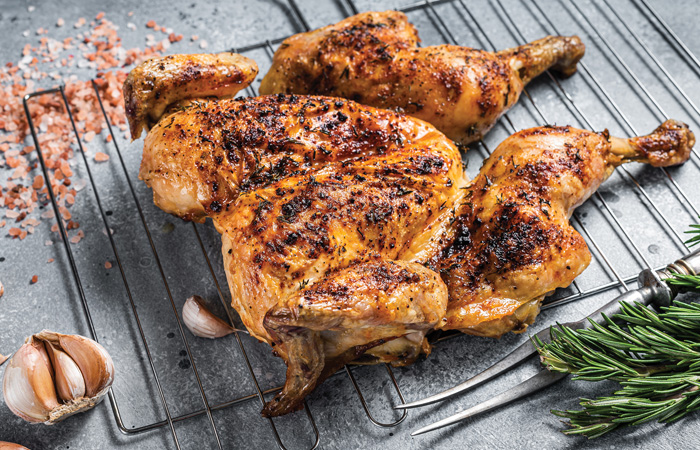 For my cook this month, once complete, I covered the chicken in an Alabama White Sauce. This is a creamy, tangy and rich BBQ sauce that you have probably never tried. Different from your standard molasses, sugar or vinegar-based barbecue sauces, the Alabama sauce is mayonnaise-based and isn't like anything you have had before. The recipe is easy and features mayo, apple cider vinegar, mustard, brown sugar, lemon juice, horseradish and cayenne pepper. It's delicious and will take your spatchcock bird to a new galaxy. You can find plenty of pointers on Alabama White BBQ sauce online. My one bit of advice when making this sauce is to prepare it at least a few hours before you plan to use it and then throw it in the fridge, as it is much better after the flavors marry for a few hours. 
Our second chicken preparation this month is a simple chicken drumstick recipe that is perfect for any party or tailgate. Chicken legs are an easy handheld if you are standing around in a parking lot awaiting some sweet action on the gridiron or the diamond. Again, you can choose to brine your legs prior to cooking if you choose, but a standard rub and smoke also works fine if you don't want to take the time to brine the day before. This recipe is what many like to call chicken lollipops, and when you see the result, you will know why.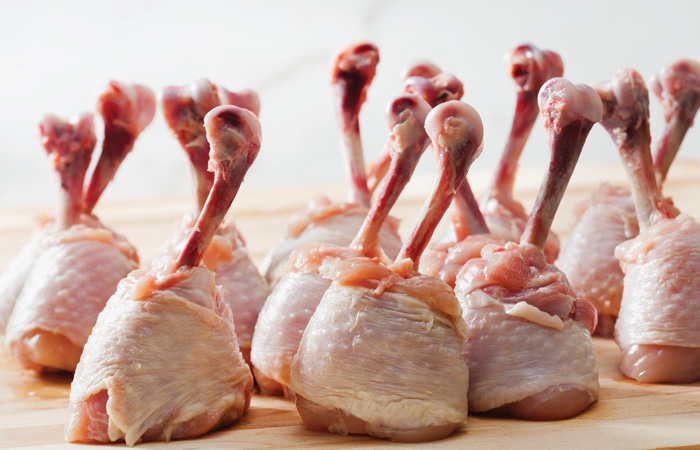 The first thing we will do is prep the drums by shaping them into the lollipop we want. Start by making a cut around the end of the chicken drumstick in a full circle around the bone. The main goal here is to be sure to cut all the way down and get through cartilage. Then, pull back on the meat and skin on the end of the bone (this is easier to do using a paper towel). Pull hard to remove all the skin so only the bone is exposed. From there, you will likely see there is cartilage that remains from the joint on the meat end of the drumstick; remove that at an angle. Using a boning knife, cut the strings of tendon that are remaining. Finally, push the meat down the drumstick and form a rough ball or the lollipop shape. You can find multiple tutorials on this process on YouTube. 
Now we're ready to cook. We're looking for a temperature of about 180 degrees to start. The goal at this lower temp is to get plenty of smoke on the drums. Wrap the exposed bones of the lollipops with aluminum foil to assure they don't char and then place the legs on the grill. There are also chicken drum holders available on Amazon should you want to hang them to assure even cooking. Smoke for about 30 minutes to get some flavor on the drums. 
From here, turn the heat up to 350 degrees and let the legs cook to that magic 165 temp. Once it reaches 165, remove, and this is the point you can sauce if you prefer. There are hundreds of store-bought sauces that would work, or if you want to get creative, experiment with your own glazes. Just know that the more sugar content in the sauce, the more likely it will be to burn and leave a bitter final product.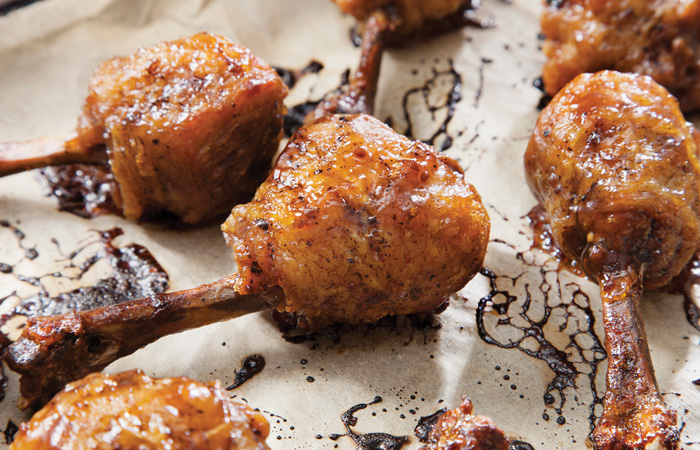 The final step is to turn the heat up to 450 degrees to get the glaze nice and caramelized on the outside of the drums. This will take an additional eight minutes or so. Now, I know what you're thinking … won't the chicken get dry if I pull them at 165 degrees and then add them back on at a higher temp? With white meat, the answer is yes … but the dark meat drums have enough fat content that cooking them to about 175 degrees internal temperature won't dry them out. Once the sauce is tacky, take them off the heat, rest for a few minutes and you have your chicken lollipops. This chicken preparation is a hit time and time again. 
Our final chicken preparation for this month is the legendary beer-can chicken. This again requires a whole bird and is a great and whimsical way to add some spice to your backyard barbecue. This is a simple method that produces great results every time out. 
Again, feel free to brine the chicken if you choose, but it's not necessary for this cook. We're going to keep the bird intact for this cook. As before, season as you like depending on the flavor profile you are looking for in your finished product. The beer you choose can be anything, as the chicken won't take any of the flavor from the beer, rather the beer is just a vehicle for moisture. 
Be sure the cavity of the chicken is clean of anything and pat it dry with a paper towel. Now, perch the bird on the can of beer you have chosen and place both on a grill or smoker at 350 degrees until the breast meat reaches that 165-degree goal. It's simple and yields a moist and juicy result every time. If beer isn't your thing, you can substitute other liquids as well, such as white wine, cider, or even try this with baked beans. Yes, you can take the label off a can of beans, use it, and then once the chicken is done, add the beans to a pot and bring the soaked beans to a boil and serve them as a fantastic side dish. Also, if you aren't crazy about a can of some kind being all up in your food, there are "chicken thrones" available on Amazon that have a middle vessel to fill with the liquid and a dish underneath to catch any juices (which can then be turned into a pan gravy). 
As I'm sure you are fully aware, there are hundreds of ways to prepare chicken breast, thighs, wings, drums or even the whole bird. These are just a few of my go-to recipes that are easy, foolproof and will leave your dinner guests or fellow tailgaters envious of your barbecue prowess. Happy grilling.