Luxury Dining – Tower Club Dallas

ClubCorp is known for their golf course management. Based here in Dallas, the company is the largest owner and operator of private clubs in the United States, boasting more than 200 golf and country clubs as well as city and stadium clubs across this great land. 
Locally, they have multiple properties, including the home of the AT&T Byron Nelson, TPC Craig Ranch, as well as other great clubs like Gleneagles, Las Colinas Country Club, Stonebriar, Stonebridge and Hackberry Creek. But in addition to their country clubs, they also have a world class social and dining club smack dab in the middle of beautiful Downtown Dallas. 
The Tower Club is a spot for young executives, businessmen and the successful from around "Big D" to show off to their clients or spend some time relaxing among friends. The 2019 renovation of the 48th floor of the Santander Tower is perfect for not only fine dining, but also more casual options and some great fun with one of the golf simulators in the Big Shots Lounge. We didn't have time to demo one of the simulators, but several groups in the lounge seemed to be having a great time as they enjoyed some drinks and casual dining fare while taking some hacks on one of a multitude of courses available to play. A practice option is also available if you are just looking to work on some new drills to improve your game.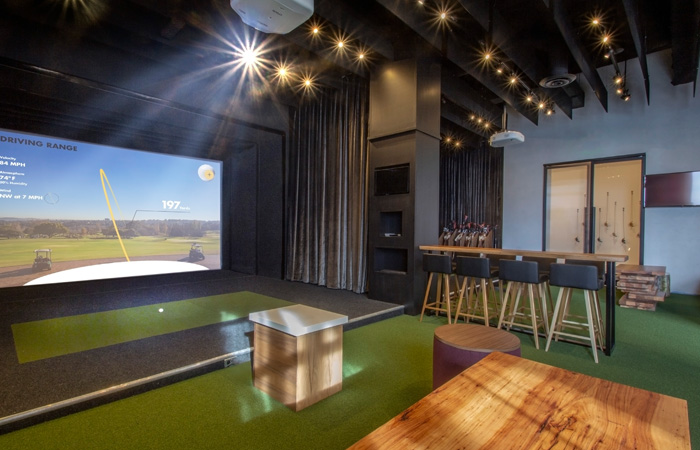 If you are more of a workaholic and need somewhere to check emails or jump on the next Zoom call, then Tower Club offers plenty of workspaces that are both among the other patrons as well as private workspaces for your next day on the grind. Meeting rooms are also available if you need some space for a seminar or meeting with multiple colleagues. 
If you are in search of a venue for a private party or wedding, Tower Club has options for that as well. I can only imagine a full ballroom for a wedding reception looking out over the amazing city. The photos themselves will be something to cherish for a lifetime.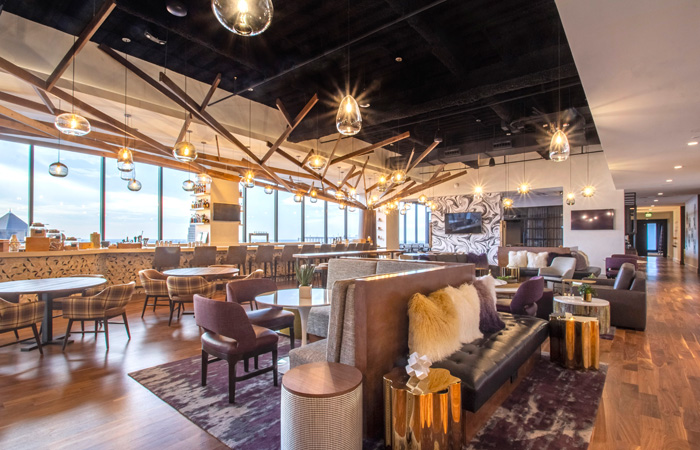 The club has a pair of dining rooms for your pleasure. The Sage Room is more casual with Texas-inspired fare, much of which is locally sourced. Sushi options are also available to accompany any of their wonderful signature craft cocktails. Of course, if you are in the mood for a nice vodka soda and some great views,  they have you covered. 
The bar area is expansive, with huge windows overlooking the downtown skyline. You simply won't find a better bar top to impress a first date or business associate that may not be from the area. It's jaw dropping. There is plenty of comfortable seating in a large open area that is perfect for taking in a ballgame on one of the multiple TVs in the bar. It must be some kind of  scene during a Cowboys prime time game or a Mavericks postseason game. I'm sure it is as good an atmosphere as you will find anywhere in Dallas. 
AG paid a visit to the Monarch Dining Room at the Tower Club to sample their fine dining options. For starters, the views are difficult to wrap your mind around. From the 48th floor, unparalleled views of Dallas are a delight to the eyes, and if you can take your seats before sunset, you are privy to a once in a lifetime sight of the sun disappearing below the western horizon. The views are such that on a clear afternoon, you can see downtown Fort Worth in the distance with no problem. Once night falls, the lights of the city glow with a vibrance that makes you grateful you live in a major metropolitan area.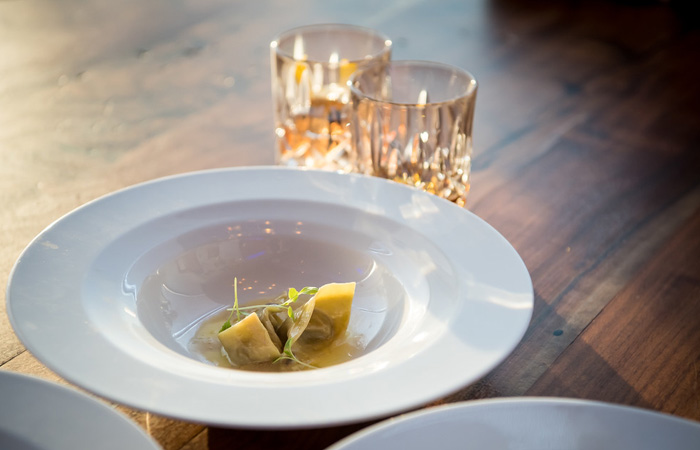 Our group of four began our meal with some of Monarch's bread, which was brought warm to the table and then placed on our plates by one of their servers. Three options were offered, including a lovely focaccia that was soft and had a wonderful chew. The breads are served with a butter-honey combination which gives a savory-sweet flavor profile that is a wonderful starter to the evening. 
If you are one that enjoys the vino, Monarch has a huge wine list to satisfy the amateur sommelier in you. We chose wine by the glass for the first round and then decided a bottle was necessary for the main courses. I hate to admit it, but I know very little about wine, and I certainly don't know how to pick a wine that complements a meal of this caliber. So, a member of our party was tasked with selecting something that we could enjoy with our steaks, and he went with a 2019 Austin Hope Cabernet, which was delicious, even to my unrefined taste. Our server Francisco even poured it in a beautiful decanter to let it breathe, although I'm not sure it lasted long enough to gasp for the air it deserved.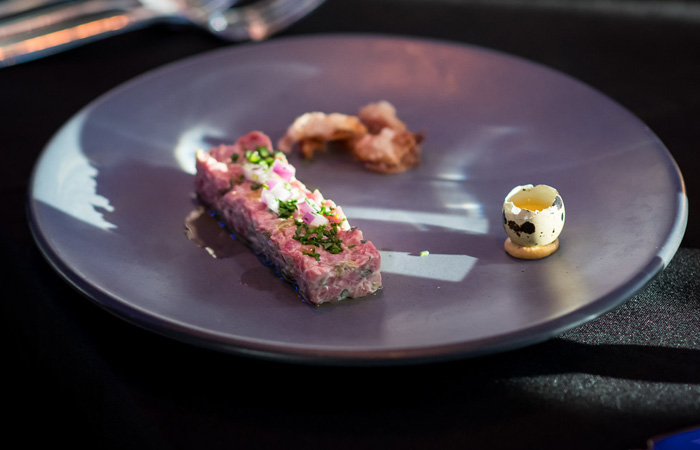 The appetizers in the Monarch room are abundant. They include a bounty of sushi options from sushi chef Maung Har, all of which are fresh and beautiful to look at. Unfortunately, all the current sushi options featured shellfish, and one member of our party happens to be allergic. However, upon mentioning the allergy, Francisco immediately indicated that chef Maung would be able to sub tuna for the shellfish to create a roll specifically for our table. This is the kind of spectacular service you can expect when you step foot into a ClubCorp managed property. So, our group ended up getting the one special made tuna-based roll and another roll that featured Lobster and Steak. Both went fast as we devoured the rolls with little regard for the fact we still had entrées to consume. The surf and turf roll with the lobster and steak was amazing, with a true taste of both land and sea, and don't bother with any soy, as you will really want the natural flavors of the roll to shine through. It was a great pre-meal meal. 
We also tried some of the grilled quail, which in a meal of many highlights, was one of the standouts. Quail is such a fickle protein, that when overdone, it can become drier than the heart of a haystack. I am happy to report that this quail was prepared perfectly. It was juicy, fall off the bone tender with just enough char to get that grilled flavor. My only complaint is that there wasn't enough of it. The rest of the meal was amazing, but I kid you not, I would make a return trip just for this appetizer.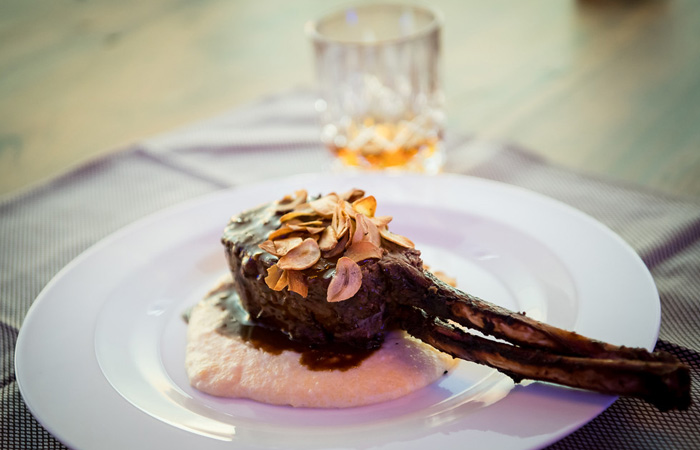 The entrées in the Monarch are fine dining by the numbers. Executive Chef Brandon Galitz has the pedigree, as he trained at the prestigious California Culinary Academy and then refined his skills at Spago and CUT, both by super-chef Wolfgang Puck. Galitz brings wonderful, fresh ingredients to a top level, from their steaks and seafood to chicken and pork. 
As a group, we all wanted to sample something different to get a feel for the different techniques used by Chef Galitz. One member of the party selected the chicken, one the pork, and me and my buddy sampled the steaks. The chicken dish was a smaller, lighter portion for those who may not be wanting to go for the red meat options. The chicken comes pecan crusted with a maple glaze. It was juicy and moist and placed upon a bed of sweet potato mash, which complimented the chicken perfectly. It's a little bit sweet and a little bit savory, which is a perfect combination on the palate.  
If you do choose the double bone pork chop, be aware that this isn't the same chop your grandmother used to pan sear. This double cut is massive, and when it was presented in front of us, our first reaction was how is anyone going to finish this formidable high rise of hog. Despite being a huge portion, the pork was beautifully prepared, with a little pink still in the middle to make sure the juices flowed throughout the meat without sacrificing any flavor. If you are considering splitting a dinner with someone else, the pork is a great option.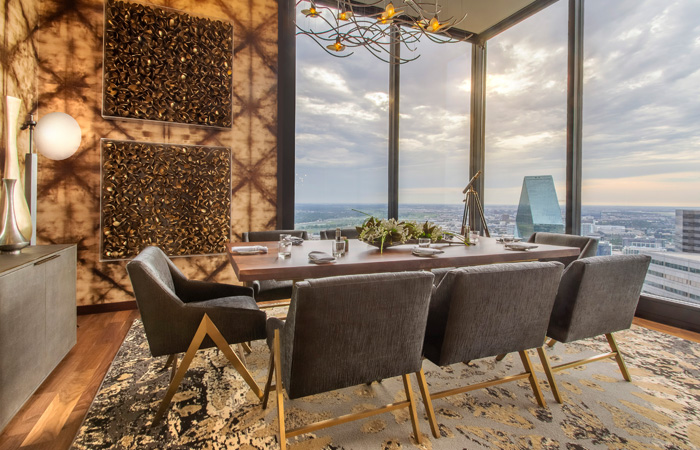 Of course, when you think of fine dining, steaks are often time the first thing that come to mind, and with Tower Club, it's no different. The other options are fantastic, but there is just nothing like a great steak. I went for the bone-in ribeye, which was cooked to perfection with a nice char on the outside, while still maintaining my preferred temp of rare on the inside. With ribeye, there is some marbling, so when ordered rare, sometimes the fat doesn't want to render as much, but this steak was so tender to begin with, the fat melted just enough to add that fantastic flavor. The steak comes with some roasted garlic, which you can add to the fork before you take a bite to add some of that great garlic flavor to the beef (toothbrush not included). 
The one other steak we tasted was the New York Strip. This steak was ordered rare and "Pittsburgh" style. Instead of the normal sear you see on beef, this one has more of a crusty char, which really enhances the flavor of the beef and adds a nice textural element. Again, Chef Galitz knocked the preparation out of the park, as it came out just as ordered. 
There are all types of sides you can choose to go with your meal, but since we had appetizers and plenty of bread before the meal, we went with the twice baked mashed potatoes to share, and the cheesy, bacon topped taters were just the thing to go along with the entrées we chose. 
And then there is dessert. Although our group was borderline comatose from all the food, it seemed like a mistake not to spend 20 more minutes soaking in the view and enjoying some sweets at the end of the meal. We decided on the Bananas Foster, and I couldn't be happier with our decision. The cake was amazing and topped with sliced bananas, some ice cream, whipped cream and then topped with flaming dark rum. Once the alcohol burns off the rum, it adds a little bite to the sweetness. In my opinion, it may be one of the best dessert dishes in Dallas. 
Although Tower Club is private, it's absolutely worth taking a look at if you are a business owner or a young executive looking to impress clients or those who may be in charge of promotions in your company. A trip here with the boss might be the difference between getting that promotion and it going to someone else. Now, I'm not suggesting you should bribe your way to the top, but a dinner and drinks here may help grease the wheels a little bit. 
If you do decide to inquire about a membership (I think you'll be surprised how affordable it is), then be sure you take the time to check out the club and it's many dining and drink options. If you should pull the trigger, you won't be disappointed, and neither will any of the guests you bless with the opportunity to dine alongside you at Tower Club Dallas.