Luxury Travel – Cornerstone Club

We Texans adore our trips to Colorado. Beautiful weather (spring to fall for golf; winter for snow sports), mountainous topography and a quick plane ride to this lovely nirvana make this a must-do destination. The factors ramp up further when escaping the summer furnace of the Bluebonnet State. 
AG President Craig Rosengarden and I visited the incredible Cornerstone Club property merely 30 minutes from Montrose, Colorado with daily direct two-hour flights from Dallas. It's a Shangri-La of incredible golf, amazing views, clean air, a plethora of outdoor activities and cool wildlife. We were immediately smitten.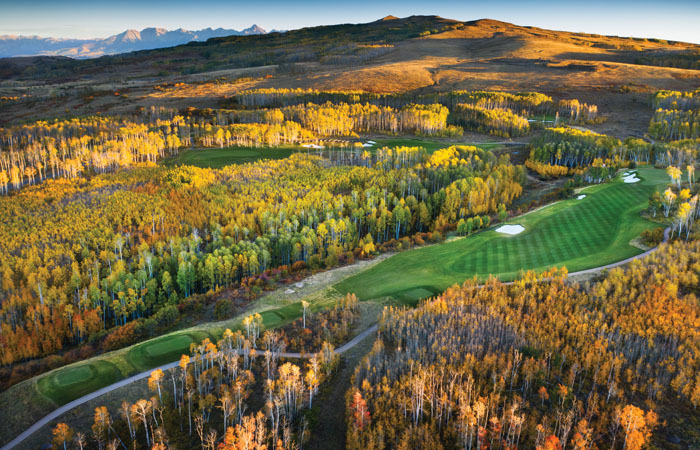 Cornerstone Club was built back in 2007. Unfortunately, the economic downturn closed the property in 2012 when Hunt Realty Investments sold out. The course staff dwindled from 27 to seven and the course went dormant. 
A small contingent of Cornerstone property owners enlisted Matt Dusenberry to renovate the course layout ultimately reopening in July 2019, removing 13 bunkers from the original Greg Norman design. It smartly utilizes the natural terrain rather than digging out the topography. 
Course superintendent Jason Stroehlein said, "It was almost surreal just to be back, and it was just heartbreaking to see it in that condition after we had hit so many high peaks," says Stroehlein, who walked the property for four days during that summer 2017 trip and then worked for the next six to eight months to develop a revival plan. "All the fairways and roughs, all the bluegrass areas, were only about six inches tall and just very thin. That was surprising. We had a few weeds, dandelions and thistle, but nothing was overgrown or crazy. You couldn't see fairway contours, but it was a golf course, wall to wall, right down to the edge of the grass limits. It took shape fairly quickly to determine what we were going to have to do.  Unfortunately, the tees and greens all needed to be stripped and reseeded and the bunkers, which had become Elk Airbnb accommodations, were replaced with the Better Billy Bunker system, ala Augusta."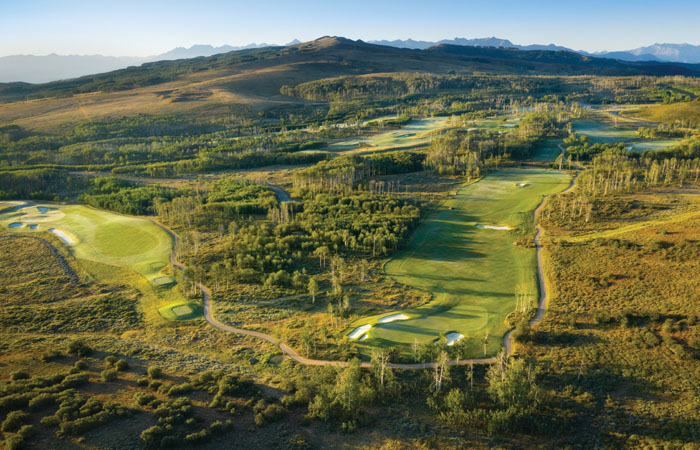 However, the 3,000-plus sprinkler heads were in remarkable shape with only one percent needing replacement. Given the high altitude, only rain irrigated the course nicely stifling the normal high growth bluegrass. Stroehlein said, "If you were to go to an overgrown course in the Midwest, the grass would all be a foot high. Here, it was like it had maintained itself. It looked like you could darn near go play golf."
Fortuitous times indeed. Fast forward to today and the course conditions and ambiance are top-notch in all areas including the expansive clubhouse and nicely supplied snacks (a cornucopia of ice cream options!) at the halfway house. Several national publications named it "One of the best high-altitude courses in the nation – if not the world." 
The Cornerstone Club course is 7,867 yards (Slope 154, 76.4 rating) from the tips but plays roughly 10-15% shorter due to the 9,219 foot elevation. Black tees are 7,277 yards, slope 147, 74.25 rating. The Member tees are 6,904 yards; slope 143, 72.4. Blues are 6,389; 113, 64.8. Finally, the forward tees are 5,326, 132, 69.7.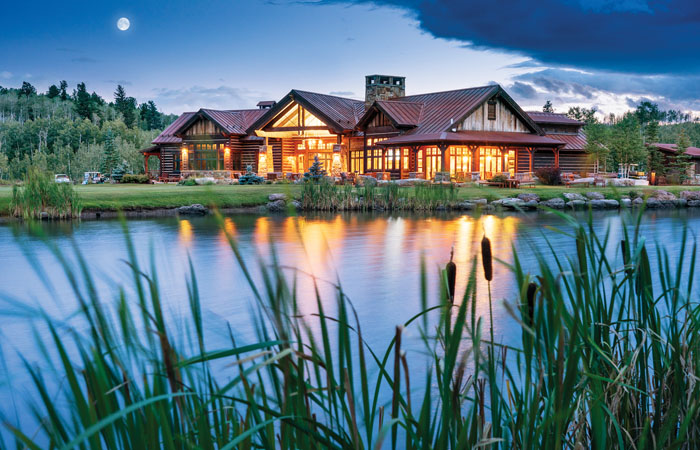 Playing from the correct tees (normal 5-iron x 36) gives golfers the best opportunity for enjoyable rounds. 
Fairways are extremely generous (a good idea for most courses to emulate) but it's imperative for second shots to find the right target due to the sloping greens and abundant false fronts. Yet those false fronts are easily puttable due to the excellent Bentgrass conditions. 
Local knowledge is important due to the unique course characteristics. I used the resident foursome's advice to birdie four holes on the outward nine. Another compelling aspect is how putts behave when rolling the rock towards valleys or mountains. Mountain-directed putts actually slow down even on downhill putts while valley attempts do the opposite. And, given the abundant hole-lined aspens hiding those visual cues, it might take a few rounds to get the proper feel.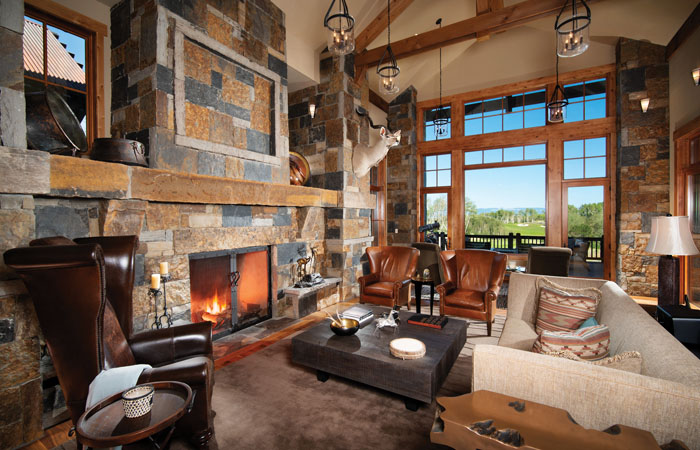 The course includes impeccably conditioned Bluegrass fairways and rough with Bentgrass tee boxes, approaches and greens. They're a treat to view and play. Every hole is virtually separated by trees and tall native rough to insulate players from seeing another group. Finally, there's a cool new 19th par-3 hole named The Rut to hopefully recover your wagering loses on the course. 
One would assume the seemingly hilly terrain prohibits walking but several members regularly choose not to ride. Breathing in the mountain fresh air is blissfully invigorating. 
Another refreshing aspect is the local wildlife. There's a decent chance you'll see elk, deer, coyotes and maybe a bear or two. Those add to the rustic mountain ambiance.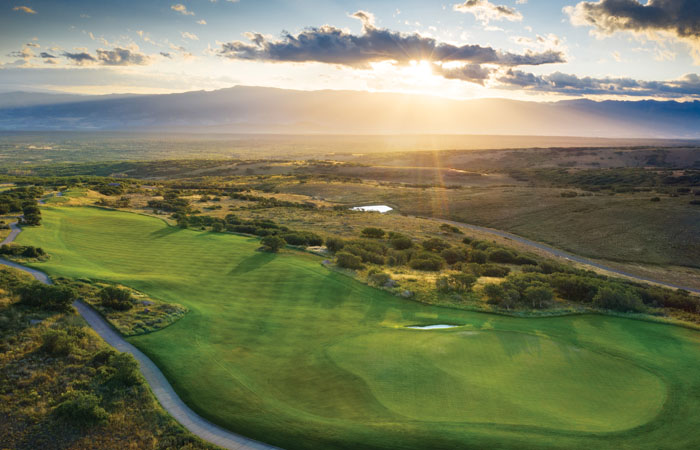 There's more than great golf as well on the 4,800 acre property. Family and friends can luxuriate in huge fully appointed homes ($1,000 a night) or choose fully-equipped two to four bedroom cabins ($300-$400 per bedroom per night). 5 cabins are slated to open in the fall 2021 with eight next year. The rental season is from Memorial Day to mid-October. 
Starry skies highlight the evenings. One can enjoy a skeet and target shooting range, ATV excursions and 50 miles of hiking/biking trails. In addition, there is an equestrian center for horse riding and boarding.
In the winter, the property offers snowmobiling, cross country skiing and snowshoe tours. 
Dallas attorney Jeff Cuban (yes, Mark's brother) joined last year. He said, "The property  easily checked all the boxes for my family to enjoy annual two-month stays."
An added bonus is Cornerstone Club is a mere 45 minutes from Telluride's highly-rated  skiing, snowboarding runs, fly fishing and white water rafting. A true outdoor paradise for the active minded.  
National memberships are $10,000 in annual dues (no initiation fees). These members can stay in the Member cabins close by to the clubhouse. There are ample options for lot buyers.  Lots range from ¼ acre to 100 acres both adjacent to the golf course or on hillside with spectacular views.
Suffice it to say, Cornerstone Club's exquisite golf course and property is a must see and play. It absolutely checks all the boxes for those outdoor lovers looking for a respite from the Texas heat or mixing in some stellar winter sports. Once you experience the incredible amenities be prepared for numerous return trips.