PGA & LPGA Tour Season Preview

Storylines, players, tournaments and topics to watch in 2017 on the PGA and LPGA Tours
The AT&T Byron Nelson plays its final year at TPC Four Seasons Las Colinas.
We all knew this was coming a few years ago when the announcement was first made about the building of Trinity Forest Golf Club in south Dallas, but many had targeted 2019 for the switch, not 2018. But regardless of when it is, the move from TPC Las Colinas to Trinity Forest was inevitable. The tournament has a long, wonderful history at the TPC, where it was first played in 1983. Champions have included Hall-of-Famers such as Fred Couples, Payne Stewart, Phil Mickleson and Ben Crenshaw, as well as mega-stars such as Tiger Woods, Ernie Els, Adam Scott, Jason Day and Sergio Garcia. It was at TPC where a young Jordan Spieth broke onto the golf scene as an amateur in 2010, finishing T16.
While the golf course itself may not have been the most beloved on Tour, the resort on site was adored by almost all the players, as it is a great place for families to spend the week. From a crowd perspective, the par-3 17th has become quite a popular attraction, and the Pavilion by the entrance is the place to be during tournament week. I'm sure Trinity Forest will prove to be a wonderful host for AT&T Byron Nelson championships for years to come, but all of us in the Metroplex hold a special place in our heart for TPC Las Colinas as did the man who helped build this event – Byron Nelson (and his immortalized bronze statue near the first tee). Trinity Forest will have big shoes to fill.
Will Jordan Spieth's 2017 look more like 2015 or 2016?
Despite winning over $5.5 million, capturing his first victory in his home state at Colonial, notching eight Top 10s (including a T2 at the Masters) and missing only two cuts AND winning the Ryder Cup, it is hard to deny that 2016 felt like a "down" year for Jordan Spieth. Maybe it was the meltdown at the Masters in April, or maybe it is just because in 2015 the guy won five times – including two majors and the FedEx Cup – but Spieth is already talking about being "better" in 2017, as crazy as that sounds.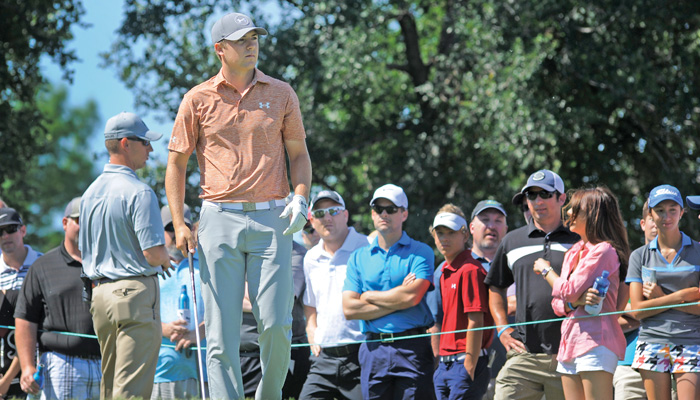 He is already off to a great start, winning in a playoff at the Emirates Australian Open in late November, after taking six weeks off post-Ryder Cup. That is going to be the key for Spieth this year – managing his time and his schedule a little better, so that he doesn't get worn down come mid-summer. And while it may be a bit crazy to call for a repeat of 2015, we expect Spieth to "bounce back" (again, it sounds crazy to say that) in 2017 with a more successful year – or, at least one without the ups and downs and not quite as many stresses.
Obviously, Jordan is going to be super-charged when he arrives at Augusta National in April, but if he hasn't picked up a win by then, we have our eyes on May 18-21, the final playing of the AT&T Byron Nelson at TPC Las Colinas. The course hasn't been overly kind to Spieth since turning pro, but you can bet that he will be laser-focused that week as he tries to get a win in his hometown at the golf course that helped boost his fame as a junior golfer.
In the end, I'm not ready to predict multiple majors for Spieth in 2017, but I do think he will win 3+ times, and one of those wins will either be a major or a FedEx Cup playoff victory. Also, look for him to make a serious run at getting back to No. 1 in the world.
Can the Dell Match Play exceed expectations in its second year?
There were a lot of unknowns when the match play event moved to Austin Country Club last year: Would the weather hold up in March in Texas? How would the golf course be perceived? Would fans attend? Would the top players opt to pass on the event the week after Bay Hill? Well, the PGA Tour and head honchos at Dell (the event sponsor) could not have asked for a better weekend, as Jason Day and Rory McIlroy faced off in the final match on Sunday, with Day taking the title for the second time. The weather was great the entire week and the golf course received rave reviews from players and fans. The question is, now what?
The match play event is probably the most difficult to project as far as success and ratings, due to its fickle nature. The tournament has gotten pretty lucky in recent years with some high-profile winners – Day (twice), McIlroy, Hunter Mahan and Matt Kuchar – but has also suffered some early exits by top stars, making Friday and Saturday tough watching for TV viewers. There really is no way to guarantee big draws on Saturday and Sunday, so crossing fingers and toes is the best option. But, the tournament has put its best foot forward in Austin with the golf course, so hopefully we will be treated to another star-studded final round.
Will Bryson DeChambeau succeed, or be buried by his own strategies?
Much has been written and talked about regarding Bryson DeChambeau's unique approach to the game, from the scientific tinkering with his swing to his single-length set of clubs. After turning professional after the Masters, DeChambeau had a solid outing in his first few months on Tour, and, thanks in part to a victory on the Web.com Tour in September, earned his PGA Tour card for 2017.
But in November, DeChambeau was spotted working on a side-saddle putting stroke at an event, and has said he is seriously considering going to the style full time. While some may shrug this off as the Mad Scientist Golfer tinkering more with his game, to me it is a red flag. Any time you see a pro going through a drastic change on the putting green, it usually means something is seriously wrong. Guys don't just completely swap putting styles for no reason, and at 23 years old, if DeChambeau really feels it necessary to go in this direction, it makes me wonder if cracks are starting to show in his game. Or, is he starting to over-think and over-complicate something that should be simple?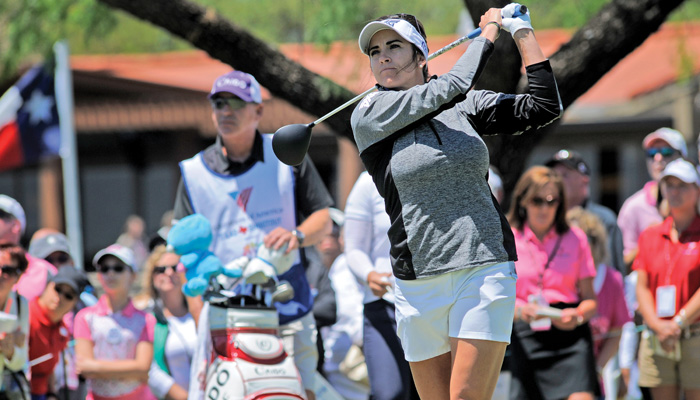 Will Gerina Piller break through to win on the LPGA Tour?
At one point last spring into early summer, Gerina Piller was probably the hottest golfer on the LPGA Tour. In a 10-event span, Piller rattled off nine Top 10 finishes, including a T2 at the Volunteers of America Texas Shootout here in Irving, where she had the lead entering the final round. But she still was unable to break through to the winner's circle.
Piller has long been one of the best players on Tour without a victory, and her performance this past year proved that. To break through this year, Piller will probably have to improve her putting a bit, as she was 77th last year in Putting Average (although she was in the Top 20 in Putts per GIR and Scoring Average). But more than that, she may just need to continue to believe that she can win, and eventually it will happen. Piller is too good of a player and too long of a hitter to be held out of the winner's circle for much longer. When it does happen – and it will – it will provide great relief to Piller, and probably open the floodgates for many more victories to come.
Who will spend the most time at No. 1 in the world?
Midway through the month of December, Jason Day held about a one-point lead over Rory McIlroy for the top spot in the World Golf Rankings, but there are three other players – Dustin Johnson, Henrik Stenson and Spieth – who are within three points of Day's lead, and all three have the firepower to catch Day during the first leg of the season.
We probably won't see much movement in the Top 5 until the end of January, but expect to see all five guys in action multiple times during the six-event stretch that starts with the Farmers Insurance Open at Torrey Pines through the new WGC event in Mexico in early March. In that stretch you have the Phoenix Open, Pebble Beach, the event at Riviera and The Honda Classic, all high-profile events. If one of the chasers is going to overtake Day's No. 1 ranking, it will probably happen during that stretch.
What has happened to Hunter Mahan, and can he recover?
In 2012, Hunter Mahan won the Shell Houston Open, vaulting himself up to No. 4 in the World Golf Rankings, and was poised to be one of the best American players for a long time. Almost five years later, he has plummeted to 402nd in the world; last year he missed 13 out of 22 cuts and tallied only one Top 25, and during the 2016-2017 wraparound season, he missed the cut in all four of the events in which he played. So … what happened?
Well, things have been quite hectic for the 35-year-old off the golf course in the last few years. This summer, his wife gave birth to their third child, to go along with two young kids already at home, so things are a bit crazy (but in a good way, right?). He has admitted publicly that he is having a hard time being mentally focused on golf and may have gotten a little overwhelmed trying to juggle family life and his professional career. His swing was in shambles this past year, and he fell to 186th in strokes gained: approach-the-green.
Mahan is still a young guy, and has plenty of athletic prowess still left in him, but to get back to where he was 2-3 years ago, he is going to have to double-down on his on-course focus, which may be difficult with three rug rats running around. He has the talent to recover, now he has to decide how important the game is to him.
Who will be the next young Texas golfer to break out on Tour?
Spieth and DeChambeau are the two most recent examples of stellar amateur golfers from the Lone Star state that have burst onto the scene as professionals, but there are a slew of other young Texans that may be poised to make some noise on the PGA Tour or Web.com Tour this season.
Just last month, former Longhorn Cody Gribble joined the ranks of young Texans entering the winner's circle by capturing a victory at the Sanderson Farms Championship. Gribble, a Dallas native, played extensively on the Web.com Tour in 2015 and 2016, now has full status on the PGA Tour.
So who is next? Another Longhorn, Beau Hossler, will be making his professional debut this year, and former Aggie Martin Piller will also be looking to improve upon his solid season last year. And don't forget about young Austin Connelly, who forwent college and turned pro in late 2015. The Dallas native is currently playing on some of the smaller professional tours.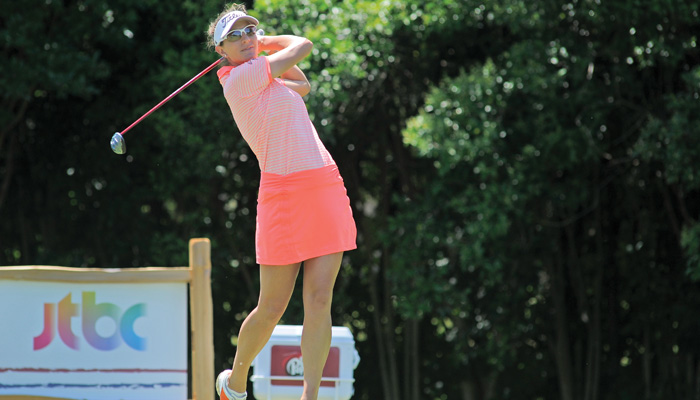 What is next for Brittany Lang?
Although she is only 31 years old, Brittany Lang has been on Tour for over a decade, and was, until last year, somewhat of a journey-woman tour player. Her lone win came in 2012 at the Manulife Financial LPGA Classic, but she has carved out a successful career on Tour since joining in 2006. All that changed last July, however, when the McKinney native captured the U.S. Women's Open in a playoff at CordeValle. Now, she is a major champion, and still has a long career ahead of her.
After her victory, Lang finished the year in a bit of up-and-down fashion, finishing T60 or worse in three events, but also notching five Top 25 finishes and only missing one cut. When the New Year begins, we are sure that Lang will be looking to keep the momentum of her first major victory going.
Is Tiger Woods back, and do we really care?
No, Tiger isn't "back" like many want him to be – a recreation of 2000-2008 Woods is impossible – but we have been lead to believe that he will play a somewhat full(er) schedule this year. He looked OK at the Hero World Challenge (he did make the most birdies in the field, but also made a bunch of doubles), but we still have yet to see him compete in a full-field event. He recently announced he will play in the Genesis Open at Riviera in mid-February, but has not made any other commitments. Other early events Woods could target include Farmers, AT&T Pebble Beach Pro-Am, and maybe the Waste Management Phoenix Open, and it is a safe bet to believe he will be at Bay Hill in March. Until he actually shows up at an event, though, we will remain skeptical. And honestly, do we really care? Well … it's Tiger Woods, of course we do.