Playing the Odds – Legal Poker Has Arrived in Dallas

Can you LEGALLY play poker in Dallas? You bet you can at Poker House – Dallas!
Residents of the Dallas/Fort Worth Metroplex no longer have to travel long distances to neighboring states to play this great game commonly played every day in country club locker rooms, home game rooms, at the family dinner table, or in the garage with friends. Legal poker in Texas has experienced a modern-day boom in recent years, with areas like Austin, Houston and San Antonio opening clubs that cater specifically to poker. And now, players can stay in the Dallas/Fort Worth Metroplex and play in their own private club for poker, in a room that feels like it comes straight from the Las Vegas Strip; right off of I-35E & Regal Row, at Poker House – Dallas. 
From the moment you arrive, pulling into the parking lot, you can feel that Poker House – Dallas is a special place. Once you park in the secure, well-lit parking lot, your experience begins …
If you are a first-time guest, you will be greeted at the reception area just inside the front door, where you will complete the membership paperwork (available Membership Options include Daily, Weekly, Monthly and Annually) and pay the accompanying fee. You become a member of an exclusive club that caters to amateur, recreational and professional players, with games designed for everyone's enjoyment. Members also come in to experience many other amenities, including Pay-per-View and live sporting events across any of the 25 high-definition televisions throughout the room, the BYOB bar and players lounge, private outdoor patio, and both a hot and cold food service menu, all available 24 hours a day. 
If the variety of games doesn't attract your attention, the friendly, wonderful staff will, along with the cleanest restrooms and safest facility in all of the world of poker. Poker House – Dallas is professionally operated by two General Managers, Danielle McWilliams & Matthew Osborn, with more than 40 years of combined experience in poker operations, certifying a professional atmosphere that guarantees a great time, every time. Simply put, from beginner to the most experienced players, you are going to love Poker House – Dallas.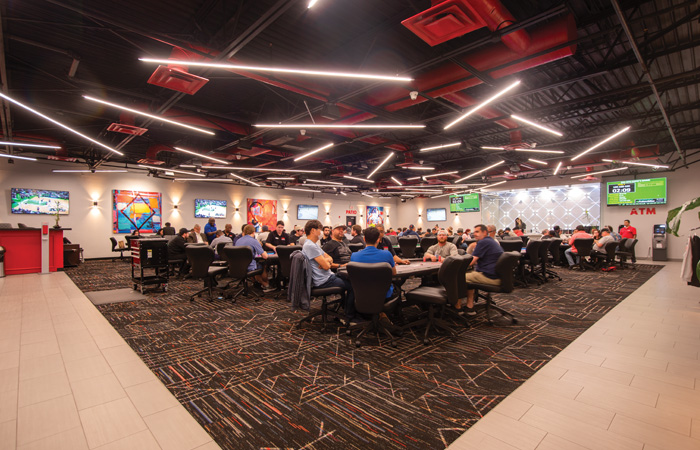 The 30+ state-of-the-art poker tables in the club are professionally made to the highest standards and come complete with wireless charging pads at every seat, drink holders, and buttery soft luxury leather chairs that are fit for every King and Queen. A new Livestream RFID poker table has recently been installed in a private enclave that will soon be displaying an array of live and recorded poker games on the club's own YouTube channel, social media channels and website, as well.
The History of Poker in Texas
Our great state of Texas is no stranger to poker and has its own place in the rich history of the game, full of colorful characters and larger-than-life tales of victories and defeats. Texas even gives its name to the game's most popular variation, Texas Hold'em. But, until recently, there was no way to actually play this game IN Texas. Residents were relegated to watching it played on television, while daydreaming of a time when they too could play it live in the state that it originated from. 
The Mount Rushmore of poker legends includes names like Doyle Brunson, who is also affectionately known as Texas Dolly, along with Poker Hall-of-Famer Amarillo Slim. Both are Texas legends from a bygone era, and now that poker has returned to Texas, another future legend may be playing at the Poker House – Dallas tables right now.
Rain or shine, swing into the Poker House – Dallas today for what we like to think of as the 19th Hole for all the best action, the friendliest faces, incredible promotions and exciting tournaments, all inside a brightly lit, beautiful facility that ensures a hole-in-one experience with membership at a club like none other.