North Texas golf fans, who knew of the local golf rivalry between Ben Hogan and Byron Nelson only through the history books, and maybe only saw Dallas' Lee Trevino on the Champions TOUR, certainly are reveling in the current Scottie Scheffler-Jordan Spieth rivalry on the course. 
Both Scheffler and Spieth are Dallas-bred junior golf products … stars at local high schools (Highland Park and Jesuit, respectively) … current and former World No. 1 players … and current and former Masters Champions.
Add Masters and PGA Championship runner-up Will Zalatoris, another Dallas golf product, and times indeed are good for local golf fans and promoters, who want to see the best from their backyard conquer the best in the world.
But before there was Scheffler, Spieth and Zalatoris making golf headlines worldwide, there was Dallas' Justin Leonard.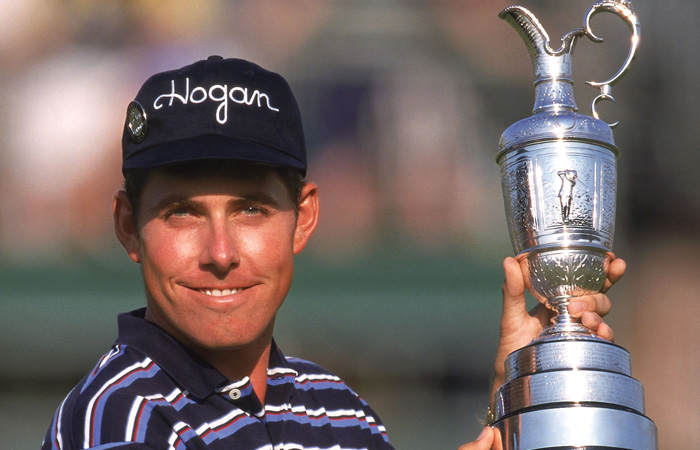 A Lake Highlands High School graduate, Leonard is a U.S. Amateur champion, 12-time PGA TOUR winner, including the British Open championship at Royal Troon in 1997 and a Players Championship at TPC-Sawgrass in 1998.
Fiery, determined, resourceful and clutch, Leonard also was author of perhaps the single most famous American putt in Ryder Cup history.
"Thanks for including my name with theirs," Leonard said with a bit of a chuckle at the 2022 AT&T Byron Nelson, where he was honing his once hugely successful game for his Champions TOUR debut this summer at the Bridgestone Senior Players Championship, after he turns 50 in June. "They are really fine players and a lot of fun to watch, so thanks for including me with them."
Leonard was sitting alongside the 18th green at TPC-Craig Ranch, explaining why he played this May against players several years younger, as well as the looks he received from players who didn't have an idea who he was or wondered what he was doing playing on the PGA TOUR for the first time since 2017.
"This seemed like a good opportunity to play," he said. "Nobody has called me Mr. Leonard yet, but there have been some surprised looks for sure."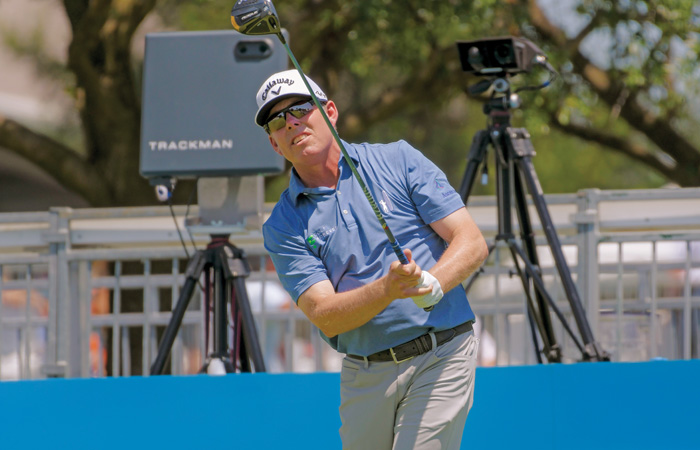 Leonard's next act with the 50-and-over set comes after a stellar PGA TOUR career and successful stint as a commentator on the Golf Channel. It's a constant Lone Star reminder how one Texas golf generation is always there to inspire the next.
It was Leonard who bridged the gap from Dallas' Lee Trevino … to Carrolton's Scott Verplank … to Dallas' Hunter Mahan and his own remarkable extended career.
Growing up in Northeast Dallas, as a young junior golfer Leonard went to work on his game at the nearest private country club to his home, Royal Oaks, where his parents, Larry and Nancy Leonard, were members. He was tutored then – and now – by Royal Oaks head professional Randy Smith, who said he had never encountered a player as accomplished at such a young age.
As Leonard embarks on his 50th birthday in June and the Bridgestone Senior Players Championship at historic Firestone Country Club in July, he is still leaning on Smith, who has gone on to tutor players such as World No. 1 Scheffler and multi-time PGA TOUR winner Ryan Palmer.
"I'm having so many flashbacks, I'm getting dizzy," Smith said as he worked with Leonard for the thousand time or more on the 18th green at TPC Craig Ranch, prior to his return to the PGA TOUR for the first time in nearly four years. "It's just like old times, but yes, I think he can be successful on the Champions Tour."
"I watched Scottie grew up at Royal Oaks, sitting on a bucket listening to Randy," Leonard added. "This is where he should be. It's fun to watch."
The hometown crowds were thrilled when Scheffler, the current Masters Champion, was paired with Spieth at this year's Nelson. Spieth was the runner-up, one stroke behind champion K.H. Lee, and Scheffler finished in the top 15. 
Leonard shot two respectable even-par 72 scores at Craig Ranch, which stretched to more than 7,000 yards from the pro tee markers. He joked on a local radio show that he was glad to see the tee markers were moved up on some holes, so he could find the fairways with his drives.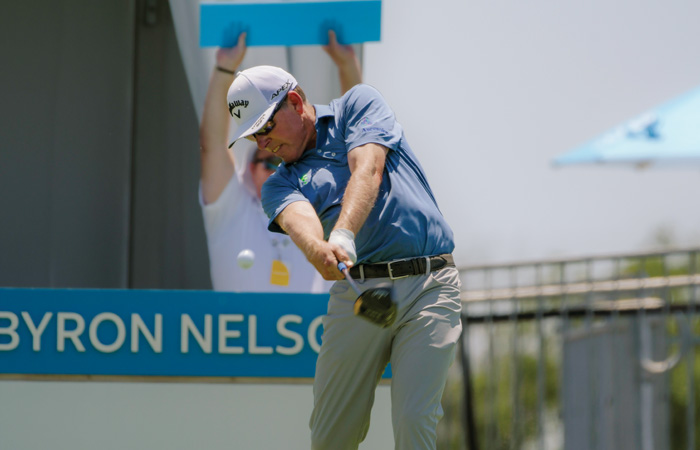 But having golf success was never a problem for Leonard, blazing the well-traveled road that Spieth, Scheffler and Zalatoris have all followed. 
Success as a North Texas junior, with Smith at Royal Oaks. Check.
Success in high school. State championship for the Lake Highlands Wildcats. Check.
Success in college. All-American, four-time conference champion at Texas. Check.
Amateur Ranks. 1992 US Amateur Champion. Check.
Professional Tour. Name your favorite highlight. Check.
"I don't really do a lot of reflecting back on my career," Leonard said. "I certainly don't have any regrets. I'm proud of what I did. I always enjoyed it and enjoyed putting in the work to get there."
As impressive as his 12-win PGA TOUR career is, including a staggering 99 top-10 finishes and 219 top-25 performances, netting him $33.8 million in PGA TOUR career winnings, it could have been even better if not for his losing record in professional golf playoffs. 
Leonard lost in playoffs for the PGA Championship, Canadian Open and British Open.
"It takes a lot for everything to go well and for me to keep my game sharp," he said. "It can be very mental."
Never one of the longest hitters on the PGA TOUR, Leonard remains the last player to win a major championship ('97 British Open) with a persimmon wood in his bag. Leonard is now headed to the land of Champions TOUR golf with shorter courses, no 36-hole cut and friends he has competed against for decades.
"It should be fun," he said. "I've known most of the players for a long time. I look forward to getting out there and competing again. That's what I like to do … compete. It should be like a little reunion for me."
Leonard also is not afraid to change his own path, as needed. He ran the White Rock Marathon to support his wife Amanda, finishing with a solid sub-four-hour time. As he neared the end of his PGA TOUR career, Leonard moved his entire family to Aspen, Colorado, in 2015 on a full-time basis.
"I said let's take that (golf) out of the equation and look at where we want to raise our kids and where we would be happiest," Leonard said at the time. "We asked ourselves, getting on an airplane, where would we be most happy going home to?"
He and Amanda raised their four kids on skiing and mountain biking, and Leonard even took on the name "JL Mountain Man" in his many entries on social media.
He joked he was the only PGA TOUR player (and certainly the only major championship winner) living fulltime in Aspen, and said his routine consisted of working out indoors most of the year and a very occasional golf round in the summer.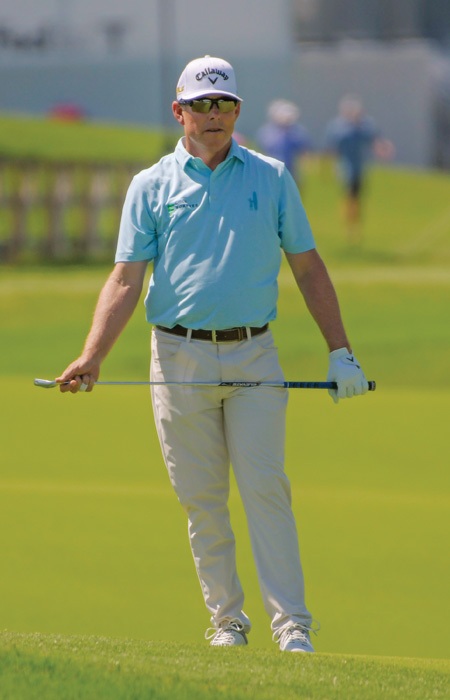 But as he prepares for the Champions TOUR and the next stage of his life, the Leonard family is on the move again. They are in the process of relocating to Florida, close to where Amanda is from, where Justin can practice and play more for his 50-and-over pro golf career and still continue his Golf Channel TV commentating.
"I enjoy sharing my opinions and talking to people about my personal experiences," Leonard said. "Because I have the (playing) credentials, people will give me the respect or a listen to what I have to say."
A regular on Golf Channel commentary with fellow University of Texas golfer Brandel Chamblee, Leonard has already started to cut back on his TV work, though. He is no longer working on the "Live From" Golf Channel set during major championships, but he will work for NBC Sports during the 150th British Open at St. Andrews instead of playing as a past champion.
While there, maybe he could journey a short distance over to Royal Troon to visit the Leonard Suite, named for him, after winning the Open Championship there.
The same Open that North Texas golfers Hogan and Trevino won. The same one that Spieth won and, undoubtedly, Scheffler and Zalatoris hope to capture one day.
Bridging the gap, one successful North Texas pro golf generation to another. 
Justin Leonard is not the first, certainly not the last. Only the latest to have success, showcase success and inspire North Texas golf success in others.