Playing the Odds – The Evolution of Poker

Poker is a simple card game that is played around the world. Although there are many variations of poker, there are three main styles of poker: draw poker, stud poker and community card poker. Most every variation of the game is played in one of these three styles.
Poker is very popular in the United States and in Texas, with games being played by players of all levels – from novice to expert – virtually online and on apps, and in person in homes, garages, card rooms at county clubs, large casinos, social clubs, etc.
The premise of the game is simple; players bet on the value of their hand. The player with the best hand (consisting of five cards) wins the pot, unless of course he or she is deceived (i.e. bluffed) into folding by another player.
The origins of poker 
Some historians say poker originated as a domino/card game played in China in the 10th century. Others say it came from a 16th century Persian card game, "As-Nas."
In America, history tells us that poker was created in the 1800s in New Orleans by French sailors and traders based on a derivative of Poque, a French parlor game. Poker was also originally heavily influenced by the British bluffing game, Brag.
Poker was played in the saloons in New Orleans and throughout Louisiana while the area was still a French colony. New Orleans, located on the banks of the Mississippi River, was the perfect place for the game to mature and flow up and down the 100+ mile waterway. Traders and merchants who traveled the Mississippi River introduced poker to ports and towns along the river, thus the term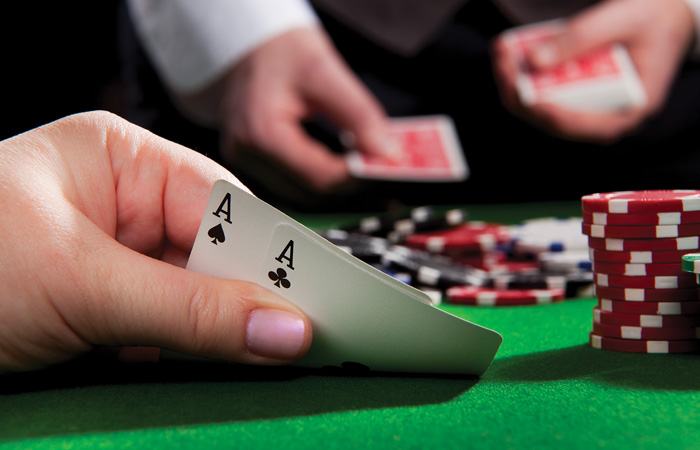 riverboat gambler. 
A few facts about poker:
What is the longest game of poker ever?  
In 1881, a poker game started at The Bird Cage Theatre in Arizona and turned into the longest poker game ever played, lasting eight years, five months and three days.
When was poker first shown on TV?  
The World Series of Poker was first shown on TV in 1973 and propelled the popularity of the game. Today, poker is regularly seen on TV and live-streamed on many platforms.
When was poker first played online?  
January 1, 1998 introduced a new era of poker, with the first poker game being played online. Fast forward to today, and more than 100 million people play poker online worldwide, with over 60 million people playing from the United States. 
The history of poker in Texas
When it comes to poker, Texas has a proud history and has given us one of the most popular variants, Texas Hold'Em. Despite the popularity of the Texas Hold'Em, mystery surrounds its origin.
Although no one knows the exact date as to when Texas Hold'Em was first played, the game is thought to have emerged in the early 1900s in the small town of Robstown, Texas, a western suburb of Corpus Christi, according to the Texas State Legislature archives.
Texas Hold'Em remained ambiguous for several decades, until famed poker player Crandell Addington touted that Hold'Em was a more refined game due to the level of skill and strategy needed to play and to win. Addington introduced Hold'Em to the casinos of Las Vegas in 1967, and other famous poker players, including Amarillo Slim and Doyle Brunson, were intrigued and helped grow the popularity of the game.
Whether at the gaming tables or at online poker venues, this was the variant of choice for novices and amateurs alike, all because while it's a variant which quite literally anyone can play, it's also one that requires patience and skill to truly master.
From a mysterious beginning, Texas Hold'Em has become the most popular poker variation in the United States and the world. The game is enjoyed by players of all levels because it is easy to teach, easy to learn, and easy to play, yet difficult to master.
Can I legally play poker in Texas? You bet!
Poker clubs are not illegal in Texas. Anyone can gamble for money in a private place, as long as the house does not profit from the game. Remember the movie Molly's Game?
You see, poker is not a game of chance, but rather a game of skill and strategy. This fact is a game-changer.
Dallas is home to several great establishments and social clubs that allow poker players of all skill levels to play a variety of poker variants, and they offer players special promotions, cash games and lucrative tournaments in a safe, inviting environment that will make players feel like a king or queen.
The next time your tee time is cancelled because of rain or excessive heat, venture into one of Dallas' poker rooms and, I believe, you will be impressed. Here is how it works:
You pull into a secure, well-lit parking lot and are greeted by a friendly VIP valet attendant or simply dropped off at the front door by your ride share.
Security personnel will show you to the lobby, where you will purchase a club membership (remember, this is a private club) for the day, week, month or year—the choice is yours.
Once inside the room, you will be greeted by a friendly host, who will answer any questions that you have, explain the procedures and rules of the room, guide you to the cash cage to get your chips. Now, It's time to have some fun, so the host will help you find the table that best suits your desires.
Once seated, waitstaff will take your order for food, drinks and, if needed, provide set-ups for you to enjoy as most establishments are BYOB.
Then, it's time to have some fun!
Do you have a weekly game that you play at your house … in your dining room or garage? See about having it hosted at one of Dallas' fine poker establishments.
The best place to play
Let's keep the Texas in Texas Hold'Em!!
Now that you know you don't have to cross the Red River to play poker – cash games and tournaments – where should you play? You are invited to come to Poker House – Dallas, but wherever you choose, here are a few things to look for:
Is the parking lot safe, well lit and attended? Is valet parking available?
Is the staff friendly and do they make you feel comfortable and welcome?
Is the interior of the poker room clean, vibrant and inviting?
Is food and beverage offered? Are set-ups available if the club is BYOB?
Poker games take time to play. Does the club offer a secure patio for breaks? What about licensed masseuses to provide chair massages to keep you comfortable?
Next month, I will provide winning tips and strategies. For now, come play.