Reynolds Lake Oconee — A Luxury Resort in Rural Georgia

Reynolds Plantation, um, er, Reynolds Lake Oconee can change its longtime name, but nothing can change this always top-notch Southern golf (and now outdoors) outpost, complete with luxury lodging and natural hardwood scenery.
More than 30 years ago, businessman Mercer Reynolds III and his family began to develop the thousands of acres of family land along Georgia's scenic Lake Oconee shores, almost exactly halfway between Atlanta and Augusta. Originally purchased by Mercer Reynolds, Sr. in the 1920s for a rustic family retreat, Reynolds Plantation became Reynolds Lake Oconee and is now an outdoor paradise for families visiting from across the country.
There is a luxuriously comforting Ritz-Carlton resort nestled among the thousands of pine trees and perched on the shores of the lake and one of the finest practice and fitting facilities anywhere in the U.S., the Kingdom at Reynolds.
Most notably is the name change and the recent outdoor opening of the Reynolds Sand Creek facility, which includes skeet and target practice along with air guns and high-tech archery accompanied by a large wooden party barn and complete outfitters and lockers.
It's a complete family resort experience which is one of the reasons Reynolds assembled the property in the first place for his large family.
Reynolds currently boasts six golf courses of all shapes and varieties, and since new owner MetLife, who purchased the massive facility from the Reynolds family in 2012, took over they have worked on polishing and adding to the green grass outdoor jewel.
Located less than 100 miles from golf's holiest shrine in Augusta, the wide variety of links offerings at Reynolds has always been the primary draw for the facility (at least for one week in April). The resort grew from a single course in 1998 to now boasting six beautiful tracks to choose from.
The Preserve course, originally called The Plantation, was designed by architect Bob Cupp and opened in 1998. A Jack Nicklaus signature design, Great Waters, followed in 1992 and is scheduled to be renovated later this year. Now, Reynolds features a total of six golf courses designed by some of the best architects in golf.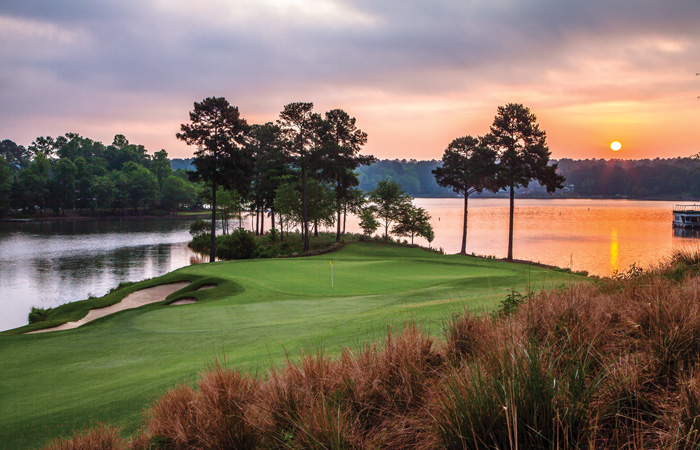 Cupp was still fairly unknown as a golf course designer when Reynolds called on him to design the first course, but the success of his tree-covered par-72 layout, with the chance to see the lake in the background and the pleasure boats cruising the waters, proved the concept of creating a Southern golf haven was a promotable and sustainable one.
But it was the arrival of Nicklaus in the fall of 1991 which officially launched Reynolds into the hyperspace of top U.S. golf resorts. His par-72 Great Waters course placed nine of the 18 holes directly on or overlooking Lake Oconee, including an unforgettable closing stretch of 16-17-18.
"The first time I came to Great Waters I knew it had the potential of being a great golf course, but we had to find it. I think we found it," he said in a bit of a massive understatement.
It quickly leaped into the best new course discussions and top 100 courses in the U.S. and was named by a variety of publications as one of the most scenic courses in the Southeast. Even 25 years after it opened, Great Waters remains the most popular course at Reynolds.
Generations of golfers still arrive to confront Great Waters and tackle the memorable closing challenge of the par-4 16th, the par-3 17th and par-5 18th, all either alongside or overlooking the Lake Oconee waters.
A variety of professional tournaments, including the Andersen World Match Play Championship and televised exhibitions, have introduced millions of viewers to what he still considers one of his signature U.S. waterside designs.
"It's one of the really great pieces of property I've ever had the chance to work on," Nicklaus said.
Next to appear on the golfing scene was another pretty fair architect, Tom Fazio, who did the National course in 1997 with less waterside views, but plenty of very playable, wooded Fazio hole designs.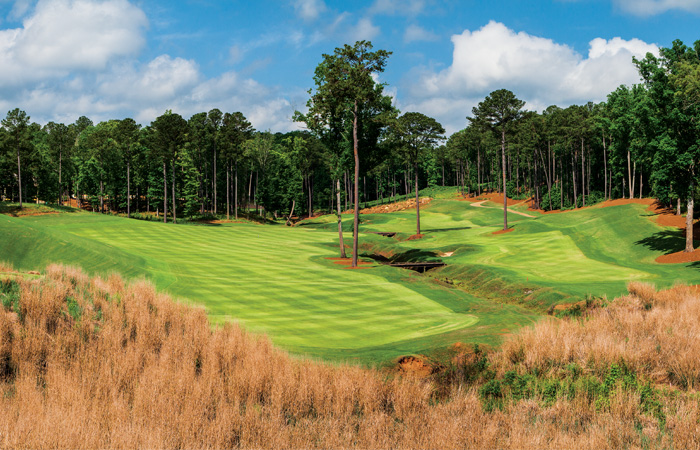 A new nine holes, the Cove nine, was added to the National courses in 2000 and two years later the next evolution of the popular facility was completed with both The Ritz-Carlton resort and the Reynolds practice facility, now known as The Kingdom, opening in 2002.
Some longtime Reynolds members and staff members question why a Ritz-Carlton, which has been successful as a luxury haven, would operate in this wooded family golf destination. But it has not only survived, but thrived with golfers, both families and groups wanting top-notch accommodations to match their top-notch golf.
Most of the rooms overlook the Oconee Cove with paddle boats and watercraft available to rent along with a complete spa, indoor and outdoor pool and a man-made beach, all next to the resort. There are a variety of indoor and outdoor restaurants, large rooms, balconies and big screen TVs which allow even the most golf-hating family member to rest and play in style here.
The Reynolds practice facility, better known as the Kingdom of Golf, one of only two in the U.S. and the only one on the East Coast, allows top players, millionaire professionals and most importantly golf-loving and ability-challenged resort guests to come out and test a wide variety of equipment with all the newest technology.
There is an everlasting debate if golf's Texas legends from the early part of the 20th century, the Hogans and Nelsons, Burkes and Demarets, would have been helped or hampered by the 21st century wave of whiz-bang technology, but there is little doubt the average hacker (someone just happy to see the ball airborne and forward) can gain a valuable stash of golfing data here.
Using the high-tech Trackman systems, golfers can measure their swing speed, launch angle and ball flight to measure what they really do on each violent or sweet swing on the golf course and how they can improve whatever game they bring to the courses.
There is a computer putter lab for the ever most maddening part of the game along with covered and heated practice bays plus computer sensors and mirrors to check your actual swing vs. what you always imagine you've swung like.
"One of the things our new owners in MetLife would like to do is get more recreational players out here and see how their swing is like and how we can help their game," said Charlie King, the director and lead instructor of The Kingdom. King has overseen this territory located just in front of the Ritz-Carlton, since it first opened.
"The better players, the top amateurs, college kids and pros, have always known that to compete you have to get better on the course and this technology can help you. Now we want to show the amateur players, the people here for the weekend or the week how it can help them."
There is even a PGA Tour fitting trailer parked on property to view up-close and personal how today's Tour players get one-stop services, and Reynolds guests can order any club or component they want.
The Cupp-designed Port Armour courses, now known as Reynolds Landing, was the next to be added to the golfing menu followed by Rees Jones' Oconee. Rounding out the list of courses is the resort's most interesting, scenic, horrible or goofy course: The Creek Club. Designed by Colorado architect Jim Engh, this course has undulating terrain and endless angles so take your pick of adjective; all can apply.
The Creek Club is a private member-only course with limited access, but is certainly unique for anyone who has the chance to tee it up here. The par-72 course is visually stunning, but almost all the greens are concave toward the hole which means a truly horrible shot can catch a ridge and roll a foot from the cup or a well-struck approach can bound yards away.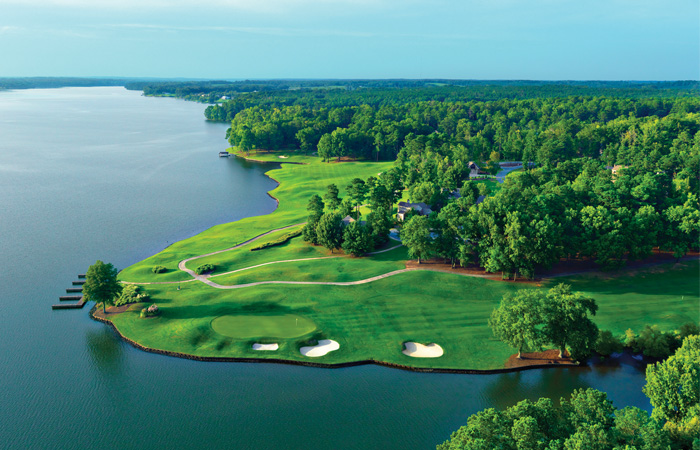 There is definitely a goofy mini-golf feel to many of the holes along the hugely sloped mounds which require mountaintop rappelling training just to get from the cart path to the green. Interesting, good or bad, is probably the best way to describe Reynolds' newest layout.
For those who need a golfing break or want to forgo golf entirely, the new outdoor Sandy Creek Sporting Grounds is the perfect choice. Visitors can shoot a wide variety of guns, walking the wooded facility with trained guides offering basic and expert instruction.
The new archery course is especially inviting as those who haven't shot bows and arrows since their junior Y-Camp days or chased their siblings in the front yard are in for quite an awakening. The high-tech weapons now use a scope and multi-color sights, just like shotguns, allowing first-time archers to have the success they could have only dreamed of as a tyke.
The longtime Plantation has now become a full-fledged, full-sport resort on Lake Oconee, midway between the modern Southern megacity and its revered golfing shrine.
For whatever active or relaxing reason you choose, Reynolds Lake Oconee is a retreat worth taking for a full sporting experience among the Georgia pines and waterfront.
For more information, go to www.reynoldslakeoconee.com or call 800-800-5250.