Scene and Be Seen – Cane Rosso at "The Star"

Pizza is one of the most consumed foods in the United States. According to the latest data, Americans eat about 3 billion pies each year. Most of those pizzas, however, come by way of a teenager ringing your doorbell and sliding a box from a Mylar-insulated bag. Despite the gourmet pizza revolution finally gathering some momentum over the last several years, it would seem many still prefer to get their fix by drowning a mediocre pie in ranch dressing and then eating the remainder cold the following morning.
Since the original opened in Dallas' Deep Ellum district back in February of 2011, Cane Rosso has been trying to buck the trend of processed ingredients that end up smothered in rubbery cheese and eventually drowned in ranch. As the company grew, they branched out to open more DFW locations, including White Rock, Fairview, Carrollton and Fort Worth. As DFW took flight, Austin and Houston got Cane Rosso of their own. Opportunity for expansion once again presented itself in 2016 as the Dallas Cowboys moved their permanent practice facility and headquarters from tired old Valley Ranch, to the state of the art "Star" in Frisco. As with most things Cowboys, Jerry Jones spared no expense, with a Nike Store, public gym called "Cowboys Fit" and an Omni Hotel. Cane Rosso's owner Jay Jerrier felt like this was a golden opportunity to bring world-class Neapolitan pizza to those headed out to see some high school football at the Ford Center or taking in a tour of the Cowboys' new facilities.
"We've been looking for a great spot for Cane Rosso up north for a while," Jerrier said of his new digs. "The Cowboys have built an amazing center and offered us a prime location at The Star. We had a lot of fun with the finish out with the Cowboys themed pizza oven and our Star Wars bits."
As Cane Rosso's Area Manager Todd Garton greeted us at the door, we could tell this location was going to be different than their other stores. The bright layout and whimsical artwork (most of which is Star Wars-themed) on the walls highlight the new structure, as opposed to other locations that were opened in pre-existing buildings. Right away, you can see the Cowboys influence, as a custom pizza oven is the immediate focal point. This one, which ran well into the five figures, sports Cowboys silver and blue, and even has a facemask to make it look exactly like a football helmet. There are even several custom table tops, one features a likeness of legendary Cowboys head coach Tom Landry, and another has "the triplets" from the Cowboys' championship teams of the '90s: Troy Aikman, Emmitt Smith and Michael Irvin.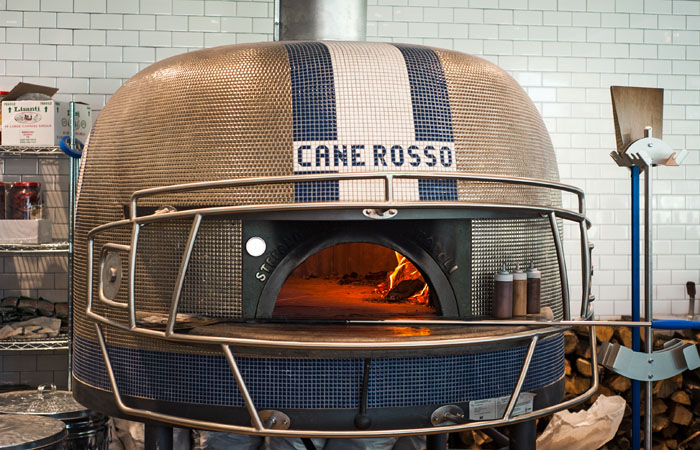 As if the motif didn't ooze of pigskin, the menu also has several items not featured on other Cane menus that also enhance any football fans visit. One such dish is the Jimmy Johnson dip. This app is a football shaped wood-fired pizza crust, slathered with rich spinach artichoke dip. You can pull apart the perfectly soft crust and rake it through the dip just like a linebacker crashing into the backfield. The dip is creamy and delicious, with a hint of garlic and finished with some fresh herbs. If you're a Pro-Bowl caliber football fan, you've no doubt put away your fair share of chicken wings. Cane Rosso knows nothing says football Sunday quite like some yard-bird. These wings are specific to this location, and come in two flavors. The honey sambal variety were the ones we tried, and the combination of sweet and heat in the sauce could trigger a new game day addiction. Add a dip of the lemon basil yogurt sauce, and now you're truly next level.
One could easily fill up on appetizers at the new Cane Rosso, but why blitz the stomach before you get to the star of the show, the out of this world wood-fired pizza. As with the apps, there needed to be a pizza that epitomized Cowboys football, and what's more recognizable than the ever-present Cowboys star logo? Thus, Master Pizzaiolo Dino Santonicola and Jerrier put their heads together and "The Star" Pizza was born. Again, this pie is exclusive to the Frisco location, and is a sort of hybrid cross between a pizza and a calzone. Each point of the star is filled with ricotta cheese that softens during the cooking process and makes this unlike any stuffed crust you've ever tried. Fresh mozzarella, heirloom tomatoes, pepperoni, arugula, and shaved parmesan sit atop the pizza portion of this masterpiece, and the flavors work as beautifully as a Prescott to Bryant deep post. The heirloom tomatoes add some acidity, the mozz cuts the spice of the pepperoni, and the arugula adds a peppery fresh finish to the flavor profile. It may be the best pizza Cane Rosso has ever turned out, and that's really saying something.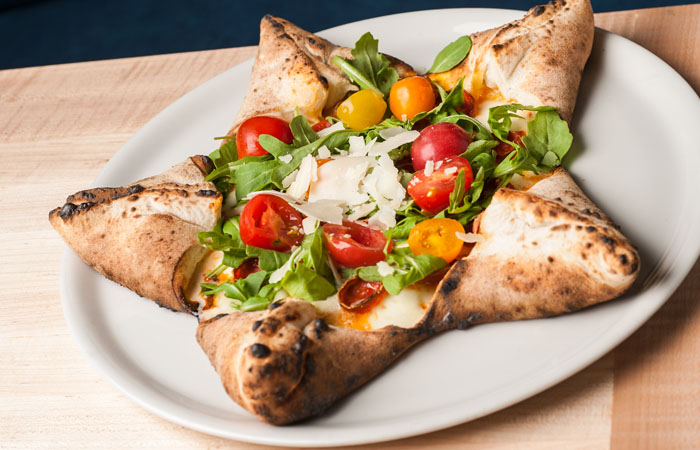 Of course, if you're looking for a pie that's as consistent as Jason Witten, you can stick with one of the classics. The "Cane Rosso" comes with sausage, roasted onions, peppers, San Marzano tomatoes, house made mozzarella and parmigiano. It's got everything you want out of a great pizza. Fresh and so packed with flavor, you may be saying your Hail Marys after the first bite.
If you're one of those people that can't escape the Siren's call of quality sweets, then you absolutely can't afford to miss one of Cane Rosso's dessert pizzas. They have three options: the Giulio, the Edgar and the Ladybird. All begin with a luscious spread of vanilla bean-infused mascarpone cheese and are then taken to the top of the sweet-o-meter with a variety of ingredients. The Giulio is topped with Nutella and powdered sugar. If that's not enough to tackle the sweet tooth, then the Edgar adds toasted marshmallows, but if you're looking for the ultimate, you've got to go with the Ladybird. This one begins with the same mascarpone base and Nutella as the others, but cookie butter and crushed speculoos cookies make this the absolute best dessert I have ever tried. It's simply outrageous, and is a must order if you make the trip. A s'mores calzone and knee-buckling Tiramisu are also available.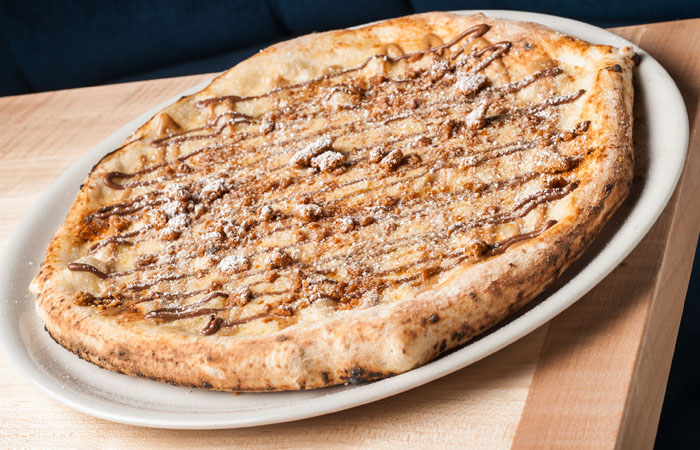 Being a staunch dog lover, Jerrier decided to immortalize his beloved dogs, by not only naming the restaurant after them (Cane Rosso translates to Red Dog), but pizzas as well. All locations have dog friendly patios, so they can host events benefiting local shelters and rescue groups, including their own called Cane Rosso Rescue.
No matter which location you choose, you know you're getting fresh ingredients, and pizza made right before your eyes in that gorgeous wood-burning oven. This location adds a couple more wrinkles into the pizza playbook, and you better believe the newest Cane Rosso will satisfy players and fans alike.