Scene and be Seen – Footlong Fun

Spring is here and you know what that means: time to crack open a cold one, take the cover off the grill and set up camp on your patio under the glittering sunshine. Or, if you're more keen on steps one and three only, Dog Haus has you covered for the dogs.
In my opinion, hot dogs are an overly forgotten and underrated sandwich cousin that should be enjoyed in more venues outside of picnics and ballparks. Think about all the places hot dogs (and sausages and burgers) are typically served: parties, sporting events, backyard barbecues. What do those have in common? All of those things include copious amounts of FUN. Hot dogs are a FUN food! And you never want to pass up a chance to have fun, so here is your chance to bite into some joie de vivre in Richardson.
Dog Haus Biergarten, located in the Richardson Restaurant Park off U.S. 75, is the first Texas outpost of the California-based chain. Founded in 2010, the hot dog-sausage-burger joint aimed to be the place serving up better versions of your childhood memories. Plain dogs and burgers are transformed into loaded works of junk food art that erase any feelings of guilt for consuming bacon, chili and cheese sauce all at once.
As people flocked to Dog Haus for fast-casual fun, the concept took off like a bottle rocket on the Fourth of July. Currently, nine states have Dog Hauses of their own. The North Dallas location in Richardson opened in July 2017.
The Richardson location is a blend of sports bar and backyard hangout spot. Large garage doors blur the outside from the inside giving the concept a fresh air feel. Outside, there is a large patio next to the Richardson Restaurant Park's fountain and outdoor space with corn hole and other backyard games. If you've got little ones in tow, the patio is a wonderful spot to hang out and let them run around.
Inside, the mixed woods and metals offer a corporate industrial feel that welcomes customers as they are, no matter if they're in tee ball uniforms or work attire. There are multiple TVs and a good size bar area, which make Dog Haus a surprisingly good place to catch the game that's on.
As the name suggests, Dog Haus is the go-to place for killer hot dogs and sausages. The pièce de résistance of the Dallas location has to be the Big D: a smoked jalapeno cheddar-wurst that is covered in queso and sprinkled with a chili pepper relish. This specialty menu item has a wonderful warmth from the jalapeno that isn't overwhelming. The relish also lends acidity and brightness to the cheese-covered creation that seems to lift any extraordinary heaviness coming from the queso.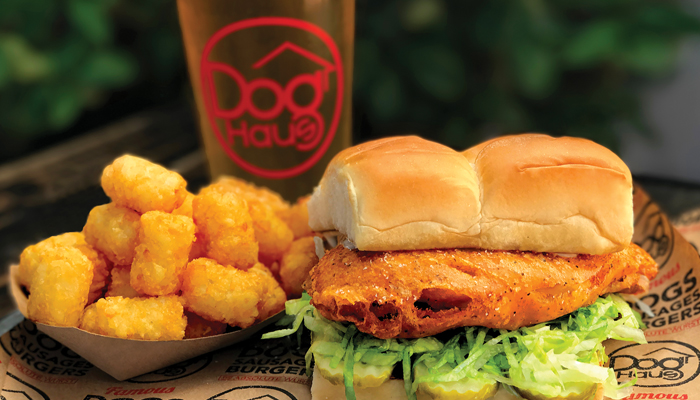 From the hot dog portion of the menu, you can't go wrong with a combination of a bacon-wrapped dog that is blanketed with cheese sauce, barbecue sauce and crispy onions, which is exactly what the Cowboy consists of. It's simultaneously smoky, gooey and crunchy and worth every last calorie. You could do some real damage on a cheat day here and we certainly wouldn't judge.
Don't want to dive off the deep end of chili and cheese? The Sooo Cali dog is topped with arugula, avocado, tomato slices, crispy onions and is drizzled in a spicy basil aioli. It's a great fresh option with a ton of flavor. I mean, come on. It's basically health food, right?
In the spirit of fun and quirky, Dog Haus replaces any boring, run-of-the-mill buns and grills up King's Hawaiian rolls instead. All dogs and sausages are nestled into a row of three rolls and the burgers are placed on a square of four. It's definitely a unique touch and the bread adds a hint of sweetness to each dish. The jury is still out, however, as we found that taking your time to chow down resulted in the disintegration of the sweet roll. You'll have to try it for yourself to get a true verdict.
No childhood is complete without a corn dog, and Dog Haus' version does the memory every bit of justice. I have a feeling the secret lies in the root beer batter that encases your choice of dog or sausage: the sweet crust isn't overly saccharine and delightfully crunchy. It could be America's version of tempura with the airy, audible crisp coming from the fried, soda-laced batter. Even if something else on the menu catches your eye, you can purchase an adorable slider-size version as a sidecar to your meal.
An added bonus to Dog Haus' great products is their commitment to using hormone- and antibiotic-free meat across the board. They proudly advertise their all-beef hot dogs, which takes away the uneasiness or skepticism that often pairs with consumption of mystery meat offerings elsewhere.
The sides echo the quality of the other menu items. While the fries and tater tots can be ordered plain, optional coatings in chili, cheese, slaw or a combination of all three is available. One evening we ordered the chili cheese tots and were quite impressed. The tots had enough structural integrity in their crisp exterior to stand up to ladles of (bean-less!) chili and cheddar cheese sauce. I was equally impressed that even after we spent time chatting and sampling, the remaining tots did not succumb to the gooey cheese and vanish into a pile of potato mush. They were freakin' awesome.
Not into fries or tots? Onion rings, sweet potato fries, chili and slaw round out the available side options.
This spring, move the backyard gathering to Dog Haus to pair your outdoor hang with incredible food. Dog Haus' creative options and delicious combinations provide something for everyone, and is sure to add that missing dose of chili-covered fun to your day.