Scene and Be Seen – Local Pint in Flower Mound

"Beer is proof God loves us and wants us to be happy" is a quote often attributed to Ben Franklin, and although there's no evidence to prove he ever actually muttered that line, Americans have definitely taken a shine to it. If you're a beer nerd, then you've undoubtedly been hip to the recent explosion in the popularity of craft beers around the country. Micro-breweries are popping up like a pimple on prom night all over this great land. So, when Local Pint in Flower Mound opened in October of 2017, it was a welcome addition to this bustling Dallas outlier and an immediate hit with FloMos.
Local Pint's 47 beers and 5 wines on tap keep people coming back to try something new several times a month (or sometimes a week). Seasonal beers also come and go, giving the regulars a new flavor profile each time they step foot in the door. Local breweries such as 3 Nations, 903, and Peticolas almost always have something in the mix, and local favorite Lakewood offers their All Call Kolsch, which a portion of the proceeds go to the Guns & Hoses Foundation of North Texas, an organization that provides support for the families of fallen officers and firefighters. And if there is any specific brew you want to load-up on and take home, Local Pint offers 32 and 64-ounce growlers that can be filled and taken back to the man cave for future consumption.
In addition to Local Pint's selection of fine craft beers, Chef Scott Girling whips up some of the finest bar fare around. Creative dishes with a touch of southern flare. When AG visited Local, they were offering one of their signature items of the month. Cheddar Bay biscuits with jalapeno jelly. Fluffy, warm, and rib sticking, I couldn't help but think how magnificent they would be smothered in some red-eye gravy. The jalapeno jelly was surprising, you got the nose of Jalapeno and a touch of the pepper heat tickles the back of your throat, but then you're presented with a sweet finishing note. A perfect compliment to the rich biscuits.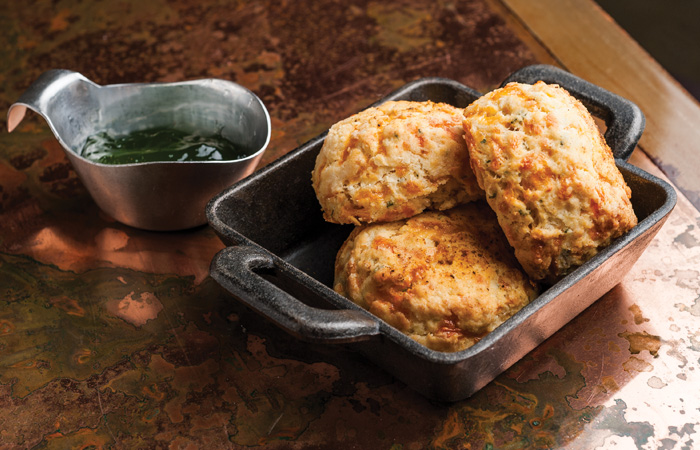 The second starter we sampled were the fried green tomatoes (told you there was a southern flare). The tart of the tomato dazzles the palate and the crunch of the cornmeal batter is a textural delight. Topped with a drizzle of herbed crème fraiche and some fresh torn basil, they really take your standard southern fried green tomatoes to the next level.
If you're wanting something a little more substantial with your suds, then you may want to go the way of the sandwich. Local Pint offers several selections, including the Churchill Fried Chicken Sandwich, which is a fried chicken breast tossed in tangy buffalo sauce, then topped with blue cheese crumbles, lettuce, tomato, and some blue cheese dressing to add some additional creaminess to cut the spicy buffalo sauce.
The BBLT is another option that pairs well with just about any brew on the tap-wall. This spin on the traditional bacon lettuce tomato sandwich isn't rocket science by any means, but it is well executed. The thick cut bacon was prepared perfectly, and the cool lettuce and tomato worked well with the brie spread that adds the second "B" in BBLT. The toasted sourdough had a nice crunch. It's a delicious, simple sandwich.
Everyone loves a great burger. To be honest, most of us love a BAD burger. There's just something about a hamburger that makes us feel rebellious. They're a guilty pleasure, something we know we probably shouldn't be eating, but every now and again, we treat ourselves. If you're waiting on that one special time when you can pack an artery, then Local Pint has the meat you crave. The Famous BOJ Burger is the heavy hitter of this menu, and believe me, you'll be glad you decided the diet starts Monday. This meat monolith is a 100% Angus beef patty cooked medium and topped with lettuce, tomato, crème de Brie and slathered with Local Pint's famous BOJ. BOJ, in case you're curious, stands for bacon-onion-jam. Founders Breakfast Stout beer is reduced with bacon, onion, jalapeno, and some other secret ingredients to create a mouth watering spread that puts this burger in another dimension. Although, better ask for extra napkins, because the medium burger, and the BOJ means there is a better than zero chance you end up wearing some home.
If you're looking for more traditional bar fare, Local Pint knocks that out of the park too. Wings are a standard go-to with a nice cold one. And if you like cheese fries, try the waffle fries smothered in Local Pint's 805 beer cheese, bacon bits, and green onion. If you want to crank up the pow factor, have them add the BOJ and some jalapenos into the mix. You'll be licking the parchment paper they're served on.
Great beer selection and well executed delicious grub. A combination anyone can get behind. There's nothing quite like sucking back a glass of suds with a burger and watching the ballgame. Local Pint gives Flower Mound residents all three, with some of the most welcoming service you'll ever run across. Just make sure you don't forget to fill your growler on the way out the door.