Scene and Be Seen – Texas Bleu Steakhouse

When you first lay eyes on Chef Stefon Rishel, he appears to be a bit of a wild card. His large colored mohawk standing at attention is visible from across the room. In a day where those in the culinary industry make an extra effort to stand out, Chef Rishel certainly fits the bill. This 16-year veteran of the industry has bounced across the Metroplex and even did a nine month stretch in Houston, before the birth of his daughter brought him back to the area with another opportunity to showcase his talents. Rishel's latest stop, Texas Bleu Steakhouse in Keller, isn't necessarily in what you would consider a hotbed for fine dining. It's not in Downtown Dallas or Fort Worth, it's not in Trinity Groves or off West 7th Street. It's not near any entertainment district. What Texas Bleu is, however, is farm to table fresh products prepared in a variety of creative and flavorful ways.
At initial glance, the standard cast of characters for any steakhouse adorn the menu. Caesar salad, filet, lobster, potatoes, asparagus. Everything is right where it should be for a fine dining experience. However, as we dove deeper into our visit to Texas Bleu, it was apparent that the creative variations and quality products would make this a clear contender for one of the preeminent dining experiences in the Metroplex.
Chef Rishel presented our party with several dishes on the evening, including a must-try ceviche appetizer. It was fresh and vibrant. The chilled shrimp had a great firm texture which really holds up well to the creamy avocado. Add a little spice from some finely diced serrano peppers, and this app was a hit. If you're looking to take it to the next level, spoon some over one of the house made chicharrones that accompany the dish, squeeze just a bit more lime over the top, and prepare to have your socks blown off. Our other appetizer was a chef's specialty that caught us off guard: eggrolls. These finger foods were taken to the next level, stuffed with smoked salmon and mascarpone cheese. They were like the glorious love child of a Chinese take-out crab rangoon and grandmother's salmon croquettes. They were as delicious as they were unique, and come with a Sriracha honey drizzle that helps this dish tickle all the flavor notes. Sweet, salty, sour, spicy. They're all there. Even if it's subtle, Rishel manages to incorporate the big four profiles into all his dishes.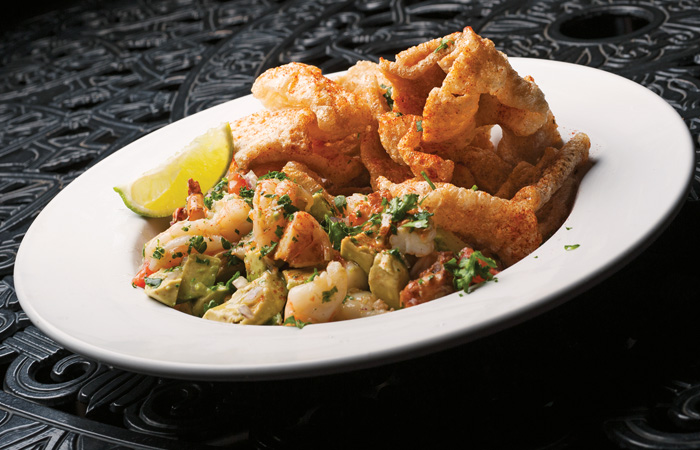 The Caesar salad is a classic steakhouse staple, and as we turn the page to 2018, it seems unlikely that there are many undiscovered ways to improve on this classic. However, Texas Bleu has done just that. Rishel admitted he needed to give credit to the real creator behind this dish to stay out of the doghouse. "This is my mother-in-law's recipe, and she made me promise I would always include it on any menu I create, and I have to give her the credit," Rishel said. Well our compliments to the chef(s), as this take on the Caesar isn't like any you've ever tried. The heart of romaine is grilled for just a few seconds to char. This adds a touch of smoke flavor and a bit of warmth. Then the lettuce is dressed with a savory Caesar dressing and shaved parmesan cheese. But what really makes this starter unique are the "croutons." I put that word in quotation marks because these aren't your standard petrified bread pieces that often leave you wondering if you pulverized a molar. These croutons are actually fried polenta squares that retain a bit of warmth from the cooking process, and the pillowy soft texture under the fried crunch is a textural delight; they are almost like silky mini-cornbreads. I mean it when I say they help make this Caesar the best I've ever tried.
Of course, if you're headed to Texas Bleu, it isn't likely for the salad options, although they are top quality and mega fresh. The real stars of this show are the superior entrees. Texas Bleu offers several options for the top of the food chain carnivore, and two different filet mignon options: a 5-ounce petite filet and the 8-ounce for the larger appetites. Both are absurdly tender, so much so, Rishel often bets his diners they can cut it with a fork. I inhaled mine in such short order he never had the chance to extend the same wager my way. If you're looking for something with a few more flavor profiles, I suggest the flat iron steak with chimichurri. This 10-ounce cut features more meat for your mandible, and is topped with a world-class, flavor-packed chimichurri. If you're unfamiliar with this topper, it is a combination of parsley, cilantro, garlic and other ingredients buzzed together with some olive oil. It's versatile, flavorful and adds some punch to this dish. The steak itself has a bit more marbling than the filet, which means it's not quite as delicate, but is naturally a bit more flavorful. One of Rishel's biggest influences since taking over everyday operations is his use of pure local ingredients.
"Our biggest thing is if we make it from scratch, we can control the ingredients. It's not the butter, fat and cream that's going to get you. It's the X, Y's and Z's that will. The things you can't pronounce."
With Rishel's vision taking Bleu in a new direction, things are changing for the better. Wine is being served by the glass, and there are vino options that are much more reasonable from a price point perspective than under previous management.
"We wanted to give Keller something that was elevated in cuisine that was still approachable. Don't be something you're not. We're Keller, Texas, and we really want to appeal to the residents here and keep that money here," Rishel said as we finished up our meal.
With the changes have come some additional added bonuses for customers. Rishel now offers a prime rib special on Thursday nights, and Texas Bleu is becoming a popular brunch spot on Sundays. Tip back a Bloody Mary and have that aforementioned flat iron steak with some eggs, or the Texas Benedict, which is country fried quail breasts, an herbed biscuit and poached egg topped with jalapeno Hollandaise sauce. The gluten free wild rice and blueberry pancakes come topped with local honey, and are a crowd pleaser every time. Approachable and home grown has always been the goal for Chef Rishel, and he now has a new vehicle to deliver his fresh creative food to the masses. No matter where you are in the Metroplex, Texas Bleu is worth the trip to Keller. Quaint, intimate dining, with mouth watering next-level cuisine at a price that's as easy on your bank account as the food will be on your palate.