Scene & Be Seen — Full Texas Comfort

Although you won't find a buzzing Jacob's Ladder or any bubbling beakers in his kitchen, Josh Hopkins could aptly be described as the Dr. Frankenstein of Arlington cuisine. Owner and head chef at Fork in the Road near the campus of The University of Texas at Arlington, Hopkins is reimagining classic comfort food with flavor packed, and often belt-loosening, twists sure to satisfy the foodie monster deep within.
Hopkins got his start in the restaurant business as a busboy at the tender age of 14, and has made stops at Dallas staples like The Green Room and Cock and Bull. Working alongside the likes of Dallas chefs Dean Fearing and Marc Cassel, Hopkins learned the ropes, and a little over three years ago, decided to step out from the increasingly heavy corporate hand and pull the trigger on opening his own joint.
"You know, it's just my take on things that I would like," Hopkins said. "I wanted to do this myself. I felt like I could do it better."
From the hand-formed burgers and specialty sandwiches, to salads and dessert options that should probably be featured in a Wilford Brimley commercial, everything about Hopkins' venture screams unique.
For starters, my server Kristi brought out some of Fork in the Road's steamed mussels. Now, before you go thinking this is a fine dining, suit and tie type place, know that as I was enjoying these mollusks, figurines of rock band KISS and "The Great One" Wayne Gretzky watched over my table. Hopkins' twist on an old Green Room recipe, the mussels were beautifully crafted, featuring a broth of Cremini mushrooms, onions, butter, wine and topped with thinly sliced jalapenos for added zip. Served up with toast to soak up the flavorful liquid beneath, the mussels are a perfect way to arouse the taste buds.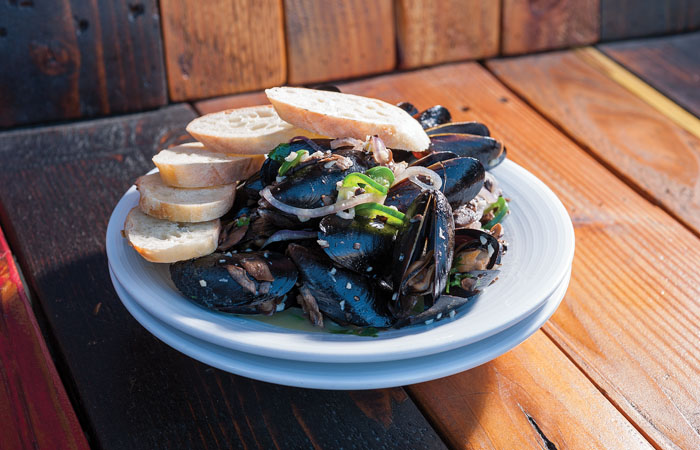 For my second offering, Hopkins churned out a mistake that eventually became one of his signatures. The three cheese truffled macaroni, endearingly called "Crack-a-roni." After just one bite it was easy to see how Hopkins and his wife Sonya came up with the moniker. Once you've tried it, this mac n' cheese could easily leave you tweaking for more.
"It was an accident," Hopkins said of his cheese packed creation. "I was cooking it one night, and accidentally let the cheese caramelize, and that's where you get the crack in "Crack-a-roni."
I was offered the straightforward version, but Hopkins also offers what he calls the "B.J." adaptation, which adds bacon and jalapeno to really throw it in high gear.
As with many creations, Fork in the Road's "Gorilla Biscuit" mutated from the alcohol-fueled craving of a bartender at one of Hopkins' previous places of employment. This meat-stuffed monolith features griddled ham, corned beef, and salami wrapped in a flour tortilla with lettuce, tomato and chipotle mayo. Served up with crispy hand cut fries, it's a meal fit for King Kong himself.
The menu also features a burger of the month, and last month's version looks as if it was the brainchild of someone who spent too much time in a van with Cheech and Chong. The "Aweful Waffle" is a 7 oz. burger, covered in blue cheese crumbles, smeared with caramelized-onion-bacon-jam and then wedged between two fluffy Belgian waffles.
"I've probably done 100 + burgers," Hopkins boasted. "Just different things to have fun with it. Showing people it doesn't have to be just a bacon cheeseburger anymore."
If you want something a little lighter, the hummus or the cranberry chicken salad are both solid options. The chicken salad was moist and flavorful without being overdressed, and the hummus has a non-traditional twist. Flavored with roasted jalapenos, cilantro, and brought together with a Texas made cold-pressed olive oil, this isn't your standard mashed chickpeas.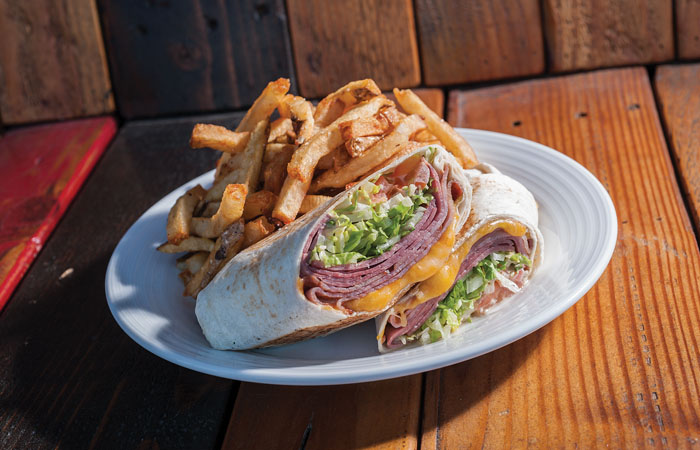 Although you won't want to, the lighter options may be the way to go so you can indulge on one of Fork in the Road's signature desserts. Every bit as crazy as the savory side of the menu, these sweets will satisfy even the most aggressive sugar lover. Sonya handles many of the sweets, from simple cake pops to the cookie butter, white chocolate, marshmallow pie featured earlier this year. Fork in the Road is also putting their twist on the Crème Brûlée. A Butterfinger version has become a fan favorite but Hopkins has also done Kit-Kat and Andes mint varieties.
Another unique way to satisfy a sugar craving at Fork in the Road is their wide variety of natural cane sugar bottled sodas. The one I sampled was saddled with the unfortunate name "Martian Poop."  Yes. You read that right. A soda named "Martian Poop." This pink-hued soda is marionberry flavored (marionberry is a variety of blackberry). This bubbly treat was crisp and not overwhelmingly sweet. The soda varieties vary depending on when you're there, but it's just one more thing that makes Fork in the Road a one-of-a-kind experience.
Success in the restaurant business is often built through dedication and passion for creativity. However, that passion usually comes served with a side of sacrifice, and nobody is more familiar with that than Hopkins. Although working 100 hours or more most weeks has its drawbacks, Josh and Sonya Hopkins hit it out of the park with their interesting take on comfort food, desserts and Fork in the Road's kitschy, whimsical atmosphere. With only 35 seats, it can be tough to get in during rush hours, but rest assured if you do have to wait, you'll be rewarded with a meal you'll crave again and again.