2017 Bentley Bentayga — Exotic Goes Off Road

Most gear heads easily gravitate towards exotic super cars by their glamorous shape, perfect warbling exhaust notes or incredible performance capabilities. But exotic cars come in all shapes and sizes, and I'd like to introduce you to a Super Utility Vehicle. This stupendous ride advances the euphoric category one mighty step by hauling more than two humans and an overnight bag.
The 2017 Bentley Bentayga is the epitome of a money-no-object luxury vessel that not only surrounds you in exquisite lavishness, but is also faster than most sports cars on the road. It wholeheartedly exhibits what's possible when engineers and designers are asked to build the ultimate family car for unlimited budgets.
The options are beyond abundant: 100 paint choices, 15 leather colors, seven wood veneer trims and 10 wheel combos, which means no two Bentleys need ever be identical. Thus, the Bentayga is a literal gourmet buffet of options limited only by your personal preferences. The base price begins at $229,100 with our tester nudging $270,000, with additional room if you order one of only four available handmade Bentley Mulliner Tourbillion watches with eight diamonds in the dash for another $170,000.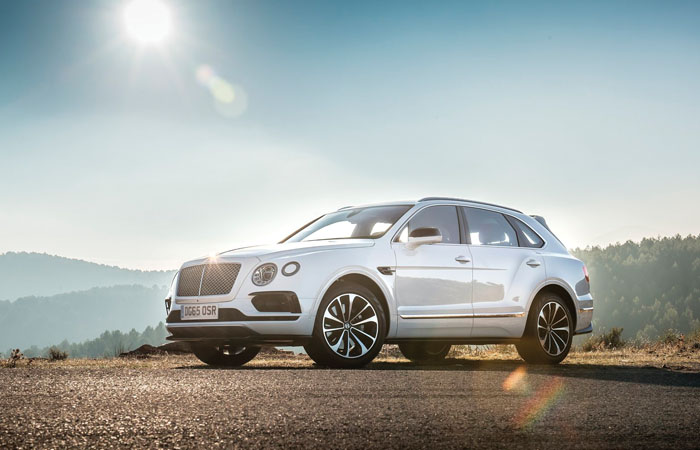 SKIN
The Bentayga is certainly handsome enough, while not screaming extravagance from the outside, save for its iconic Bentley emblem and four round flush headlights. The two outside spheres pop out to spritz the main headlamps. And that's a positive if enjoy driving in utter opulence inside relatively conservative outerwear.
Yet, it sits proudly in any driveway, country club or valet parking. There are optional chrome mesh screens in front. The 21-inch rims look terrific, or you can opt for 22's. Choosing from 100 gorgeous paint color variants matter to enhance the Bentayga's silhouette. Sightlines swoop from a longish hood to a wide but tidy rear with large dual chrome rectangular exhausts and tail lights that flash the "B" logo. It's a nice touch.
PERFORMANCE
The Bentayga is named after a rugged mountain peak in the Canary Islands, but "Holy Moly!" comes to mind for car aficionados. Moving 5,300lbs from 0-60 in 3.5 seconds is simply exhilarating. The seamless power from a twin-turbo W-12 cylinder, 6.5 liter with 600 horsepower, and 664 lb. ft. of torque will rocket you to 187 mph – the fastest SUV currently available. The smooth effortless thrust is more hydraulic sled than rocket ship so your eyes won't peel into the back of your skull.
Handling is off the charts superb. You can throw the beast into a turn and experience zero sway due to the 48-volt super capacitor expertly controlling anti-roll bars. It offers multiple all-wheel drive settings to navigate thru bad weather or unstable surfaces (ice, snow, wet grass and sand dunes!). The clearance is decent enough, although plowing effortlessly through rocks and mud in a $250,000 chariot probably won't be top of mind.
With all that prodigious power, the Bentley is library quiet. No thunderous exhausts with this pup. Just a confident, ultra-cool way of driving while knowing you can go Mach-1 at your beck and call. How awesome is that!
Okay, the gas mileage is an admirable 12/19-mpg as cylinder use automatically drops from 12 to six when cruising. My observed 16mpg is pretty impressive for such a heavy ride and insanely powerful motor.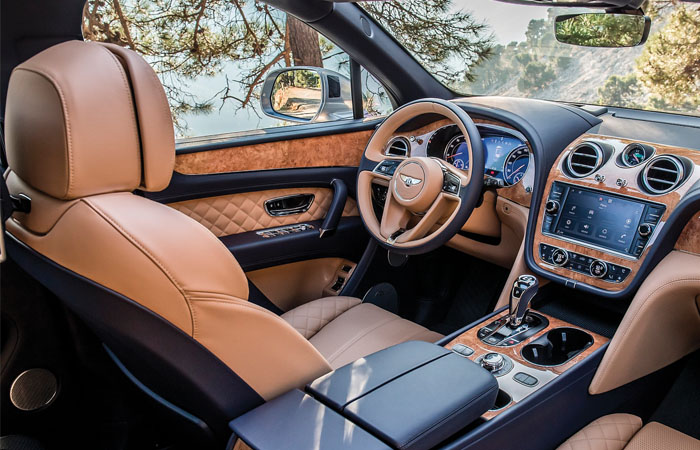 CABIN
The cocoon is where the Bentayga engulfs passengers in utter bliss. The fit and finish are outstanding with only the finest materials available for you to buy. The quilted seats are divine, along with the five massage settings for the front passengers. There's nothing like a lovely 100mph massage.
In addition, the 16-way power front seats can heat and cool independently (cool the back/heat the bum?). Lovely chrome "organ-stop" vent controls draw admiring looks. Visibility is abundant and a crystal clear Heads Up display with laser technology and speed limit detection keeps your peepers safely on the road ahead.
The Bentayga's pulse centers around a large TFT animated screen with instantaneous graphics. A double-pane panoramic sunroof and power shade is included. The Soft Close doors are a delight to use – just remind the kids not to slam them.
There's ample storage inside the cabin with welcome nooks and crannies galore. A decent trunk will hold several golf bags. You can lower the back end for easier loading. Go ahead and order the custom diamond leather folding Rear Event Seating for $3,200 or eat in the backseat on $2,080 Veneered Picnic Tables.
While you're on a roll go ahead and select the three removable Mulliner Hamper picnic baskets complete with Linley cutlery, china, crystal glasses, a Bentley blanket and two refrigerated slots to cool your champagne for a mere $32,000.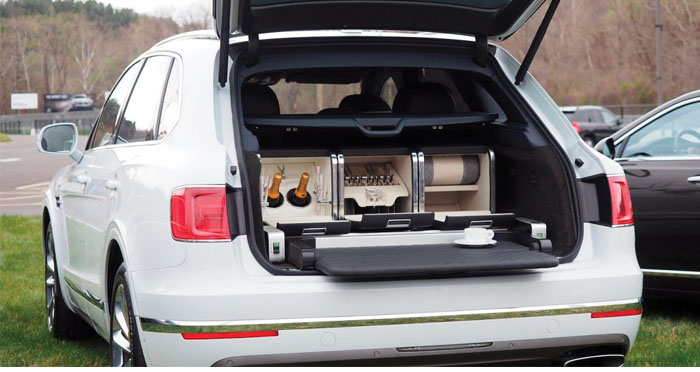 TECH CHECK
The impeccable 18-speaker 1800watt(!) Naim sound system ($4,690) delivers studio quality no matter the volume. Two large removable iPad-like tablets mounted to the front seat backs add $7,155. Bluetooth streaming is absolutely flawless. Every manufacturer should "borrow" its technology.
A very cool infrared night vision screen is included in the ample Touring Specification package along with a host of worthy safety features for $7,870.
Yes, the 2017 Bentley Bentayga is a sumptuous package of unrivaled performance and luxury appointments for those desiring the most opulent and powerful SUV in the land. It truly is a Super Utility Vehicle. Cruise in utter splendor or channel the driver demon in you with equal aplomb. That and the virtually limitless combinations will satisfy even the wealthiest demanding patrons to throw down some big cheddar to own one.
Test-drive the 2017 Bentley Bentayga at Park Place Bentley Dallas, the only Bentley dealership in North Texas.
SCORECARD
Curb appeal: Even parking valets whistle in admiration
0-60: 3.5 seconds
Mileage: 12/19. Observed 16mpg overall
Must-haves: Prestige, Technology packages
Warranty & Maintenance: 3 years/unlimited miles, free 1st scheduled maintenance
Base price: $229,100
Price as tested: $268,405
Who buys it? Anyone with the means to own the very best
Finish line: A tantalizing blend of outrageous performance and luxurious appointments