Sporty Standout – The 2018 BMW X5 xDrive 35i

Once upon a time, the SUV/Crossover category was all about cushy rides, driving tall in the saddle and offering extra storage over their sedan brethren. They were a big hit with the soccer moms and dutiful dads. But folks craving a sportier driving experience were left enduring rather than taking pleasure tooling around in these cargo carriers.
Thankfully, some present-day models are adding exhilaration behind the wheel. Thus, even though they still possess all the aforementioned people-mover attributes, you can now punch it off the line or throw 'em gleefully into the turns just like the racy sedans. Win-win. Of course, leave it to BMW to bring the fun to a crowded segment. The 2018 BMW X5 xDrive35i satisfies our checklist for the ultimate driving experience while schlepping kids and cargo on the countless errands in your busy schedule. And, it gets decent gas mileage for an optional three-rower, so you won't have to rent a gas pump to do so. Win-win-win.
SKIN
The latest X5 is slightly tweaked (think evolution vs. revolution) because the previous model was so popular. The tester's pristine Glacier Silver Metallic paint looks terrific with subtle black trim accents providing a sophisticated look. The sight lines are somewhat softer and refined than the previous model. Therefore, it appears slightly more diminutive, but is actually a smidge taller and longer. The front is bold with the headlights now blending into the twin kidney grille. An attractive caboose includes large dual chrome exhausts. Roof rails are nicely melded into the roof rather than awkwardly jutting up like your Dad's old station wagon. Which is good because no one straps mattresses, trees or luggage atop a luxury ride these days. Nineteen-inch five-spoke alloy light rims and wide rubber nicely fill the wheel wells. An "air current" vent behind the front wheels sends a blanket of air to assist in aerodynamics and improves drag coefficient to .31.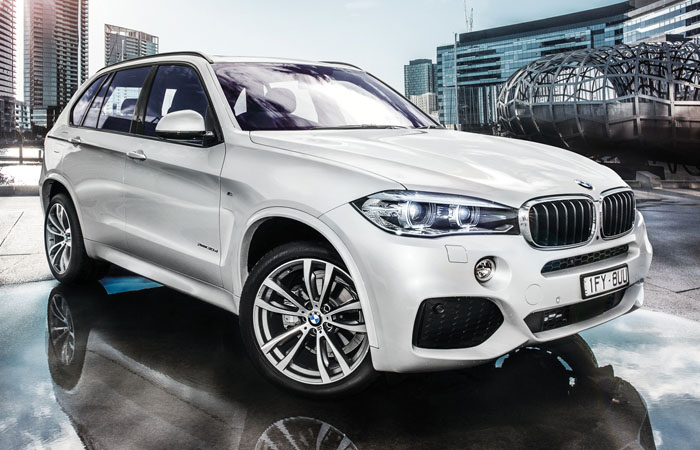 PERFORMANCE
The xDrive35i offers a plethora of superb driving dynamics. At roughly 4,700 lbs. it's no lightweight but feels plenty nimble. The excellent inline-6 engine provides ample 300hp and 300 lb.-ft. torque. The seamless 8-speed tranny shifter zips you to zero to 60 in a tic over six seconds. A rocker switch on the center console allows you to choose ECO-Pro, Comfort, Sport and Sport + modes to deliver noticeable changes in steering feel and throttle response (the Sport modes were my go-to choices). Opt for the M Sport suspension to keep the X5 grounded in the tightest of turns while offering a comfortable ride when cruising. The xDrive is all-wheel drive and performed admirably during inclement weather. I felt supremely confident with its capabilities leaving my only concern with the other drivers slip sliding into me. Fuel efficiency is good for a three-row people mover at 18/24. I squeezed 21 mpg overall and 24.5 mpg on the highway. Those are fuel efficient numbers for a non-diesel engine.
CABIN
Driving dynamics are wonderful, but in this category you better bring the luxury appointments. And, the X5 satisfies those demanding their creature comforts. The elegant cabin feels wider with the sight lines driver oriented. Three subtle ambient light color choices are available during nighttime driving.  The upgraded Black Dakota leather feels buttery smooth and all materials are top-notch with excellent fit and finish. Double stitching is a nice touch as is the leather steering wheel. The heated and cooled seats are excellent and it doesn't take much to find your sweet spot with the 14-way power settings. A double pane panoramic roof brightens the interior and 4-Zone climate control keeps everyone comfortable. Soft-close doors are a nice option but you still have to remind the kiddies not to slam 'em. A large 10.2-inch screen is exceptionally clear and easy to read. I love their crisp fonts. The ever-improving iDrive control now has a scratch pad to "write" commands when searching phone numbers or NAV settings. The RearView camera is HD quality and the Head-Up display shows speed and NAV direction through the windshield. Every car should offer them. Sight lines are abundant with nary a blind spot. Combining lane departure, blind spot warnings and collision preventing brakes gives you ample support for safe driving. Cargo room is good as well with 23 cubic feet with the second row up and 66 cubes folded down. You can adjust the split-open power lift gate height via the iDrive controller.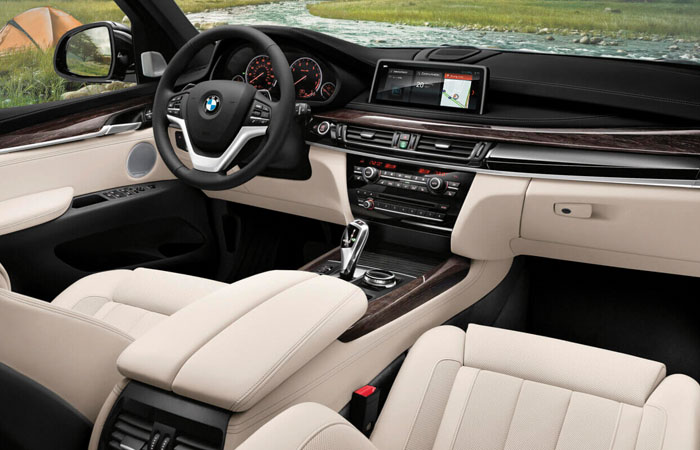 TECH TOYS
The X5 offers just about anything your techie heart desires. A wonderful 16-speaker Harmon Kardon surround sound system is exceptional and its Bluetooth is the best in the biz. Pandora is extremely easy to use. BMW Remote Services allows you to tap apps like Find My Car, Google search and Remote Locking via your smartphone. It's the wave of the future.
The 2018 X5 xDrive35i is a complete package for anyone wanting the exquisite BMW driving experience, luxury interior appointments, high safety scores and cargo capability. Add in BMW's zero maintenance costs for oil, air filters, spark plugs and brake fluid to make it a must drive when contemplating your next sporty SUV.
SCORECARD
Golf bags: 4
Curbside appeal: Bet it arrived quickly
0-60: 6.1 seconds
Ponies: 300hp, 300 lb-ft. torque
Gas mileage: 18/24. Observed 21 overall
Must-haves: M Sport Package
Warranty: 4-year/50,000 miles
Base price: $59,250
Price as tested: $70,170
Who buys it? Those desiring the Ultimate Driving Experience when toting folks and cargo
Finish line: A worthy contender in a crowded field
Test drive the 2018 X5 xDrive35i at Classic BMW in Plano.