For anyone who loves the finest in residential architecture, Dallas/Fort Worth offers one of the country's most impressive portfolios of style and structure. From Mediterranean and Tudor Revival to French Country and Victorian to American Colonial and Craftsman, there are hundreds of extraordinary homes across the Metroplex that have stood for decades. From the outside, they still look stunning. But on the inside, many are in need of a complete technological transformation. It seems somewhat obvious that older homes would need upgrading. And yet many homeowners are still a bit hesitant to make changes.
For homes built decades ago, there is often something timeless and classic that the residents are cautious to change. Call it style. Call it charm. When we love where we live, it can be hard to envision a transformation to something better. And yet, when a house enters its 20s, 30s, or even 40s, even the most stylish homes require some updating whether it's basic renovation or a complete overhaul updating both the physical look and the electronic capability. Delivering that conversion is what Starpower does. It's an expertise we're perfecting with new projects every week. 
"We always tell our customers, if you can dream it, we can build it,'" said Starpower CEO David Pidgeon. "There are more than a few companies who make those kinds of promises, but very few that can actually deliver on them. At Starpower, our commitment is to add well-earned luxury to our clients' lives and elevate the entertainment experience in every way possible. Whether that's adding state-of-the-art audio and video, completely redesigning, and overhauling the kitchen, family room, and outdoor entertaining area, creating a home theater and personal sports bar, or an entirely new interior the likes of which the owners never knew was possible, Starpower can deliver those desires. Making what seems like the impossible possible is what we do."
WELCOME TO WHAT'S NEXT
Because Starpower has spent decades building relationships with the world's finest manufacturers of audio, video, Smart Home tech, appliances, flooring, lighting, furniture, and more, the company is always on the cutting-edge of what's next. So much so that Starpower is often tapped by manufacturers to be the first United States location for various products to debut. 
Recently at the 2023 Consumer Electronics Show (CES) in Las Vegas, a number of exciting trends and products emerged in electronics. For those entertaining a full-home technological upgrade with Starpower, this is just some of what you have to look forward to.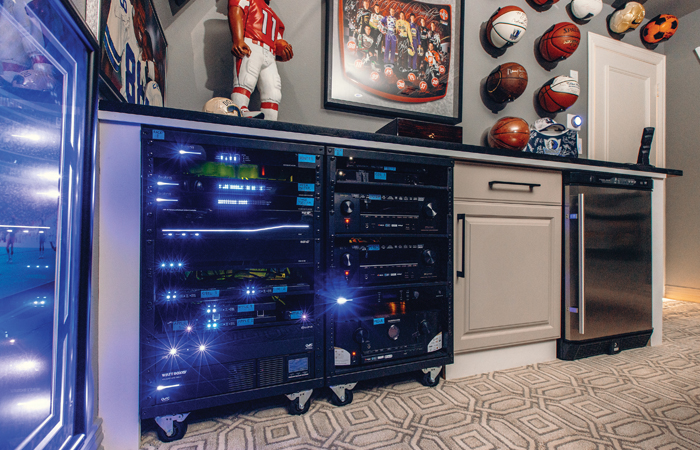 CONNECTION
If there was one theme at CES, it was connection. We have definitely entered the age of full Smart Home integration and more and more homeowners want their audio and video, their lighting, their temperature controls, and their security to all be fully connected with centralized control on keypads, tablets, and smart phones. This type of seamless integration is an art form, and no one does it better than the install team at Starpower. 
MINI LED TVs
While Mini LED technology itself isn't new this year, the widespread application in new, and more affordable televisions is. Mini LED TVs contain tens of thousands of tiny LED bulbs that sit in a display behind the main substrate to provide lighting that's most precise in bright areas of the house and stronger blacks in the darker areas of what's being shown. Homeowners love Mini LED TVs like LG's QNED televisions with Quantum Dot and NanoCell Color Technology and Samsung's Neo QLED series with Quantum HDR. They provide sharper pictures with bolder, brighter colors, and deeper blacks for clearer contrast. At Starpower, we only deliver the best of the best.
NO WIRES
When we look back, 2023 may be the year esthetic finally caught up with technology with the introduction of LG's Zero Connect, named Rolling Stone's "Best of CES 2023." Zero Connect is a wireless transmission box that's coupled with LG's new 97-inch Signature OLED M to finally let homeowners mount a TV without any wires other than the power cord. Everything else including 4k video resolution at 120 Hz is sent to the TV via the Zero Connect box. The revolutionary tech allows for the ultimate flexibility allowing homeowners and offices to place large monitors practically anywhere. Said Rolling Stone, "This solid, key update delivers all world class picture quality you've come to expect from LG without compromising resolution, color, or gaming performance." The LG 97-inch Signature OLED M will be released this fall.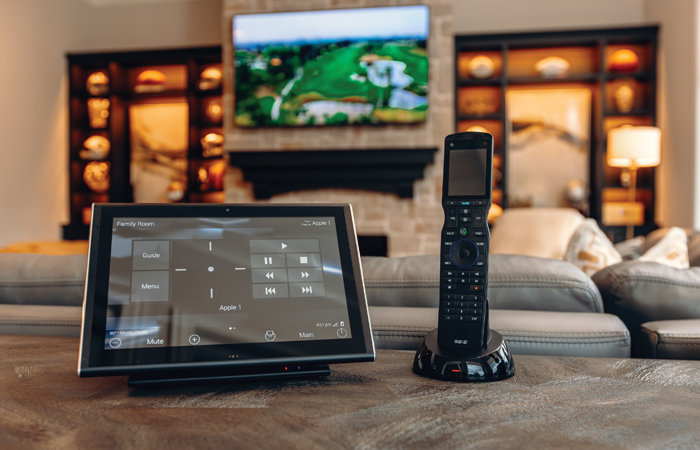 BIGGER, BETTER SOUND
Every year, it seems audio systems and the sound they produce get bigger, better, and deeper. This year was no exception. From state-of-the-art sound bars and crystal-clear floor speakers to smaller speakers with gargantuan sound, enhanced, high-end audio was on full display at this year's CES and it's available now at Starpower. Highly regarded as one of the country's elite providers of audio and video, Starpower's award-winning install team stands ready to create the perfect home theater, an outdoor audio/video oasis, or a fully connected home with state-of-the-art audio and video in every room that's as big or as intimate as you desire. 
SMART HOMES GETTING SMARTER
Complete Smart Home interactivity is no longer the future. It's the now and getting better every year. Starpower has been on the cutting edge of Smart Home tech for a decade and thanks in large part to our partners URC and Crestron we continue to provide the most advanced Smart Home conversions in the Metroplex. 
When we say, "if you can dream it, we can build it," our partners and our experienced team of designers, technicians, and installers are the artistry that makes that promise possible. At Starpower, we are proud to partner with the brands that represent the finest in luxury entertainment like LG, Sony, Samsung, URC, Crestron, Coastal Source, Sonos, and others. We provide the most beloved and coveted luxury equipment in the world with customer service to match. Delivering for the customers who trust us isn't a job to us. It's building a relationship that will last for decades. It's the pride of extraordinary workmanship and being the best at what we do. That's how we've become the country's preeminent provider of luxury electronics. And why our customers come back to us again, and again, and again.
"Whether we're working to transform a single room, or completely upgrading an entire home, we understand the less you see of our work, the better," noted Starpower veteran and team leader Chris Vaughn. "No matter what work we're doing, we try to have as small a footprint as possible. To achieve that, every member of our installation team sees themselves as part engineer, part artist, and part magician. From the speakers to the Smart Home tech and even the appliances, we try to hide as much as possible to maintain the design esthetic of the home. We take great pride and go to great lengths to perfectly match the style of any space whether it's inside or in the outdoor living areas. We love what we do, and our customers can tell."  
"Our team delivers solutions. Not just products," noted CEO Pidgeon. "Our experts listen to what the homeowner wants, and we take care of the homeowners needs. We educate them on the products and recommend the solutions that will deliver them the best experience and performance that fits their budget. It's much like choosing a car. Just because you see a Ferrari and love how it looks, it might not be the right car for you. We don't just sell speakers, TVs, and lighting. We provide the audio system that best delivers your favorite music. Televisions that deliver spectacular sports, movies, and concerts in 4k, 8k, and beyond. Our customers dream it and Starpower makes that dream a reality."