Tech Talk – Why Thousands of Texans are Moving Outdoors

You've no doubt seen the articles and heard the news reports about all the people moving to Texas. According to the U.S. Census Bureau, between July 2020 and July 2021, Texas welcomed 170,307 new people. And that's just domestic migration. Whoever's printing the bumper stickers that read, "I wasn't born in Texas, but I got here as fast as I could," better print more. 
If you live here, you know Texas is an exceptional place, especially this time of year. Gone are the days when temperatures fluctuate wildly between frigid and delightful and, in exchange, Texans are happily returning to outdoor entertaining. But we're no longer talking about back to basics. 
Now more than ever, people are transforming their outdoor living areas into spectacular spaces to entertain, relax and recharge. Dinner with friends on the patio by the light of the fireplace. Hosting the Little League team for hotdogs and a swim while watching Opening Day MLB games on multiple screens around the pool deck. Calling your golf buddies to come over and enjoy a weekend watching the Masters with a cool, Amen Corner-like breeze, some pimento cheese sandwiches and your 80" flatscreen with surround sound.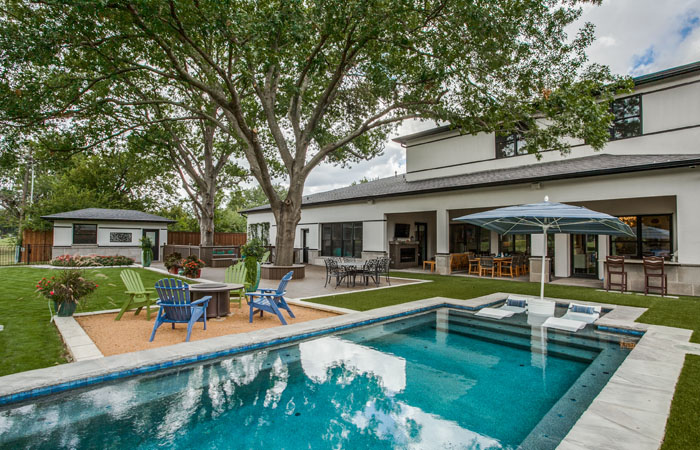 For nearly 30 years, Starpower has been the go-to company for the best in home electronics, well-deserved luxury and extraordinary outdoor entertainment. And as each year passes, more and more of our clients are turning to their backyards, patios and pool decks and redefining what it means to entertain and enjoy the outdoors in Texas. 
Thanks to creative outdoor designs from the Starpower design team and the continued elevation of premium TVs, audio, kitchen equipment and smart home tech, space that was often rarely used, or simply a walk-through on the way to the backyard or the pool, has quickly become one of the most enjoyable, lived-in locations in the home. Luxury in Texas has found its way outdoors. 
The Newest Hot Spot in Texas 
For the past year, the Texas real estate market has been hotter than at any time in recent memory and, if you look at the higher-end homes going on the market, almost every one has a spectacular outdoor living space that can't be ignored. Dream kitchens with granite countertops, gas cooktops and top-of-the-line grills and smokers. Comfy sitting areas with a fireplace, fans and a big-screen TV with spectacular, perfectly calibrated sound. A personal oasis with a space heater or gentle breeze that would make anyone want to spend more time working from home. 
"I'm not sure I can think of a more exciting trend right now than the number of people transforming their outdoor spaces into something livable and extraordinary," said Starpower President David Pidgeon. "When you can take a space that's often forgotten or can only be enjoyed when the weather is perfect and, with a little creativity, convert it into a space your family can enjoy almost year around, that's a game-changer."
Gone are the days of simply mounting a television on the patio wall or adding a "built-in" grill and calling the new outdoor living area a job well done. With Starpower's award-winning design team, we can transform the space you have into a luxurious, automated smart space you'll be proud to share with your family and friends. Just imagine …
A posh, ambient entertainment area with a fireplace, weatherproof TV, state-of-the-art sound, a stainless-steel wine fridge, and comfy, durable seating. 
An outdoor dream kitchen with an elite grill and smoker, stainless-steel burners, custom countertops, and an outdoor pizza oven that would be the envy of Sicily.
An outdoor workout space with a giant, weatherproof TV, calibrated speakers and both heaters and fans to facilitate year-round workouts.
A custom-built firepit area with an adjustable flame, cozy seating, custom audio and designer, heavy-duty furniture perfect for Happy Hours, dinners, parties or simply sitting by the fire.
"I think people are genuinely amazed at the transformation that happens when our team dives into their project," Pidgeon noted. "There is nothing our design teams love more than hearing our clients detail the dream space they'd like to have and then finding a way to turn that dream into a reality. Not everybody can see it. But after decades of creating the ultimate experience in outdoor luxury living, our designers know how to take a space and visualize all it can be."
Starpower's Secret Advantage
While Starpower's home entertainment equipment is nothing less than state-of-the-art, what our clients rave about most is the exceptional service they get from our seasoned teams in the showroom, our installation teams, and from the teams we work with to build out our projects. While competitors often sub out installation jobs to whoever is available, Starpower only utilizes our team of trained professional installers who are Starpower employees and who understand the privilege it is to serve our clients.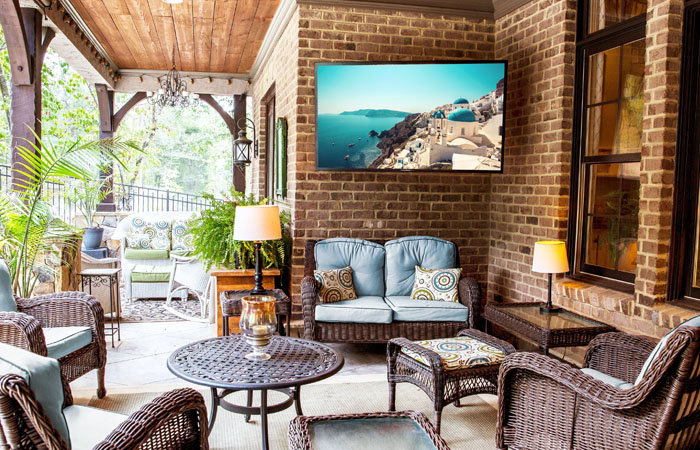 "We stand behind everything we do, and we take extreme pride in our work," Pidgeon said. "Our installers treat their installs like art. They are tight, clean, organized and efficient. We don't anticipate an issue ever coming up, but if one does, our team installs every project in a way that makes any repairs quick and easy." 
The same goes for the work Starpower does on all of its outdoor entertainment projects. 
"Our design team pays an extraordinary amount of attention to making sure whatever we do matches the look and feel of the home we're adding to," Pidgeon said. "We're creating spaces some people will literally enjoy every single day, and we want them to feel as good about the space we built 10 years from now as they do the first day they see it. It's hard to explain but there's something different about building an outdoor living space for people. Maybe it's the fresh air. Maybe it's the sunlight. But our clients have an emotional connection to these spaces. They love them, and the more time they spend in their new space, the more they love it."
Now is the Ideal Time
There's not a person in Texas who wouldn't love to upgrade their outdoor living spaces, but many simply don't know where to start. The answer to that question, is Starpower. Our design team stands ready to meet with you to see your space, hear your dreams, and show you how Starpower can transform your outdoor living area into something extraordinary. Often, people hesitate because they can't do everything they want to do with their outdoor space all at once, but with Starpower that's not a problem. We are as accustomed to doing full build-outs in phases as we are to tackling the entire project at one time. The key is getting started. 
"We're here to make dreams a reality," Pidgeon says proudly. "Starpower is about transforming homes, adding well-earned luxury to our clients' lives and elevating customer service to a level people will seek out again and again. We're about helping people live the lives they've always wanted and with Starpower, they absolutely can."
April is coming. This may not be your year to make it to Augusta. But with a new outdoor entertainment area from Starpower, there's no reason you can't feel like you're there. If you've ever entertained the thought of upgrading your outdoor space, now is the perfect time to start. Join the thousands of Texans making the move outdoors and let Starpower bring your dreams of much-deserved luxury to life.