Tech Talk – Working Smarter

Without question, one of the biggest stories of 2021 was the "Great Resignation" taking place across the country. Last year in America, from early Spring through the end of the year, more than 33 million people made the decision to quit their jobs. Some were unhappy. Some wanted a switch to a different position. More than 5.4 million went into business for themselves. There are countless reasons why more than 25% of the American workforce decided to change jobs last year. But for many, the preference and opportunity to work from home was the ultimate catalyst for a move. 
With all the negatives that came with the 2020 COVID lockdown, one silver lining was that we all got the opportunity to work from home and, it turns out, we liked it. Despite the challenging online meetings we had to sit through, and our lack of personal interaction, there was a refreshing freedom that came from managing ourselves. On average, we worked more hours. But we also took opportunities to walk the dog, hang out with the kids, and work without the interruptions that come from toiling in an office full of people. 
Forced to set up offices at home, we got a glimpse of what our office spaces could be when set up the way we liked them. We created offices that were most conducive to producing our very best work. And, as it turned out, we got really comfortable and used to working in our own, personally crafted office spaces. 
It was about that time that Starpower started to see a serious rise in the number of our clients wanting to upgrade their home offices to have better audio and video, better lighting and better connectivity, orchestrating their entire home office with the latest in Smart technology. Now two years after the beginning of the pandemic, the Home Office Renovation Revolution is still on the rise and it's gaining momentum.
The Ultimate In Comfort and Productivity
If you're working from home at all, it's entirely possible you spend more time in your office than any other room in the house. And when you're spending eight, nine, 10 hours a day working in one room, it needs to be comfortable, functional and, at its best, energizing and inspiring. That's where Starpower comes in. 
Productivity starts with feeling comfortable. Now, with the latest Smart Home technology, you can control your lighting, heating, cooling, video and audio from the comfort of your chair. Adjust every element in your office to create the optimal working conditions, no matter what your mood, time of day or schedule dictates. Raise or lower your blinds. Adjust the temperature. Call up the musical style to best accompany the task at hand, while constantly monitoring the news and market tickers on your wall-mounted flatscreen. We are all products of our working environments and, when they're good, our work follows suit.
"I can't tell you how excited our customers get when they see how our design team can take an otherwise ordinary space or extra bedroom and turn it into an energizing high-tech office," said Starpower CEO David Pidgeon. "So many people have spent their careers in grey, generic offices specifically designed to be bland, neutral and devoid of personality. When everyone was forced to work from home, they suddenly realized there was a fantastic alternative to plain. More than that, they realized how much an enhanced home office improved their work experience."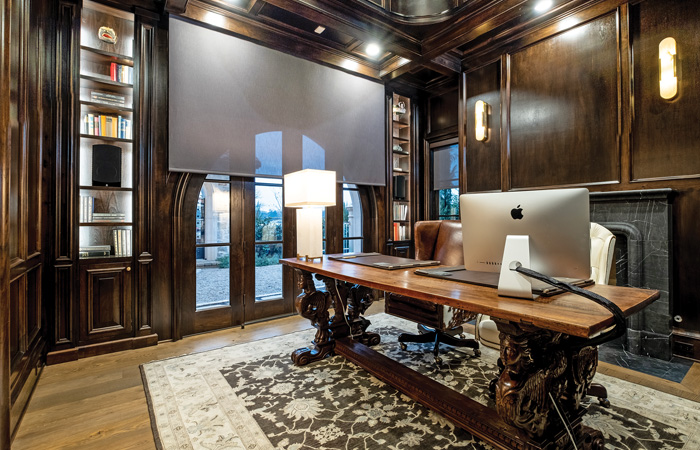 The beauty of creating the perfect home office is that there are so many options to choose from to build out every aspect of your office so you can truly make any space your own. 
Consider your audio/visual options. Today, flatscreen TVs come in dozens of sizes and resolutions, with state-of-the-art audio systems to match. Whether you want a small reference screen in a corner, or an 80" screen to cover a wall, our design team can help bring your dreams to life. Recently, we had a client who wanted to convert an extra living space with a fireplace into a functional home office. After the Starpower design team added a leather recliner and sofa, some modulated lighting, a 65" flat screen with soundbar over the mantle, and state-of-the-art surround sound, our client not only had his office, but an intimate home theater, as well. (The whole thing was his wife's idea and now, she can't get him out of the office.)
What other features have you always wanted for your office? Full integration with multiple monitors? A standing desk? Custom shelving? A refrigerator and an electronic assistant? When you work with the Starpower design team, most anything is possible. 
"The hardest part of creating the perfect home office – or for that matter, the perfect outdoor living space, smart home, wine cellar or kitchen – is just getting started," noted Pidgeon. "Most people will only decide to create these spaces once or twice in their lifetime. But this is what our design team does every day. Their favorite part of the job is finding a way where it looks like there is no way. They love taking a space and looking at all the possibilities until together with our clients, they land on the perfect plan. And at the end of the project, you know what I hear most often? 'I wish I had done this a lot sooner.' 
"The entire world is not going back to the office. There are millions of people in Texas alone who will be working from home from here on. Creating the space that lets you do your best work is never something you'll look back on and second guess."
 The Extra Bonus for Upgrading Your Home Office
In addition to having an extraordinary space to work in, there may be another huge advantage to creating your new home office, and that's a tax break. While you certainly need to consult with your tax professional before writing off any part of your home for work, there are scenarios where the creation of your home office can be tax-deductible. 
According to the Internal Revenue Service, for your home office to qualify as a deduction, you "must use part of your home for one of the following: exclusively and regularly as a principal place of business for a trade or business, or exclusively and regularly as a place where patients, clients or customers are met in the normal course of a trade or business."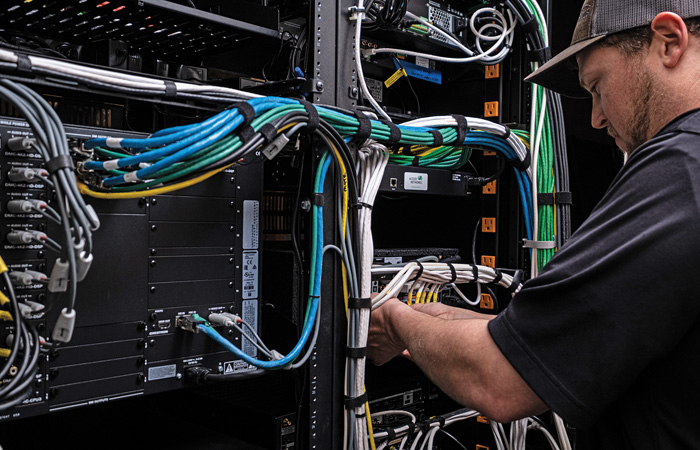 What Are You Waiting For?
If you've been considering an upgrade to a home office you literally won't want to leave, now is the perfect time to get started. Like the millions of Americans now working from home full time, your upgraded home office may qualify you for a significant tax deduction. But even without it, creating the perfect office is something you'll enjoy and thrive in every day. 
To get a sense of what's possible, visit Starpower online at: getstarpower.com, or visit one of our state-of-the-art showrooms near you. Come join the thousands of Texans making the move to a fully loaded home office and let Starpower bring your desires for much-deserved luxury to life. 
"We specialize in making dreams come true," Pidgeon says proudly. "Starpower is about transforming homes, adding well-earned luxury to our clients' lives and elevating customer service to a level people will seek out again and again. We're about helping people take their available spaces and transform them into something extraordinary. You can have the office you've always wanted and, with Starpower, it can happen sooner than you think."