Cover Story – Nelson and Colonial Preview

The AT&T Byron Nelson is back to full capacity this year, with a star-studded field and some new fan-friendly experiences to enjoy. The Nelson embarked on its maiden voyage at TPC Craig Ranch last year, and with only half the allotment of fans allowed on the course due to the ongoing pandemic, it gave course management and the Salesmanship Club a bit of a trial-and-error year to iron out the kinks and prepare for the 2022 tournament. The VIP areas and the build-out in 2021 was a rousing success by most accounts, with some fun spectator areas and a great overall fan experience. We can only imagine that this year's version of the tournament will be even bigger and better with some new and exciting things for the patrons and players alike. 
So, who is committed to play?
Although the final field won't be official until May 6th, many of the world's top players have already committed to play in the 2022 event. Leading the way is one Dallas resident who has been on a serious heater lately. Highland Park product and 2022 Masters champion Scottie Scheffler will bring his game to the Nelson, along with his new green jacket. In addition, six of the world's top 20 in the OWGR will be on hand. They include Dustin Johnson (No. 9), Sam Burns (10), who finished the 2021 Nelson solo second, Louis Oosthuizen (14), Brooks Koepka (16) and 2022 RBC Heritage winner Jordan Spieth (20).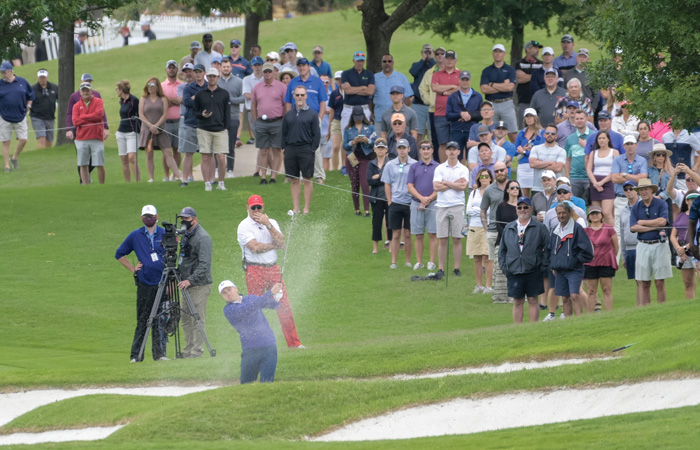 In addition to Spieth and Scheffler, Texans Will Zalatoris and Ryan Palmer are set to return to TPC Craig Ranch, adding to the local flavor at this year's AT&T Byron Nelson. Zalatoris, named PGA TOUR Rookie of the Year in 2021, is fresh off four top-10 finishes this year, including T6 at the 2022 Masters, and is looking for his first PGA TOUR victory. Palmer, a four-time winner on the PGA TOUR, is looking to rebound in North Texas after dropping a second-round lead at the Valero Texas Open this spring. 
Two-time Masters champion Bubba Watson, four-time European Tour winner Tommy Fleetwood and 2018 British Open champion Francesco Molinari will make their AT&T Byron Nelson debuts at TPC Craig Ranch. Adding to the international flavor of the field are major winner Oosthuizen and Padraig Harrington, captain of the European Ryder Cup team that fell to the U.S. at Whistling Straits last year, and a three-time major winner.
AT&T Byron Nelson Tournament Chair Clay Duvall said in a press release in April that he is thrilled about the strong early commitments:
"Last year's field was one of the strongest we've had in 15 years, and we're excited to see that trend continuing," said Duvall. "When you combine the best players in the world with a full capacity crowd at TPC Craig Ranch and the return of the Saturday night concert, tournament week is shaping up to truly offer something for everyone. It's world-class entertainment that you won't want to miss."
In addition to those listed above, K.H. Lee will be on hand to try to defend his 2021 title, along with other past champions Sung Kang (2019), Rory Sabbatini (2009) and Adam Scott (2008).
Dallas resident and SMU product Harry Higgs is also committed, along with 2021 Charles Schwab Challenge champion Jason Kokrak.
Where are the best places to watch the action unfold?
Last year's Nelson offered some insight as to where the best places to watch may be. Although at just 50 percent capacity, this gave tournament staff a great idea of where the patrons are most likely to enjoy the action. Of course, there are some solid spots on the outward nine to take in the action, like near the No. 3 green and No. 4 tee box. This allows patrons to watch one of the more exciting approach shots on the course, as players navigate across Rowlett Creek to the third green. From there, spectators can watch as the pros tee off on the par-3 fourth hole and then take on No. 5, which is the first par 5 of the opening nine. The short par-4 sixth is also a great spot, as some of the longer hitters on TOUR may challenge this green off the tee.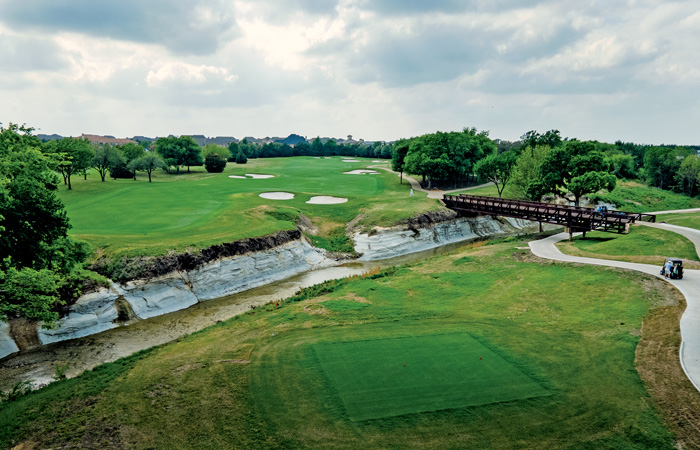 Although there are some great spots on the front nine, the real action is on the inward nine. The stretch of 14-18 is a great place to pick up a group and watch as they make their way to the clubhouse. The short par-4 14th is another bomber's delight, where longer players may green-light a driver. No. 15 is a par 3 that plays over water and can be a great spot to take in some long iron shots. But the real action will take place around No. 17 and No. 18. The par-3 17th is simply amazing. Modeled a bit after the rowdy 16th at TPC Scottsdale, this stadium-style setup has the fans buzzing with every swing. It's a great place to post-up and watch the penultimate hole at TPC Craig Ranch. No. 18 is a great finishing hole, where the tournament can be won or lost based on how aggressive the players want to get. So, any spot near the fairway or green on this final hole is a wonderful spot to soak up the action. 
Speaking of tickets, how much are they and how do I get them?
Tickets are finally easier to get your hands on this year, with the tournament allowing 100 percent capacity. Now, that doesn't mean you should wait around to buy yours, as they are going fast due to excitement about the full fan experience and the opportunity to see the best players in the world tee it up. General admission tickets are available by the day and will set you back $75 each. If you want a more all-inclusive experience, then check out the Ultra Club seats. These are $250 each per day and feature views of both the No. 12 green and No. 13 tee. The great news about these tickets is they come with food and beverage included in the price. 
If you really want to treat yourself, then we recommend the JSX Champions Club, which overlooks No. 18. These tickets are $400 daily and include all food and beverage. The Cadillac of tickets for the 2022 Nelson are the Choctaw Club passes. This VIP experience will run you $500 per ticket, per day. Awarded 2018 "Product of the Year" on the PGA TOUR, the Choctaw Club is a venue truly unlike anything else in golf. With up-close views of the 16th hole, a premium III Forks Steakhouse menu, and a full bar experience, it's the most popular hospitality experience. 
Guests have access to an 8,000 sq. ft. climate-controlled space with views of the course, as well as a patio overlooking both the No. 16 green and No. 13 tee. We were able to see the Choctaw Club last year, and it is truly a special tournament-watching experience.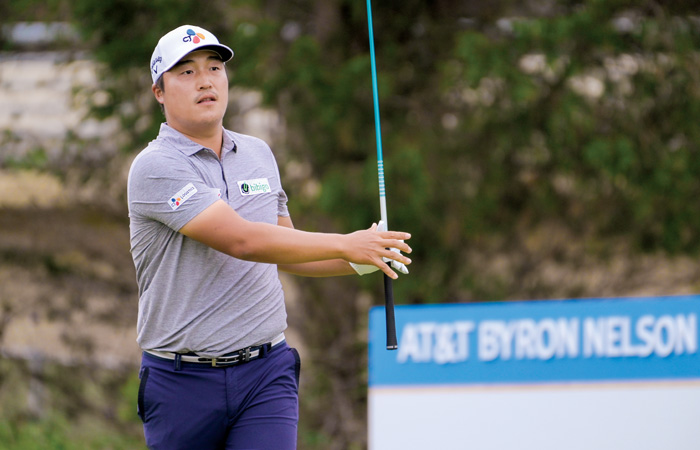 AT&T Byron Nelson Champ K.H. Lee
Korean golfer K.H. Lee picked quite a time – and outlasted quite a storm – to claim his first PGA TOUR win at the 2021 AT&T Byron Nelson Championship at TPC Craig Ranch in McKinney.
Lee outlasted a multi-hour rain delay on the tournament's final day to claim this first TOUR win, with birdies on holes 17-18 on the Tom Weiskopf-designed course. He finished off with a six-under 66 on Sunday for a three-shot victory over Sam Burns, which earned him appearances in the PGA Championship, the 2022 Masters and a $1 million-plus winner's check.
While speaking what he called limited English, there was no need for translation for his stellar game, which has included four international victories. But with the help of his agent/translator, here are his thoughts on his first PGA TOUR win, the TPC Craig Ranch course, Byron Nelson,  Lee's self-professed love for singing and the Salesmanship Club's signature red pants.
AVIDGOLFER: What are your memories getting your first PGA TOUR win at the Byron Nelson tournament last year?
K.H. Lee: The final round was kind of a blur. It was raining most of the day and my thought was to get the tournament finished on Sunday. One of the fondest memories was on 17th hole, hitting one of the best shots of the week for me. I had lost some momentum due to the rain delay, and making bogey on 16, and to hit such a wonderful shot, I will forever remember that moment. Also, hugging my pregnant wife coming off of 18 was sweet!
AG: It was the first time the tournament was held at the TPC Craig Ranch Course. How did you adjust to the new course last year?
KHL: The TPC Craig Ranch course really suited my game. I felt comfortable as the fairways were generous, and I felt comfortable all week with the course.
AG: There are a lot of talented Korean golfers on the PGA TOUR. Do you get to spend much time together?
KHL: Yes. We spend a lot of time during practice rounds. With my limited English, I still feel much more comfortable speaking Korean. So I tend to play most of my practice rounds with the Korean players and oftentimes leading to dinner at a nearby Korean restaurant.
AG: You birdied the last two holes to gain the Byron Nelson victory. What was it like to hit your best shots at the end of the tournament?
KHL: The shot on 17 was one of the fondest memories of the tournament for me. After a long rain delay, and coming off of a bogey on 16, I needed to hit a good shot to regain my nerves. The shot on 17 sealed the deal in my mind. The birdie on 17 allowed me to play 18 with some freedom.
AG: You had to wait out a lengthy rain delay during the final round. What did you do to pass the time?
KHL: We were so wet from the rain all day. I spent time trying to dry off. It kept us busy from having me thinking about the tournament the whole time. My agent, Jin Park, was there and we just made small talk. That helped me stay relaxed.
AG: You mentioned you like to sing, what would it be like to sing Karaoke with the bright red pants the Salesmanship Club tournament volunteers wear?
KHL: I think that would make me blush like the red pants! I can't imagine myself wearing red pants!
AG: Did you know much about tournament namesake Byron Nelson before your win last year?
KHL: I had an idea that he was a great golfer back in time. But I did not realize how amazing of a player he was. If I'm not mistaken, he won 11 tournaments in a row that he had entered! I am not sure if that record will ever be broken. On any tour!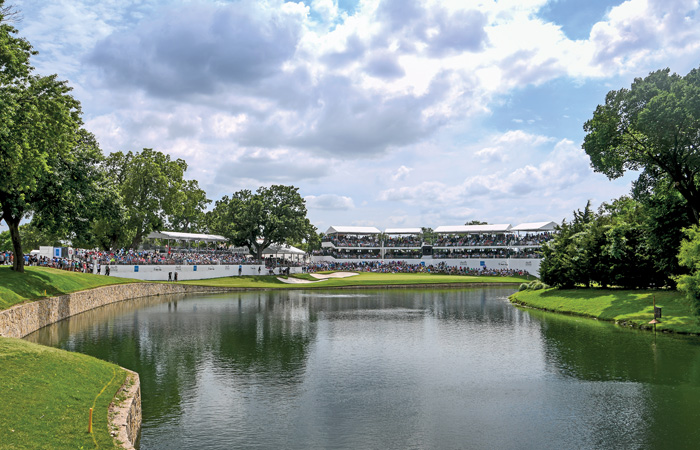 After a couple of years – one with no fans and one with limited capacity – like the Nelson, the Charles Schwab Challenge is back to 100 percent fan capacity in 2022. Defending champion Jason Kokrak is expected to return in defense of his title, and the field is getting stronger every time we take a look at the commitments. 
"Hogan's Alley" has long been known as a great ball-strikers course, where the champion often is able to work the ball both ways, navigating this beautiful parkland-style layout. Colonial was supposed to close the day after the 2022 tournament for a major renovation, but supply chain issues have delayed the complete overhaul until after the 2023 event. So, as it turns out, we get to see this version of Colonial Country Club for at least two more tournaments. We are excited for what the future holds for Colonial, and we are even more excited to have the fanfare and full crowds back for this year's Charles Schwab Challenge.
Who's going to be in the field?
For starters, defending champion Jason Kokrak is committed to vie for the defense of his 2021 title. In addition to the reigning champ, past champions Olin Browne (1999), Sergio Garcia (2001), Rory Sabbatini (2007), Zach Johnson (2010, 2012), Chris Kirk (2015), Jordan Spieth (2016), Kevin Kisner (2017) and Kevin Na (2019) are all expected to appear. 
Local favorites Tom Hoge, Ryan Palmer, Harry Higgs, Will Zalatoris and Kramer Hickok are also in the field, with Palmer searching for his first win at Colonial and Zalatoris looking to capture his first win on the PGA TOUR. 
Other notables in the field include Tommy Fleetwood, Rickie Fowler, Lucas Glover, Charlie Hoffman, Beau Hossler, Sungjae Im, Si Woo Kim, Matt Kuchar, Pat Perez, Webb Simpson, Harold Varner III, Gary Woodland and 2020 U.S. Amateur champion Ty Strafaci.
If I get tickets, where should I take in the golf action?
Colonial is one of the best spectator courses on the PGA TOUR. The walk is relatively flat, and patrons can get from one corner of the property to the other with relative ease, making it an easy walk for older spectators or juniors attending their first event. There is plenty of shade, so even though the weather is usually warm, there are plenty of spots to take a break and find some shade. 
No. 13 has long been the best place to watch the action, as this par 3 has plenty of trees for shade and the margaritas are usually free flowing. The only downside to No. 13 (besides tournament officials doing away with the caddy races several years ago) is you can't really see much of the rest of the course from this vantage point. So, if you're looking for a party, No. 13 is a wonderful spot; but if you're looking to watch more of the action, you may consider hanging near No. 13 green for an hour or two and then heading back toward the meat of the course. 
The notorious "Horrible Horseshoe" is another quality place to watch, as you can make your way toward the No. 8 tee box and then meander down toward the third tee to watch the pros begin the Horseshoe, which is the stretch of Nos. 3, 4 and 5. This leads you back toward the meat of the course, where you can locate a favorable group and follow them for the duration of the opening nine, or head back up toward the ninth tee box to make your way back to the clubhouse. 
Of course, the large gathering area near the clubhouse is a nice place to see multiple shots, as spectators aren't more than a couple minutes stroll from watching shots coming in at the No. 16 green, tee shots on No. 17, approach shots on No. 18, tee shots on No. 1 or No. 10 and the daunting approach over water at No. 9.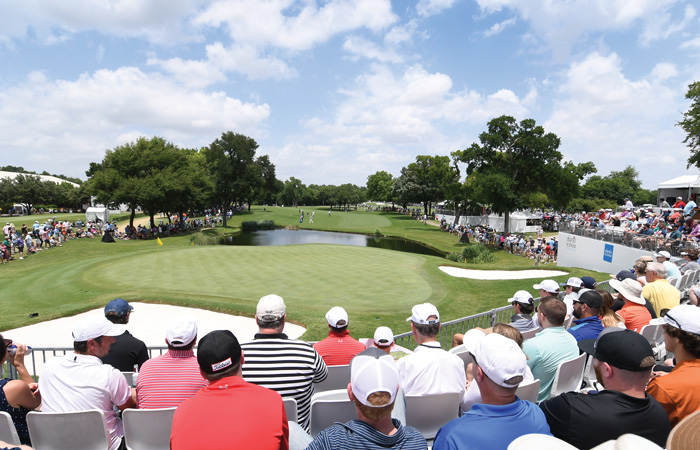 What's the ticket situation?
Tickets are available for the Wednesday Pro-Am at $50. They are limited, so you will need to act quickly if you want to check out that round. There are a pair of releases for the tournament rounds. The initial release of Thursday-Sunday daily tickets are going for $85. Second release daily tickets are $100 each, so if you want to save some money, don't wait around. This daily ticket provides fans with the ability to walk the entire course, including the practice facilities, gain access to all public venues, including the Fan Shop and Schwab's The 5 Performance Center, and purchase food and beverages. 
A Villages Ticket runs at $325 per day and offers full access for viewing, dining and drinks in the Palmer Village at No. 13 green, Crenshaw Village overlooking No. 16 green and the Kokrak's Ultra Athletic Club at No. 8 green, with views of the No. 9 and No. 12 tees. This also includes Colonial Signature Service from wait staff in the Villages. Complimentary full bar and food service in villages and pool house are included in the Village Ticket price.
The PXG Patio Club, inside the Colonial Clubhouse, is the tournament's premier VIP ticket offering. Ticket holders are treated to an exquisite culinary experience by Colonial's Executive Chef, while watching golf from commanding views of the No. 16 green and No. 17 tee from the private patio. PXG Patio Club tickets are $575 per day, Thursday-Sunday (Friday is already sold out), with all food and beverages included in the ticket price. PXG will be ramping-up the excitement in the PXG Patio Club by treating guests to a special attraction. For the first time ever, PXG is bringing its immersive golf club-fitting experience to the Charles Schwab Challenge inside the PXG Patio Club. A PXG simulator, featuring the same Trackman launch monitor technology used on the PGA TOUR, will enable PXG Patio Club guests to experience PXG's latest irons, woods and wedges. Custom fittings by a PXG Fitting Specialist can be reserved in advance and are complimentary.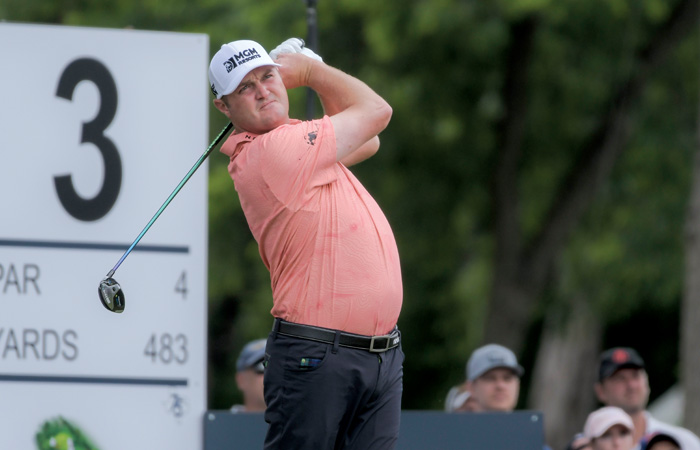 Charles Schwab Challenge Champion Jason Kokrak
Jason Kokrak knew he was in hostile territory at the 2021 Charles Schwab Challenge at Colonial Country Club facing local favorite Jordan Spieth, who held a one-shot lead going to the final round. They dueled, the tour veteran and the people's choice, down the stretch at the storied Fort Worth venue. And the veteran was determined not to let a little Lone Star disadvantage hold him back.
Kokrak was in the midst of a career year, with victories at the CJ Cup at Shadow Creek in Las Vegas in the fall of 2020, the Charles Schwab Challenge in May of 2021 and the Houston Open in October. It was the first three victories of his long PGA TOUR career, becoming the first golfer, 35 or older, to win multiple times in the same season since 2018. 
While at the World Golf Championships-Dell Technologies Match Play at Austin Country Club in March, Kokrak was happy to talk to AVIDGOLFER Senior Writer Art Stricklin about his Colonial golf victory, the opportunity to return to Fort Worth in defense of his title and quieting the Texas golf fans last year.
AVIDGOLFER: Golfers often talk about feeling like they are due for a good week when they get into a tournament. Did you feel that going to Fort Worth last year?
Jason Kokrak: I had been struggling with my driver for a while, but the guys in the truck got me fixed up with a new driver early in the week and I hit it great all week long. Colonial is one of those places where you need to hit it straight because it can really be tight in places, and I hit it good all week long.
AG: It's little secret the huge Colonial crowds were almost all rooting for Jordan Spieth, who you defeated by two shots. What was that like for you?
JK: You're always going to have to play somebody good if you're going to win a title. Jordan Spieth is a super-talented player, a multiple major champion, so I knew it wasn't going to be easy.
AG: Could you feel the crowd on Spieth's side?
JK: I knew who they were rooting far, but my caddy was rooting for me, and I had a few other people, so I wasn't totally alone. It was kind of like a Ryder Cup, in a way.
AG: You've been on TOUR for nearly a decade, but last year was your first three victories, and your first Colonial plaid jacket. Have you had a chance to wear it much this year?
JK: I wore it when I won but had to leave it here. I just purchased a second jacket; that's not cheap, let me tell you. But maybe I can wear it at some beach parties this summer. That would fit in in nice for cocktail hour.
AG: What's it like to come back to try to defend at Colonial after waiting almost a decade to win anywhere?
JK: Colonial is a great event at a very historic venue. You go to the Wall of Champions off the first tee, and you see Hogan, who was a pioneer of golf, and Jack and Arnie and all the greats who won here. I grew up on a short, tree-lined course in Ohio, that reminded me somewhat of Colonial.
AG: Have you had a chance to drive your Challenger truck that you won for taking home the Charles Schwab Challenge title last year?
JK: That's pretty cool, I have to tell you. There is a plaque in the truck with my name and the Charles Schwab name right below it. That's probably the only time our names have ever been together. I think I will get to meet the real man himself this year in Fort Worth.