The Bahamas – The Abaco Club

The Bahamas Islands chain, which sits just southeast of Florida, contains 700 different islands spread out over several thousand miles, but only 30 of them are actually inhabited.
But it's highly unlikely that any of them are as pleasant of a hidden resort find as the secluded and welcoming luxury golf and fishing enclave of The Abaco Club on Winding Bay featured on Great Abaco Island.
The island itself features a population of 10,000 people, who are mainly concentrated on the major city of Marsh Harbour. The city contains one working traffic light, a KFC food outlet and the international airport, plus a smaller private one, which services direct American Airlines & Delta connections from various cities in Florida and the East Coast. While Caribbean golf and resorts have been popular for decades, especially for visitors from the East Coast, what makes The Abaco Club unique is that the property features a luxury housing development. With homes ranging from $3 million to $20 million, the development is open to resort guests to gain a glimmer of this often overlooked and underappreciated destination.
"We don't do things like everybody else," said owner David Southworth, a Boston CEO of his own development company, which operates five other similar resorts in the U.S. and U.K.
He started the genius marketing idea of letting vacationing tourists seek out the best of the Bahamas without first having to make a seven-figure investment or sit through a never-ending sales pitch in the middle of their vacation. Unlike nearby Baker's Bay, site of the fabled Jordan Spieth-Rickie Fowler annual spring break trip, The Abaco Club is low key, understated and full of what Southworth likes to call, "barefoot luxury." That includes a 2-mile undisturbed crescent moon-shaped beach, the first authentic island 18-hole Scottish links designed golf course, which is rated No. 1 in the Bahamas and Top 10 in the Caribbean; tennis, spa, pool, along with different varieties of dining and adjacent world class fishing.
"We specialize in all the things money can't buy, beach, sunset, fishing, golf, barefoot luxury, relative seclusion," Southworth said. "I can remember coming in from an early morning bone fishing trip and looking over at the 17th and 18th green and seeing people finishing out their round. A few minutes later, we're docked, then it's lunch, spa, perhaps golf or the beach. That's an experience that's hard to beat or replicate."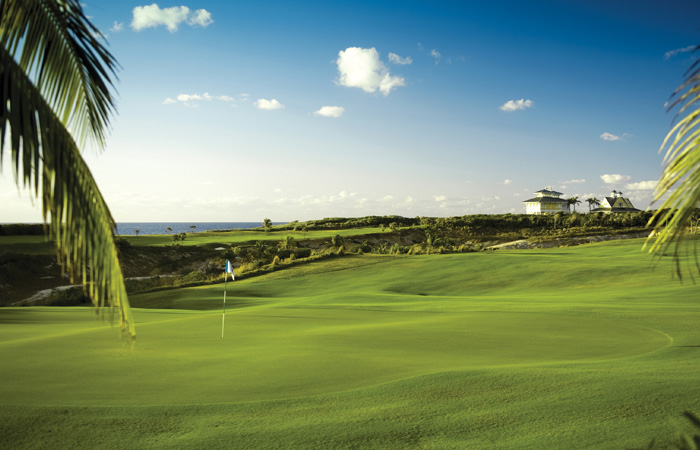 Southworth is committed to continue to open the door to his little piece of paradise to others. In 2018, The Abaco Club will host a Nationwide Tour professional golf event for the second year which will be nationally televised and resulted in at least one home sale last year.
"We're enjoying it more than we thought we would," he said. "Many of the players stay on property and have a good time with the fishing, the golf and the beach."
There are 20 individual villas Abaco Club guests can rent which can accommodate a couple or small family. If more space is needed, there are larger units as part of the rental pool. A guest can come and bring his family three times before a membership must be purchased, with no home ownership required for an international membership. "I haven't heard anybody say they didn't want to come back after being here once because of the personal service, the feel of being a guest, not a visitor, and the wide variety of things to do," Southworth said.
Of course, to be a great golf resort find, it helps to have a great golf course and that's where The Abaco Club golf figures into Southworth's "we don't do things like everybody else," mantra as well.
U.K. architects Donald Steel and Tom Mackenzie arrived before the facility first opened in 2004 to craft the first-ever Caribbean authentic Scottish-Irish links. Far from the scenic and easily forgettable golf courses which dot the region, Steel and Mackenzie took the oceanside land and crafted a very interesting, playable and entertaining par-72 layout.
The Abaco Club site features plenty of rolling and heaving fairways where shots can go in any direction once they hit the turf with the wildly undulating greens offering a similar challenge. There are acres of white-sanded waste area just off the fairways which offer a chance to recover from a poor shot, provided you can thread your ball through a myriad of trees and jungle brush.
Of course, since this is a proper U.K. links, albeit one a few thousand miles to the west, there are plenty of bunkers on the Abaco Club course. Some are of the smaller pot variety, others much larger and more menacing.
Another true links characteristic in place here, is the holes with steep banks and a green grass funnel through the middle to thread your shot. A fine case in point is the par 4 ninth hole, one of the most interesting on the course. The fairway threads left to right off the tee with high banks on either side to bounce your ball off of for an easier approach to an elevated, well-bunkered green. The par-4 12th is another testimony to a well routed hole with trees and bunkers to navigate to reach the green. Of course a layout this close to the Atlantic Ocean would have its share of scorecard soothing scenery and that's certainly the case here. Front nine holes Nos. 4-7 all run with the ocean to one side or the other, including two par-3 challenges which sit among waving trees. Even the window in the mid-round restroom offers a stunning view of the ocean.
On the back nine, the watery drama cracks up starting on the elevated tee box of the par-4 15th hole where the ocean is visible in the distance. The par-4 16th starts out straight along the water before a 90-degree turn to the right. The par-3 17th is a scene stealer with ocean all along the right side and waves dramatically crashing against the rocks next to the green. The par-5 18th closes the course on a grand note with ocean on the left side, tee to green and another elevated green to finish your Abaco Club test. Another difference maker is the extensive practice facility next to the modest pro shop. There is a large double-sided range for all manner of full shots along with two putting greens, two chipping greens and some practice bunkers.
It's no wonder British Open champion Darren Clarke keeps a house here and is a regular user of the practice facilities, especially before the Masters, along with Graeme McDowell and Rickie Fowler. Of course, the resort has stories to tell like most great places. It was opened in 2004 by visionary developer Peter de Savary who insisted on the best of everything, including backup electrical and water systems and the unique links design. He sold to the Ritz Carlton chain in 2006 which saw this as a luxury resort goldmine, but when there were not enough regular visitors to fill the corporate P&L statement, Ritz Carlton and its parent company, Marriott International, soon began to lose interest in the project. Southworth first visited in 2011, saw the distressed conditions, but didn't think he could do anything about it.
"I never thought I had a chance to get this, but I had bought another project from Ritz in the past, so I had a few contacts and knew some people there."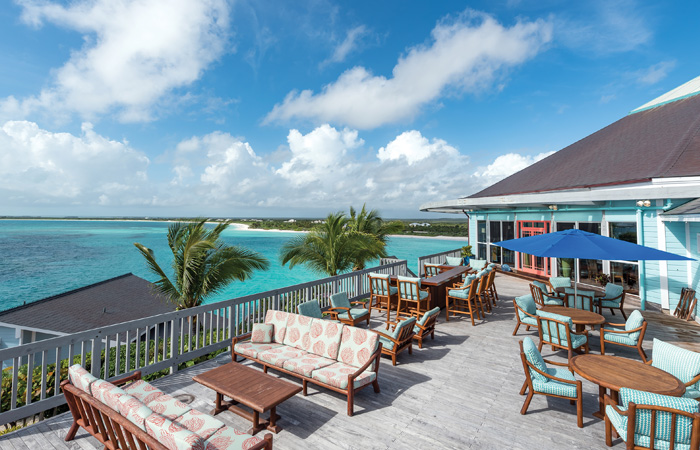 He closed on the sale of the resort in December 2014 and began to restore it to the de Savary vision, with a more open populist touch. He has spent millions in neglected renovation work, sold more properties, allowed more visitors and added more unique touches including a large new marina to dock larger boats. The marina will begin to take shape in early 2018. A new tennis center addition will soon follow.
Little Harbour, where the new modern docks will take place, is still humming on most weekend nights, especially at the sandy floor Pete's Pub where the newest and freshest catch from Winding Bay is brought in and served to guests after being listed on the whiteboard menu. Should you want to explore watery landscape, you can charter a boat for deep sea fishing and aqua sightsighting including the ancient native villages of Hope Town and Cherokee and the classic seaside dive bar, Nippers, on Great Guana Cay.
But back at The Abaco Bay, it's just more unspoiled beaches, more stunning sunsets, water toys, unique golf, flawless practice facility and more tropical food and drinks.
Barefoot luxury, open to all.
For more information on vacations at The Abaco Club or full-time lodging, go to www.theabacoclub.com or info@TheAbacoClub.com