The Gadgetification of Golf
The January 2018 PGA Show had an offering of dozens of exciting products to visually and mentally stimulate any fed-up-with-winter golfer visiting the Orange County Convention Center in Orlando as much for the bright sunshine outdoors as for the colorful displays indoors. Apparel, accessories, golf clubs and even golf balls were presented in every color of the rainbow.
The "bells and whistles" were not far behind. Swing feedback equipment has now come of age, with the most sophisticated, and typically portable, golf information and feedback-providing equipment imaginable now available. The most exciting ones were the putting measuring tools, the full swing ones and then the gadgets that offer useful information for on-course play.
While the SAM PuttLab probably still rules supreme, many new and smaller putting performance measuring devices are also available. One that attracted a lot of attention was the Capto brand sensor that weighs 47 grams and attaches to the putter. It is simple to use and all the parameters it measures are easily seen on a tablet. It has been designed by an Italian engineer and has two uniquely named features: "handling" (putter shaft lean) and "trembling," which refers to the physics term "jerk" and implies a yips type of performance.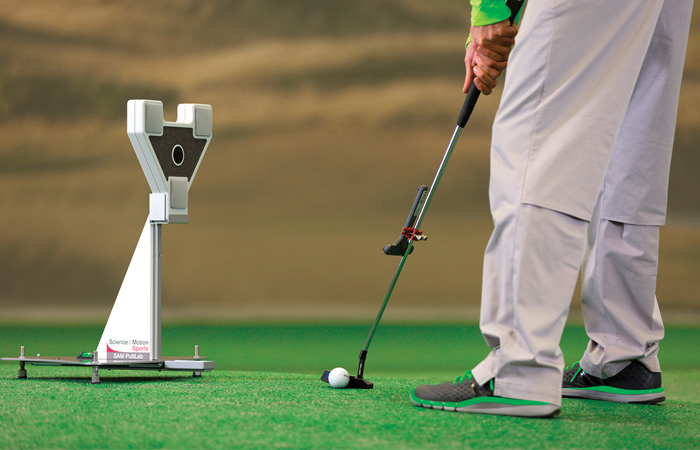 Another new putting gadget is called Hole More Putts/PutterFit and is developed by two Irish brothers who have an interesting story to tell. Every Sunday they'd drive to a faraway course to play golf and inevitably had to rush to the first tee without any practice, so that they would putt awfully for the first few holes. Enter their new Hole More Putts "tablet," a small, flat device that is placed on the ground, so that its display window immediately provides readings of putting parameters without one having to get out of posture. The product currently offers only five basic putter parameters – face angle, impact point, path, speed and angle of attack. This really is as much information as any average golfer needs and could be a fun tool for practice in the office or the living room. Its only downside is that all its parameters stop at impact, while it is important for a golfer to know how the putter moves immediately post-impact too.
Then there were the full-swing feedback tools. K-Vest, the earliest bio-feedback sensor-based tool in golf, is now termed K-Motion. It has added sensors on the upper arm and wrist to enable a golfer to get body plus wrist feedback. MySwing, a more recent offering, allows a person to choose which body parts they wish to focus on by purchasing anywhere from two to 17 sensors (along with one for the club). This comprehensive tool is thus able to give feedback for each body segment on what the company terms nine degrees of freedom: three for rotation, three for translation and a further three for yaw, pitch and roll. This is a great tool for a discerning golfer or a golf instructor.
A useful driving range offering is the camera-based Toptracer. Formerly known as Protracer, this was the technology used to track the ball flight of the pros at Tour events. It has now been bought by Topgolf, which has revolutionized the way we perceive golf with a new urban-golf model. Toptracer consists of two cameras that can capture data of all shots hit for nine hitting bays horizontally and three levels vertically. It then sends an individual's data to the display screen at his/her hitting bay. It makes a great driving range feedback tool, offering just enough information to help the average golfer understand carry distance, direction and trajectory.
And now for the on-course information gathering tools. Arccos is a company that has devised 14 sensors that easily fit into the top of each club's grip, and then cleverly makes use of a golfer's cell phone's accelerometers to produce very useful data. For now the golfer has to carry his/her cell phone in the pocket, but some independent measurement tools are in the pipeline. The product's software breaks the game down into driving, approach, chipping, sand and putting and helps a golfer understand how each part of their game contributes to their score. It also tells how they might approach a hole tactically based on their ball striking patterns. It has access to 40,000 mapped golf courses, so a golfer could use the tool, for instance, to decide whether to use a 3-wood or a driver. It might say, based on some bunker located in the fairway, and the golfer's existing patterns, that the player's chance of making fairway with a 3-wood is 40 percent but is perhaps 55 percent with the driver. It even has real-time information on wind direction and speed and golf course elevation, and so becomes a golfer's caddy making suggestions on which club would reach the green from which location, given the environmental conditions.
Check this out for "totally rad" – a company called 18Birdies has an app-based product that allows a golfer to set up his/her golf bag information, inputting all club information so the app can automatically know the club's properties. Then based on a golfer's typical shots, their shape, quality and speed, the app can make recommendations on club selection (it incorporates elevation, temperature, humidity and wind conditions sourced from the internet), analyzes a golfer's stats, allows golfers to play virtual competitions with friends on the same or other golf courses, and even allows one to set up virtual golf events. It has about 35,000 golf courses from around the world mapped into its database.
Every single device on display at the Show was linked to instant feedback access via cell phones, tablets and computers, and also had the ability to send detailed feedback to a remote golf coach. Personally, the most enterprising manufacturers of golf performance measuring tools will all go portable, not only so that an individual golfer can afford to purchase the product but also so that performance can be more meaningfully measured on the golf course under ever-changing environmental and emotional situations.
As golf becomes a more popular event for the younger generations, app-based gadgets seem more "cool." As these young people are more likely to simply pick up the game by trial and error or from some free online YouTube videos, app-based products give them the measured statistics they need without access to the studios of the well-known golf instructors that house the more state-of-the-art devices. Watch out for the gadgetification of golf!