The Lighter Side of Cole Hamels

When you take a look back at his career so far, Cole Hamels lives up to every bit of his "Hollywood" nickname. The laid-back California kid who is known for his wicked changeup was drafted in the first round in 2002, 17th overall, to the Philadelphia Phillies. He worked his way up through the minor leagues, and, only four years later, the lefty found himself pitching in a major league game.
Fast forward to today, and Hamels, now in his third season with the Rangers, has lived the plot of a Hollywood blockbuster through his last 16 professional seasons. He got the girl (his wife, Heidi), the championship ring (2008 World Series victory with the Phillies) and a mega deal that other pros would kill for. He has accolades that include four-time All-Star and World Series MVP. In his last start before being traded to the Rangers in 2015, Hamels threw a no-hitter against the Cubs at Wrigley Field. You can't write a better story than his.
Not surprisingly, his athletic ability is only part of his allure. In the clubhouse, Hamels is revered as one of the veteran leaders of the group, sparing no efforts in trying to inch his team ever closer to the brass ring.
Off the field, he's heralded as one of the most philanthropic major leaguers, making national headlines for his family's generosity in the community. This dad of four is putting forth his best efforts to provide educational opportunities for children just like his own.
So, what exactly does a superstar do during his down time? Play golf, of course. After getting into golf as he was entering pro baseball, Hamels fell in love with this additional outlet for his athleticism and competitive spirit. Although he is quick to be self-deprecating about the status of his golf game, Hamels can hold his own in any foursome. The 34-year-old starting pitcher chatted with AVIDGOLFER on his passion for the game, its role in his busy schedule and how time for him has been in the Lone Star state.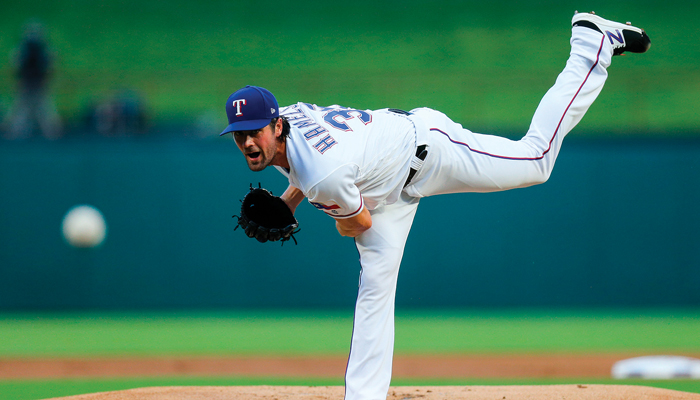 AVIDGOLFER: Baseball is finally back, but how was your off-season?
COLE HAMELS: It was good. It was busy. I think most of my off-season is spent traveling, seeing people that we normally don't get to see during the season, so it was really nice. My sister was getting married so we had a nice destination wedding and a few trips with teammates. It was good.
AG: Based on your social media, is it safe to say golf was part of your off-season as well?
CH: Yeah! I think that's the exciting part. When we do travel, we go to very warm climates that tend to have very nice golf courses. I've been fortunate enough to be able to play some pretty incredible tracks with some really good golfers to say the least. It's kind of something that I know my family and I definitely enjoy the most is when we're out on the golf course together.
AG: Any favorite courses?
CH: One of my favorite courses is the Makena Course in Maui. We tend to favor that one. We travel there a lot so any time I get to play that course, I get familiar with it and the people there are outstanding. That's one of my top ones. Then obviously in Spring Training, you can't beat Whisper Rock or Silverleaf. I have a great group of guys that I play with there.
AG: You've been playing baseball for quite awhile now, but when did you get started playing golf?
CH: I picked up clubs when I was younger but unfortunately, since my dad is right-handed and I am left-handed I couldn't really play. So I would learn to swing the wedges right-handed because that was really the only thing I could hit in the backyard. When I was 18 I was able to purchase my first set of golf clubs, so that's when I really picked up the sport and just fell in love with it. I tried to play once a week. It's definitely a tough transition from a baseball swing into a golf swing, so I learned the hard way, but over the past couple of years I've been able to read more, watch videos and critique my swing to have better swing mechanics.
AG: Do you remember what those first clubs were?
CH: TaylorMade Steel irons. I don't remember what driver it was, but I know it was TaylorMade set. I was lucky enough to be sponsored by adidas with baseball, so they hooked me up with my first golf set. I still swing TaylorMade today. They're just outstanding clubs and have great service. That's the clubs I've always gone toward.
AG: What's in your bag now?
CH: It's sad- I play with such old technology. I played with some TaylorMade reps and a couple of players in Maui, and they just made fun of me. They're breaking out all the brand-new 2018 Twist Face drivers and they're doing everything with them, and I'm just staring at them in awe. I was like, "Uh, yeah, these are my TaylorMade muscleback forged irons from 2012." I still have the SLDR driver! But I still have my RocketBallz 3-wood, and I'm absolutely in love with it. It's a hot club that I hit well. Along with my putter, which is a custom Scotty Cameron blade putter.
AG: Many athletes we have talked to in the past separate themselves into two camps as far as golf's role in their life. Some find golf to be another competitive outlet and something to excel in, while some enjoy golf as a way to get away from everything that is going on. Where do you think you fall in there?
CH: I'd say it depends on the time of day. I really enjoy being out on the golf course because it is a separation of the realities of what's going on in life and you get to really be in tune with nature and just the perfection of what these golf courses have to offer. But I am such a perfectionist that I expect myself to go out there and shoot par every hole. So it's something where I grind away on the course because I'm trying to score so well because of being an athlete. I expect so much out of what I can do.
AG: Do you play with any current or former teammates?
CH: Yeah, I do. That's the best part about golf is where I get to play with a lot of my former teammates. It gives us a way to hang out and be with each other again. A lot of the guys I do play with, especially since they're across the United States, when they retire, they go back home or wherever they've been. I'm able to travel around and see them. I play with Adam Eaton, who I used to play against in Washington. He's taken me to some really great courses. I play with [Milwaukee Brewer] Kyle Lohse at Whisper Rock; there's a bunch of guys like [former pitcher] Mark Mulder and some other PGA pros that are really cool to play with. And then I play with a lot of the teammates that I have right now. I know with the pitching staff we have a lot of guys that like to golf. We have Matt Moore and [Darwin] Barney that play. It's been really fun to get to know them because when you're outside of baseball you get to know someone more, like when you're on the golf course.
AG: Are you allowed to take your clubs with you on the road during the season?
CH: Yeah, that's the perk of being a starting pitcher. We're actually allowed to bring our clubs because we have a lot more free time to be able to utilize that almost like a workout. Most of the time, we'll play once or twice on the road in different cities and I've been really fortunate to be able to do that. When we do get home, because we have families, we don't play as much golf because we're spending our time with them. My kids tend to really enjoy golf so I'm able to go out a little bit more than most, especially if it's Topgolf. We're able to go out there as a family and just have fun.
AG: Anyone on the Rangers staff that's surprisingly good?
CH: Hmm…I'd have to say Tony Barnette. He's probably one of the better golfers. I think it has to be because his wife played golf in college and she's probably better than him. She could beat us all. He's got golf in his family's blood so that's the funny part about when you get to go play with him: sometimes we'd rather have his wife be our partner than him. We know we'd win with her.
AG: Golf Digest has included you in their lists of the best athletes outside of pro golf with an estimated handicap of 13. Would you say that's about accurate?
CH: Yeah. I think I've probably been able to lower it to about a 10 or 11. It just depends on how much I've been playing but I that's basically where I've been able to play at.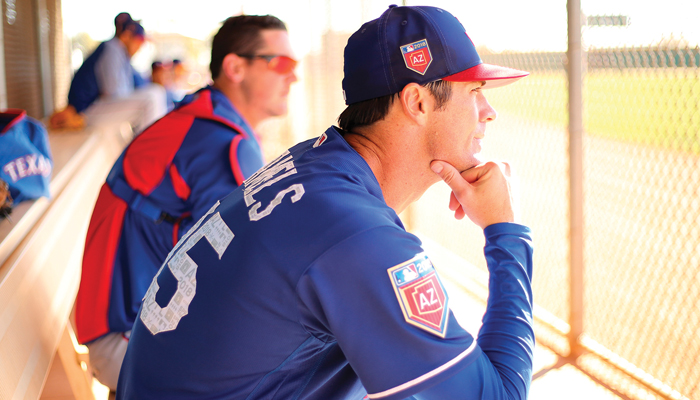 AG: Any low rounds or holes-in-one that you'd like to brag about?
CH: Ah no. I actually just missed a hole-in-one the other day. I'm pretty frustrated. But no, I don't have any holes-in-one. My sister actually has a hole-in-one before me. That's her claim to fame in the family right now. She definitely holds it against my dad, my brother and me because she's got the only one in the family. For me, I think I blew my low round. I was playing Seminole for the first time and I was on pace to shoot a 77. I ended up blowing it on the last three holes and shot an 83. I've never broken par, so I'm a work in progress.
AG: One of the many perks of being a pro athlete is being invited to play in pro-am tournaments. Have you played in any fun events with other superstars?
CH: I was able to play in a couple of the pro-ams at Innisbrook Country Club for the Valspar Championship when I was down in Clearwater, Fla. I've played in a few of those. The last one that comes to mind was when I got to play with Ollie Schniederjans [in the 2015 tournament] when he was still an amateur. It was really impressive to see a guy who was still in college, just about to graduate and everyone knew he was about to go get his Tour card. To see his approach and just how good he was, how he took his shots, was really impressive. Those are the only pro-ams so far but hopefully in the future I'll be able to participate in a few more. I'm excited about that.
AG: So is golf something that will fill up your time after you retire from baseball?
CH: I've been so fortunate to be able to play the great game of baseball, but I love golf. I look forward to what I'll be able to do when I retire and seeing the phenomenal courses the United States has along with the world traveling. It's a tremendous sport to get kids into. We're getting our kids into it. I love the respect, the manners and the sportsmanship that you learn from golf. I know my kids are really going love it to and it's something they're going to be drawn toward.
AG: Any pro golfers that you've gotten to know on a personal basis?
CH: I've been fortunate enough to gotten know Jordan Spieth. Especially with him being in the Dallas area, we've gotten to see each other. Also, since I've been fortunate enough to go to Maui at the time of the Tournament of Champions, I do play golf a lot with those guys. It's crazy when there's 15 or 20 of those guys and they're getting ready for the tournament, it's impressive to watch them and watch how they take care of business. We end up having a great time because it's relaxed. It's not tournament time yet so we're out there having fun.
AG: Cliché question, but dream foursome?
CH: Oh gosh, I can definitely put in Jordan [Spieth]. He's always a great person to play with. I've got to put in Michael Phelps. He's fun to play with. Um… gosh now I need one more. Who would it be?
AG: With the way Tiger's been playing lately, he might be available.
CH: You know, if you put Tiger in there, that would be absolutely amazing. Then you'd have three guys who, at all points of their career, would be the very best. Jordan's still reaching his career pinnacle but he's outstanding. You've got Phelps who is the greatest gold medalist ever. You've got Tiger who is the one of the best golfers ever. I think if you throw those in, and then obviously I can come in and pull down the weight by having a baseball player in that mix. I think they'd have to give me a few strokes though.
AG: April has got to be the best sports months because you've got Opening Day, March Madness and the Masters. Any predictions for who will wear the next green jacket?
CH: I know from watching past tournaments, Jordan always does pretty well and is fun to watch. I know Rickie Fowler has definitely been turning it on. And I'm always surprised to see Pat Perez. He's made some serious strides the past few years, so seeing what he's been able to do is cool. Then you've got Jon Rahm. Gosh, Jon Rahm has been creeping up and playing outstanding golf. To not pick the favorite of Dustin Johnson or someone like that (who will probably win it), those other guys will be in the hunt.
AG: As part of the Rangers organization, what are your thoughts on the newly renamed Texas Rangers Golf Club?
CH: I'll be excited if I get invited to play it! It's a really cool venture. Baseball and golf kind of go hand in hand at times. I think it's a really great idea, especially in the Dallas-Fort Worth area and having Arlington in the middle. I look forward to having the opportunity to play that course because whatever the Rangers do, they do a good job in whatever they put their hand in. They're a top-notch organization. It's going to be something that is going to be done right and it's going to be really exciting for many people to be able to enjoy it.
AG: Baseball season has finally here. Any goals- personally or with your teammates- that you have for the upcoming baseball season?
CH: Yeah, of course. Personally, I think it would be to be healthy and to remain accountable for what I know I'm capable of doing on the baseball field. Health is obviously something that I've always been focused on. It's what hurt me last year. I think if I'm healthy, then I'm able to pull my own weight and obviously be there and be a good inspiration around my teammates to be able to encourage and motivate them. Team-wise, we have a lot that we're excited about. We have a lot of youth, a lot of energy and the right type of veterans where it balances out. That's always the perfect recipe for success. We have a lot of guys who want to prove themselves, and I think that's motivation right there. Everyone will able to feed off of it. We also have that "never quit" attitude so I think that's very helpful.
AG: You were the starter for Opening Day on March 29. What does it mean to you to be named the starter for the first game of the regular season?
CH: It's always exciting. Any time you get to lead your team off, you definitely soak in the environment and the excitement that baseball is back and you get to be the one that gets to start it all. It's an honor. A lot of us work so diligently at being great at something, and that's kind of a recognition for being great and getting the utmost confidence from your teammates and organization that you'll be able to do it and be the first one out of the gate.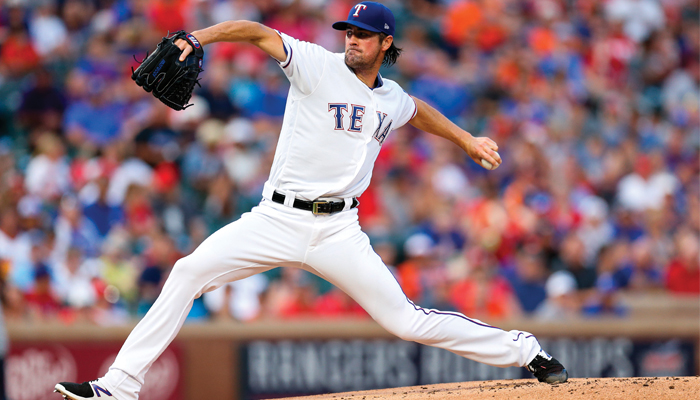 AG: You've accomplished so much in your career already- World Series MVP, pitching a no-hitter, four-time All-Star- but is there anything that went unnoticed by the media or happened behind the scenes that you're especially proud of?
CH: I would say the amount of innings I've been able to acquire over the short period of time that I've been playing. Because everything is about the accountability and the health of athletes, and how good moments can disappear really quickly, I feel like the amount of innings I've been able to go out there and do really shows the amount of work that I've put in off the field. It's a testament to how I've been trying to stay healthy, stay at the top of my game, stay ahead of the hitters so I can always have the advantage. At the end of the day, we spend 90 percent of our time just trying to get on the field to play. It's only 10 percent of the time when we're actually putting up the results that everybody gets to see that dictates who you are as an athlete.
AG: Any advice to kids who want to follow in your footsteps?
CH: Failure is a good thing. I think everybody associates failure as being bad, and it's really not. It's not a disappointment. Getting humbled and failing in a sport is probably the best thing that can happen because it teaches you and tests who you are as a person. It really makes you learn how to work and it makes you appreciate when you have something that's good and something that's going well. It teaches you to enjoy that moment.
AG: You've been in the news a lot this off-season for your incredible philanthropic involvement. Could you tell us more about the Hamels Foundation? What does giving back to the community mean to you?
CH: With the Hamels Foundation, we've really been focusing on education, especially with children. We've always had the belief that when you want to accomplish something, you have to start smaller and start at that age where kids are in their growth. Knowledge is power and from there you're able to accomplish more as you get older because you have the necessary tools to do so. You'll have that backbone that we all need when times are tough. We've really focused on trying to provide that necessary environment and equipment.
AG: When did the opportunity with Camp Barnabas come in?
CH: We've been in Missouri (my wife is from Missouri) and we've always had this love for the Branson and Springfield area. We were building a house there and obviously times do change and you make adjustments. We were looking at things there and we actually had a connection with the CEO of Camp Barnabas [Jason Brawner]. We were just talking to him and he said that they were about to expand their foundation because they were growing and doing great things in the area. We had the property and we had this proposal that we thought would probably be the best for them. They came over and talked to us and everything just fit so perfectly. We both couldn't be more pleased with what we're going to be able to accomplish with that location, the house and what the foundation is going to be able to do with it. We get to give back to kids and families, educate them and provide them with a lot more relief. There is going to be so much good that is going to come from Camp Barnabas and that house there. My wife and I are so pleased with what it's going to be able to do. It's going to be around a lot longer than we are.
AG: You're from the West Coast, you spent a lot of your career with an East Coast team, and now you're in Texas. How has your time been in the Lone Star State?
CH: It's been great! The reception was outstanding from the moment that I came here. The people are just so genuine. It's a great fit for my family just with how I was brought up and raised, how my wife was brought up and raised and how we tend to bring up our children. It fits the mentality of what Texas has to offer.
AG: So to put you on the spot, who has better Mexican food: Southern California or Texas?
CH: Oooh. I've gotta say San Diego but Houston has great Mexican food. There are some great spots I've found in Dallas and the rest of Texas, but I'll have to go with San Diego just because I know the spots. For good Mexican food, you have to really find those spots. They're not right there with beaming lights directing you there. You need to search high and low to find the best place.