Truth be told, I have always had an affinity for what I like to call television golf courses. The golf courses that you have the ability to play that you also get to see on television if you are a person who enjoys watching the PGA Tour. There is a possibility that I have always placed a higher value on these courses than I should, but what can I say, the heart wants what the heart wants. One such destination that has always been of interest to me is Firestone Country Club. My main familiarity concerning Firestone comes from the fact that it was the home of the WGC-Bridgestone Invitational. In addition, the famed South course has hosted the PGA Championship a total of 3 times. So, between that and the iconic water tower that's visible from many spots on the property, and that I have probably seen over 1,000 times while viewing PGA golf, it's a place that has always been intriguing to me for a golf trip. 
My interest over the course of time had also been stoked by occasional correspondence concerning a Clubcorp-sponsored tournament that the club hosts annually in the spring. An out-of-town round of golf and post-round cocktails and conversation in Atlanta with my brother and the two golfers who rounded out our foursome further whet my desire to visit this course. These two golfers had made the trip to Akron, Ohio in previous years and spoke very highly of it as a destination. The way they spoke about their stay in the clubhouse rooms, and how they would love to have a return visit served to only stoke my interest to investigate it as an option even further.  When the recent opportunity to visit Firestone was presented to me, I quickly accepted it and looked forward to adding another "television golf course" to my list of tracts that I had traversed. 
Unless you have access to private air travel, your best bet is to fly into Cleveland. Firestone has a shuttle service that will meet you at the airport, help you get your bags and luggage in the van, and take you on the short (45 minute) trip to Akron. You have 2 options when it comes to lodging during your stay, and in my opinion, you can't go wrong with either choice; it merely depends upon your personal preference. There are 15 villas for a total of 61 rooms scattered throughout the property with various views that I suspect are all spectacular. All but one of the villas are made up of four bedrooms, and one common area. They are spacious with two double beds per room with one exception: there is one villa on property that contains five bedrooms, and there is one king-size bed in one of the rooms.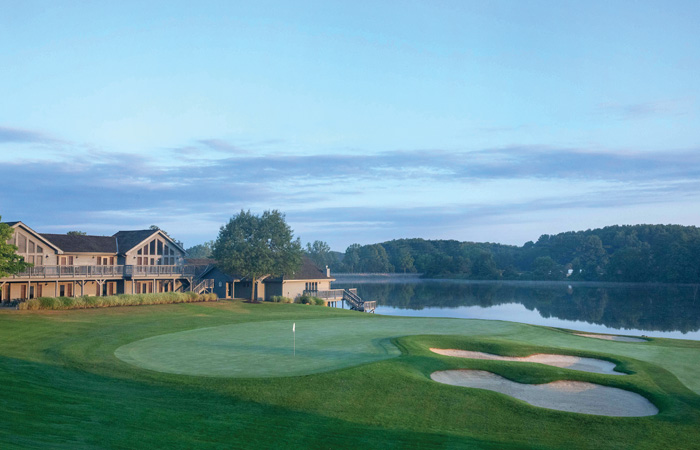 There is a spacious common area in the villa in which we stayed.  I can't speak for the amenities in all of them, but the one we stayed in had a pool table, a fireplace, a nice television, and a balcony that overlooked the lake just beyond the 18th green of the North course, perfect for a post-round cigar while enjoying a couple of cocktails and recounting your round. The common area also had a nice bar area, where a dinner could be set up and served to you, if you and your party want to take it up a notch.
The villa rooms themselves were plenty spacious, one bedroom was adjacent to the common area, and the other three were downstairs. Each room had its own bathroom, a desk area, and a comfortable chair to sit and just relax or to watch some television, if you so desired. There is also a patio right outside of your room, where you can sit and enjoy the pleasant evening temperature, a nice August respite for a Texan, while taking in a picturesque view. 
Your other rooming option on property is one of the 30 dorm-style rooms that flank the clubhouse. The clubhouse offers a uniquely different experience for your group. The rooms are named after golfers that have a place in the storied history of Firestone Country Club and are decorated according to the golfer for which they are named. I was in the Gary Player room, a cozy room with two double beds, a closet with a robe to use during your stay, (unfortunately the one size fits most robe is not a good option for me, but I am used to that type of circumstance so I don't hold the club at fault), and a framed letter written to the club by Mr. Player after one of his visits. If I required any inspiration concerning golf it was easily found on the walls: a picture of a young Gary Player raising a trophy on one side of the room while the opposite wall contained a photo of the Black Night, the Golden Bear, and the King prowling a fairway in route to hit their next shot. 
There are plenty of common areas located throughout the clubhouse with comfortable seating and ample televisions for viewing. There is also a full bar enclosed in the area which remains open well into the evening for your convenience. Dick, Dave, or Justin (whose only job has ever been at Firestone) are happy to tend to all your needs. There is also someone available into the late hours of the evening or the early hours of the morning depending on your perspective, in case you need a towel, or some aspirin, or somehow find yourself locked out of your room.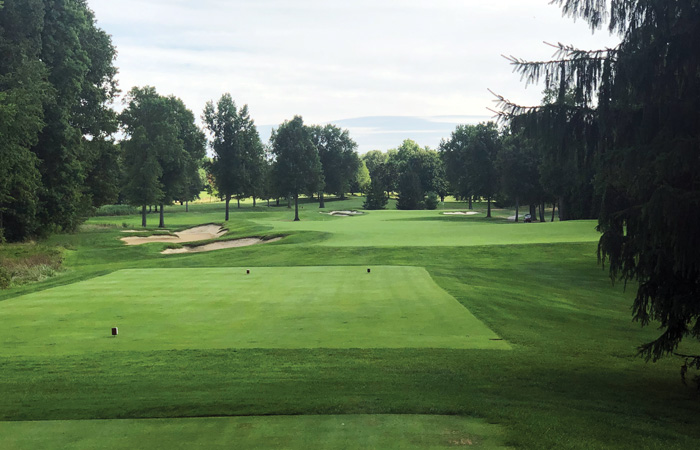 A couple of nice personal touches are available to you should you choose to lodge in the clubhouse.  Your golf shoes can be made to look better than they have since your first pulled them out of the box if you desire, and the locker assigned to you for the day will have a handwritten placard placed on it with wishes for you to have a great round and enjoy your day. The only potential downside to staying in the clubhouse, depending on your personal preferences, is the bathrooms and showers are all common area facilities. Consider this factor when making your decision and plan accordingly, knowing you will have to leave your room to use either. 
Regardless of which lodging option you choose, make the time enjoy a libation or two at the 55th hole bar. A short trip through two secret doors out of the clubhouse will allow you to enter the cozy bar whose patio provides a lovely view overlooking the South course and a fully-stocked bar where you will be happily served and treated like an old returning friend by Fuzz, a longtime employee. Make sure you have your scorecard with you; Fuzz is fond of rewarding the person in the group with the most 5's on the card from the round with a special and treasured keepsake.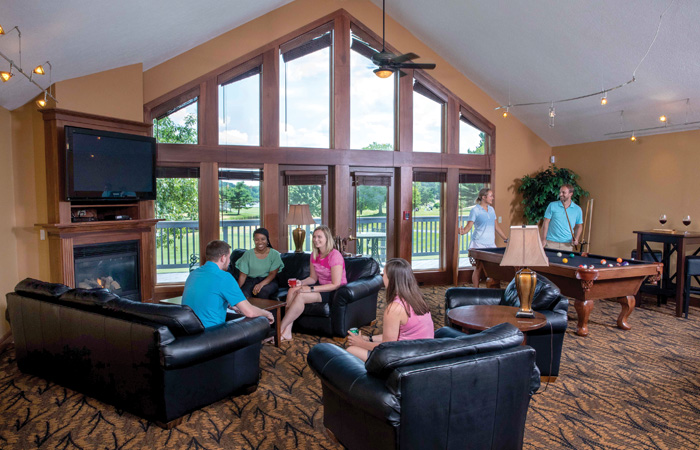 When you think of fine golf course dining, don't expect the options at Firestone Country Club to meet what you are accustomed – expect them to exceed your expectations; you won't find yourself disappointed. The 1929 Grille, with clubhouse, patio, and pavilion seating is a fine option. We had a between-rounds lunch there and left fully fortified and satisfied. Don't be afraid to give the Kung Pao Cauliflower a try to kick things off and give some consideration to the grilled cheese and soup selection of the day. Don't leave the property without trying the 303 Dipper. 
If you are looking for a setting that is a little more intimate, make some inquiries concerning a private room, chef created dinner. I seriously doubt you will have any regrets concerning it – we certainly did not. Don't leave the facility without getting a taste of the Firestone crunchy cream pie. Rumor has it, it is a favorite of a golfer who has won 18 professional majors and finished 2nd in 19 others. 
Concerning the golf courses, my advice is to play as many holes as your body will allow, and don't skip any of the courses. My initial thought on Firestone Country Club was I can't wait to play the South Course and I suppose I won't mind knocking it around on the others if I must. What a bad mistake it would have been on my part to have missed any of the three. They are all extremely unique in their own ways. Sure, the South Course has more television history and a Rolex clock in the vicinity of the 1st tee box, but each course in my opinion can stand on its own. They are all different in their own way, they are all immaculately maintained and conditioned, and they all provide different framings and different sight lines. Post-trip we were discussing our favorite course on property and each course got a mention. If you have never played on bent grass tee boxes and fairways, you are in for a treat. The morning prior to our last round we took a peek out of the window of our clubhouse room and saw them rolling the tee boxes on the North Course. The tee boxes at Firestone Country Club are in better condition than the greens at some courses, so soak it up and enjoy it all.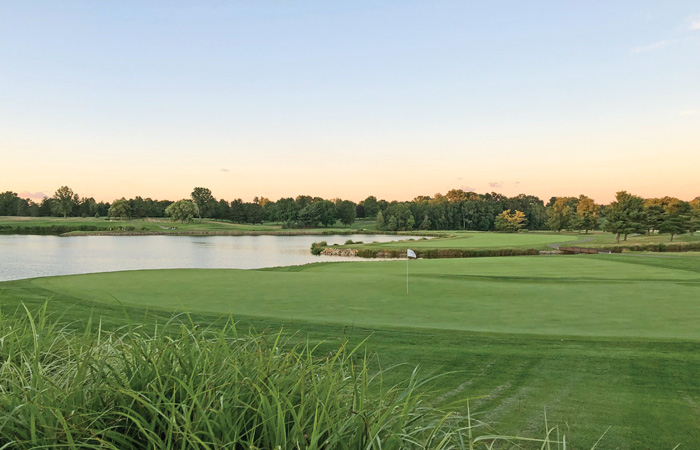 If you are on the fence concerning forecaddies, let me attempt to nudge you off onto the yes side. Consider this factor: I am a double-digit handicapper who played 72 holes of golf only using a total of five balls. Jon and Matt took great care of us and made our rounds so much easier to play and so much more enjoyable. Don't cheat yourself out of the experience of playing with someone who will get you where you need to be and take care of all your on-course needs. 
In addition to making sure you play all 3 courses, try to arrange for your last round to be on the South (you should definitely play it twice if your stay allows). Even though the trip ends when you hit your last putt into the hole at the 18th green, the memories you created at Firestone Country Club will come flooding back every year, when you turn on your television, and watch the pros play the same course you did, in the company of your buddies. Make the trip, you won't regret it.