By Robert Rodriguez
Golf lost a special ambassador when legendary course architect Pete Dye passed away earlier this year at the age of 94.
Many in the golf world memorialized the Indiana native, and tributes throughout this year were set at many of his layouts, both on and off the PGA Tour schedule. 
Who would've thought his passing would be a mere side note in the world of sports in what has now become a remarkably crappy 2020? Let's hope those tributes to Dye will occur once life and golf return to normalcy. 
Beyond his creativity and the trademark course design features (railroad ties, unique bunkering, distinctive green complexes), what blows people away is that Dye continued designing courses even when he was in his 90s. He could've ridden off to the sunset years ago – left behind the grind of getting up every morning for work or dealing with the tribulations of traveling to a job site – and still left a legacy unrivaled in golf course design.
Instead, Dye was still hard at work creating new layouts to test golfers. Whatever drove Pete Dye, we'll take numerous helpings.
Once we are fully able to travel, we'll also partake in the numerous Pete Dye offerings that are open to the public. You may know some of his best courses that you can play – TPC Sawgrass, Whistling Straits – but there are several others you should discover that are challenging, entertaining and showcase Pete Dye's course design mastery.
Whistling Straits, Straits Course
Once a flat, abandoned army air base, Dye transformed this two-mile piece of land hugging the shores of Lake Michigan into America's ode to Irish golf.
On the Straits Course, patrons will find a smorgasbord of unique traits that make a round here so memorable. First there are Dye's trademark railroad ties, which are mainly found on the course's spectacular par 3s. Another eye-opening feature: the multitude of bunkers scattered throughout. In total, there are more than 1,000 bunkers in various shapes and sizes – pot, directional, some measuring over 100 yards – and there's even a hole named "Sand Box" for the plethora of traps from tee to green.
What epitomizes Dye's greatness for course routing and design are the par 3s found on the Straits Course. Each provides a captivating scene with Lake Michigan hugging the right side. The body of the water and ever-present wind also make these holes formidable challenges.
The Straits Course played host to several USGA and PGA Championships, and will be site of this year's Ryder Cup. www.americanclubresort.com/golf/whistling-straits; 800-618-5535
Pound Ridge Golf Club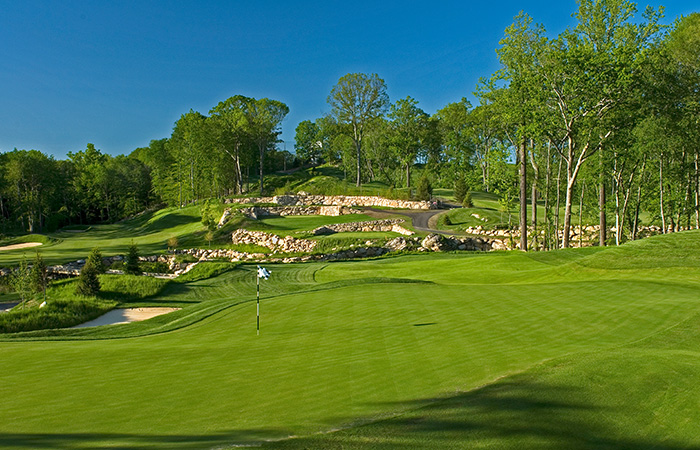 Opened in 2008 to critical acclaim, Pound Ridge is in tony Westchester County, roughly an hour from Manhattan and just minutes from the financial and business hubs of Greenwich, Stamford and Norwalk, Conn.
Crafted by Pete, his son Perry (of Dye Designs) and long-time construction manager/lead shaper Michael Langkau, Pound Ridge is a wall-to-wall bentgrass facility, hewn from 172 acres of magnificent cliffs, streams and wooded hills. Dramatic rock formations and boulders were left onsite by the Dye team, creating one of the most visually stunning settings for golf in the United States. More than 14,000-linear-feet of rock walls frame a strikingly natural property graced with thousands of trees, subtle wetlands and (in strategic locations) severely-sloped hills.
Contoured fairways wind through hardwood forests and fescue mounds, leading to open meadows crowned by picturesque green complexes. The par-72, 7,165-yard layout features some of the highest points in the region, with a number of tee boxes offering expansive vistas of the surrounding countryside.
Notable holes include: the par-5, 13th, home to "Pete's Rock," a giant boulder that rests in the middle of the fairway; and the par-3 15th hole, dubbed "Headstone," which is flanked on the right by a large rock outcropping that protrudes into the elongated, 9,000-square-foot green. www.poundridgegolf.com, 914.764.5771
TPC Sawgrass, Stadium Course
The site of THE PLAYERS CHAMPIONSHIP underwent an extensive renovation project a few years ago that significantly changed several holes.
No worries, the signature island green on No. 17 remains; but the most prominent alteration came at No. 12, which is now a drivable par-4 that doglegs left. Water creeps along the left side of a yawning bunker on the approach and left of the putting surface. The right side also presents trouble thanks to three bunkers and trees.
The sixth and seventh holes were also tweaked, and every green on the Stadium Course was regrassed with Tifeagle. In addition, the practice area received numerous upgrades including a larger teeing area with uneven lies and target greens, and two practice greens for guests to work on straight putts and those found on the course.
Next to Augusta National and Pebble Beach, TPC Sawgrass is on every golfer's bucket list. The recent updates and thrills (and spills) that occur at every PLAYERS CHAMPIONSHIP are great reasons for a visit, no matter if it's your first or 21st trip to Ponte Vedra Beach, Fla. www.tpc.com/sawgrass; 888.877.9193
Full Cry at Keswick Golf Club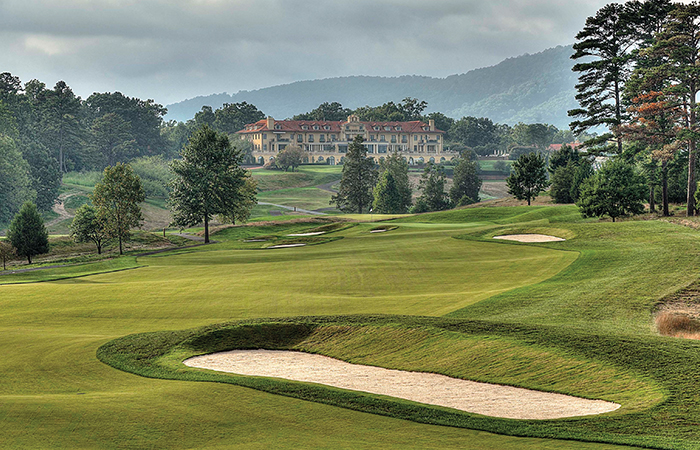 Situated on 600 rolling acres just down the road from Thomas Jefferson's Monticello estate in the Hunt Country outside Charlottesville is Keswick Hall & Golf Club. The resort's acclaimed Pete Dye-designed golf course – Full Cry at Keswick Golf Club – opened in 2014 to wide acclaim.
"Full Cry" is a hunting term describing the call of hounds that have found the scent and are in hot pursuit of their mark. The superb and fun-to-play 18 negotiates the gently sloping terrain below the inn's perch on the property's high ground.
When stepping on the first tee, the layout's beauty and clarity of the challenge are displayed wonderfully.  Dye did a masterful job of using "old world" architectural traits found at the classic courses of Scotland and Ireland. Except for one hole, the greens have open fronts and are approachable by low "links-style" run-up shots or through the air, allowing for great shot variety. 
The last three holes on the back nine are as fine a finish as you'll find. The par-3 16th is modeled after the famous "Redan" hole at Scotland's North Berwick. With train tracks running parallel the entire length of the right side, the superlative par-5 17th is called the "Railroad Hole" and plays much longer than the yardage due to fighting the prevailing wind. 
The tee box of the demanding par-4 18th provides the crescendo of the layout with a panoramic view of the sprawling Hunt Country, serene mountains off on the horizon and inn above. Full Cry truly a delightful place to tee it up and showcases Dye's imagination and genius. www.keswick.com/page/golf; 888-778-2565
Casa de Campo Resort & Villas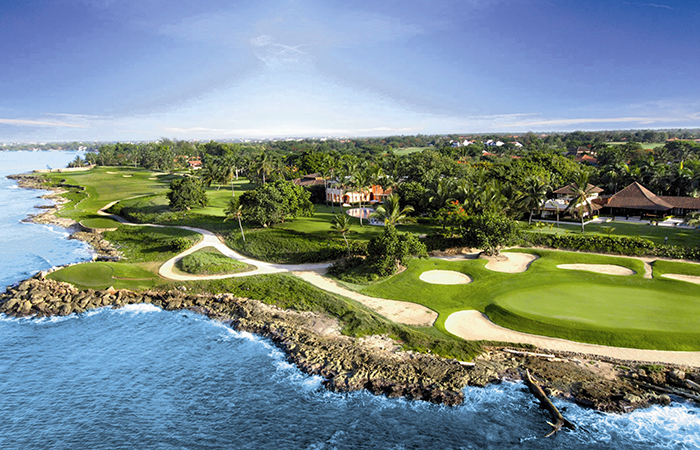 The Dominican Republic's Casa de Campo Resort & Villas is home to the iconic "Teeth of the Dog" course. Since opening in 1974, "Teeth" is widely recognized as the No. 1 course in the Caribbean and is continually ranked in the top 50 courses in the world.
Dye's design hallmarks are all present: railroad ties, vast waste areas, peninsula greens and tees, hand-sculpted putting surfaces and a unique assortment of pot bunkers. The oceanfront holes – affectionately dubbed "The Heaven 7" – are astoundingly beautiful, causing Dye to famously quip: "I created 11 holes and God created seven."
The 27-hole Dye Fore joined Teeth of the Dog in 2002. Its three nines – Chavon, Marina and Lakes – are distinct. Chavon features seven holes running atop cliffs dropping 300 feet; Marina meanders down to a harbor ringed by restaurants and shops, and Lakes is artfully crafted across tumultuous terrain. Golf course architecture aficionados call Dye Fore "the most underrated course in the Caribbean."
Located in the interior of the property is the resort's third Dye layout, The Links. The moderately hilly track with tall Bahia grass framing bunkers and undulating greens presents spectacular Caribbean views. Slightly over 7,000 yards from the back tees and playing to a slope of 126, The Links is considered one of the most-forgiving courses Dye has designed. www.casadecampo.com.do, 800.877.3643 
PGA Golf Club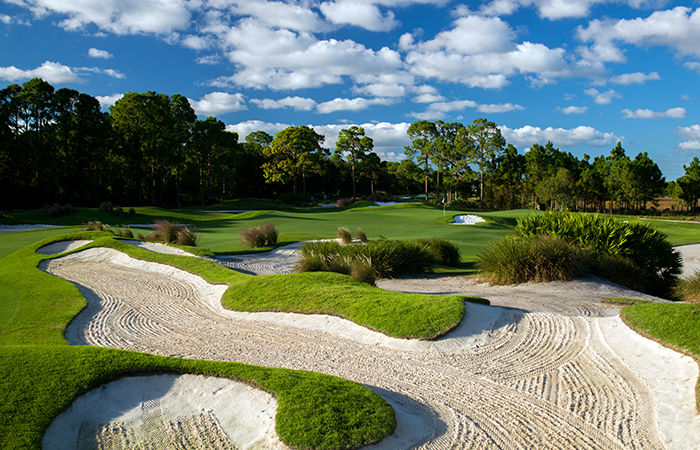 Ranked among the "Top 75 Golf Resorts in North America" by Golf Digest, PGA Golf Club is home to three breathtaking golf courses offering truly unique experiences – two designed by Tom Fazio and one created by Pete Dye. 
The best of the bunch is the Dye Course, which features some of the most elaborate bunkers east of the Mississippi. Ranked among Florida's top 20 public courses, the Dye Course is as beautiful as it is challenging. Deep pot bunkers, vast coquina waste areas and devilish greens treat guests to a wildly entertaining round of golf. Boredom isn't in the bouquet for the Dye Course.
The Dye Course underwent a complete re-grassing project in 2016, which included Celebration Bermuda fairways and Tifeagle greens. Also adding to the buzz, the greens were expanded to their original size when the course opened in 2000, which revealed pin placements players had not seen in years. www.pgavillage.com, 800-800-4653
AT&T Canyons Course
Dye designed the AT&T Canyons Course at TPC San Antonio, but saved his trademark railroad ties for another golf course. Instead, all of Dye's superb design qualities that rarely make headlines are wonderfully showcased – breathtaking vistas, superb hole designs and incredible shot values.
Oh, and there are plenty of memorable holes. Like the par-3 fourth, which features water all down the left, and the amazing par-5 fifth, a three-shotter with incredible views off the tee and exceptional elevation changes to the green.
The back nine also boasts some dramatic holes, like the par-3 16th, a 224-yard beauty with a 50-foot drop from tee to green, and the stellar finishing hole, a par-4 with plenty of bunkering and the resort hotel providing a dramatic backdrop.
The AT&T Canyons played host the San Antonio Championship on the Champions Tour from 2011-2015. And while it doesn't get the fanfare like its sister course and site of the PGA Tour's Valero Texas Open, the AT&T Oaks, the Canyons often gets tabbed the best and most picturesque layout at TPC San Antonio. www.tpc.com/sanantonio/att-canyons-course; 210-491-5800