Minnesota's rich history and gorgeous lake-strewn vistas are tailor-made for great fishing, great friendship and great adventure. But in the iron-ore rich northern part of the state, there is an abundance of natural beauty and a golf destination you won't want to miss. Giants Ridge checks all the boxes for both becoming one with nature, but also enjoying great golf, great food and great amenities … all situated among one of the most beautiful and serene settings you will find anywhere in this great nation. 
The Mesabi Iron Range was once a bustling mining operation which was operational beginning in the early 1890s. There were nine mining towns nestled among the Superior National Forest, just about two hours from both the Twin Cities and the Canadian border, where iron ore was taken in abundance from the land, which buoyed the area's economy for decades. Near the Missabe Wachu Ridge sits a trio of lakes, Wynne, Sabin and Embarrass, all of which were integral parts of the mining operations in the area throughout the late 1800s and 20th century. Nestled right in the heart of the area is Giants Ridge resort, a multi-purpose property with skiing, hiking, biking, fishing and, most importantly, world-class golf. The property takes its name from the Ojibwa tribe, as Missabe Wachu means "giant man" or "big sleeping man" in their native tongue.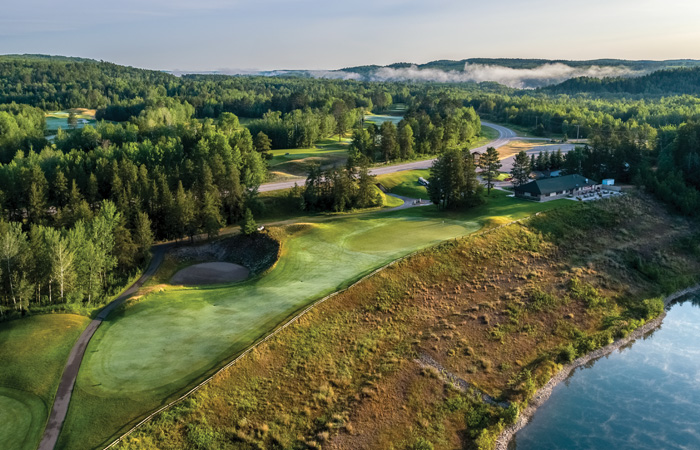 There are a few lodging options at Giants Ridge, including The Lodge, which is the hub of the recreation facility. This portion of the resort features 67 condos (each offering one-to-four-bedroom accommodations), the Little Giant Arcade, indoor pool and hot tub, exercise room, plus meeting and event spaces.
The Villas overlook Wynne Lake and connect to Sabin Lake, making it possible to fish, swim or go boating right from your doorstep. When winter comes, The Villas are within walking distance to The Lodge, should you be interested in skiing or any of the other activities near the main resort. 
The two golf courses, The Legend and The Quarry, debuted six years apart, with The Legend opening in 1997 and The Quarry in 2003. Both courses were designed by Jeffrey Brauer (with some help from Lanny Wadkins on the Legend). If the name Jeffrey Brauer sounds familiar, it is because he is also the brains behind Cowboys Golf Club here in Grapevine. 
The Legend boasts a serene, peaceful layout with some twists and turns in abundance, with some of the highlights including the gorgeous 500-yard par 5 that features the course's signature giant footprint bunker guarding the landing area from the tee. A well-placed tee shot allows players the opportunity to reach the green in two, but the elevated approach makes club selection paramount. No. 9 also challenges players, as this downhill par 5 becomes more difficult the closer you get to the putting surface. A good tee shot will add some additional roll but can leave a hanging lie approach to a green that is guarded by bunkers left and water short right. This is a potential birdie with a pair of good shots.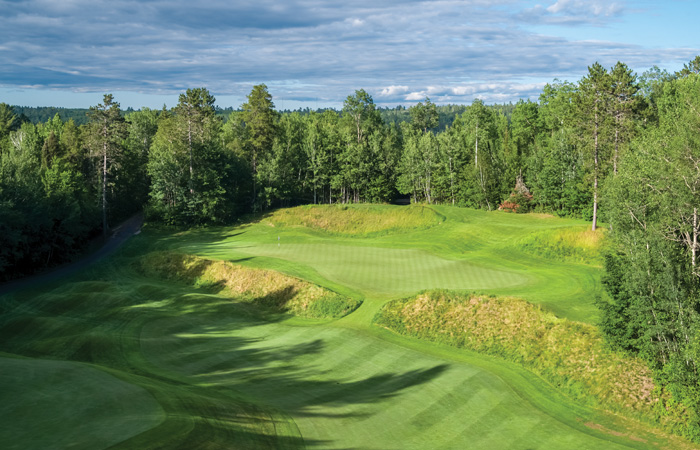 The short par-3 11th hole is one of the most peaceful par 3s you will ever play. Tucked in a natural amphitheater of massive evergreens, with water surrounding the green on three sides and a large bunker on the left, this hole requires only a short iron, but a mishit can lead to a big number. 
No. 14 is a picturesque par 5 with a rock outcropping on the right that frames the hole beautifully. Bunkers all down the left can collect errant tee shots, making this a three-shot hole Find the fairway, and par or better is possible. 
If there has ever been a signature hole on a golf course, it is, without a doubt, No. 17 on the Legend. This par 3 is one of the most jaw-dropping holes, not only in Minnesota, but anywhere in the country. Flowers surround the tee, making for a stunning visual as you climb the steps to prepare for the 226-yard carry over Sabin Lake. There is no room for error as anything short finds the lake, and anything to the middle of the green is unlikely to hold the putting surface. This hole is tailor-made for photos, so be sure to take some time to get a picture with your group to upload to social media or frame once you get home. You won't find many holes with this much beauty. 
Legend's sister course, The Quarry, is a perfect complementary feel to the more traditional Brauer design, with plenty of elevation change and whimsical design elements. Ranked as the No. 1 public course in Minnesota by multiple publications, the course conditions are perfection, with plush tee boxes, fairways and greens that run smooth and quick, without being too quick to handle some of their undulations. From opening tee shot to final putt, The Quarry is a course you could play daily and experience something different every time out.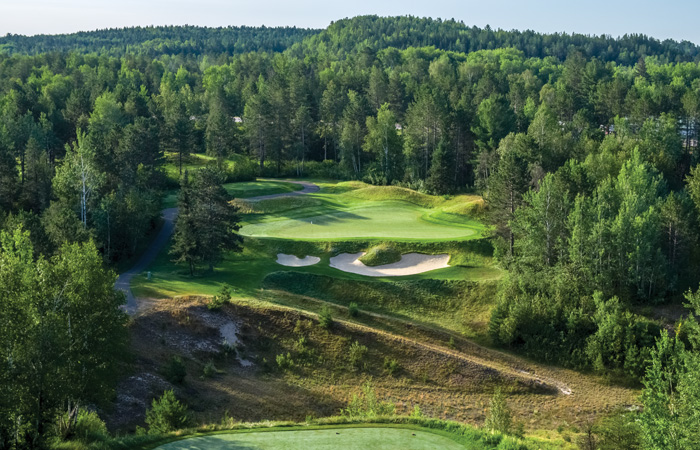 "The two courses are both very, very good; but they're also different in the way they play and the way they look, which I think is a great testament to the strength of the facility," says John Kendall, director of golf at Giants Ridge for the last 25 years. "Mr. Brauer was able to take a smaller piece of property and still make it feel isolated and unique. He made a small site feel big."
The opening hole eases players into the round with a generous fairway, although driver might be too much club as a massive hidden cross-bunker about 275 yards from the tee can sneak up and bite players who are too aggressive. Bunkers also guard the green short, and a spine that runs through the putting surface makes pinpoint iron shots optimal for scoring. Find the wrong side of the green, and it is a tough two-putt. 
On a course with a lot of great holes, No. 2 might be the best. In terms of design elements, it's unique and interesting, with a wide fairway that leads to a risk vs. reward, uphill second shot around a tree-covered mound which allows players to choose the left side to lay up, or the right side, which is a forced carry over a native grass and flower-lined ravine to a green guarded by a trio of large bunkers. This hole is as unique as it is challenging.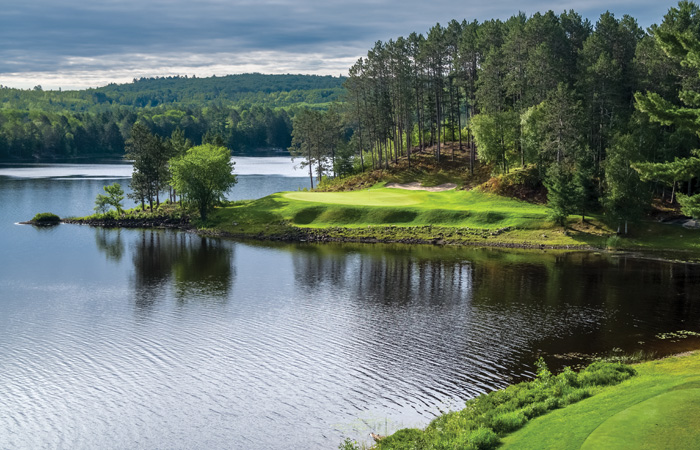 Another great par 5 comes at No. 5. This hole really shows the elevation changes on this piece of property. The tee box towers over the landing area, really showing off the long, dogleg left. A couple of fairway bunkers surrounded by gnarly eyebrows must be avoided at all cost, as they can lead to a big number in a hurry. Find the fairway, and there can be an opportunity to reach the green in two, but the hole narrows near the green with thick grasses in abundance left and a bunker short right of the green. 
No. 7 is a simply epic par 3 that sprawls from an elevated tee, across a deep crevasse and over a pair of bunkers to a gently undulating green. Club selection is paramount here, as the winds whipping across the surrounding hills and through the trees can be difficult to judge. Your work isn't complete once on the putting surface, as the subtle breaks and surrounding terrain make this green tough to read properly. 
Of all the short par 4s I have ever seen, No. 9 at The Quarry might be at the top of my list. This hole looks more like something you might see at North Carolina's famed Tobacco Road rather than in northern Minnesota. Named "Mary Ellen," this 377-yarder requires a precise tee shot to a narrow fairway lined with trees and native grasses. A small miss can lead to a big number here, while a fairway found leaves a scoring club in hand to a green protected by more gnarly native grasses. Back left and back right pins are tough to see, as the green is elevated from the fairway with a tree stand on the right and dramatic mounding left. This hole is both gorgeous and challenging for being so short. 
If you are one that enjoys options off the tee, then you need look no further than the par-4 13th at The Quarry. Playing 323 from the tips, longer hitters can certainly give the green a go from the tee, but native grass-lined mounds just short of the putting surface can swallow balls that come up short, resulting in a lost ball, or at best, a very dicey pitch shot that will be incredibly tough to judge. Those who want to lay-up off the tee need to be aware of pin location, as there is a left fairway that sits eye level with the green, or a lower right level of fairway that leaves a pitch to the elevated green but can be preferred if the hole is cut in the back left. This is a truly wonderful design that gives players multiple options to attack.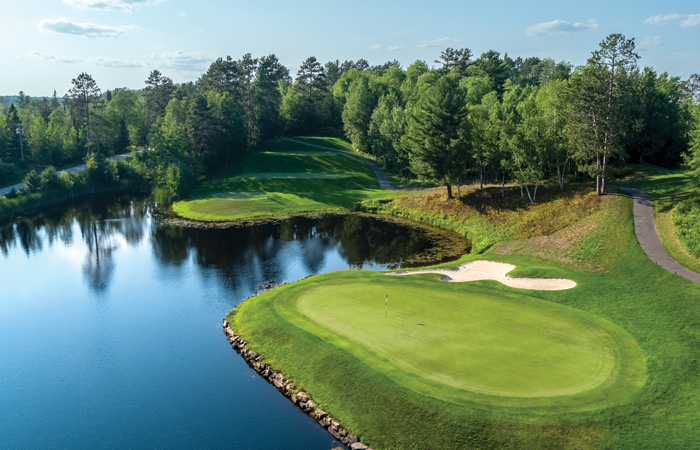 The final hole at The Quarry is a true Minnesota stunner that leads back to the clubhouse. Laying back off the tee takes the Embarrass Lake out of play but leaves a long-iron approach. A more aggressive line over the fairway bunkers leaves a shorter approach but can bring trouble left into play. Finding the fairway is step one, but the approach with the lake on the right means those who play a draw will be forced to hang their iron over the water to hit the green. Those who cut the ball aren't in for a bargain either, as a massive waste bunker short and left of the green can lead to disaster. The deep green can add a full club or more to the approach number, so be sure to double check your yardage. 
Both courses at Giants Ridge are both objectively different but fun. The Legend doesn't quite boast the beauty of The Quarry, but still entertains and dazzles, especially the jaw-dropping 17th. While Giants Ridge is a little off the beaten path, the price point for these courses is worth the effort. This is, without a doubt, one of the best courses I have ever seen for the rates. Both courses offer early season, prime season, fall season and late season pricing, with early and late season being a mere $87 and prime and fall season just a little more at $120. Either of these price points is simply beyond belief for the quality of course and design. If The Quarry course was in Texas, it could easily fetch double, if not triple, that price. It's that good. 
From early June through late August, Giants Ridge also offers their "37 hole special," which, if you can loop 36 in a day, is a wonderful value and even comes with lunch. At just $200 on the weekend, this truly might be one of the best overall values in the entire country. Giants Ridge could easily charge $200 for The Quarry course alone and you would feel like it is well worth it. 
Giants Ridge comes complete with plenty of other activities, as well. Winter snow skiing is an option, of course when the slopes are open, the courses usually aren't. So if you are looking for golf, you likely won't be able to pull it off when skiing is also an option. However, there are plenty of additional summer and winter activities, including miles of trails for mountain biking, hiking, trail running, snowboarding, cross-country skiing and fat tire biking. There are also a pair of lakes for kayaking and paddle boarding. Northern Minnesota doesn't lack great fishing, with plenty of great opportunities for some lip ripping on property, or just a few miles north at incredible Lake Vermillion. Walleye, muskie, bass and panfish are all native to the area if you are looking to cast a line after your round of golf or mountain-bike ride. 
Several options for food and lodging are available at Giants Ridge. The gorgeous lakeside views from the Wacootah Grille at The Quarry clubhouse are perfect for a nice meal pre- or post-round. The coffee is warm in the mornings, the beer is cold in the afternoons, and with menu items like the stuffed hash browns or the Wacootah walleye sandwich, you won't go hungry. 
There are also some dining options at the main chalet of the resort, like The Burnt Onion Kitchen & Brews, which has a wide variety of choices, from giant pretzels and steamed mussels, to burgers, sandwiches, smothered burritos and even a nice steak. Everything on the menu at Burnt Onion was well prepared and served by a very friendly and attentive staff. 
One final on-property dining option is Neighbors BBQ. Owners Eric and Angie Drake have crafted what they are calling "Minnesota style barbecue." From brisket to ribs and pulled pork, the cue is rock solid, and that's coming from a born-and-raised Texan. Baked beans, mac-n-cheese, coleslaw and other sides accompany the meats and are all very well executed. Plenty of local draft beers are also available to wash down your meal. 
If you are a sports fan, there is one off-property adventure you might want to consider, and that is the United States Hockey Hall of Fame, which is located in Eveleth, about 20 minutes from the resort. At just $8 to tour the hall, it's a wonderful value to see the plaques of all the inductees, including Herb Brooks, the legendary coach behind the 1980 "miracle on ice" gold medal team, and former Dallas Stars like Mike Modano, Brett Hull and Bill Guerin. You can also fire a few pucks into a net to see who among your group has the hardest slap shot. Many other old pieces of memorabilia are also on property, like an old Zamboni and plenty of jerseys and pieces of artwork. It's a neat little museum, especially for those who enjoy some stick and puck. 
The rich history of this region along with its unmeasurable visual beauty and relaxing atmosphere make Giants Ridge a great vacation spot for any time of the year. But for those in DFW, this is a must-see during the brutal summer months, as daytime temperatures are pleasant for golf when you don't feel like slogging through triple-digit temperatures to play here locally. There is plenty to do at Giants Ridge, but the golf and the value are almost unbeatable for the area, and despite its isolated location, it is a simple destination to get to. 
Do yourself a favor and add Giants Ridge to your potential list of vacation destinations for your next family getaway or golf trip with friends. You don't want to miss it.