Cover Story – Our College Football Road Trip

Football and golf. Both are immensely popular in the south, especially during the fall months as the weather cools and courses green up with the season. If you are a fan of the pigskin and chasing the white-ball, then AVIDGOLFER has the perfect way to embark on a football/golf adventure. From the Metroplex, to the Hill Country and the wind-swept plains of Oklahoma, there are plenty of options for golf, beverages and football in the region. So, strap on your helmet, lace up your golf shoes and let's go on a road trip to the best college towns for some golf and gridiron action. 
Presenting, AVIDGOLFER Magazine's ultimate college football road trip!
SMU • Dallas 
Fields Ranch ▶ Yes, these courses are in Frisco, not Dallas, but they are worth the drive. The beastly East Course already has major championship pedigree, hosting the Senior PGA earlier this year. It will also host the 2027 PGA Championship, so you still have a couple of years to get out there and play before the best players in the world tee it up there for major championship hardware. The West Course is more user-friendly, with plenty of fun holes to challenge and wow your group. Not only do they have a great pair of courses, but they also have a 10-hole short course, 18-hole putting course and ranch houses available for rent if you have a larger group.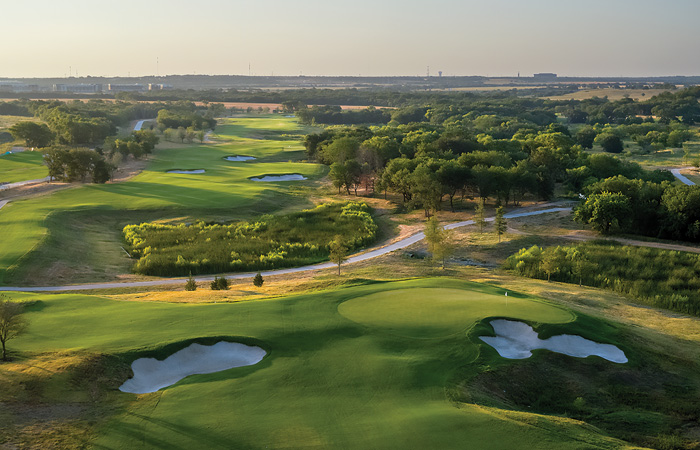 Stevens Park ▶ Stevens Park is a City of Dallas course that is fun, short and great for making a few bets during the round. And, it's just a little less than 10 miles from Gerald J. Ford Stadium, so if the Ponies have an afternoon or evening kickoff, you can easily play in the morning and still have time to tailgate and make kickoff.
Cowboys Golf Club ▶ If want the full treatment of food, great golf and great vibes, then Cowboys is a great property to book when you are in town for some football. Centrally located in Grapevine, this course is a great option for SMU, TCU or North Texas games. With your green fee, you also get all-you-can-eat food and non-alcoholic drinks. So, you can play some golf and not have to worry about going to the game hungry.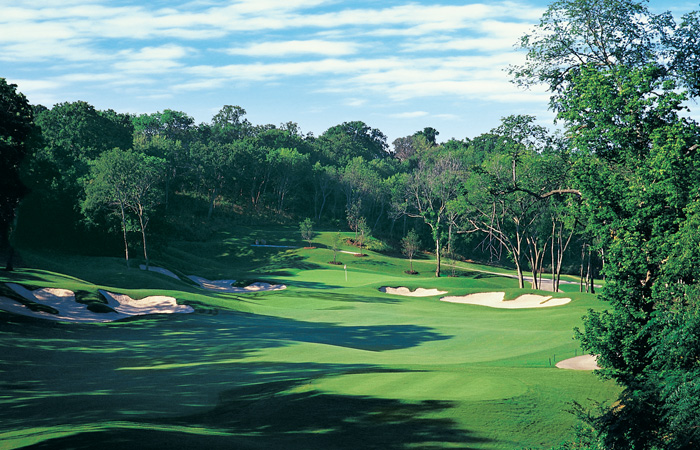 Tenison Park Golf Course ▶ Another City of Dallas property, Tenison has two courses, the Highlands and the Glen. Both are affordable and fun. If you are looking to play on a budget, or maybe have some guys who aren't as experienced on the course, then this is a great option that isn't too far from downtown and SMU's campus. 
If You Can Pull It Off: Dallas National 
Places To Pregame: The Boulevard tailgate, Milo Butterfingers, Barley House, Katy Trail Ice House
TCU • Fort Worth 
Rockwood Park Golf Course ▶ This is perennially one of our favorite municipal courses in Tarrant County. Rockwood has a great layout with some fun risk vs. reward holes. Earlier this year, Rockwood had some issues with their greens, forcing them to go to 18 temps for most of the spring and summer, but they all recently re-opened, and the course is back to where it should be. Rockwood is also just five miles from Amon G. Carter.
Hawks Creek Golf Course ▶ Hawks Creek always has some of the nicest greens on that side of town. The old Carswell Airforce Base course, Hawks combines a nice layout with great conditions at a reasonable price point. The greens and convenience to TCU are well worth checking out if you are spending the weekend in Fort Worth 
Golf Club at Fossil Creek ▶ Fossil is the only Arnold Palmer design in DFW, and with consistently great conditions at a reasonable rate, it is a great choice. Although it is about 25 minutes north of downtown Fort Worth, it is still convenient enough to play if you are heading to a late Horned Frogs kickoff. 
Texas Star Golf Course ▶ Texas Star routinely finishes toward the top of our Best of Public list. This challenging layout is in Euless, so it is basically right in the middle for those wanting to attend any high school of college game in DFW. Course conditions are always great for the price point.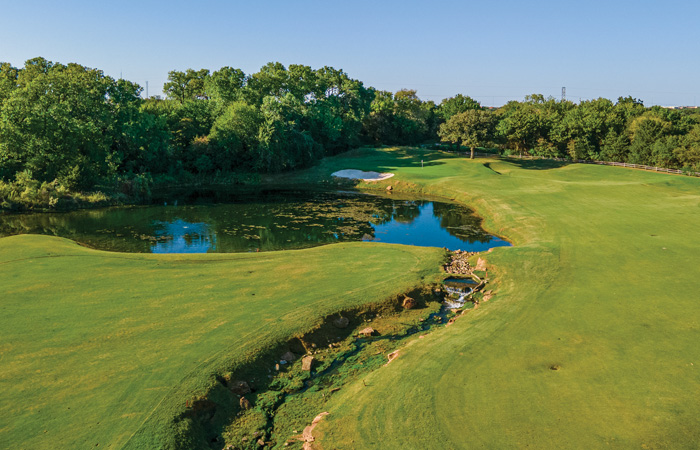 If You Can Pull It Off: Shady Oaks Country Club 
Places To Pregame: Buffalo Bros, Jon's Grille, Heim BBQ, Dutch's, The Stockyards
University North Texas • Denton 
Robson Ranch ▶ Although Robson Ranch has a membership which can book up some of the early preferred tee times, it is a nice option that is close to Denton. Conditions are always rock-solid with great greens and plush fairways. You might have to play this one the Friday before a Saturday game day, but it is still a great option for golf near Apogee Stadium. 
Winstar World Casino and Resort ▶ Yes, this is in Oklahoma, but it is still only about 40 minutes from Denton. And with a pair of golf courses, the Redbud and the Scissortail, there are options. Not to mention a nice hotel and casino. So, if you are making a trip out of checking out the Mean Green, you may want to consider it.
Places To Pregame: Barley & Board, Oak St. Drafthouse, The Bearded Monk
Baylor University • Waco 
Bear Ridge Golf Club ▶ This is a semi-private Peter Jacobsen-designed course. This is a dynamic layout that will challenge the best players, yet remains enjoyable for the novice. And, at $75 on the weekend, the price point is great for an outing with your fellow Bears buddies. 
Places To Pregame: Jasper's BBQ, Cricket's Draft House & Grill, George's Bar
University of Texas • Austin 
Omni Barton Creek ▶ Sure these are pricy options, but all the courses at Barton Creek are the quintessential Hill Country golf experience. Fazio Canyons, Fazio Foothills and Crenshaw Cliffside are amazing and unique to the region. Palmer Lakeside, which is about 40 minutes from the resort on Lake Travis, is also amazing. You will pay a little more to play these courses, and they aren't exactly convenient to Darrell K. Royal Stadium, but this is a must-see property if you are visiting for game day.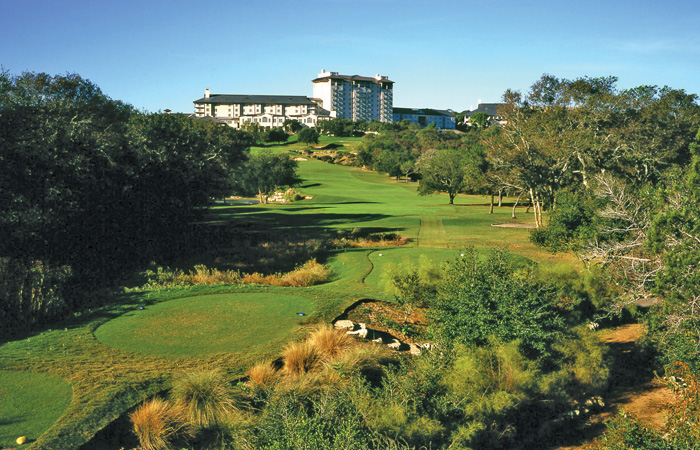 Lions Municipal Golf Course ▶ For years, Lions has been one of Austin's most popular courses. In 1924, the Lions Club opened Lions Municipal, the first public golf course in the city.  The group leased part of UT's Brackenridge Tract and converted the property into a nine-hole facility. The course was later expanded to 18 holes. The course retained the name "Lions Municipal" after the transfer of the lease to the city in 1936. Lions was also selected by the Texas Golf Hall of Fame and added to the Texas Registry of Historic Golf Courses.
Roy Kizer Golf Course ▶ This links-style course in Southeast Austin has 35 acres of lakes and 22 acres of wetland marsh to challenge your game. The course overseeds in mid-October, so be mindful if you are heading down to catch the Horns and want to see this course. Plus, at just $62 for the weekend with cart, the price is right. 
ShadowGlen Golf Club ▶ Named the most challenging public golf course in Austin, Texas, by the Austin Business Journal, ShadowGlen Golf Club provides a fun challenge with outstanding course conditions. The front nine is a parkland design that is lined by multiple water features. The secluded back nine wraps through native terrain with blind tee shots and sharp elevation changes. Just 13 miles from campus, this is a great option for your Austin football road trip. 
If You Can Pull It Off: Austin Country Club
Places To Pregame: Stubb's BBQ, Crown & Anchor Pub, Scholz Garten, Posse East
Texas Tech • Lubbock 
Rawls Course ▶ The home of Red Raiders golf is by far the best option if you are making the trip to West Texas for some Tech football. This Tom Doak masterpiece took a windswept cotton field and transformed it into a course that is beyond stunning. 1.3 million cubic yards of topsoil were shaped into a course that is not only challenging, but fun to play. However, get your low-flighted trajectory ready, as the winds of West Texas can be tricky to deal with. 
If You Can Pull It Off: Red Feather Golf and Social Club 
Places To Pregame: Chimy's, Crickets, Local 
University of Houston/Rice University • Houston 
Wildcat Golf Club ▶ With 36 holes, this is one of Houston's best public facilities. The Lakes Course features water on seven holes and plays over 7,000 yards from the tips. The Highlands Course doesn't have as much water, but the rolling hills and native grass- lined ravines pose just as much of a challenge. Dramatic elevation changes and views of NRG Stadium and the historic Astrodome make both courses a great experience. 
Gus Wortham Golf Course ▶ Situated along Brays Bayou east of downtown H-town, Gus Wortham provides challenging elevated tees and uphill carries to greens that make you use all your clubs. The course is relatively wide open, making it attractive for all levels of golfers. Your shot-making skills will be tested on several of the "short but challenging" par fours. At just $55, it's a perfect course to play if you are trying to save some money for a cold one at the Cougars game. 
Golf Club of Houston (Tournament Course) ▶ Located in Humble, this isn't the most convenient to Houston proper, but the former host course of the Shell Houston Open is as fine a conditioned course as you will find anywhere in Texas. The Tournament Course at Golf Club of Houston offers a world-class golf experience for modern players. This Rees Jones and David Toms-designed course features well-manicured fairways, expertly crafted greens and strategic bunkers, making it challenging, yet enjoyable to play. It's not super cheap, but it's not mega-expensive either.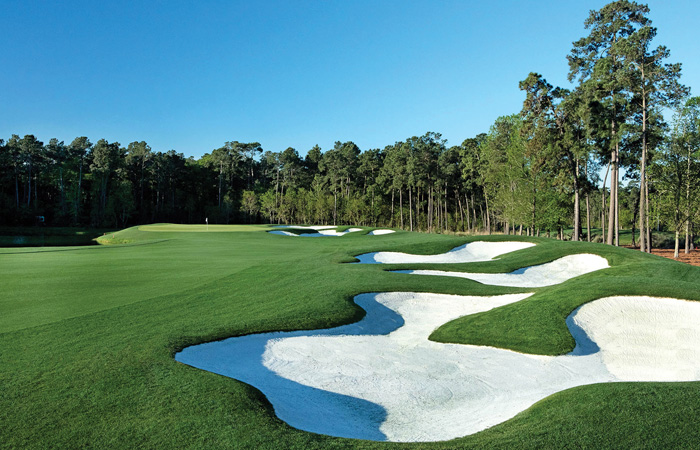 If You Can Pull It Off: River Oaks Country Club 
Places To Pregame: Calhoun's Rooftop, The Den
University of Oklahoma • Norman 
Jimmie Austin Golf Club ▶ The University of Oklahoma home course underwent a fantastic Tripp Davis renovation several years back, which not only improved course conditions, but also made the course more dynamic and suited to home a perennial top collegiate program. The course can be demanding when the wind blows (as it often does in Oklahoma), but it is also very playable for the novice. The course is on the north side of Oklahoma's campus, so it is only minutes away from all the game-day action at Campus Corner and Gaylord Family – Oklahoma Memorial Stadium.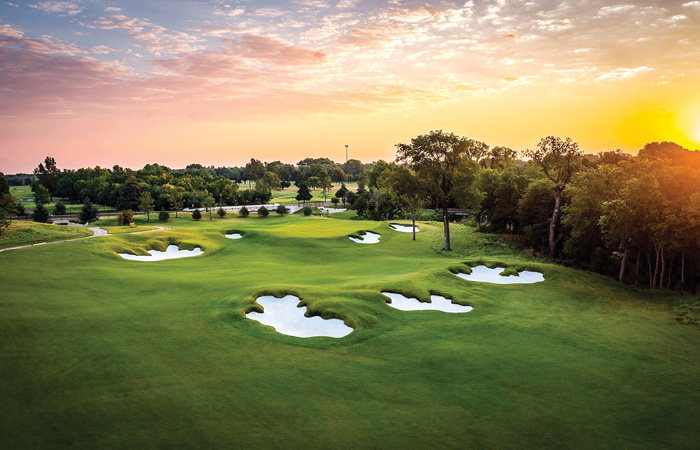 Westwood Golf Course ▶ The 6200-yard course was recently renovated and features wide, tree-lined fairways and gently contoured greens, 20 bunkers and several water hazards. The challenging, yet playable course, is perfect for the weekend golfer or the advanced competition. Pace of play is always solid on this affordable municipal track. 
Places To Pregame: The Mont, Library Bar & Grill, Louie's, O'Connell's
Texas A&M • College Station 
The Golf Club at Texas A&M University ▶ The Campus Course at Texas A&M opened for play in 1951 and was originally designed by Ralph Plummer. You may recognize the name Ralph Plummer from his work at courses like Colonial Country Club, Champions Golf Club in Houston, and Dallas Athletic Club. The Plummer design was a staple on the Texas A&M Campus for over 60 years, until a complete renovation in 2013 – a par 71, 7,008-yard gem designed by Texas A&M's own Jeff Blume '89. The course is fun and playable for those in town to take in a game at Kyle Field. 
If You Can Pull It Off: Traditions Club 
Places To Pregame: Anywhere in Northgate
Oklahoma State University • Stillwater
Karsten Creek Golf Club ▶ Full disclosure, Karsten is about to close for a full renovation, so you won't be able to play this one for at least a year, but it still belongs on the list. Named for the great Karsten Solheim, this Tom Fazio behemoth is one of the main reasons the Cowboys golf program is a perennial powerhouse, producing PGA TOUR professionals like Rickie Fowler and Viktor Hovland. Although it's a tough course, it's a must play for anyone who travels to Stillwater for a game … when it reopens.
Places To Pregame: The Salty Bronc, Eskimo Joe's, The State Room
University of Arkansas • Fayetteville 
Stonebridge Meadows ▶ Stonebridge Meadows is gently carved out of some of the most breathtaking views in Arkansas and the Ozark Mountains. This beautifully manicured golf course features generous fairways framed by daunting hazards, wonderfully contoured greens quick as lightning, and pockets of pine and oak trees that give even the hardiest golfer a true test. Stonebridge has hosted a U.S. Amateur Qualifier, Nationwide Qualifier, the Arkansas State Match Play Championship, and the 2012 U.S. Public Links Qualifier Golf Tournament.
If You Can Pull It Off: The Blessings 
Places To Pregame: On the Mark, Farrell's, Foghorn's