Standing on the 17th tee of Pete Dye's TPC Louisiana, pondering what iron to pull in the face of a stout, southerly breeze with water guarding the railroad tie-lined green on one side and sand on the other, I thanked the golf travel gods for putting me here, in New Orleans, at long last.
Somehow, I'd never made it to the Crescent City for golf or anything else. Talk about a huge hole in the resumé. I'd teed it up in Lake Charles a few years back, but never in the cradle of so much original American food and music, of so much singular history and colorful fun along the narrow French Quarter boulevards and beyond.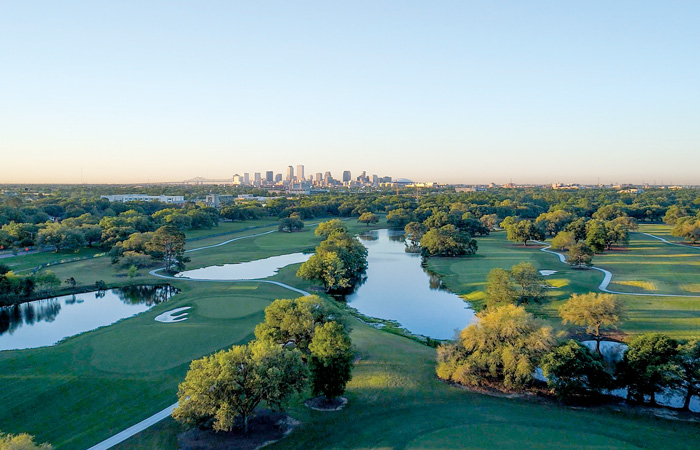 But there I was, walking in the footsteps of the world's best professional golfers – and, once the round was done, some of our nation's most enduring musical, political, culinary and culture-shifting characters. New Orleans golf is just one ingredient in a heady, small-but-big city stew that you just can't get anywhere else. And with a brand-new airport in service and the city's indomitable welcoming spirit back at full strength, it's also the perfect launch pad for a week-long trip on a Louisiana Golf Trail jaunt with your best buddies or family members … or both.
The slate of newly minted trails keeps Louisiana's original 17 Audubon Golf Trail courses throughout the state in play, along with many others. Plug in whatever "theme" suits your palate and interest – food, craft beer, distilleries, music, gaming, fishing, or a spicy gumbo of all those ingredients and more. It's a snap to build a trail of any length, flavor, timbre, region, lodging taste or budget.
Over a gorgeous spring week just before New Orleans hosted the NCAA Final Four, I joined a group of guys to sample several flavors of Louisiana Golf Trail.
Shrimp, Grits, History and Hits
New Orleans feeds and fills the traveler's soul in so many ways that golf is, for the most, far down the list of must-dos. But we're here to tee it up, and within an easy drive of the city's compact core are three excellent tracks.
In 2017 architects Rees Jones and Greg Muirhead redesigned Bayou Oaks at City Park's South Course with a new routing, bunkers and greens, while maintaining its classic wide-open feel. Fairways are generous but old-growth trees can block out an errant drive. Water features sneak into play at the right spots and frame greens well even when they're well away from shot lines. It's no pushover and, in true New Orleans form, attracts all kinds – weekend hackers, straight-shooting regulars, sandbaggers, even Super Bowl-winning NFL coaches like former Saints honcho (and former Cowboys assistant coach) Sean Payton, deep into a friendly match with his buddies on the 17th hole as our group passed by, yet graciously posing for a photo. The first-class clubhouse fits well into the nation's largest city park, alongside an impressive arts museum and children's museum. A shorter North Course reopened in 2008 after Katrina laid it low for a few years – a good option for an emergency evening round if daylight allows.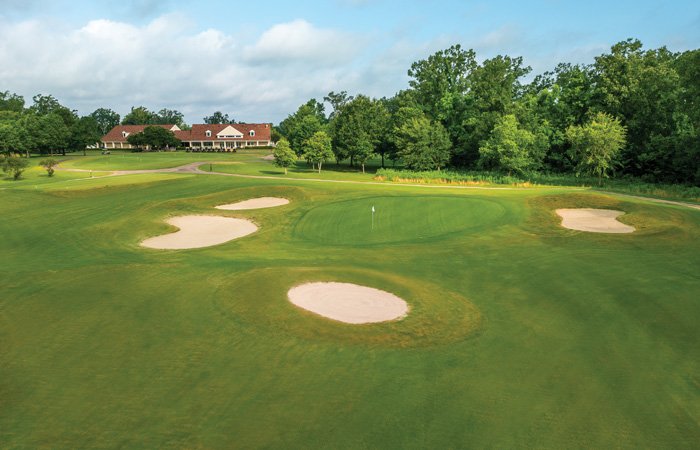 On the south side of town, near Tulane University, the par-62 Golf Course at Audubon Park is the local's choice and the only course in America where you can take a streetcar pretty much to the first tee. The Denis Griffiths design packs a lot of action into 4,200 yards – tricky bunkering and small push-up greens that are always in great shape – and, as with another "old" muni over Scotland way, you're bound to see more than a few folks just strolling the grounds. While there, take in the zoo and soak up the old-school downtown atmosphere.
Nobody sculpted flat, otherwise uninteresting ground like Pete Dye. He'd take on projects on challenging sites that other designers would avoid. TPC Louisiana shows off his earthmoving – and earthshaking – genius in the mere fact that before this was an annual stop on the PGA TOUR (the Zurich Invitational), it was a swamp. Not unusual in this part of the world, but the way Dye worked with Tour Player Consultants Steve Elkington and Kelly Gibson to create such a stirring and scenic test out of such waterlogged raw material just shows how unique it was in his fool-the-eye approach to course design and shot-to-shot strategy. 
The signature touches are all there: Bunkers from tiny to sprawling; "safe side" mounding that visually nudges you toward the narrower side of a fairway, which turns out to afford the clearest shot at birdie; greens that seem relatively benign at first glance, or even first putt, but reveal their potential card-wrecking subtleties along the edges; and a routing that lulls you into a "hey, this is a pushover" mindset over the first handful of holes before ratcheting up the challenge, however quietly, hole by hole until you realize that a few more bogeys or worse have found their way onto your card.
Negotiate all that sneaky drama and you're faced with a finishing stretch that's pure Pete. After the drivable par-4 13th – which the head pro calls his favorite – and mid-distance par-3 14th, it's crunch time. No. 16 only plays 355 yards from the tips and 312 from the whites, but water lurks, barely in view, in dead-away centerfield, with no bailout left and a big, rangy bunker right. Only the stoutest of heart will take dead aim over it to leave a little wedge to the smallish green. Holes 17 and 18 are both made-for-TV Dye delights – a classic green-on-a-cliff par 3 with railroad-tie buttresses and water all up the left side. And the par 5-finisher that, visually, mirrors the famed 18th at TPC Sawgrass, with a few extra touches – swizzle stick-shaped sand hazards separating grass from agua on the right and a well-bunkered layup zone left that begs the big hitter to go ahead and let that hybrid or long iron fly. Birdie or bogey are a shrimp skin's thickness apart.
As you'd expect, TPC's clubhouse is plenty spacious, with all the club accoutrements, a big grillroom and stellar views of the course, especially the lovely par-3 ninth. Since the TOUR event takes place in April, the grounds are in their best shape in spring. Though fall – as the Bermuda turf does its golden dormant thing – finds them in fine form, too.  
Where to stay: New Orleans is a convention and events town, so there's no lack of lodging options. French Quarter favorites like Hotel Monteleone with its famed Carousel Bar, the corporate high-rises along Canal Street or in the financial district, chain outfits near the airport. But our golf group found a conveniently located gem right across the street from the National WWII Museum, walking distance from the Quarter and waterfront and a half-hour-max-drive from all three courses.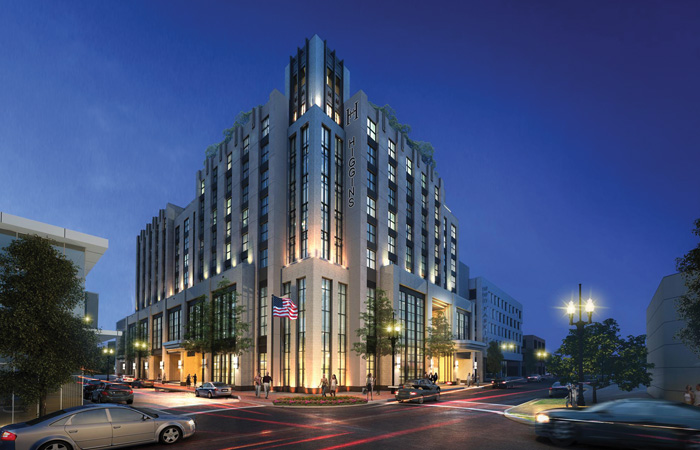 Owned by the museum, operated by Hilton and named for a New Orleans industrialist who built airplanes for the war, Higgins Hotel is a 230-room-and-suite Hilton Curio showcase – and "Best Hotels for 2022" honoree from U.S. News & World Report – on the edge of the Warehouse District. It's also blocks from the Super Dome and a short walk to restaurants like Cochon and Emeril's and all-world saloon, The Rusty Nail. You can catch the Saint Charles streetcars at Lee Circle, with the Garden District beckoning to the southwest and the Quarter to the northeast. The rooms are decorated with vintage WWII photos. The food at Higgins is first-rate, with Chef de Cuisine Virgile Brandel conjuring pure magic out of Café Normandie's kitchen: straightforward but cut-above breakfast dishes, dinner specials like Pan-Seared Redfish with Maitake Mushroom, Leeks Fondue and Horseradish Crème Fraiche, Stuffed Quail with bourbon molasses and kumquat marmalade, and a "Floating Island" dessert that's somehow both rich and light. Rosie's on the Roof (for Rosie the Riveter) on the top floor features a rooftop patio boasting 270-degree views of the city skyline, including the Super Dome. Louisiana sunsets are part of the show. Kilroy's Bar is a more refined way to nurse that cocktail, just off the lobby.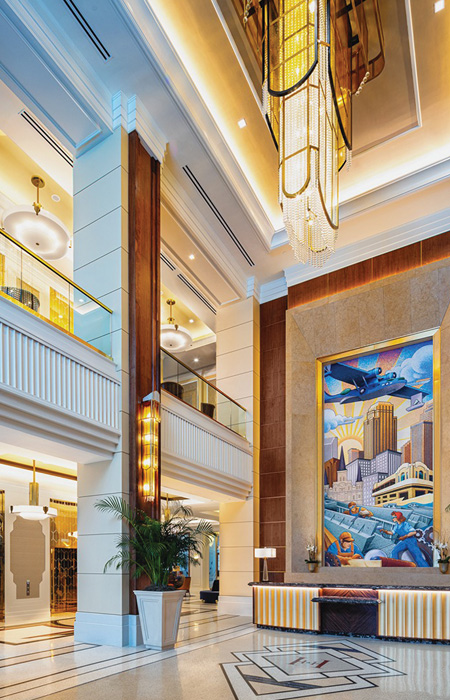 Where to eat: Pêche is the hottest seafood spot in the Warehouse District, two blocks from the Higgins. With the Mississippi River right there and the Gulf of Mexico an hour or so south, fresh fish and shrimp is part of New Orleans' culinary bone structure. But the chefs at this open-format, bustling spot find ways to brighten traditional methods and presentations while breaking new ground (water?) of their own, drawing inspiration from South America and Spain as well as the Gulf Coast. Chef Ryan Prewitt won a James Beard Foundation Award for Best Chef: South in 2014. Standout dishes include the fish sticks with urban south beer batter appetizer, classic seafood gumbo, baked drum with mushroom broth and calas. There are a couple "whole table" options: whole grilled fish fileted tableside and a 22 oz. brasstown ribeye. Don't forget the brussels sprouts with chili vinegar. Or the pepper-infused hush puppies.
Pascal's Manale in the Lower Garden District, a couple blocks off the St. Charles streetcar line, has been a family-owned, in-the-know gathering place for more than a century. Its signature dish is the best barbecued gulf shrimp in creation, though its combination pan roast, fried oysters and key lime pie are winners, too. Dozens of framed photos of actors, politicians and other notables in the bar announce this local's joint bona fides, but savvy visitors know their way here; Pierce Brosnan was recently spotted at a corner table while filming a movie in town.
Down French Quarter way there's always Brennan's for dinner (several locations run by various family members), Courtyard of the Two Sisters on Royal Street for a Southern-flavored brunch (everything from made-to-order omelets to shrimp and grits to king cake) and, yes, the original Café du Monde for beignets and café au lait. Bombay Club is a cool spot for a top-notch cocktail and tasty small plate before heading to the back patio for a cigar from the humidor.
What else to do: Originated as the National D-Day Museum, the WWII Museum has since grown into one of the most impressive, well-curated and designed historic showcases – or museums of any kind – in the United States. Every exhibit elicits emotions that you didn't realize you had.
The journey begins on a replica of trains that carried soldiers to boot camp, and the visual and visceral drama just builds from there. You're immersed in the horror and valor of Omaha Beach and the entire D-Day campaign, then the lens widens to encompass the war's every major battle and development on the Pacific, European and North African fronts, enhanced with personal stories portrayed through multimedia via a digital "draft card." It all crescendos with a stirring and heartbreaking section dedicated to the atomic bombs dropped on Hiroshima and Nagasaki, and the political and military decisions that precipitated them. The U.S. Freedom Pavilion: The Boeing Center is a high-flying thrill, with full-sized bombers and fighters suspended from the ceiling and multimedia displays filling us in on the brave pilots and commanders connected to each vessel. The museum's latest addition is "Beyond All Boundaries," a 45-minute "4D" movie experience narrated by Tom Hanks, and construction is underway on a new "Peace Pavilion" and an exhibit dedicated to the Holocaust.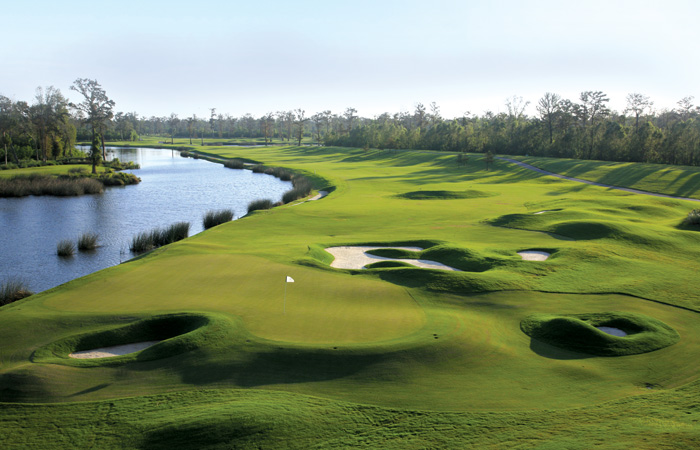 Sazerac House Museum: Located at the corner of Canal and Magazine streets, this free-to-the-public museum pays tribute to the city's fascinating cocktail culture, from the old rum distillery days, through the speakeasies of Prohibition, to today's booze-fueled craft cocktail renaissance. There's a working distillery onsite, stations for sampling famed cocktails such as the rye-based Sazerac and bourbon-based Teresa, virtual bartenders mixing up those drinks and others, and a huge retail area selling every brand of spirits in the house, from Buffalo Trace bourbon to Myers's Rum to liqueurs and special stuff like Herbsaint (a fragrant stand-in for absinthe) and Peychaud's Bitters. Sazerac's place in New Orleans' spirits scene dates back two centuries.
Deep in the Heart of Cajun Country
About an hour up I-10 from New Orleans is Baton Rouge, the nation's tallest state capitol building, more fine food and music venues and another bunch of solid courses. Keep west into Cajun Country for some of the state's truly distinctive cuisine. Don's Custom Meats in the tiny burg of Scott is the home of boudin (pork sausage with rice and spices), and a great spot for cracklins (deep-fried pork or chicken skins), some spicy fried chicken or pork chops or a locally sourced burger.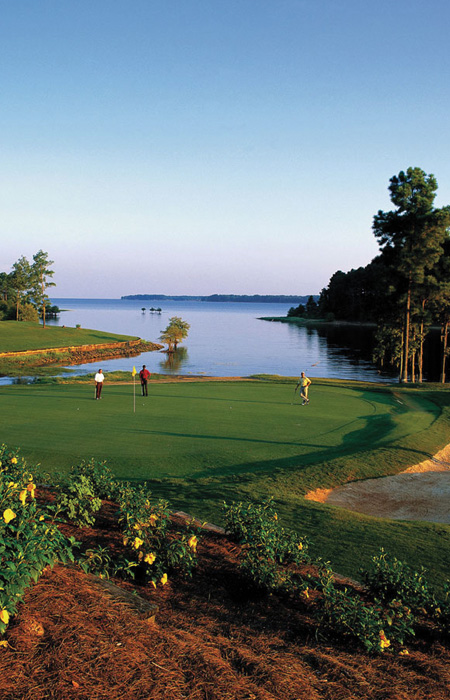 From there it's south to Lake Charles and its several trail-worthy tracks, or north a bit into what the locals still dub "No Man's Land," including Allen Parish and the town of Kinder – home to Koasati Pines, the longest course in the state and a darned fine addition to the Coushatta Tribe's impressive two-hotel-and-casino complex next door.
 Laid out by a local designer and obvious Dye fan and maintained with Augusta-like love even in turf-transition time – its fairways and greens recovered nicely the day after a big storm – Koasati Pines makes the most of its flat site with a routing that winds around copious ponds, through stands of tall trees and across streams that come into play in unique ways. The opening par 5 is a mystery wrapped in an enigma: Dead-away tee shot to a generous fairway, but the second shot … where the heck is the green? Oh, there it is, through that narrow tree gap and over a narrow brook. Go for it! Or, yeah, lay up to the right with a short iron and wedge to a probable par and possible birdie. The visual and strategic challenges continue with a variety of half-hidden hazards and bunkers to negotiate, alternate fairways on three holes – Nos. 6, 10 and the fascinating par-5 finisher – and large, multitiered greens protected by cool collection areas and subtle ridges and knobs. No wonder this is a popular stop for various amateur events, including a recent high-profile junior tournament. No club in the bag will collect dust, that's for sure.  
Play a round at Koasati Pines with a stay in either of Coushatta's two luxury towers, save a few bucks for a stint on a poker, blackjack or craps table, pass the time on a bank of slots with a local brew in hand and top it off with a meal in one of the property's eateries (the clubhouse grill serves a mean burger and winning wings, as well). As in New Orleans, you're checking off several "trail" boxes in one go. If there's time, pay a visit to the nearby Allen Parish Cultural Center, with its shrine to the region's greatest musicians, its tribal traditions and its natural bayou wonders. It's well done, staffed with friendly locals and a fine dose of down-home fun.
Another Native Revelation
The tribal golf streak continues at Paragon Casino Resort in the central Louisiana burg of Marksville, whose own longtime Audubon Golf Trail member, Tamahka Trails, earned top marks for a 2020 renovation of the original Steve Smyers design – primarily in its bunkering, which were far too deep, forbidding and impossible to maintain. PGA Director of Golf Kevin Michael, who's also worked at a variety of Texas clubs including Cowboys Golf Course, oversaw an effort to shallow, reshape and fill bunkers with new sand to better fit the flowing, almost freeform, light-on-the-gentle-rolling-land design. Natural creeks bisect fairways in a few places but generally parallel the field of play, while native areas, while profuse, don't impinge on sightlines. A few tee shots are semi-blind, a few approaches ask for that extra creative touch; greens are canted here and there, and the breaks are subtle. Stretched to 7,130 yards from the tips, it's a stout enough challenge to attract a U.S. Open qualifier, but pick your box wisely and you'll have a blast. The final couple holes say it all. No. 17 is a drivable par 4 with a tiny green tucked between bunkers, a creek and a crop of trees, while No. 18 is a stout 400 yards from the white tees, with a narrow opening to the green, over yet another creek. 
With more upgrades in progress, including a more welcoming, resort-worthy drive-up experience, Tamahka Trails is no longer in danger of becoming an afterthought in Paragon's amenity arsenal. In fact, it merits a visit as we speak, as does the hotel-casino itself.
And For Future Reference …
Love to drop a line for bass or crappie while dropping putts for birdie? Like Texas, Louisiana is large-mouth heaven, especially in award-winning waters like Toledo Bend Reservoir, a 75-mile-long stretch of dammed-up Sabine River that straddles the states' shared border. So keep that in mind in late 2022 or early 2023 when Cypress Bend Resort – located at about the lake's halfway point near the town of Many – opens its "new" golf course, which already boasted the state's hilliest layout and some of its best views.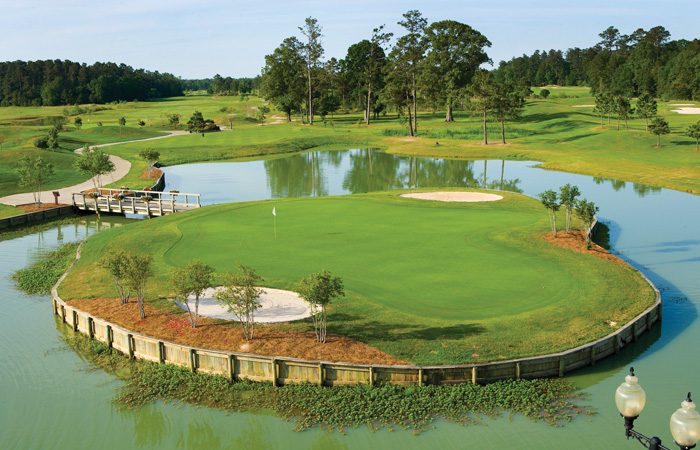 Our group played the original about a month before it closed for a six-month renovation and saw the bones of potential greatness. The plan calls for six all-new holes, while others will get new greens, improved driving lanes, better drainage and bunkering, new cart paths and other upgrades. The resort itself – owned by a Houston company and run as a Best Western showcase, with rooms overlooking the course and lake, a pool, hiking trails and a solid food-and-beverage operation – remains open during construction, as does popular Cypress Bend Park, with its popular public boat launch and available guided fishing tours. Already the perfect mix of remote outpost and convenient weekend getaway – Dallas is about a four-hour drive – this spot truly deserves a place on your golf trail planner.
What's best about this whole Louisiana Golf Trails thing for Lone Star staters? It's right next door, yet far removed as a distinctive, flavorful melting pot of tee times, culinary and musical tastes, lively libations, and indoor and outdoor recreational options. To paraphrase Texas troubadour Robert Earl Keen, "the golf goes on forever and the trail never ends."