Travel – Silvies Valley Ranch

Dr. Scott Campbell has played plenty of business roles in his long and distinguished work career. The Eastern Oregon native, who lives less than 50 miles from where he grew up in the small town of Burns, Oregon, has been a farmer, a rancher and veterinarian, successful and wealthy entrepreneur, business advocate, not to mention husband, father and avid college sports fan. But the one role Campbell never expected to play may turn out to be his longest lasting and furthest reaching: one as a golf resort operator and county economic development specialist. That's because Campbell and his family are the driving forces behind one of the newest and most unique golf resorts anywhere in the U.S., The Retreat and Links at Silvies Valley Ranch. The resort, which opened in July and is halfway between Boise, Idaho and Bend, Oregon, features one of the few reversible golf courses anywhere in America. If it succeeds in fulfilling its founding family's dream, and there is every reason to think the small boutique resort will, featuring spectacular wooden cabins, 36 holes of golf on an 18-hole layout, plus a spa, ranch activities and great food and drinks, it will become only the latest Campbell family success story.
"When I grew up here as a kid, this was one of the richest counties in the state. Today it's one of the poorest," Campbell said. "Logging is not coming back; it takes four people to harvest a field when it used to take 40. This is something we could do to promote the area and promote the economy and employ 70 local people who could work here."
He is the first to admit he knew next to nothing about founding or running a golf resort, isn't an avid golfer by any means and had never even heard of a reversible golf course. But with a 140,000 acre ranch which covers more than 25 miles of the scenic Eastern Oregon area, he had plenty of room to build and has already proven he could take a small concept in veterinary hospitals and turn it into a nationwide success as he did with the Banfield Animal hospitals he founded and later sold. Now, he's turning his attention to his home area, using cross state neighbor and much more famous and elaborate resort Bandon Dunes as inspiration for a must play golf destination.
"Nobody had ever heard of Bend (Oregon) before they started building golf courses 25 years ago and nobody had certainly ever heard of Bandon before they started building,'' Campbell said, who notes Silvies Valley is the same distance from the state's largest city of Portland as Bandon is, just over 3 and a half hours.  In 2010, Campbell started researching his golf resort idea, with the encouragement and support of Bandon Dunes founder Mike Keiser and others. The one bit of advice that he received from his many local golfing friends was to succeed, he needed a big name, and not surprising, expensive architect. So, Campbell interviewed just about every big name architect he could find and while they were interested in his project, they already had projects all over the world and would try to fit him in. That's not what he wanted. He wanted an architect to spend the majority of his time at Silvies Valley, the name of his family ranch, and create a unique and attractive layout with "no bad holes." Campbell got the name of local architect Dan Hixson, far from the big name he was told he had to have, who had designed a number of courses in the area including the well-regarded Bandon Crossing, close to the Bandon Dunes Resort.
Hixson came to tour the area and the pair hit it off. It was a match made in golf resort heaven. To encourage his best work and give him a stake in the local deal, Campbell made a unique proposal making Hixson a 10 percent owner in the golf project, allowing him to reap the rewards of his hard work. Then Hixson dropped a golf architectural bombshell. Had Campbell considered a reversible golf course? Not only had he not spent a lot of time considering it, he had never heard of one before. But Hixson told him the Old Course at St. Andrews was once played as a reversible golf course and he had the ability to do the same with the amount of golf land, some 600 acres at Silvies Valley. The result was an 18-hole layout with 27 greens which go by the names of Hankins and Craddock along with a par 3 called Chief Egan, for a local Indian chief. McVeigh's Gauntlet, a peak to peak short course will open in the summer of 2018. The courses are reversed every other day and the experience is two different course layouts covering the same plot of highly scenic land with different challenges each day. Big name architect Tom Doak has the most famous reversible course in Michigan, and playing one as opposed to hearing about it can be a different experience. The more times you play them, the more you realize the intriguing idea of putting the two courses together on the same plot of land. For example, the first hole of the par-73 Hankins Course, is a fairly straight par 4, but the approach shot sets up on the same ground as the par-4 17th hole at the par-72 Craddock Course. You simply just play the holes from different directions.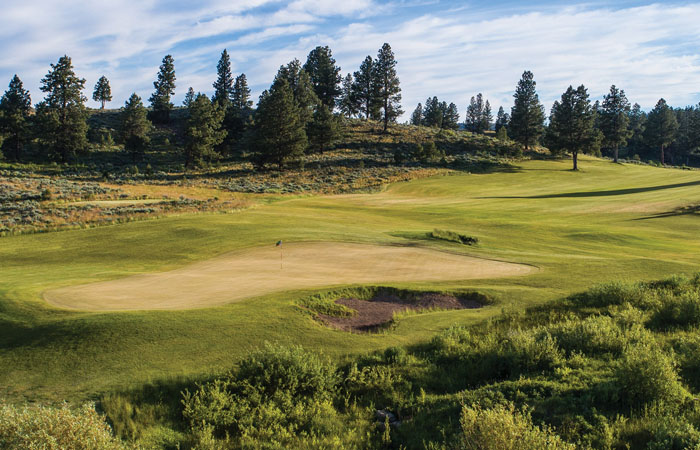 The same is true for the par-3 second hole on the Hankins Course which plays as part of the par-4 16th hole of the Craddock Course. The third (of the Hankins) plays the same land as No. 15 of the Craddock Course. It's not until you get to the par-5 fifth hole of the Hankins that you find a new green which is not part of the Craddock Course. Since both of the courses use the same landscape, one is not dramatically harder or easier than the other, but it's an intriguing challenge, one that Campbell and Hixson feel will lead to individual favorites by repeat resort guest and locals who play the course on a regular basis. Like his fellow Oregon friend and golf dreamer Keiser, Campbell took the opportunity to put his own personal touches on his course.
Several of the large metal rakes in the dozens of bunkers have the carved wording of "Sand Sucks," or "Why did you hit it here?" Also, woe to the golfer who doesn't want to or can't read signage. Each hole has directional signs pointing you to the correct hole on the Craddock or Hankins course and a wrong turn could lead to a Titleist upside the noggin from an adjacent hole. Campbell has actually played the courses enough to know it's fulfilled his long-held goal: make golf fun, make it scenic and interesting and get the locals and the new visitors back on a regular basis.
Plus, he made it a family affair with his wife and kids working at the resort and his brother an assistant chef here.
"We will probably never make money here, at least I don't think so. We spent a lot here, a whole lot, but I wanted to do something for the community and the golfers. Sometimes it's so still and silent out here you can hear your heart beat and that's what I wanted."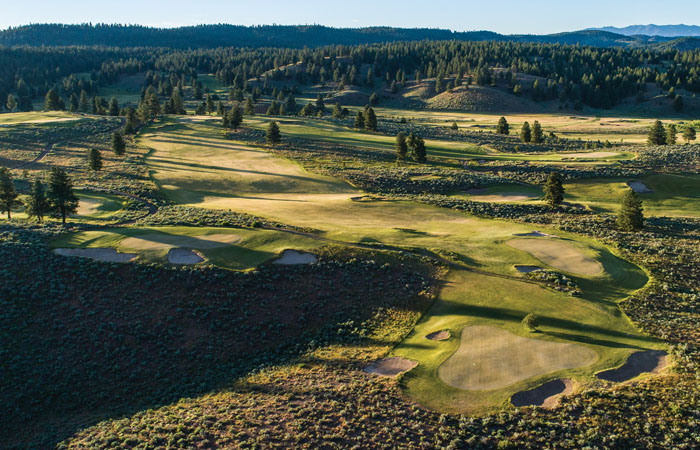 While he doesn't consider himself an avid golfer by any means, he did gain a keen understanding of what golfers want on a golf trip. Along with eight large wooden cabins, there is a small hotel as well, with a view of a large local lake with the Silvies Valley Mountains in the background, offering the basics of Golf Trip 101. There is a large table for poker games or an in-house meal, a refrigerated wine cooler and a massive big screen TV which usually starts on the Golf Channel but can retrieve hundreds of options. Western art hangs on the wall and there is a wood-paneled Jacuzzi on the patio which can soothe the bumps and bruises of a reversible day of golf. The massive wood-timbered guest house with large animal horn light fixtures serves as the dining hall for all three meals, along with a wall appointed bar for lots of stories told and victories celebrated, mainly highlighted by the signature Rusty Nail drink. As the name would suggest, yes, there is a nail involved to stir your drink of various alcoholic mixtures and yes, it could be rusty. The amount and variety of alcoholic beverages available at the massive glass paneled bar and the expert bartender to mix them for you is another in a long line of pleasant surprises at Silvies Valley. The food is plentiful and hearty at the lodge, majoring heavily on beef and other ranchland staples, many coming directly from the 4,500 cows and 1,700 roaming goats on the massive Campbell land holdings.
The location is secluded and remote, which is great for an exclusive buddies trip golf getaway, but tougher for travel. But, like Campbell's in-state inspiration Bandon Dunes, and similar prime resorts located off the major travel trails, its founder believes people will make the trip. To quote a famous movie line, "Oh yes, they will come." A unique and scenic reversible golf course, a large wood-paneled buddies cave, with big screen TV and outdoor whirlpool, and plenty of good food and drink.
Oh yes, they will come. They will most definitely come.
For more information on Silvies Valley, go to www.silviessimplyamazing.com or call 1-800-SILVIES.