Travel – Tales from the Back Nine: Part VI

In searching the rural routes for wilderness golf adventures, trains have been my constant companion. Everywhere I go. Always there. 
Railroads and golf courses have shared a common bond since way back. Trains were instrumental in the development of our country, cutting through mountains and other obstacles that stymied explorers as we expanded west. Golf courses followed suit, sprouting up in cities whose population boomed as major stops along the way.
You can trace the growth of most big cities by tiptoeing on golf graveyards. Just look at the charters of Texas' first country clubs. Their locations were identified by distance to the closest rail line. Heck, for all you know, your cute Lakewood fixer upper may be sitting atop the seventh green of extinct Bob-'O'-Links Golf Club. Surely you have shopped in the strip malls adorning the former fairways of Glen Lakes Country Club that spread across both sides of Central Expressway south of Walnut Hill. 
In Texas and other parts of the south, railroads connected tiny towns with short lines linking farming regions to ports. Trains were the lifeblood of these cities, and golf courses flourished as populations grew. If you want to find a course in small-town America, just follow the tracks.
So, I headed east on US-175 with the ole F-150 loaded to the brim with golf clubs, camping stuff and fishing gear. I left at rush hour, of course, but I was in no hurry to get there or come back. Or so I thought.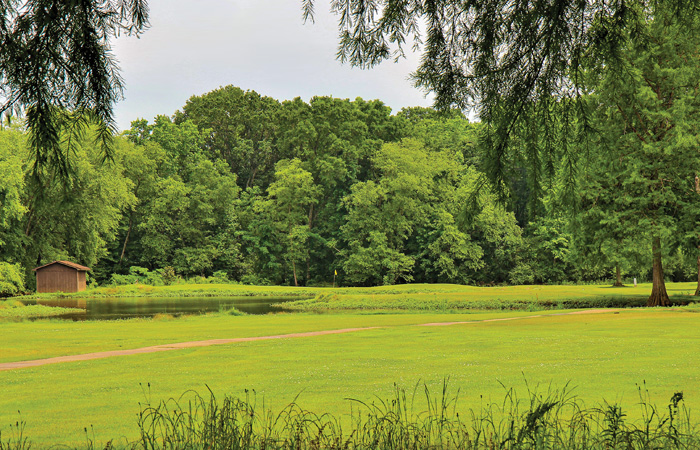 Eventually I wanted to camp at the Texas State Railroad, a historic 25-mile line between Rusk and Palestine. The place was founded by the state in 1883, built by inmates of the Rusk Penitentiary, to transport raw materials for the prison's smelter, and then expanded to freight and passenger service. The line was completed in 1909 when it reached Palestine. But regular service ended just 12 years later, eventually turning over to the Texas Parks and Wildlife Department, and in 2007, transferred to the Texas State Railroad Authority. These days the railway operates as a scenic tourist line with a limited schedule.
The depots at the start point in Rusk and the stop in Palestine feature campgrounds with good fishing spots. Golf courses are located in both areas, as well as in nearby towns off the state highways that meander southeast below Tyler, which features a group of remarkable courses.
Frankston would serve as my central point because it boast the Taj Mahal of off-the-beaten-path courses, Pine Dunes Resort & Golf Club. 
Since I would visit Pine Dunes the next day, I stopped about 45 minutes shy of Frankston at Purtis Creek State Park. Arriving at dusk, I found that heavy rains over the last month had inundated the area, forcing the closure of trails and access to rental canoes. I would later discover that the golf courses in this region were struggling with rain-related issues. I put $20 in the box and drove across the 355-acre lake to the campsites, which were more than half filled. I unloaded the truck, then set out to find a good fishing spot.
Like most of the lakes in this region, largemouth bass (catch-and-release) are the primary targets of pursuit, along with catfish and crappie you can take home. The park is loaded with fishing amenities, including lighted piers, fish cleaning stations, and ample boat ramps. You don't need a fishing license, and if you aren't camping, overnight fishing costs just $2 per person. Rods, reels and tackle boxes are available on loan. Basically, everything you need is here. This is purely a fishing lake. Only 50 motorized boats are allowed at a time, with an "idle only" speed limit and no-wake policy.
I steered away from the pier, easily finding an isolated inlet where I could easily cast from the bank. As usual, I spent most of my time tangling and untangling my lines, complicating matters by overthinking things. But despite my poor angling skills, I managed to land three (potentially) tasty bass. As it turned out, I wouldn't have been able to cook them anyway, because I couldn't sustain a fire on the damp ground. No worries. It's not like I was naked and afraid. I kicked back and watched the full blue moon rising.
In the morning, I headed toward Frankston on SH 155, shopping at a couple produce stands along the way. I stopped to eat at Frankston Burgers Pizza & More. Signs on the door said, "No one under 21 allowed inside." Huh? I walked in to find six women sitting around card tables playing slot machines. One with curlers in her hair was chatting on her cell phone: "I'm just on a little hot streak. Guess it was time for me to win a little." I ordered a burger and waited outside, taking to the cook in a makeshift red caboose. "Best burger you'll ever eat," he said. Slight exaggeration.
Turning right on Hwy 155, I was excited to be nearing Pine Dunes. My sister owned a beautiful place at Lake Frankston, speaking of great fishing spots, where our daughters spent lots of time with their cousins while growing up. I know this drive by heart. It's 6.2 miles to the turn-in for Lake Frankston, which sits next door to Pine Dunes.
Pine Dunes is a magical place. Wind-swept dunes, swaying native grasses, majestic pine trees under an enormous blue sky. The minimalist design by Jay and Carter Morrish enhances the natural topography, creating a sort of scraggly Pinehurst look. You follow doglegs up and down the rolling hills, lush fairways giving way to white-sand waste areas, wildflowers adding pops of color throughout.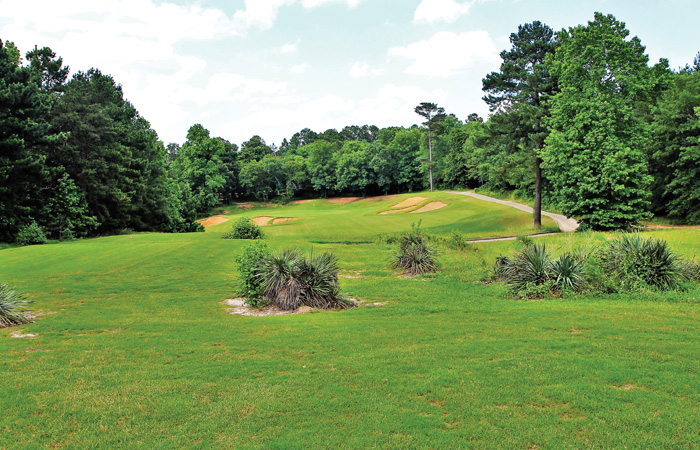 For being off the beaten path, Pine Dunes has attracted a lot of attention, transforming into media darling since opening in 2001. The national magazines can't get enough of the quaint remote links and small-town charm. annually give it high marks, some rating it the best public course in Texas.
Guests can stay onsite in condos, cook on the grill, drink beer by the fire pit, play poker all night after playing golf all day.
After hanging around the clubhouse for a while watching the PGA Championship, I took Hwy. 155 south to Palestine, grabbed some coffee at a Starbucks, then headed toward the State Railroad campground. This place wasn't ready for me. As usual, I arrived after closing, and was ready to talk may way in, but one problem: Nobody there to listen to me. The sign on the late-entry box said to deposit cash and head to a campsite, but I checked the gate first, and a cash deposit wasn't going to swing open the gates.
This small park has only recently been hosting campers. I saw a few folks fishing in the outlying park area, asked if they were camping, and they looked at me as if I had just landed from Neptune.
I figured I' d try to the Rusk campground. After getting food, firewood and a jug of water at a convenience store, I hopped in the truck and drove 30 miles or so with a big moon peering through the tall pines. 
I had no access problem, but was skeptical when realizing that I was the only person in the park. Many of the sites were overgrown and the heavy rains had left lots of debris. Clouds had moved in, covering the moon, and it was pitch black. Not that I was scared or anything, but the water was way up past normal level. I only hoped that the branches I walked on were not snakes.
I felt much better after getting a fire going. I set up the tent but couldn't sleep, so I sat on the picnic table feeding the fire. It was probably 2 a.m. when I began conversing with the birds. I mimicked their sound, and they responded similarly. A cardinal must have awakened me because it was sitting outside my tent when my eyes opened.
He hung around as I ate a couple of butter biscuits and loaded the truck. I checked out the train depot, ho hum, and had to force myself not to throw a line in the lake. It looked like a great place to fish with lilies floating near the shore.
 Instead, I took off for Birmingham Forest Golf Club, just four miles away.
I fell in love with this place as soon as I pulled into the parking area beside what appeared to be a farmer's market beside the nice white home that serves as the clubhouse. As I walked toward the green behind the house, two goats and a few chickens came over the greet me.
The family owned club, a nine-hole layout founded in 1967, is a Pine Dunes starter kit. Nestled on rolling hills and encased with pines, the course winds around a spring-fed lake, which comes into play on two holes. The greens are small and some slope severely. This is why, despite measuring only 2,773 yards, Birmingham GC carries the nickname, "toughest little course in Texas." 
The course also boasts an interesting history, sitting on what was once New Birmingham, a ghost town that was an iron ore boomtown in the 1800's. Evidence can be found in the form of antique horseshoes, railroad spikes and arrowheads. You can walk the course for $10; or $13 with a cart.
Drive in any direction around here and you'll find a charming nine-hole layout – Elkhart GC, Wildcat GC, and Hilltop CC, to name a few.
With reports of severe weather heading my way, I decided to head home. While driving on Hwy. 79, I stopped in Jacksonville to check out Cherokee Ranch Golf Club.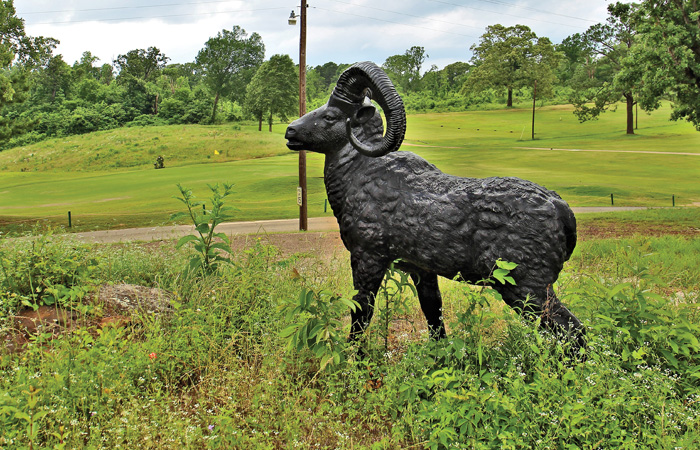 Founded in 1936, the course has been known by several names, and the farm road intersects the nines. Fairways are guarded by tall pines, and the sloping greens offer defense against the long knockers. Although it looked like fun, I was not overly impressed, and the $35 weekday fee seemed steep.
Anyway, I was pressed for time. The radar showed severe thunderstorms and possible tornadoes coming my way. Just as I passed Poynor, my phone's weather alarm sounded: "The area you are in is under a tornado watch. Take cover immediately." Well, I know where I'm not supposed to go during a tornado but, really, where are you supposed to go?
I pulled over at a BBQ place, ordered a sausage and brisket sandwich, and chatted with the nice folks who run the small establishment. 
"So," I asked the woman who served me, "where are we supposed to go with a tornado coming?" 
 "Don't worry, sweetie, it'll pass," she said, smiling. "You just eat your sandwich."