Travel – Wild Dunes Resort

South Carolina is known for a lot of things, from its blooming yellow jessamine to its stately oak trees and sandy Lowcountry beaches, the cultural significance and abundant Southern hospitality is palpable from the minute you set foot on Palmetto State soil. But, if you are one who enjoys chasing the white ball, South Carolina also boasts some of the best golf the lower 48 has to offer. 
If you are one of those folks, you are likely familiar with destinations like Hilton Head or Myrtle Beach, but there is another fabulous resort that should be on your radar if you are thinking about spending some time on the East Coast. Wild Dunes Resort is located on the Isle of Palms, just a short drive from the Charleston International Airport. This 1,600-acre property boasts a pair of courses, a multitude of room and rental options, as well as plenty of dining, meeting space, fitness center and a world-class spa. 
When it comes to accommodations, Wild Dunes has multiple choices for your stay. Whether it's a simple guy's trip for some golf and pool time, or if you are bringing the whole family on a vacation, this resort has you covered. Two of your options are the Boardwalk Inn and the Sweetgrass Inn, which sit on four acres and serve as the heartbeat of the resort. The Sweetgrass features 153 rooms, while the Boardwalk has 93 rooms, and both are cozy, comfy and in close proximity to both the main resort pool and the Shoppes at Sweetgrass, which features boutiques and several quick dining options.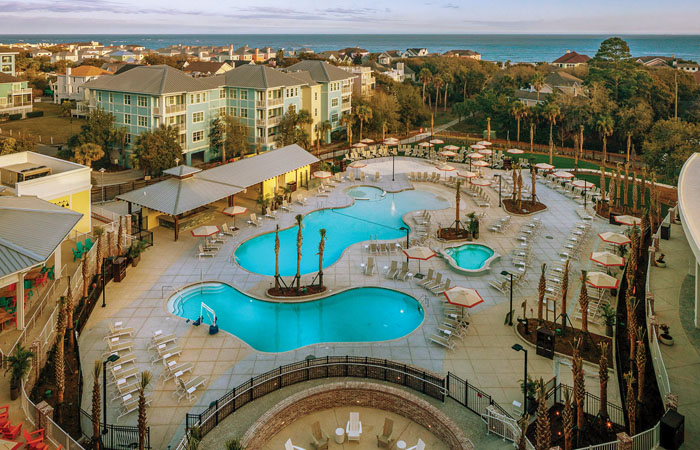 Rooms at Wild Dunes are cozy and clean, with every amenity you might need for your stay. Whether you are on a tighter budget and choose one of their more affordable King rooms, or you want to go the baller route and book a condo or cottage, this resort can accommodate whatever you need. Their rental home properties are offered in three to seven bedrooms and can get as close to the ocean as you want or near the golf courses, if that is your pleasure. The rentals come complete with 24-hour customer service, along with access to all the amenities on property, including pools, fitness, golf and tennis. Any of the above options will make your stay convenient and comfortable, no matter how much you have stashed away for your vacation. 
Dining at Wild Dunes is abundant and delicious. Whether you are looking for something simple and easy, or elegant and jaw-dropping, there are several places right on property you will want to try. Coastal Crust is an easy dinner option if you want great quality pizza for the family, with options like a simple pepperoni or a more refined fig and prosciutto pie. Pastas and paninis are also on the menu if you are looking for something besides a slice or two. 
Two finer dining options are also available at Wild Dunes. Coastal Provisions, which is located in the Boardwalk Inn, offers delicious farm-to-table dishes and some of the freshest seafood Isle of Palms has to offer. With seafood, chops and fresh vegetables, Chef de Cuisine Thalita Smith will dazzle your palate. On my visit, I tried the Blue Crab Bisque, which was creamy, rich and flavorful, with a refined crab flavor, served with some toasted crostini for a little dipping. If you are a crab lover, then this soup will leave you speechless. Of course, mussels, oysters and other sea fare are also on the small plates portion of the menu if you want something fresh from the coastal waters nearby.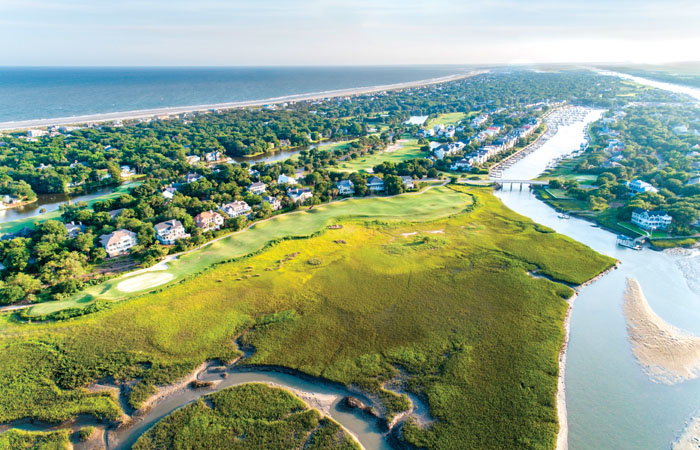 Speaking of seafood, you absolutely don't want to miss the coastal steam pot as a main course. This Lowcountry-style cornucopia of king crab, mussels, local brown shrimp, potatoes, corn and andouille sausage, comes served in a tomato-based broth that adds a great acidity to the delicate seafood. This is everything the South Carolina coast represents, with an abundance of flavor profiles all waiting to send you into seafood nirvana. You don't want to leave the resort without trying this dish. If seafood isn't your thing (or maybe you're allergic), there are also great steaks, a center-cut pork shop or even veal cheeks to experience. Try pairing any of these great dishes with a glass of wine or a delightful Holy City Brewing 7 Mile Pilsner, which is specially canned just for Wild Dunes. Specialty cocktails also flow in abundance at Coastal Provisions if you want a pre-or-post-meal drink, like their Raspberry Lemon Drop or the Maker's Maple, which is a brilliant combination of Maker's Mark Bourbon and sparkling apple cider. 
Back on the main boardwalk in the Sweetgrass Inn, the Oystercatcher, which is led by Chef Austin Blake, has some of the most whimsical, well-prepared food on the resort property. Angelica was a welcoming personality behind the bar, as she walked me through the menu and fired some delicious cocktails my way (I highly recommend her Old Fashioned). The menu at Oystercatcher is one of the most interesting dining experiences you will sit down to; Chef Blake is a true artist, from the flavor profiles to the gorgeous plating, this menu is wonderful from beginning to end. 
The poached shrimp salad was a personal favorite, with a crispy rice salad for some texture, and some sweet crunchy plantains to compliment the sweetness of the beautiful poached crustaceans. I also highly recommend the Hamachi crudo, which is served with almond milk, almonds, and some Kaffir lime for a little acidic bite.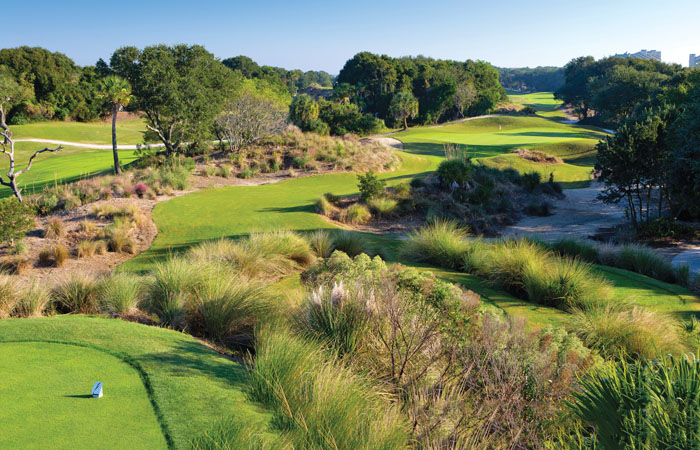 If you are looking for a great entrée, the local grouper with charred tomato, olives and broccoli is a hit, and although I am usually not an olive person, the briny salty note really complements the fish. Oystercatcher's signature dish is their whole grilled Branzino, which is a must-try to share with the group. This fresh catch is bulgur wheat salad stuffed and served with a caramelized feta vinaigrette, sweet and sour cabbage, and crispy potatoes. This is one of just a few dishes I have experienced during my travels that I think about often. 
Golf at Wild Dunes is resort-style with a great ocean twist. Both the Harbor Course and the Links Course are gorgeous from beginning to end, with plenty of challenge for even the most experienced shot-maker. Both courses are designed by Tom Fazio, with the Links being his first ever course design, so if you are a golf course architecture buff, it is fun to experience the first of Fazio's many courses. 
Some of the highlights of the Links include No. 2, which is a short, dogleg right par 4 that winds over and around a coastal marsh to a smaller putting surface. The second par 5 of the opening nine comes at No. 5, which offers a fabulous approach shot to an elevated green that narrows as it climbs the hill. It is a classic Fazio risk vs. reward hole that really presents a challenge on the second or third shot.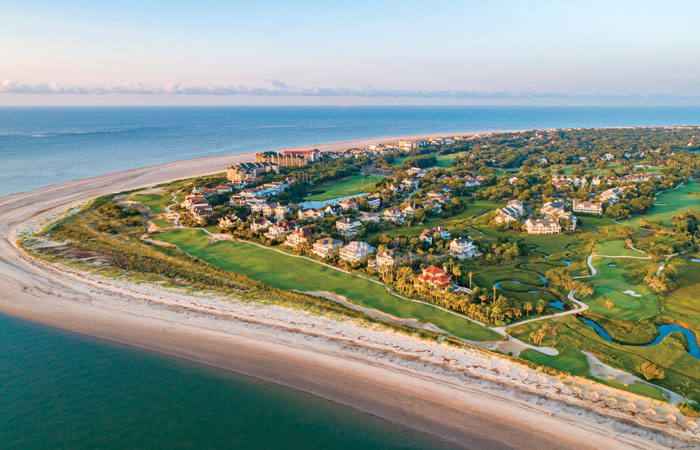 No. 8 presented something not often seen here in DFW, and that was a great par 3 over a small pond to a putting surface that slopes from right to left. That, however, isn't what made this hole so unique … it was an alligator sunning on the grass just next to the small pond in front of the tee box. In all my golf travels, this was the first gator I had ever seen on a course, and it was a little bit startling. From what I was told in the clubhouse, this is one of several gators on property, so just be mindful of that if you are approaching any water hazards! In any event, it was pretty cool to see, although had I found the water, I likely would've taken a very generous drop away from my new friend. 
The inward nine on the Links really shows the constant changes on this piece of property. No. 10 is arguably one of the most beautiful holes on the property, and, although it isn't like the ocean view finishing holes, it presents a fun and beautiful challenge. A very large tree-covered sand dune just left of the tee makes the visual of this tee shot not only gorgeous, but also challenging. The chute in front of the tee gives way to a rolling, mounded fairway with a significant runoff on the left and a severe fairway bunker on the right. The green is elevated and perched atop another native grass-covered dune, making the approach tough, but intriguing. It was one of my personal favorites of this Fazio loop. 
No. 12 is a gorgeous downhill par 3 with beautiful dunes along each side. The elevated tee shot can make for a tough club selection, as coming up short can be a tough up-and-down and long can lead to another awkward pitch. At almost 200 yards from the tips, this is a tricky little par 3, but it is also a pretty tee shot.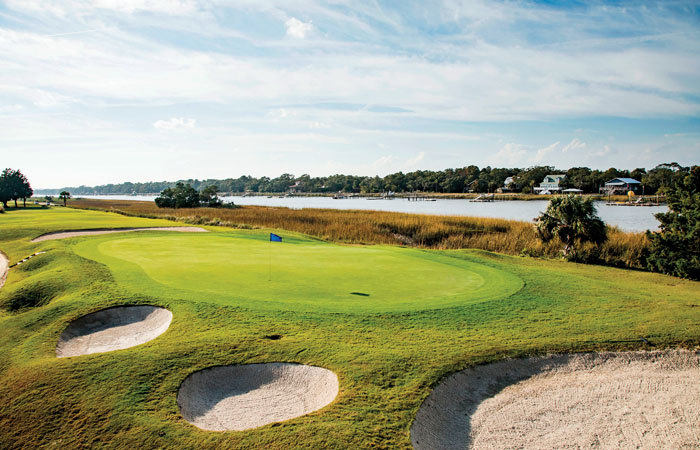 The final four holes on the Links are where the course flexes some muscle. When players turn for home, the ocean winds become more prevalent, as the layout opens to marshland and eventually oceanside. No. 16 is another wonderful par 3, with almost no elevation change from tee to green, making this visually tough to gauge distance. Couple that with the ocean breezes, and this green can be tough to hit in regulation. 
The final two holes on the Links are not only gorgeous but challenging. No. 17 runs parallel to the Atlantic, so a significant left-to-right wind is prevalent. This often forces players to hang their tee shot over the beach to allow for some cut with the wind. This can lead to the dreaded pull if not careful, meaning a re-tee and a penalty shot. The approach can play longer with the aforementioned wind in play, making par a great score on this hole. It's also the perfect place to get some group photos with the ocean in the background. 
No. 18 has seen some changes over the last several years. Once the second par 5 on the inward nine, sand erosion forced the club to change this final hole to a par 3 that plays 185 yards. Although a finishing par 5 would be nice, this par 3 is still a great finish, as you can look out to the ocean one final time as you finish up. I was told by course staff there is a chance the resort may reconfigure this hole to make it a par 5 once again, so you may see a different finishing hole on the Links in the coming years. 
As you complete your round at the Links Course, don't forget to pop in at Huey's Sports Pub. Bay windows offer a course view as you dine, or belly up to the bar for a post-round cocktail. I sampled the Fazio Fusion, which is their take on the popular Transfusion cocktail served at many courses these days. This delightful blend of New Amsterdam Vodka, ginger ale and grape juice will get your mind right for a day on the course or help you relax as you finish up your day on the Links. Food at Huey's is standard bar fare with some twists and turns. The Lowcountry egg rolls were a hit, with pulled pork, collards, caramelized onion and a mustard barbecue sauce for dipping. If you are in the mood for a sandwich, I recommend the crispy chicken, which is served on a potato bun with some spicy pickles and some creamy Duke's mayo. It's as good a chicken sandwich as you will find anywhere. 
The Harbor Course is just as fun as the Links, with holes that feature challenging carries over lagoons, salt marshes and the Intercoastal Waterway. No. 4 is a fabulous par 3 that features water down the right and a narrow green that runs from front left to back right. It's just 165 yards from the middle tees, so this isn't a lengthy hole, but it presents plenty of challenge.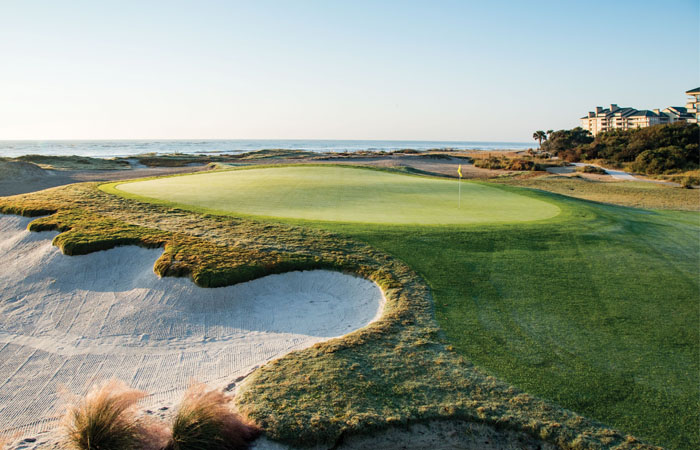 The No. 1 handicap on the Harbor Course is the par-4 ninth. This one plays 437 yards from the tips. and with a tee shot over marshland and narrow landing area, can be a tough fairway to hit. Find the short grass off the tee and the approach will be much easier, but there is still more water to carry short and left of the green. It's a tough Fazio challenge, and one you will be pleased to walk away with a par. 
As with the Links Course, the final couple holes on the Harbor are scenic and tough. No. 17 runs next to the Intercoastal Waterway on the left, and beyond that, is pretty straightforward. Avoid the watery grave left, and a par or better is a possibility. No. 18, as with the Links Course, is a par 3. This hole is 185 yards from the tips, and again the winds can swirl as the breezes come off the water. Dunes all down the left present a challenge, but the real test here is club selection and a well-struck golf shot.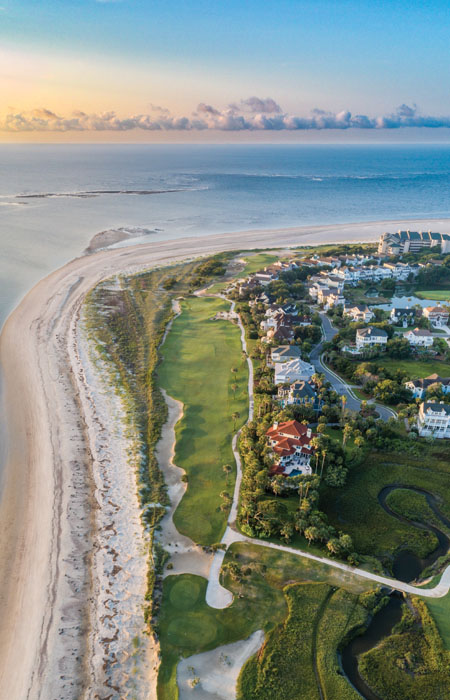 Overall, Wild Dunes checks all the boxes for your next golf or beach adventure. The pool area is constantly buzzing with activity as visitors enjoy their beverages and some sunshine. The beach is just a short jaunt away, with chair rental available if you and your group are looking to see the ocean for the afternoon. With multiple room and rental options, you are only bound by your imagination to make this the trip of a lifetime or a simple weekend getaway without breaking the bank. The golf is memorable, with plenty of great holes and tremendous course conditions on both the Links and Harbor Courses. 
But the main thing I will take away from the resort is the South Carolina hospitality. Everyone on property is friendly and helpful, especially if you are a first-time visitor. And that is a perk that just can't be paid for. 
Musician and South Carolina native Darius Rucker has a song entitled "Low Country," and the chorus partially reads, "I wanna get high on some low country, where the sun meets the water and the nights get hotter … sounds right on the money." After visiting Wild Dunes Resort, I have to concur. It's an adventure unlike any other.