Longtime Dallasite Fred Perpall achieved a couple of impressive firsts when he recently was elected to a three-year term as President of the United States Golf Association, which oversees amateur and some professional golf in the United States. He became the first Black ever elected at president of the USGA, as well as the first Texan, both distinctions he considers important to his background and his new golfing role.
Perpall, 48, grew up in the Bahamas, never thinking about, must less playing, golf. Basketball was his sport and, ultimately topping out at 6-foot-6, he was very good, making the Bahamian national team. He came to North Texas for the first time to play for the University of Texas Arlington basketball team at age 17 and to study architecture.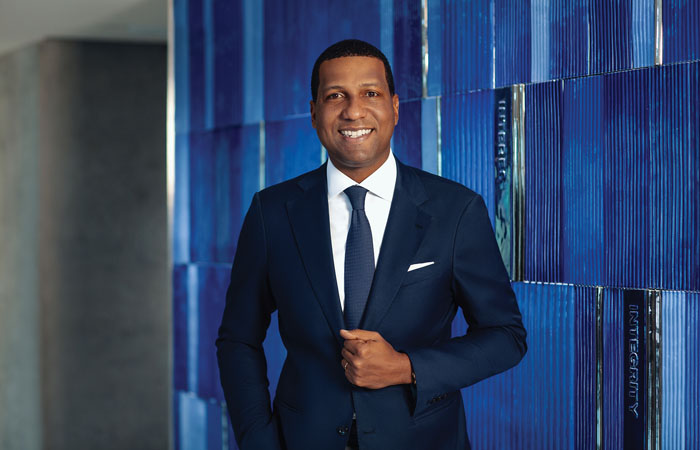 Basketball stuck as a lifelong hobby, but architecture flourished as a career. Currently, he is the CEO of the multi-million-dollar Dallas-based The Beck Group.
Perpall's journey to golf is unique over any of the 100-plus former USGA presidents, including Prescott Bush, the great grandfather of Dallas resident and former United States President George W. Bush.
Perpall didn't even try to play golf until his late 20s, when he was asked to play in some charity tournaments as part of his job with Beck. He described it as a miserable experience at the beginning, learning the game and trying to perfect it after mastering basketball. 
As his career progressed at Beck, he was able to join the Northwood Club in Dallas and finally get some lessons, eventually progressing from an 18 handicap to a current 5 index. He became one of the foundering members of Trinity Forest Golf Club and began to progress up way up the USGA ladder of service.
As smitten by the game of golf as he once was by basketball, Perpall has been involved with the Texas Golf Association and helped Trinity Forest get the U.S. Junior boys championship in 2025, another first for North Texas.
With the USGA's U.S. Open this month, he spoke with AVIDGOLFER Senior Writer Art Stricklin, discussing what it means to be the first Texan president, his views on race and why Texas doesn't get many USGA events … plus the one Lone Star course he is still eager play.
AVIDGOLFER: You've got the U.S. Open coming up in a few weeks for the first time at Los Angeles Country Club, the first time in LA since Fort Worth's Ben Hogan won 75 years ago. How many shots lead would Fred Perpall need to feel comfortable on the back nine Sunday to win golf's national championship?
FRED PERPALL: If you look at my index and compute the difficulty of that course on a U.S. Open Sunday, I will say I would need three shots a hole on the back nine, otherwise I would be in a lot of trouble (laughs).
AG: What is a good U.S. Open-winning score for the USGA?
FP: It's a misnomer we dedicate score at the U.S. Open; we never discuss that. To us, a proper U.S. Open is when you get all 14 clubs dirty, and you're forced to use all of your skill set.
AG: How are you planning to handle the infamous Southern California traffic?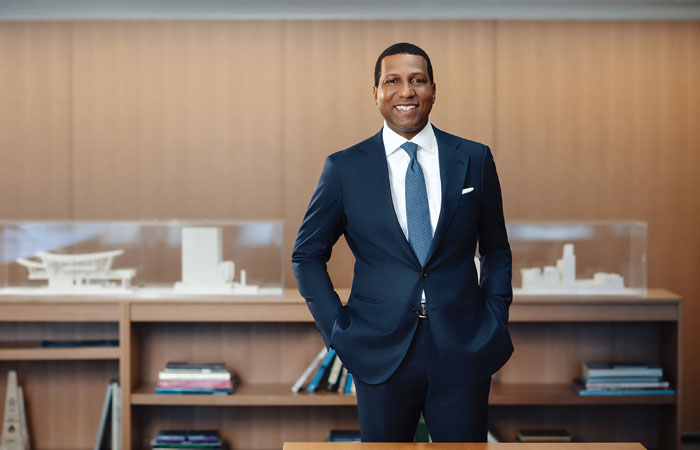 FP: I'm staying in a hotel right across the street from the course and planning on leaving very early in the morning.
AG: Having lived in Texas since coming here as a teenager and knowing about the history of Texas golf, what does it mean to become the first Lone Star president of the USGA?
FP: To think of all the great Texas golfers and the elite golf which has been played around here, I'm thinking how cool it is to be the first Texas president. I think we are an unrepresented area. I take it as a point of pride, to have somebody who represents all of us. The Texas Golf Association is one of the strongest organizations in the country, and I'm glad to be associated with it and all the others in our country.
AG: Every single decade, going almost 100 years, from Bryon Nelson and Ben Hogan, to now Scottie Scheffler, Pierceson Coody and Avery Zweig, there have always been great Texas golfers who emerged on the national and worldwide stage.  Why do you think that is?
FP: I think Texas has a few advantages some others do not, aside from being a big state like California or Florida. Number one, aside from a couple of weeks a year, you can really play golf year-round in Texas; it's a 12-month golfing state. Number two, you can learn to play in a lot of different conditions. In the spring and the fall, you can face a lot of wind; you really have to learn to flight your ball. In the summer, it can be really hot, and you learn endurance.
Number three, the culture of golf is very strong in Texas; it plays a unique role in the fabric of our state with our great golf history. You may not have a lot of oceans or mountains everywhere like some places, but we got lot of golf, lots of really good golf. The best ball-strikers in golf history, going back to Hogan and Trevino and continuing on, all learn to play in Texas conditions. 
AG: Speaking of Texas – you must get this question a lot from your fellow club members or others – why does Texas, especially North Texas, have so few USGA events, especially the major one?
FP: If we look at the top of the pyramid of the USGA, the player is always at the top. We are conducting our championship at the cathedrals of golf. And right now, Texas doesn't have that. It doesn't mean it won't in the future. We are test driving the junior championship at Trinity Forest (2025) and the Women's Four-Ball at Maridoe (2021), and the challenge is to keep the U.S. Open at the best places.
Texas is not ready yet, but it doesn't mean it won't be ready in the future. It's a long journey, and we have started on that journey. But you don't ask your wife to marry you on your first date. It's a journey. That's what we are doing here.
AG: Your journey to golf has been well documented. From a star basketball player in the Caribbean to now the president of golf's governing body, how did you learn about golf when you first came to Texas?
FP: Texas is the ultimate meritocracy. If you worked hard and did well, you could succeed. Texas and Texans welcomed me with open arms. While I found golf later in life, I found it was the same way as others. Golf, like Texas, holds you accountable, you have to play by the rules and do right and you can succeed. I have always said, Texas is a handshake state, to greet you and hold you accountable. Your word is your bond. 
I was the first Black president of the USGA, but also the first Texas president. I hold those both in high regard. I think we need to bear-hug the next generation of residents and golfers to keep golf going in Texas and in America, and to be committed to growth. 
AG: In your first speech as president of the USGA, you said your election was proof that golf was open and assessable to everyone. What did you mean by that?
FP: For many people, race is a flash point … but it doesn't need to be. I hope my presence at the USGA inspires people of all races, but I don't live my life in color. There is no doubt that Tiger Woods playing elite golf with his race inspired me to want to succeed. But we don't want to succeed by lifting one race up and pushing other colors down. We want to lift all races up. The American dream to work hard and succeed is available to all; I'm proof of that. We often talk ourselves down, and we need to talk ourselves up with all we have achieved. 
AG: Not having grown up in golf, what did you learn about trying to pick up the game later in life?
FP: As a young person, I couldn't afford it, and then I could as my career progressed. But that's one of the biggest challenges to the USGA. To find ways people can access golf.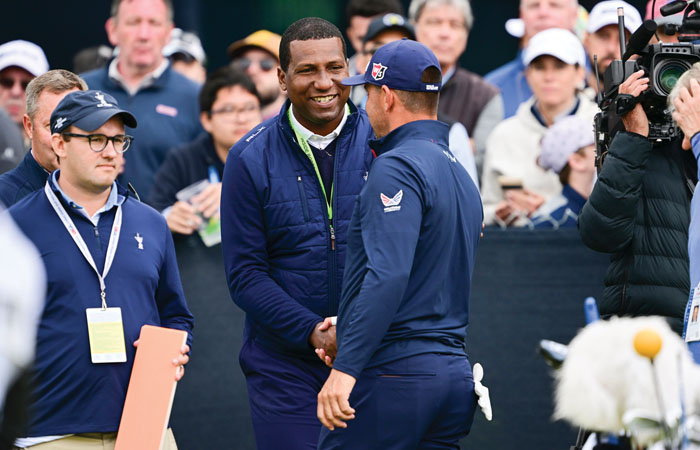 That is why off-site golf, like (Dallas-based) Topgolf, Big Shots etc. is so valuable and so good for the game. We want invitations for kids to give them access. We have to find a way to take golf to kids, not make them go find it.
AG: As USGA president, you're not really allowed rooting interest for individual golfers to win this month. But what has it been like to meet so many of the local North Texas professional golfers who will play in the U.S. Open and other events your organization conducts?
FP: Jordan Spieth is a friend. But when I was an 18 index, I once played with Matt Kuchar and Hunter Mahan in Dallas and was awed by their skill and dedication and knew I did not have that but knew we could enjoy the game together.
I remember one time at Trinity Forest, I was getting ready for a member-guest, and I saw Jordan Spieth practice before the Ryder Cup, and I said that's the beauty of our game. You can get ready for whatever competition you have.
AG: You talked about the great golf courses in Texas. Is there still one you would like to play?
FP: Never played Whispering Pines (Trinity), I've had invitations, but hope to achieve that in the future. 
AG: Thanks for the time, Mr. President.
FP: (laughs) you are welcome.