Cover Story – Greg Chalmers

Greg Chalmers may not be a PGA TOUR household name, but this southpaw Aussie has quietly carved out a nice career playing the great game of golf. Born in Sydney, Chalmers picked up the game thanks to his father, who would take him to his local golf course and give him a 7-iron to hit off the tee. Chalmers took to the game quickly, finding his way to wins at the 1993 Australian Amateur and the 1994 French Amateur. In the years following, he got married, moved to the United States and decided to chase the dream chasing the little white ball. 
After moving to the States, Chalmers and his wife, Nicole, spent a year in Orlando, before settling on a move to Dallas, where they have lived ever since. In that time, they have had two boys, Lachlan, their youngest, and Max, their oldest, who was diagnosed as autistic at just 22 months. Max, who is set to attend Texas A&M University, has been a great inspiration to many, especially Greg and Nicole. They even started a charity named after him, the MAXimum Chances Organization, which helps connect families who have children with autism spectrum disorders gain access to educational services, therapies and cutting-edge bio-medical treatments. MAXimum Chances is currently partnered with several autism service providers in DFW, with the goal of offering financial, educational and emotional support for families touched by the condition. (For more information, visit maximumchances.org or email maximumchances@gmail.com.)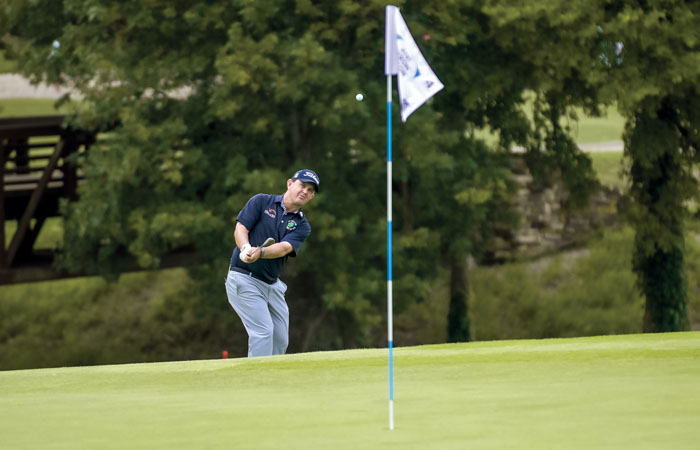 Although it took 386 official starts on the PGA TOUR to capture his first victory, Chalmers has always been confident in his ability, made himself some green, and now has begun to carve out a bit of a cult following on social media. He has almost 15,000 followers on Twitter, and any one of them can testify to his Aussie dry wit on the site, which has made him a lovable golf mascot to many. From his course photos to his playful self-confidence, Chalmers' online presence will quickly make you a fan. 
With wins on five different tours, Chalmers has earned almost $11 million in almost 30 years playing professional golf. Now, on the precipice of turning 50, Chalmers has his eyes on qualifying for the Champions Tour, and we expect he'll be tweeting every step of the way.
AG: After you got some feathers in your cap on Tour, what were some of the places you really liked playing?
GC: There are several. And I like some of these even though I didn't necessarily play well in them. I love Riviera. It reminds me of home. The trees and the grasses are the same as home. I grew up with eucalyptus trees and Kikuyu grass. Memorial is another tournament I love, even though it isn't a course that suits me in any way, shape or form, Muirfield is so well manicured. In Australia, we don't have the well-manicured pretty courses, and the architecture they have here. Muirfield is one of the greatest examples of that in the United States. So, those two events are really great. 
AG: What about here in Dallas/Fort Worth? What are some of your favorites?
GC: You know, I really don't get out and about much. There are a lot of places I haven't been to yet. I was a member at Vaquero for a while, and I also was out at Diamond Oaks for a while. I liked both of those for different reasons. I love Preston Trail a lot, too. There are some really nice options around Dallas. I haven't yet played the new courses up in Frisco yet, but I look forward to getting up there. 
AG: Colonial is about to undergo a major renovation. Have you had a chance to play there much? 
GC: Well, in the tournament obviously. It could be phenomenal. I am looking forward to seeing what Gil Hanse can do there. But I am looking forward to it. 
AG: You mentioned the Frisco courses. The Senior PGA Championship was up there last month. You are 49 and on the verge of trying to qualify for some Champions Tour events. What are you looking forward to about the possibility of teeing it up on that tour?
GC: I head to Q-School for the Champions later this year. When I look at the entry lists for those events, I recognize a lot of those names. It's not that way on the PGA TOUR anymore. I am looking forward to seeing some of those guys I haven't seen in a while, and from what I have heard, it is very relaxed and fun, but still very competitive. I am excited about playing some age-appropriate competition, because it's tough for a 50-year-old to win against the young guys these days. But, I am doing my best to keep myself in shape, and I have picked up some distance over the last few years. And even though I have to qualify, I am looking forward to chasing it out there and, hopefully, I can stay healthy and be competitive. 
AG: You have been very active on Twitter the last few years, and you have started to gain a bit of a cult following amongst the golf fans on that platform. Where do you get your wit and sense of humor from?
GC: I would say my dad. But both of my parents are pretty funny. I think Australians are pretty dry and usually don't take themselves too seriously as a nation. A few years ago, I tried to figure out what I wanted out of Twitter. I wasn't really being myself because I was worried about backlash and comments. I have reached that age where I decided I just don't care anymore. I noticed that there is a bit of a cesspool element to Twitter, and I decided that I didn't want to contribute to that negative energy. Now, when I put something out and it makes me chuckle, I am happy with that. I don't want to be a political commentator, and I don't want to contribute to negativity, so I am just having fun with it and enjoying it. 
AG: We have seen so many examples of guys from the PGA and LIV Tours going back and forth on social media as of late, and there seems to be a fracture in the game today. What are your thoughts on that whole dynamic?
GC: The one thing I don't care for is the players having a go at the other players. I understand commentators and the role they play, and they have to do it. I have never really been a fan of commenting on my peers and their choices. I don't know what's going on in their lives, and that's not my place to judge what they're doing. In fact, quite a few of them are friends, so I just wish them luck and hope they do well. The major championships are the biggest winners in all of this. Four times a year are going to be the only times we see all the best players in the world at the same place, and that is a bit of a shame, but that's the way it is now. 
AG: Do you think the LIV Tour is sustainable?
GC: The fans and the market will decide if it succeeds. It's a new product and if you get outside of America, these markets are starved for great, high-level tournaments. It's going to be interesting to see, but I think it will be maybe five or 10 years before we really know how this all plays out. I know there are a lot of PGA TOUR players who have a lot of faith in what the tour is doing with the different options and purses. That aspect of it has been interesting to see play out. Ultimately, the fans will decide.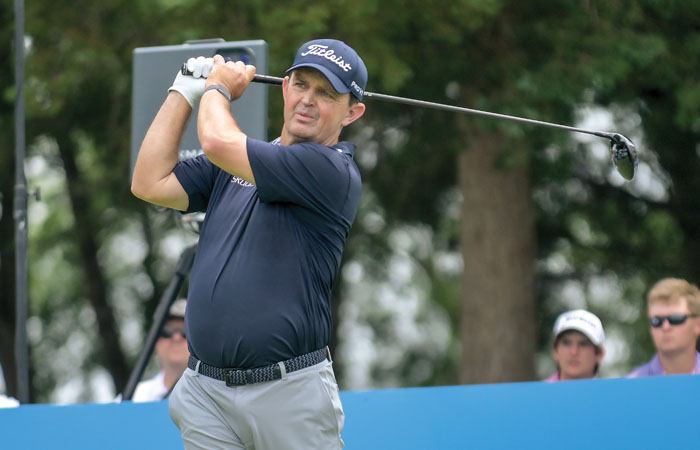 AG: There are so many great young players with huge personalities out on these tours. Who are some of the younger players you enjoy watching? 
GC: I am a big fan of anyone who is a high-level player and can consistently churn out great results. Take guys like Jon Rahm and Scottie Scheffler, who has been nuts over the last couple years. I haven't had a chance to play with a lot of the guys I would like to play with, because they aren't exactly playing the same schedule. I got to watch Rahm hit balls in Mexico last year, and he's amazing. Basically, anyone who has to do a TV interview after every round is a guy I like watching play. 
AG: You have two boys, are they interested in the game?
GC: Yes. My oldest is about to head to (Texas) A&M, so we're excited about that. My youngest is a sophomore in high school, and he actually just approached me about wanting to start playing again. But it's a hard game, and you can't force the love of the game. But, hopefully, this summer we'll get him back out there and start playing again.
AG: Thanks, and keep those tweets coming!
GC: Thanks, mate.