Friday Fights Golf Course Style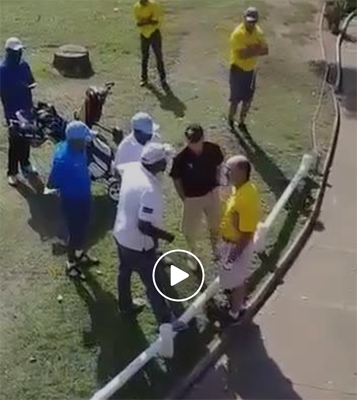 Oh boy. Here's an altercation on a golf course in South Africa as reported by Dispatch Live. As in most golf "brawls" there are few punches thrown but a whole bunch of bowing up. Hardly a full blown UFC tilt.
And yes, be careful watching at work.
Apparently the Indians were turning around after the 1st 9. The white guys tried to go before them. They approached the caddie master who allowed them to go through. An argument started and the white guy called them coolie and black charous. That's when the fight started

Publicado por Yunus Elias em Quarta-feira, 9 de agosto de 2017
"Yeah I'm filming it'" one of the ladies shouts as male players hurl abuse' insults and punches in the footage.
"What's the matter with you? – You are on a golf course' you on a golf course man'" the ladies shout.
"It happened early on Saturday morning. I am not sure what the argument was about. I just heard a lot of shouting then I saw that there was a big punch-up' so I don't know what the hell the situation was about'" she said.
Stay classy.