Why Pat Perez And Caddie Are Golf's Longest Running Bromance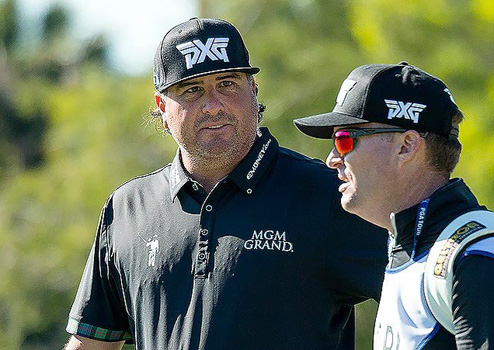 I'm enjoying the stories revolving around Pat Perez. The refreshingly honest Tour pro is having a great go of it lately which means he's in the public eye more than ever.
The other day, he announced that wife Ashley is preggo.

Then, there is this cool story by Cameron Morfit on pgatour.com on the long bromance between Perez and caddie Mike Hartford. Its a long piece worthy of your time.
They met as teenagers, and Perez, 41, and Hartford, 42, have rarely gone more than a day or two apart since. It's been a fruitful partnership; they've racked up three PGA TOUR victories, including two in the last 16 months, and more than $23 million in career earnings. After a tie for fourth Sunday at the Sentry Tournament of Champions, Perez moved atop the FedExCup standings, 43 points ahead of Sentry winner Dustin Johnson.
Perez and Hartford also recently became the longest-running exclusive player-caddie partnership in the game.
"I knew way back in the day," Perez says. "After high school and college, still being in touch, I knew that he was going to be in my life forever. He was just that kind of guy; that kind of friend."
"I just always wanted to be around him because he was so funny," Hartford says, "but also because he was a great player and he was trying to help me work on my game."
Jim Furyk and Mike "Fluff" Cowan have been together longer, but Furyk has had other full-time caddies, while Perez has never had anyone but the man he calls "H." When Phil Mickelson and Jim "Bones" Mackay split last summer, Perez/Hartford went to the top of the list of the most time-tested active tandems on TOUR.
They have walked side-by-side since Perez's rookie TOUR year in 2002, on the Web.com Tour before that, and as amateurs before that. When Perez won the 1993 Junior World at Torrey Pines, Hartford drove him to the course each day. (Perez had totaled his car and needed a ride.) They have been together so long that Perez used to work for Hartford, not the other way around. Hartford started a lawn-care business when he was 11, and hired Perez some five years later. "He was the fastest worker I ever had," Hartford says with a laugh.
"I always say there are maybe five combinations out there where no one caddie could do a better job for a player than that particular caddie," says John "Cubby" Burke, who has caddied for Brad Faxon, Davis Love III and others in a career that has spanned 32 years. "Everyone else is kind of interchangeable. There isn't another caddie out there could do a better job for Pat than H.
"I would say the same thing about Bubba Watson and Ted Scott," Burke continues. "Mickelson and Bones had it, and Freddy Couples and Joe LaCava. That's about it. That's rare air."