Ted 'Harry' Potter Jr. Magically Beats Ridiculous Odds To Win AT&T Pebble Beach Pro-Am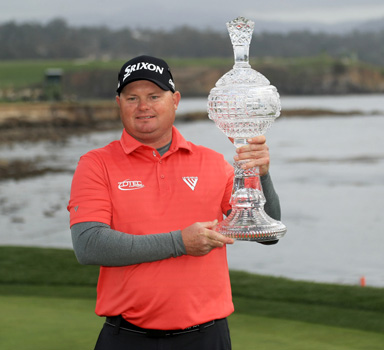 Ted "Harry" Potter Jr. somehow magically beat some ridiculous odds to win the AT&T Pebble Beach Pro-am. How ridiculous? How about being picked by only 0.1% of the 146,000 DraftKing wagerers. That may be the lowest percentage ever for an eventual Tour winner.
What's even nuttier, is he beat the #1 ranked player in Dustin Johnson, Phil Mickelson and Jason Day (who all finished T2). Even crazier is Potter was paired with Johnson in the final group and it was DJ who blinked first (Potter shot 69 to DJ's 72). All that while coming down the stretch having to wait on nearly every shot since Johnson's amateur partner (and father-in-law Wayne Gretzky) had to WD on Sunday 'cause of a bad back. A threeseome behind a foursome is always a delay in the making. And weird thoughts can enter your mind when trying to win the biggest tournament of your life.
Golf.com's Alan Shipnuck posts the incredible rags to riches story. Even some of his peers knew nothing about Potter.
Asked on Sunday if he could share any anecdotes about Potter, Kevin Na said, "Sorry, I don't know anything about him." Paul Casey added, "I have nothing for you. I honestly couldn't pick him out of…no I don't want to say that, because it might come across wrong. I'm sure he's a lovely fellow. I just don't know him."
When he three-jacked the first hole of the final round it seemed only a matter of time until Potter exited stage right. But Potter has been to hell and back on the golf course and he was not inclined to give up the ghost.
In 2004, when Potter was just trying to launch his pro career, he missed the cut at all 24 of his starts on the Web.com tour. That would have broken a lesser competitor, but Potter rebuilt his self-esteem on the Hooters tour, winning 12 times over the next half-decade and twice being named player of the year. (Including mini tours of all shapes and sizes, Potter estimates he has around 60 professional victories, the value of which can't be overstated.)
In July 2014, he shattered his right ankle tripping over a curb in flip-flops. It took two surgeries, 12 screws and a pair of metal plates to put Potter's ankle back together. He was sidelined for two years and then rehabbed his game on the Web.
"The guy disappears for three years and then comes back and wins at Pebble Beach?" Na said Sunday. "That's impressive. Good for him. I like stories like that."
Who wouldn't?
For one day, Potter was the best of the best.