Veteran Tour Caddie Sees Plenty Of Old Tiger In The New Tiger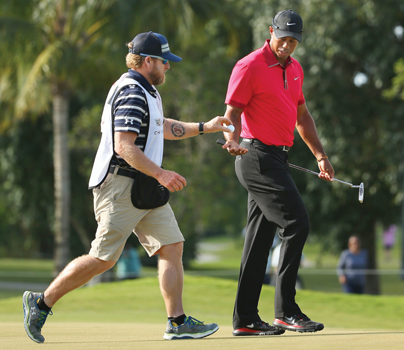 Veteran Tour caddie John Wood (currently on Matt Kuchar's bag) was asked his assessment of Tiger's return to competitive play. Let's just say he was mighty impressed as told to Golfweek.com's Dan Kilbridge.
"Listen, I have so much respect and admiration and love for the way these younger guys play the game and what they bring to it," Wood said. "The game is in great hands with Jordan (Spieth) and Rickie (Fowler) and Rory (McIlroy) and Justin (Thomas). That being said, Tiger Woods brings more to a tournament than the next 10 guys in the world all together bring."
"Before, there was so much pressure on him to be this perfect person, perfect golfer," Wood said. "This was a guy who couldn't go out to dinner for 10 years because he'd be accosted. It was like being a Beatle. He felt this amazing pressure to be the person everybody wanted him to be. I think now he accepts his imperfections. He jokes about them, and he's one of the guys a lot more. I think he's in a really good place in his life."
"He was always awesome to play with … but when golf ended he was pretty guarded, because he had to be," Wood said. "Now he's a lot more open and is enjoying being Tiger Woods."
In his prime he was the best at everything. The best driver, the best escape artist, the best chipper, the best putter and the best mentally. There were incredibly impressive shots, but the most impressive thing was the habitualness of it all.
"The cavalcade of disasters that had to happen for him to make a single bogey was so improbable, because he was so good at everything," Wood said.
Which just might be the most surprising (and yes welcome) change to the new Tiger.
Wood also offered up a cool sidebar when he was looping for Kevin Sutherland when they were in the final group with Tiger at the 1999 Buick Open at Torrey Pines in San Diego.
On the 18th green, Woods essentially had the victory wrapped up but faced a difficult downhill putt with about 4 to 5 feet of left-to-right break. Sutherland already had chipped onto the green and marked his ball.
Tiger asked Wood to come over and told him Sutherland needed to putt out and finish.
"I said (Sutherland) would really be uncomfortable doing that," Wood said. "Tiger said, 'Listen, tell him to take his time. Don't worry about standing in my line or in my through line or anything, but when I make this putt everybody's gonna go crazy and he's not going to have any peace to make his putt.'"