After the Round – Chamberlain's Steak and Chop House

Richard Chamberlain has long been in the restaurant game. When he opened Chamberlain's in 1993, the accolades were immediate, from being named One of America's Top Tables," from Gourmet magazine to "One of America's Top Restaurants," from Zagat's, Chamberlain's love of food and passion for creating a top-notch fine dining experience has kept Chamberlain's at the top of mind for those in Dallas looking for a great meal. 
Now, 27 years later, Chamberlain and his staff are facing unprecedented events and trying to evolve and stay busy during the COVID-19 pandemic. 
Chamberlain's shows off all of the creature comforts you would expect from a fine dining experience. Diners can self-park, or if they choose, they can also valet. As you enter, you are immediately greeted with a friendly face and you can tell it's going to be a great evening out. The restaurant is quaint, warm and welcoming. There is a bar area to the left as you enter where diners can enjoy a pre-meal cocktail or glass of wine, or if you choose for a more casual dining experience, you can eat right at the bar top. The rooms are covered in warm wood and earth tones, with low lighting making sure this is a romantic atmosphere if you're celebrating with someone special. 
If you are looking for private dining, Chamberlain's also boasts four private dining rooms. The Wine Room can accommodate 18 guests, the Executive Room has seating for 25, the Board Room can handle parties of 30 and the largest private dining experience, the Proprietor Room can seat 70. They are all fantastic for dinner meetings or parties. Amenities for the private dining areas include custom menus, an extensive wine list, state of the art audio and visual equipment, LCD projectors, screens, P.A. system, lavalier and wireless microphones as well as complimentary valet parking.
In addition, Chamberlain's also includes their famous cigar lounge. With plenty of seating, TV's and state of the art ventilation system to filter out smoke, it's a wonderful place to have some post round cigars and cocktails. The lounge also has a great ambiance, with high backed leather seating, wood accents everywhere, and about 25 different cigar selections to choose from. Of course, if it is just a cigar and a signature drink you crave, they will accommodate, but the Chamberlain's full menu is also served in the lounge, so if you want a world class meal followed by an after dinner smoke and drink, they will take care of you. The lounge also features live music several days a week, so you can enjoy some tunes as you dine or enjoy your fine cigar.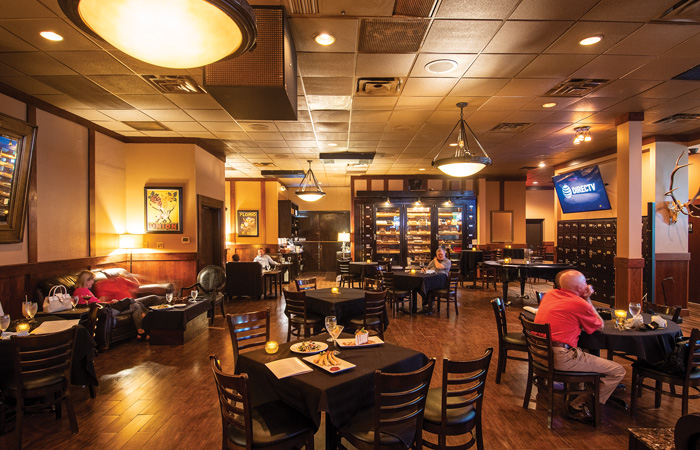 The menu at Chamberlain's is a combination of classic steakhouse staples that have been given an upscale evolution through Chamberlain's attention to detail and his outside the box thinking when it comes to creativity. 
The appetizer menu is extensive, with many of the things you would expect to see on a steakhouse menu. Crab cakes, oysters on the half shell, and a shrimp cocktail. But there are also some very unique items that you won't find anywhere else. The Bison & Prime Beef Meatballs are a great example. Gamey but tender, they come with a fantastic whiskey-based peppercorn sauce that is rich and savory. 
The Lobster Deviled Eggs are another unique item to the Chamberlain's app menu, and they are as good as you might imagine. If you aren't an egg person, you can always go for the Asian inspired Wagyu beef pot stickers. Served with a sesame soy glaze and an Asian slaw, they are certainly not something you would expect to find on the menu at the top-quality steak house. 
We sampled the Jumbo U-15 Shrimp Cocktail, and it was a fabulous way to get our meal started. These shrimps aren't your typical crustaceans, as they fill the plate to the edges. They are big, served chilled and they are delicious.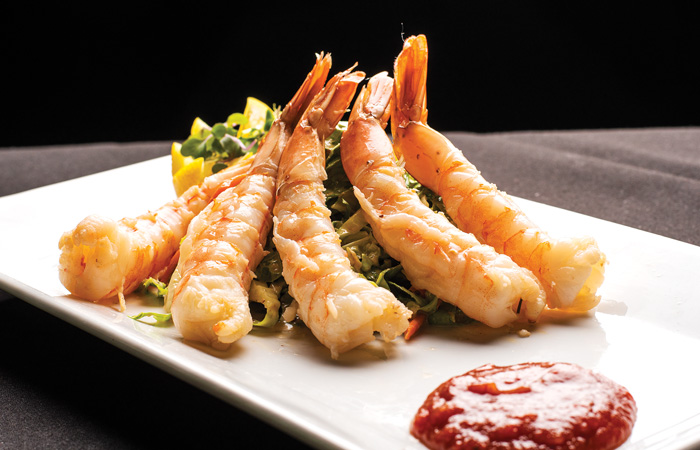 As for a salad course, we tried the Chop House Salad. Which came served with baby lettuce, Heirloom tomatoes, olives, carrots and feta cheese. It's a rich salad, so it may be best split among the group so there is room left for main courses and dessert.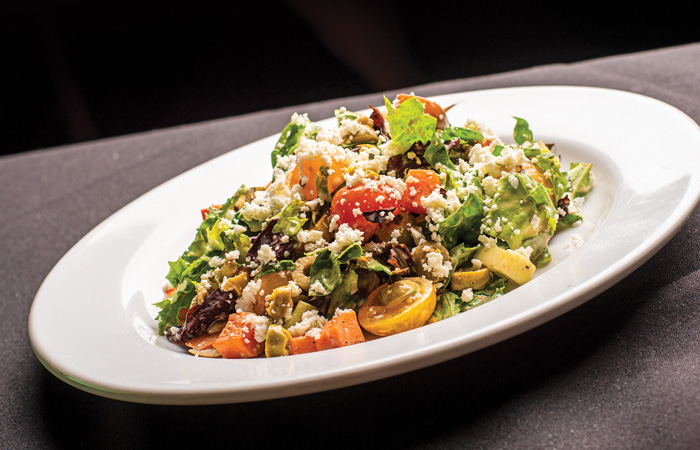 They also feature a standard Caesar, and other highlights include an almond crusted goat cheese, and a fresh mozzarella and baby heirloom salad. 
If you aren't in the mood for steak, or maybe you're on a specific diet that frowns upon red meat, Chamberlain's also features a great selection of seafood. One of the dishes we were served was the Wild Alaskan Salmon with a lemon chardonnay sauce. In my opinion, there isn't much better than well prepared salmon, and that was the case here. A little rare in the center still, which kept the fish moist and succulent. The sauce was bright, vibrant and really complimented the fish well. The fish came served with some crispy broccolini, which made this dish both delicious and great for the health conscious.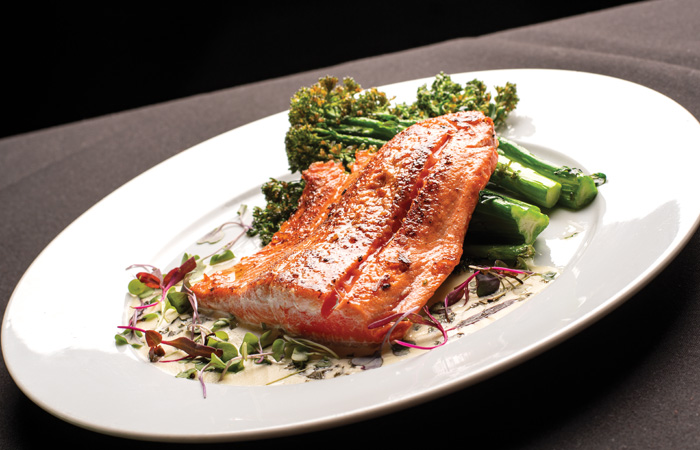 Other seafood selections include the Chilean Sea Bass, Pecan Crusted Idaho Rainbow Trout, Lemon and Almond Crusted East Coast Flounder and Pan Seared Scallops. Any of these are great for someone that isn't a steak person. 
As with all top end steak restaurants, the steaks are the star of the show. It is no different at Chamberlain's, as their selection is as good as any in the Metroplex. We had the dry aged bone-in Ribeye, which is one of their top sellers. We had it with some rich and buttery roasted garlic mashed potatoes and some fresh roasted asparagus. One element that you may not find at other steak houses is the compound butter that can be ordered to accompany your meat. In this case, the Ribeye had a port wine and roasted garlic butter atop, and as it started to melt, you really got the nose of the garlic and wine. The butter was a perfect accompaniment to the steak and added some richness to the dish.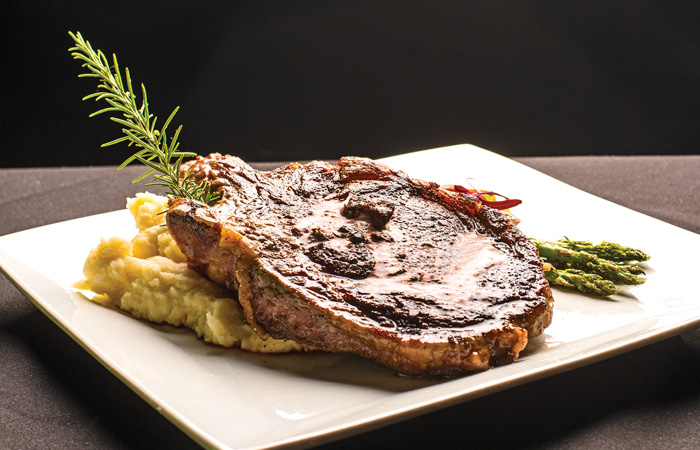 If you are after a smaller portion, Chef Chamberlain offers a 6 oz, 8 oz or 10 oz filet, each aged 40 days to perfection. You can also select a 14 strip or the 16 oz ribeye. If you are looking for something maybe a little outside the box, try the 16 oz Island Style Ribeye. It is marinated with soy, ginger, garlic and pineapple. The pineapple juice helps break down muscle tissues in the beef, making for one of the most succulent ribeyes you will ever have.
If you are wanting to take your steak to the next level, be sure to add some Bearnaise sauce, some Farmstead blue cheese butter, or some Porcini Mushroom-Madeira butter. Any of these compound butters will enhance the flavor of your entrée. 
When you talk about great dining experiences, of course the steaks often speak for themselves, but a great compliment of sides can really make or break the meal. 
Chamberlain's has all the staples. Sautéed spinach, marsala mushrooms, baked potato, mashed potatoes, and one of my personal favorites, the crispy Brussel's Sprouts with applewood bacon. A wild mushroom mac & cheese is also on the menu, but not being a mushroom eater, I decided to pass. I would have to imagine those who do fancy the mushroom would be a huge fan of this one, though. 
As you wrap the meal, don't forget to peruse the dessert menu and find something for you and your party. The desserts at Chamberlain's are spectacular, beginning with the triple chocolate cake with Godiva chocolate sauce. In addition, they also have a Florida key lime pie and a New York Style cheesecake. We were presented with the white chocolate coconut cream pie, and let me tell you, it's one of the top few desserts I have ever had. Served on a white chocolate crust with toasted almonds and then drizzled with a salted caramel sauce, it has everything a great finish to a meal should. It satisfies the sweet tooth, and the salty caramel sauce gives just a pinch of saltiness to balance out the sweet. It was a wonderful final piece to the puzzle.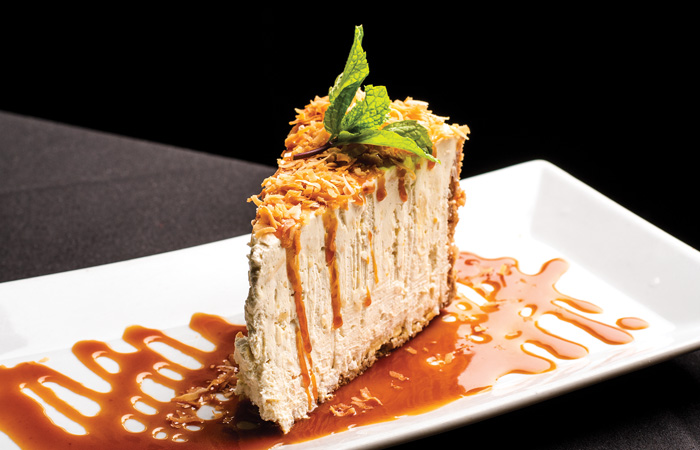 With the COVID-19 pandemic of 2020, as with other restaurants, Chamberlain and crew were forced to think outside the box to help keep the lights on. A curbside pickup deal has been a big hit with Chamberlain's regulars, as they can pull up, and get their meal brought out for take away. The full menu is available for curbside, but they also have specials they are running to keep up business and give their customers an affordable fine dining option to take to their own home. For example, over the last several weeks, Chamberlain's has been offering two course meals for just under $30. With this comes customers choice of starter and one entrée. Not a bad deal for those who want a quality meal but may not be comfortable with going and sitting in a restaurant just yet.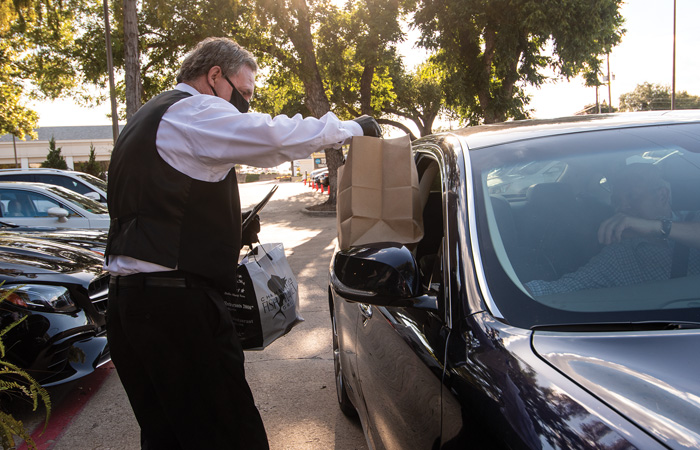 At the end of the day, evolving with the times is just part of the restaurant business. Richard Chamberlain has done just that. He keeps pushing the envelope, adding and evolving his passions. From his dining room, to his cigar lounge, to the plates he presents in front of his customers, Chamberlain's checks all the boxes for a wonderful night out, or some curbside pickup to enjoy in your own kitchen.