After the Round – Daylight Golf

If you're a die-hard golfer, then you want to play at just about any given moment. So, what do you do when the weather isn't cooperating? If it's raining sideways, below 40 degrees or the temp is screaming at 110 during August, it can be hard to get motivated to tee it up. Luckily, there is a new alternative in Grapevine that allows you and the rest of your foursome to keep your game sharp, even during those times when it may not be feasible to be outdoors. 
Daylight Golf is a new venture by Jeff Dill just across from Grapevine Mills. The virtual golf simulators, upscale menu and cocktail program are exactly what you want if you can't make it to an actual golf course. For starters, this is as good a place to watch a game as you will find in the Metroplex. Even if you aren't interested in the golf simulators, the bar and seating areas feature 34 TVs for your viewing pleasure, any of which can be tuned to your desired game at any given time. So, it's one heck of a place to just tilt some drinks and take in the Cowboys, Rangers, Stars or Mavs. 
If you're looking to partake in some simulator golf, then there are plenty of options. There are five state-of-the-art simulators that can take you to any one of 35 courses around the world. Never played Pebble Beach? It's on there. Pinehurst No. 2? They have it. So, needless to say, this is a much cheaper alternative to traveling and playing the actual courses, which can run into the mid-four figures. Having been to several of the available courses on the simulator, I was ready to give it a scrutinous eye to see if the courses look and play the same as in real life.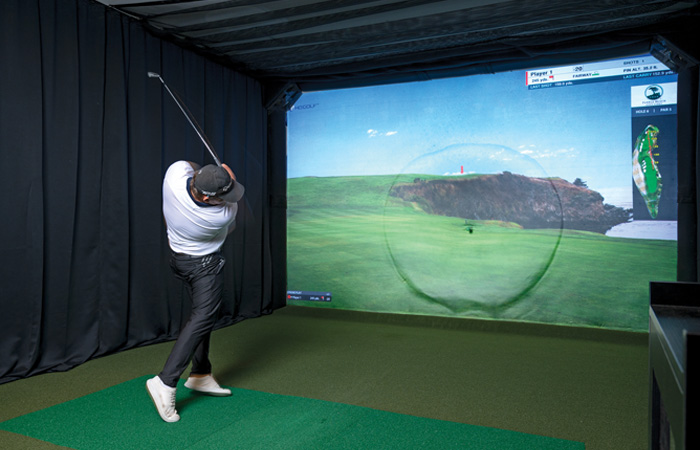 As my first venture into the virtual world, I took a look at Pebble Beach Golf Links, which I was fortunate enough to visit back in 2010. I must say, the course played very similar. The technology is built around using industry-best mapping to accurately model each course down to the finest detail. High-Definition Golf uses 3D modeling software to incorporate real course data into the experience. Each course is shot in full hi-res, along with geophysical and satellite data to assure that it is as accurate as it can possibly be. So, when you step on the tee at the iconic par-3 7th hole at Pebble, it looks and plays identical. 
After playing some holes at Pebble Beach, I wanted to see how accurate some of the other courses were. One course that may not be as familiar as Pebble, Pinehurst or The Old Course at St. Andrews is the Dye Course at French Lick. I was able to play that one a couple years ago and was stunned at how accurate the virtual version was compared to the real-life course. Even though it may not be as well-known as some of the other tracks available, it still plays the exact same, down to the last detail. 
Other courses include Bethpage Black, Doral's Blue Monster, Spyglass Hill, Torrey Pines and Kiawah Island. In total, there are 40 courses to choose from at Daylight, and they are all fun and as accurate as playing the real version. 
If you're curious about how the technology works as you swing the club, HD Golf has patented smart-cameras that take more measurements, more accurately than any other simulator company. In real-time and throughout ball flight, the software converts these measurements into visually realistic shot outcomes that keep players coming back. In addition, there is no delay as the ball makes impact with the screen itself, meaning there is a seamless transition between swing and result. When it comes to the result and ball flight, there are, at minimum four cameras capturing the swing. These analyze spin, clubhead speed, launch angle, swing path, object contact (heel/toe), club face (open/closed) and smash factor. All this data is analyzed and gives you and your group a true outcome for every shot. Having played a ton of golf, I can generally tell, based on contact, where the ball will end up. A little heavy, a little thin, right, left or flushed. I generally play a cut, and as far as I could feel, the data and the results were what I would expect based on the feel of each shot.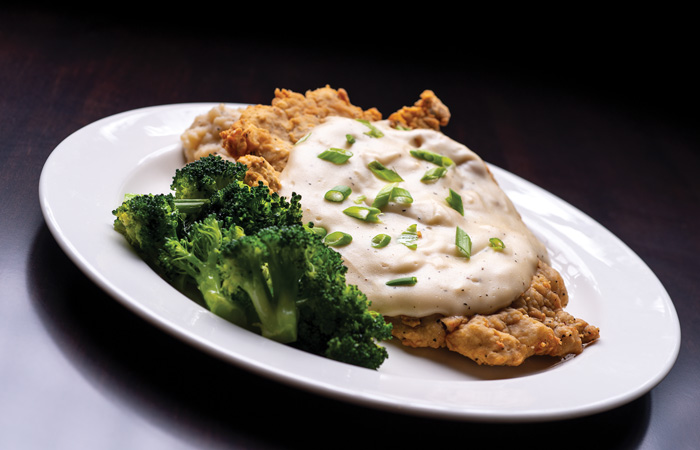 We've discussed how the simulator registers and displays full shots, but what about putting? Putting is obviously a critical part of playing golf, and one that needs to be represented if you want to get the maximum feedback from your simulated round. When it comes to the flat stick, the simulator is pretty accurate. Players drop the ball in front of the designated hitting zone and then the course gives you a read of the putt you're facing using a collection of lines on the screen. You take a normal stroke, and the putt is sent on its way to the hole. You can set up your game for a two- or three-putt max, which helps speed up the round. 
Overall, I must say the simulators are a ton of fun. Sure, you aren't actually outdoors playing golf, but they are very accurate and make for a great time, no matter which course you choose. 
Daylight is more than just simulated golf, though. They also have great food and drinks to enjoy as you play or watch some ball games. To begin, they have several signature cocktails to enjoy as you tee it up. The Azalea is a favorite, with Fords Gin, pineapple juice, fresh lemon juice and a splash of grenadine to add some sweetness and a little red color. 
Another favorite is the John Daly, which is a combination of Deep Eddy Lemon Vodka, Deep Eddy Sweet Tea Vodka and some lemonade to cut it. It's essentially a spiked Arnold Palmer. Trust me, you won't be able to get enough of this refreshing treat. 
If you're looking for some sharables to eat, the cheese bombs are a great appetizer – fresh mozzarella wrapped in biscuit dough and then served with sriracha aioli. Bacon-wrapped jalapenos, wings and even fried pickles are also available. Although they aren't on the appetizer menu, another great splitable dish are the shrimp. They can be served grilled or fried and come with a pair of sides. We sampled the fried version, and they were perfectly cooked. Oftentimes, fried shrimp can get rubbery, or the batter can take in too much oil, making them heavy. Not here, as the breading was light, and the shrimp weren't overdone.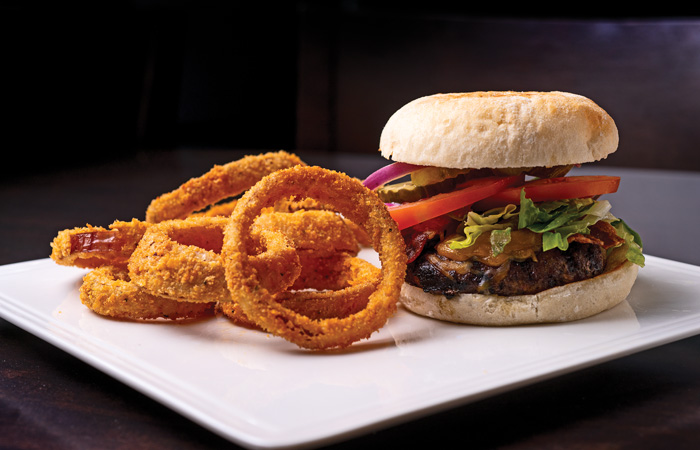 If you are interested in a burger or sandwich, Daylight has those as well. We tried the Daylight burger, which was a third-pound patty topped with bacon chipotle jam, caramelized onion and goat cheese. It's different, with some sweet from the bacon jam and some creaminess from the goat cheese. I highly recommend it. The onion rings that were served with this burger were solid. Not greasy or overdone. They also have a cheesesteak, a club sandwich and even a Monte Cristo, which has ham, turkey, swiss and American cheese, batter-dipped, deep-fried and topped with powdered sugar and some raspberry serrano sauce. 
If you want something more substantial, then you can look at the "Back Nine" portion of the menu. These entrees will fuel you up as you prep for some more virtual play. We were able to sample the chicken fried ribeye, which is tenderized and then deep-fried. It comes served with a pair of sides and some peppered gravy. 
We also enjoyed the Dr. Pepper pork chop, which is as advertised … a 10 oz. chop grilled with a Dr. Pepper glaze. The Dr. Pepper caramelizes and adds a sweetness to the chop, which is tender and juicy. Again, this dish is served with a couple of sides. Both the chicken fried ribeye and the pork chop were great, but Daylight also has steaks, jalapeno-glazed salmon and even a quesadilla.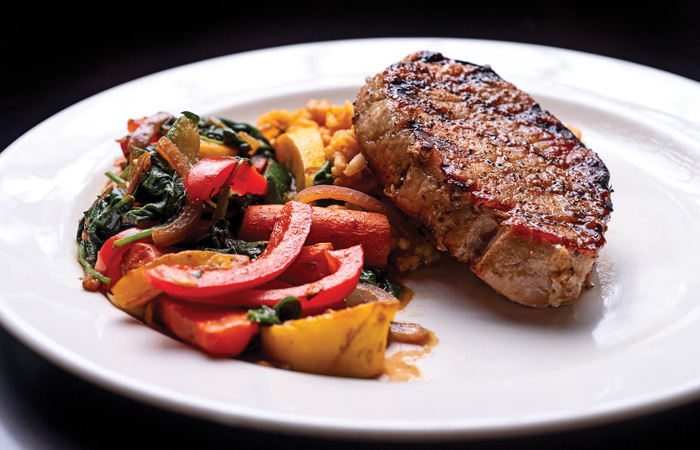 We mentioned that most entrees are served with a pair of sides. They include fries, onion rings, rice pilaf, garlic mashed potatoes, mac n' cheese or even a vegetable medley. We got the mashed potatoes and the veggie medley, and they were both a nice accompaniment to the main courses. 
From an entertainment standpoint, if you are a golfer, you will love Daylight. It can provide hours of entertainment at some of the most iconic courses around the world. Sure, it's not as realistic as actually getting out to the course, but as far as simulators go, this one is as close as you can get to the actual game. There are times you really don't feel like it's a simulation. Couple that with some rock-solid food options, and Daylight Golf is Grapevine is a great spot for your next golf outing, corporate event or birthday party. 
Daylight Golf 
2505 Grapevine Mills Circle 
Grapevine, TX 76051
817-394-4782
www.daylightgolf.com