Course Review – Watters Creek

For daily fee players, there are a multitude of choices when it comes to where we want to spend our golfing dollars. With Texas being a hotbed for golf, of course there are more options than we know what to do with. However, there are a select few that truly stand out as a cut above the rest when it comes to a great combination of course conditions, practice facilities and clubhouse amenities. Watters Creek in Plano is one of the courses in the Metroplex that checks all those boxes, and if you live in the area, it is a track you will want to frequent over and over again. Although it is technically in Plano, the City of Allen actually owns the course that was renovated fully back in 2013. 
"We achieved our goal of creating a course for everyone during our renovation that was completed in 2013. Said Jeff Holt, Watters Creek Director of Golf. "Whether you are a beginner or advanced player, you will find a course that fits your game and playing ability.  With our outstanding practice facility, we truly have golf for everyone."
If you have followed AG's Best of Public issues over the years, you will often find that Watters Creek is routinely listed as our best practice facility. If you have been there, then it is easy to see why. An expansive driving range, nine-hole Futures Course and short game area are second to none when it comes to public practice facilities. 
The Futures Course features six holes that range from 40-120 yards in length, with two tee boxes per hole and five bunkers scattered about. Lights provide an illuminated practice experience for those shorter fall and winter afternoons. This facility is a great place for beginners who aren't quite ready to tackle the 18-hole course, or for the advanced player who is looking to dial in their game from 100 and in.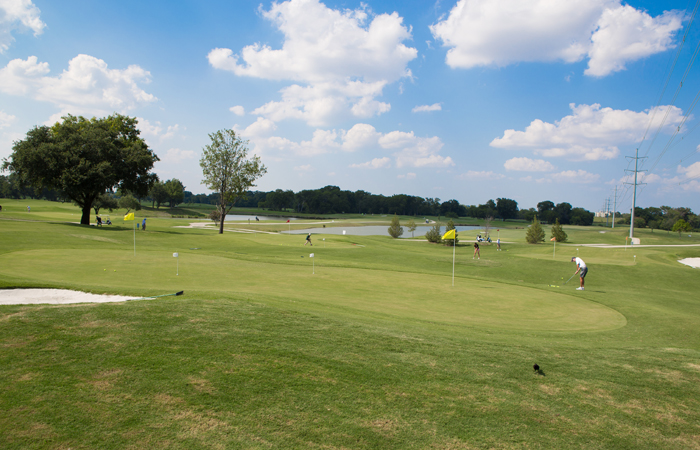 In addition to the Futures Course, Watters also has the nine-hole, par 30 Players Course, which has six par-3s and three par-4s. The Players has three sets of tees and a trio of bunkers. It's another reason why this facility is a range rat's dream. Being an Arlington resident, I wish I lived closer to take full advantage of all the great practice opportunities they have at Watters Creek. 
The neighboring short game facility boasts three chipping greens, surrounded by five bunkers of various depths with varying hills that can provide just about any lie a player might face while playing a round. There is fairway cut and rough cut to emulate any condition you might see on the course. 
The opening hole at Watters Creek immediately gives even the most skilled players a challenge. From the tips, it plays 444 yards. A long cut tee shot is required on this No. 4 handicap hole. A fairway bunker and some mounding left of the primary landing zone can collect any pull, and shots that find their way too far right can have tree issues or find Russell Creek.
The third is the first appearance of a par-3 on the course, playing at just 153 yards. This one plays a tad uphill, so be mindful of your club selection. If may play a half club longer than it reads on the scorecard.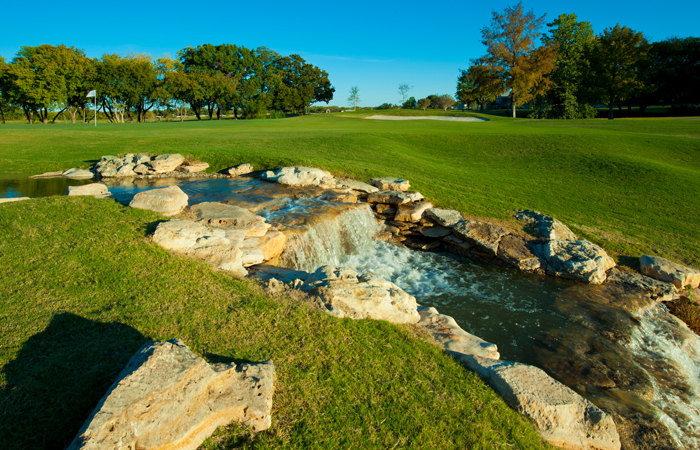 The last time I wrote a piece on Watters Creek a few years ago, I mentioned that the par-5 fourth hole might be one of my favorites on the course. And after having seen it again, that hasn't changed. A long draw with a driver is the play but be aware that if you favor the left too much, you can get a poor kick and have tree issues. There is also a creek that runs along the left that players can find with one that is very left. A large target bunker in the fairway is a good line with a slight draw. One thing I really enjoy about this hole is the bunker about 40 yards short of the green. It appears that this bunker is actually greenside, so for the first-time visitor to Watters Creek, it may appear to be a good spot to leave your second shot. But, in reality, a shot that finds this trap leaves the always unpleasant (and rarely practiced) 40-yard sand shot. 
No. 6 is the signature hole at Watters Creek. A long iron or hybrid is the play for longer hitters here. Find the fairway and there is a fun, elevated approach over a creek. Careful not to miss a touch right or some tree trouble might force players to chip back to the fairway rather than risk rinsing one in the creek while trying the miracle recovery shot. The green here slopes back to front, so missing long is no cupcake of an up-and-down. 
The seventh is another fun par-5. Though, at just 512, it's on the shorter side; the uphill tee 
shot makes this one play longer. A trio of fairway bunkers make this a tough driving hole. Find one, and you'll be laying up. If you manage to navigate through them, you have a downhill over water second. If you manage to carry it all the way there, since you'll probably be hitting a longer iron, your ball will likely chase to the back of the green, leaving a tough two-putt from this multi-tiered green. If you choose to lay-up your second, you'll be hitting your third over the water, and from the front right angle, there isn't as much green to work with.
The final hole of the outward nine is a gorgeous par-3 over water. The pond between the tee and green is filled with lily pads and native flora that make this one of the most aesthetically pleasing tee shots on the entire course. Of course, you may not like it as much if you come up short and find the water. Regardless, it's a pretty view and a nice finish to the front nine.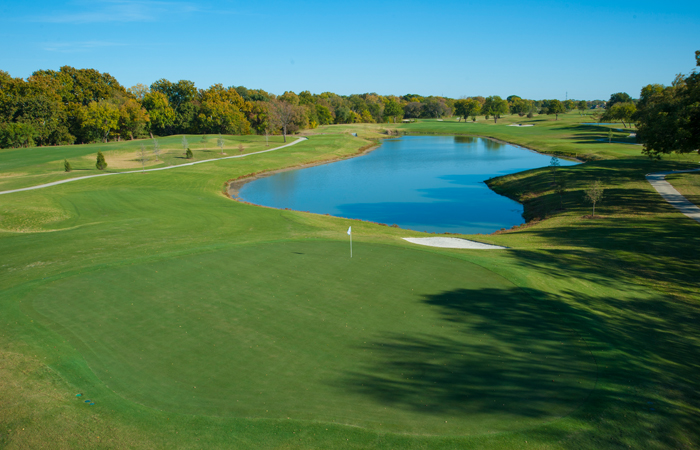 The short par-4 10th is a dogleg right. Longer hitters can keep driver in the bag here and take the fairway traps out of play. A long iron or three-metal will leave a short approach over Russell Creek, which is a real scoring opportunity to open the back nine. 
No. 12 plays at 376 yards, and although there is a slight dogleg left, the bombers can rip one out there and get a scoring club in their hand. You'll want to get a couple shots over the first few holes on the back and give yourself a little breathing room for the finish, as five of the top nine handicapped holes make up the final six.
Despite being listed as the no. 7 handicap on the course, the par-5 14th hole can still be gettable. The tee ball requires a carry over water, but it really doesn't come into play unless you happen to top one. Avoid the trees down the right and you will have a reasonable chance at getting home in two. A layup, however, could be a smarter play, as this green and surrounding bunkers can be tough. 
No. 16 is tough customer. At 215 yards over water, this par-3 will test even the best ball strikers. On this hole, if you don't hit solid, you're likely going to end up hitting three from the tee. If you do flush a long iron, there is a bunker short of the green that can make for a tough up-and-in, and if you happen to catch this one on a day when it's playing into the wind, it can be a real bear. 
No. 17 plays as the most difficult hole on the course at Watters Creek. Playing back into a predominantly southern wind, this 477-yarder is the longest par-4 on the course. The same water that was in play on 16 is again in play off the tee on 17. If you subconsciously get scared of the water and blast one way right, the hole will play more like a par-5. To maximize distance, a draw is the optimal play, but if the draw turns into a hook, you can be looking at a penalty stroke and a potential big number.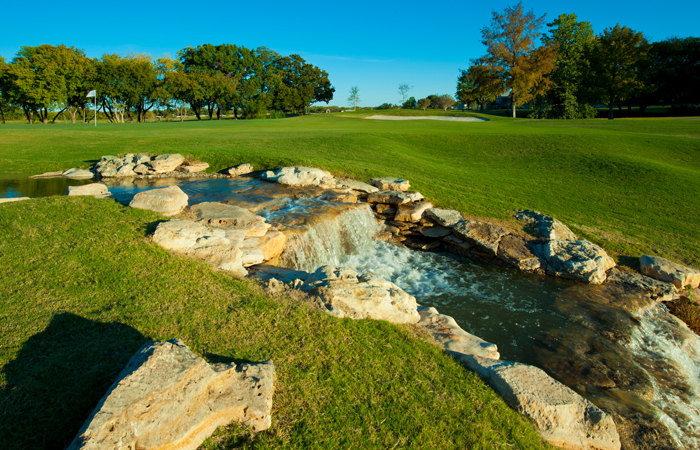 The final hole at Watters Creek is a par-5, which I always enjoy. If you somehow hemorrhaged a couple strokes through the tough 16th and 17th, this presents one last opportunity to get a stroke back to leave with a good taste in your mouth. Again, water down the left side is in play, but a solid strike will carry it easily. Just avoid the lone fairway trap and you can have a legitimate shot at trying to reach the green. There is a creek that streams across the fairway, but only the longest of hitters need pay any attention to it off the tee. Two bunkers down the left side and one right protect the lay-up zone if you choose to play this as a three-shot hole. If you miss your second or third shot right of the green, it can be a tough up-and-down to finish with a tweeter.
Overall, Watters Creek is a top-notch facility. Of course, they, like many other courses in the area, saw some damage during the freak February winter storm, but they are working hard to get things back to normal. In fact, greens were being aerated the day after we were there, so by the time this article hits the shelves, they should be in fantastic shape. 
At minimum, Watters Creek has everything you need to improve your game: a full 18-hole course and one of the best public practice facilities in the area. If you are in the area, it should be in your normal rotation of courses, and if you are on the west side of the Metroplex, it's certainly worth the trip to check out.