After the Round – Hurtado Barbecue

Brandon Hurtado spent years as a bac yard barbecue master. A guy that would toss back several adult beverages as he babysat fires and meats on the weekend. After some experience and some trips to central Texas where he tasted 'cue from masters like Aaron Franklin, the Argyle resident decided that it may be time to try his hand at running a restaurant of his own. 
As Hurtado built his marketing company, which is right down the street from his new brick and mortar restaurant, he tinkered with recipes and flavor profiles, drawing inspiration from other barbecue meccas in the state like Austin and San Antonio. But all the while, he couldn't overlook his Hispanic roots and wanted to include a sprinkle of Mexican flair to his already succulent array of meats. 
At first, Hurtado had the idea of running some pop-up barbecue events. In 2019, he found a partner, in Division Brewing, a smaller craft brewery in Arlington. After several successful pop-up events, he decided to take things a step further and shell out the coin for a food trailer. Fast forward even further, and the next logical step to satisfy the masses was a sit-down venue of his own. Which after some delays, opened earlier this year in Arlington's Urban Union area. An area once littered with used car lots, radiator shops, warehouses and generally seedy human beings. The area is now seen a mind-blowing resurgence, with craft breweries, bakeries and restaurants opening seemingly once every couple of weeks.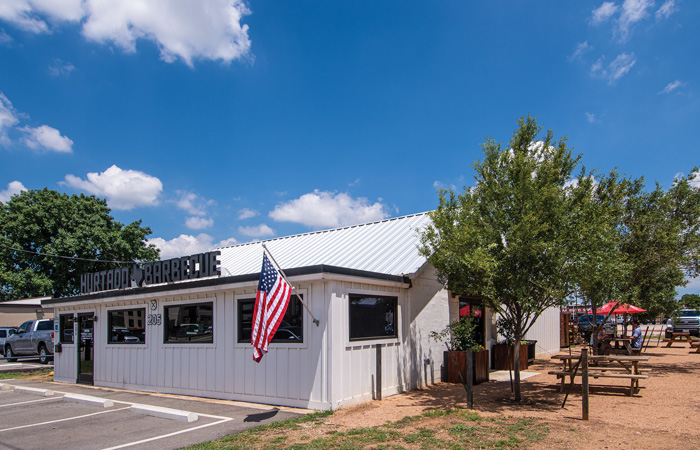 Hurtado joins that resurgence, with a great little dining area and an ever-evolving patio that now has multiple picnic tables to set up your barbecue spread with your buddies. The smoke shack in the back that houses the smokers is nearing completion, but you will still get plenty of that great barbecue smell as you exit your vehicle. It's very Pavlovian, even as your car settles into its parking spot you instantly get that aroma through the air conditioning vents calling you to the front door. 
Simply put, the barbecue at Hurtado is stupendous. There isn't a single menu item that will leave you thinking anything but "wow". 
Although they don't have an appetizer menu, per se, they do have their specials menu which is a collection of items you could definitely order as a meal or as appetizers to split among the table. 
The Texas Twinkies are always a huge hit, and one of the items that helped put Hurtado on the Texas barbecue map. These jalapeños are stuffed with chopped brisket, cheddar and pimento cheese. Yes, you heard that right, pimento cheese. They are then wrapped in bacon, smoked and glazed with their house made sauce. As a bit of a barbecue snob, I can tell you these are life altering. Sweet then spicy with a depth of richness and flavor that no other stuffed jalapeño can touch. They are a complete game changer. 
Also available on the specials menu are the pork belly burnt ends. Pork belly is considered a bit of a delicacy in the barbecue world, and these sweet little sticky cubes of smoked fatty greatness are a wonderful side or appetizer for your meal. They are basically meat candy for your face, and each bite sends your eyes rolling back in your head. There isn't a better singular bite of meat anywhere. 
I mentioned that Hurtado mixed in a little taste of Mexican flair into some of his dishes. Another item on the specials menu is the barbecue tostada. Now, let me start off by saying everything on the Hurtado menu is special, but this may have been my favorite food item I have tried in 2020. A crunchy corn tostada covered with refried beans, some chopped brisket, some house made sauce, a bit of green salsa, fresh onions, cilantro and some cotija cheese. I can't even begin to explain the depth of flavors and textures in one single bite. I urge you to drop whatever you are doing and go get one ASAP. It was that amazing.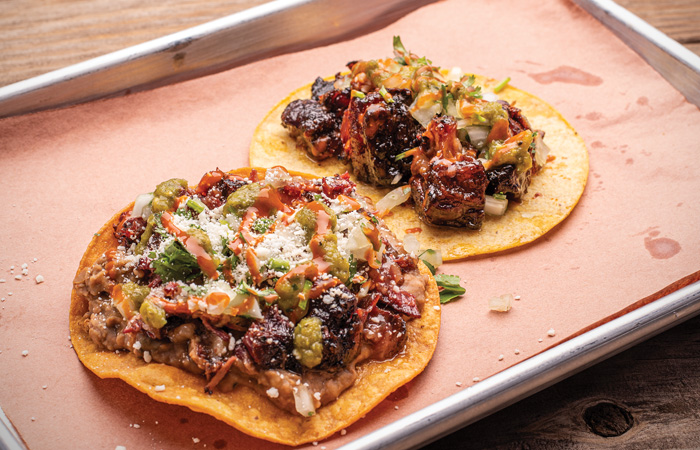 If a more traditional taco is what you're looking for, we also got to sample a pork belly burnt end street taco. Served on a soft corn tortilla with sauce, green salsa and the same chopped onion and cilantro, these tacos are a perfect blend of Texas barbecue and south of the border staples. They mesh well and complement each other perfectly. 
On to the main event. The meats. 
It is borderline impossible to discuss every meat Hurtado offers, otherwise I would be writing a 30-page feature. However, I can give you my Cliff's notes on the ones we sampled during our visit. 
The first aluminum tray that found its way to our table was the El Jefe platter. This is basically a greatest hits of all the best Hurtado has to offer. This sharable sampler will set you back $30 but has enough to feed a small army. 
The El Jefe comes with a smoked quail, ⅓ pound of brisket, spare ribs, pulled pork, pork belly burnt ends, sausage, your choice of a side and some house made pickles. It is a feast made for El Jefe himself, it has a bit of it all.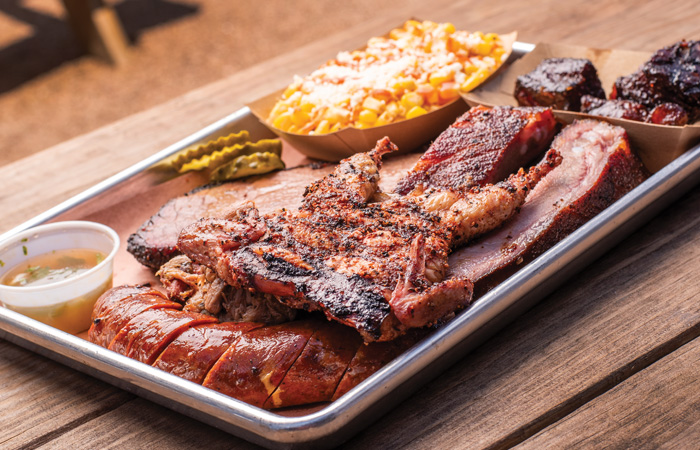 Let's start with the brisket. At Hurtado ⅓ of a pound of brisket was one titanic slice. It was moist, flavorful and had a great bark. It wasn't overly smoked or dry, which is always a risk when doing brisket. Hurtado's own spice blend (which he also sells) had just the right amount of pepper and spice to give the meat a pop without taking away from the natural flavor of the cut. 
The ribs were juicy, with a brushing of house sauce that has beautifully caramelized in the final hours of the smoke. The one thing I love about a rib is when they still have a little bit of texture. These were well done, but not 100% disintegrate in your mouth tender, in my opinion, the way a good rib should be. 
The pulled pork remained juicy and with a little sauce, was a great addition to the plate. Add some on a fresh house made flour tortilla and send it down with some green salsa or BBQ sauce. 
The final two components of the El Jefe need to be discussed in a bit more depth. I know as many of you read this you probably thought, interesting… smoked quail. And to be honest, the first time I went to Hurtado I was a little bit skeptical myself. Now, don't get me wrong, I enjoy game meats, but I wondered how Hurtado could keep such a small piece of meat moist and still get any smoke flavor on it. Well, they pull it off and the quail is a great addition to the platter. Not overly smoked, and not dried out. It's a fine change of texture and flavor to the richness of the rest of the meats. 
The last item on the El Jefe was the sausage. Now, when it comes to sausage, Brandon Hurtado has changed the game. He constantly tinkers with new sausage recipes and many of them are unlike anything you've tried in the past. For July, they churned out the Birria sausage. This one was packed with Oaxaca cheese and a guajillo chile base. The casing had a nice snap and the sausage was oozing with the cheese. It was rich, but boy oh boy was it good. In the past, Hurtado has also done a Frito pie sausage, a carne guisada sausage, a pork belly burnt end sausage, as well as the standard jalapeño cheddar. The point is, they are constantly changing the sausage to keep the customers coming back for more. It's not only genius, it's delicious. 
The second platter we were served came with Hurtado's smoked chicken and what I can only describe as a brontosaurus rib. The chicken was up there with the best I have ever had, with plenty of smoke flavor, great seasoning and stayed moist throughout the cooking process, which any pit master will tell you isn't an easy task when you're running a whole mess of birds at a time. 
It turns out the rib wasn't actually brontosaurus, it was a beef rib, but it was about as large as my forearm. As someone who has dabbled in backyard smoking a bit, I won't even entertain the idea of doing beef ribs, mainly because I hear that 90 percent of the time, they come out drier than the heart of a haystack. This bodacious bit of bovine was the best beef rib I have ever had. It fell off the bone and had wonderful flavor, all without being a stitch dry. The beef rib does come with one disclaimer: make sure you have plenty of napkins, and don't be ashamed of a possible bib. I felt like I needed a shower when I was done with it. While messy, the beef rib is something that is worthy of waiting in Hurtado's sometimes two block long line.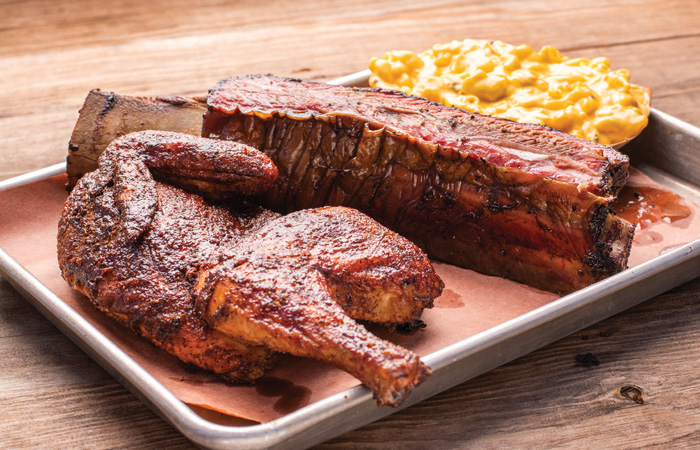 As far as sides, Hurtado has a twist on just about everything, and each is as good as the last. For me, when it comes to upper echelon 'cue, the sides can make or break the meal, but here, they are unique and really compliment the amazing meat they sit beside. 
The hatch chili mac 'n cheese could be a meal on its own. Creamy and decadent with the hint of acidity from the hatch chile's. The charro beans are well done with a little additional kick you expect from Mexican cuisine, and they make a great bed on a flour tortilla if you're choosing to construct your own taco. The baked potato salad has all the creaminess to help with some of the spice, if you need it. But the side that Hurtado is most known for is undoubtedly the smoked elotes. If you're familiar with Mexican street corn, then you know what these are. The corn is smoked, mixed with cream cheese, then drizzled with spicy hot sauce and cotija cheese. It's basically Mexican street corn in a cardboard boat. If you want to kick it up, you can get brisket elotes from the special's menu. 
Hurtado also has a selection of beers, including several local brews, or if you're looking for something lighter, they also carry White Claw. If a non-alcoholic beverage is what you're looking for, they serve bottled sodas, Topo Chico Lime, or standard bottled water. 
As with most craft barbecue joints, you better arrive early, as they only stay open until they are sold out. So, for the weekend crowd, you better be ready to get there at open and potentially wait in line, especially on a nice day. But if you're willing to wait out the line, prepare yourself for a spectacular barbecue meal. As with most craft barbecue joints, you get what you pay for, so don't expect to wander in and find prices similar to that of the local chain barbecue place, but when you taste the food, you will know where the extra money went. These are well done, well thought out, incredibly flavorful meats that are prepared with knowledge only a true pit master can provide. 
Having grown up in Arlington, I never thought I would be able to say that they have a top of the food chain barbecue restaurant, but I put Hurtado up there with any barbecue I have ever had. Next time you make your way to an afternoon Rangers or Cowboys game or maybe headed to Levitt Pavilion for a show, pop in for lunch or dinner (if they're not sold out). I promise you won't regret you did.