Cover Story – The Pride of Panther City

On a soggy afternoon at Mira Vista Country Club in Fort Worth, Angela Stanford gets ready for another day of her golf career. After 20-years playing as a professional, she still loves it just as much as she did her first day on tour.  
Stanford was always an athlete growing up. Volleyball and basketball were a couple of her favorites, but when her father started getting her into the game of golf, the competitive fire began to burn. Now, she will admit that her father, Steve,  was of the thinking that one of the best ways for her to get a scholarship was on the golf course… and it also gave him a reason to play, as his wife, and Angela's mother Nan was more likely to let him tee it up if Angela was in tow. 
After a successful junior career that rendered four Fort Worth Girls Championships, the 1996 4A Texas State title and the 1996 PING Texas State Junior Championship, Stanford was ready to dip her toes into the collegiate game. As we spoke on the driving range at Mira Vista, she said that she knew her game needed work, but definitely felt like she could compete at the next level.  TCU women's golf coach Angie Ravaioli-Larkin knew Stanford had the game and over the next four years, she, along with Amy Fox, who was, and still is the instructor at Tierra Verde in Arlington, turned the Boswell grad into a well-rounded stick. 
During her time in purple, Stanford won nine individual tournaments, was a four-time all WAC selection and was a four-time All American. Needless to say, the confidence was high as she prepared to move on to the next step.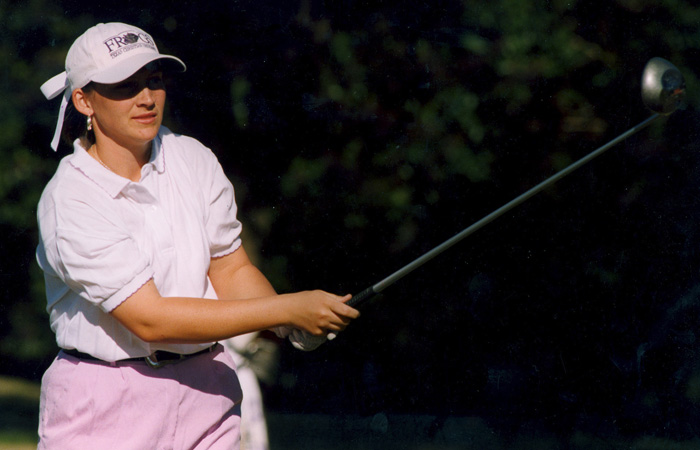 Photo Courtesy of TCU Athletics
Following the 2000 United States Amateur, Stanford turned pro and expectations were high after a college career loaded with wins and accolades. 
After three years grinding as a pro, the first win came at the 2003 ShopRite LPGA Classic. Just a week later at the U.S. Women's Open, the then 25-year-old found herself on the verge of a lifelong goal, winning her first major. At Oregon's Pumpkin Ridge, a three-way Monday playoff between Stanford, Kelly Robbins, and Hilary Lunke would decide the winner. 
Stanford played the inward nine in a gutsy 3-under par, but a front side 39 had sealed her fate, as she came up one shot short of Lunke, who turned in a one-under score of 70 to capture her only major. 
At the time, most felt this was the beginning of a special career for the TCU grad. But the wins were few and far between for the next several years, as even Stanford admits that 2004 and 2005 were two of the worst years of her career. 
Fast forward to 2008, where Stanford collected her next win at the Bell Micro LPGA Classic, and another win came just a couple months later at the Lorena Ochoa Invitational. But the major championship thoughts still loomed in the back of her mind. The major that even she wasn't sure would ever come. The pressure was mounting, and the thought of major championships were never more than a few seconds away. Even the greatest players hear the whispers and Stanford was no different. She had always felt like she would get another chance at redemption from the 2003 U.S. Open, and who could blame her for thinking that way? Most top-tier players find themselves with another chance to capture that elusive major. 
But even as time ticked away and a couple more wins rolled in, the monkey on her back, now binge feasting on her negative thoughts, was always there. Golf had become more of a chore than a joy, the pressure was mounting, and Stanford was at a turning point.  
Everyone reaches the day where they need to take a look at themselves in the mirror and ask if they still legitimately want to keep doing what they're doing. For Angela Stanford, the realization that the pressure of winning a major may be preventing her from doing just that was a tough pill to swallow. 
But she battled and took it upon herself to renew her vows to the great game she married herself to almost two decades earlier. No longer would she let the pressure tarnish the experience. No longer would she define her career by major titles. 
Over 18 years as a pro, Stanford had amassed five wins, and six appearances on the Solheim Cup team, but there was still no major. 
Then, in September 2018, at the Evian Championship, Stanford found herself back in contention for a big one. She had always felt like if she ever put herself in the mix again, she would have no choice but to take advantage. In the second round, she fired a blistering 64 to shoot up the leaderboard. In the third round, a 68 followed, putting her five shots off of Amy Olson's 54-hole lead of 14-under-par. 
In the final round, Stanford came to play. Early birdies at No. 2 and No. 4 pulled her right into the mix at 11-under. A bogey at eight and another birdie at 10 meant Stanford was two shots back with eight holes to go. 
The real watershed moment for the tournament came at the par-5 15th. Once nicknamed the "Saginaw Sling" due to her low hook, Stanford went back to that shot on the second into the 15th, roping a low draw that scooted up onto the green to about seven feet. The eagle putt would fall and Stanford could see the title within view. However, a disastrous double-bogey on the ensuing par-3 made it seem as if the veteran would fall short again. Showing resolve, a birdie came at the par-4 17th, and a par at the last had her in the clubhouse at 12-under. 
Olson came to the 18th tee needing par to win, but after a three-putt double, Stanford had finally realized the dream. A major title at the Evian Championship.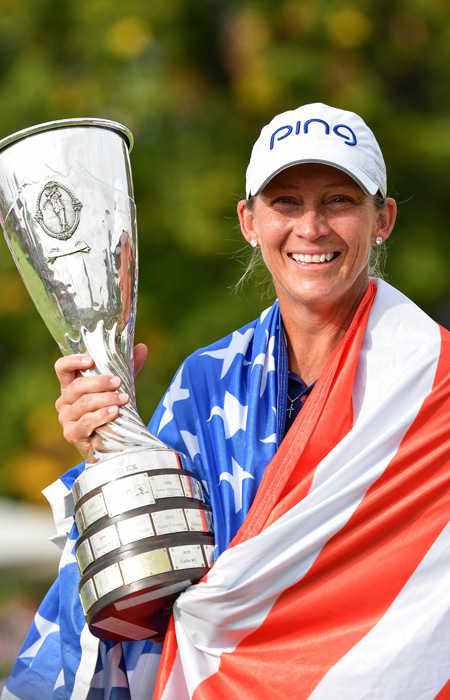 Photo Courtesy of the LPGA and Getty Images
Career aside, Stanford has also started the Angela Stanford Foundation. Her mother, who has battled cancer since 2009, was a major inspiration for the foundation, which helps children who have, or have been directly impacted by the disease to continue their academic careers at the university level. 
Multiple wins, Solheim Cups and a major championship. Stanford, who will turn 43 in November has put in 20-years. She still has that great personality, the electric smile and somewhere along the way, she finally understood that loving yourself and the process was more important than how others define you. And that's something that we could all learn from. 
Stanford sat down with AG last month to discuss her career, her foundation… and… Tom Brady? 
AVIDGOLFER: For our readers that may not be familiar with your background, tell us a little bit about how you got started playing golf and at what age did you realize maybe I can make a living doing this?
ANGELA STANFORD: I started playing when I was 10. My dad taught me the game. He found out that there were scholarships for women's golf being left on the table. I think he also wanted to get out and play himself and he knew my mom would let him if he took me along. I played softball, basketball and volleyball and I thought that golf would be my best chance at a scholarship. 
AG: You won the Fort Worth Girls Championship four times. What do you remember about those experiences?
AS: I think the blessing has been that I just love to compete. At the time, I just wanted to play golf and go win. The older I get, the more I realize it was a big deal. It's a big deal to play for your city, state or national championship. But at the time, I was just a kid and just wanted to play and I wanted to win. 
AG: You attended TCU. Was that always where you had planned on going? Or were there other schools in the running?
AS: Well, I wasn't highly recruited. Coach Angie (Ravaioli-Larkin) took a chance on me. I wasn't bad at the time, but I definitely needed to get better. TCU and coach Angie, along with Amy Fox, who is out at Tierra Verde, those two ladies, in four years, turned me into a player that could compete on tour. I just wanted a chance and at the time TCU had just seven girls on the team, whereas another one of the larger schools that I visited had like 14 or 15 girls on the team. So, I decided my best chance to travel and play would be to beat just two girls instead of all those other girls, so TCU was definitely the best option at the time.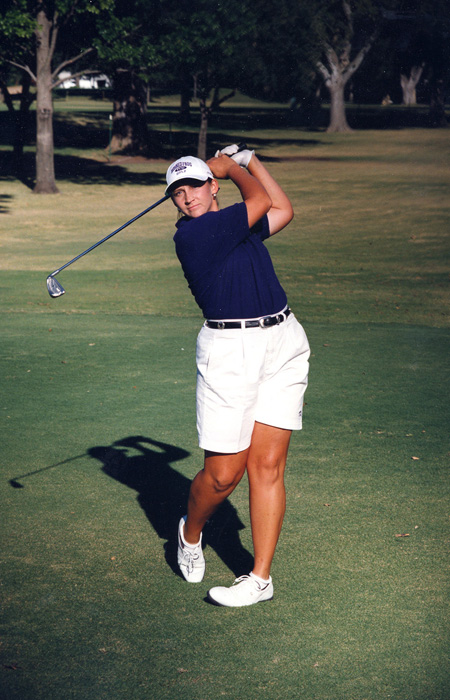 Photo Courtesy of TCU Athletics
AG: After turning pro, was there anything that surprised you about making the transition to the professional game?
AS: Golf wise, no. Once you tee off in a tournament, it's the same. The difference is, on the LPGA Tour is you're competing against the best in the world, so I found out real quick I needed to get better. But you're still competing and you're playing the same game, so I think it was a lot of the other things. Learning to travel from week to week, and to be honest the hardest thing for me was adjusting to having a caddy. That relationship was hard because from the age of 10 to 22, you're taught that nobody can help you. As soon as you turn pro, there is somebody out there with you. I think that was hard for me because I had to figure out how to trust them and let them help me. 
AG: It took three years for you to earn your first LPGA tour win. What was it like to get that first win and realize that you can win on the big stage?
AS: The confidence didn't come right away. My first win was one of those weeks where everything came together. As you know, when you play golf and you get hot, you're in the zone. It seems like whatever you do you can't mess it up. I was fortunate in 2003 that things were cruising. But it can go fast. If you look at 2004 and 2005, those were my worst years. 
AG: You were just named an assistant captain for the 2021 Solheim Cup team and you've played on six cup teams in your career. How pumped were you when Pat Hurst called and asked you to be an assistant?
AS: I was so excited. To be an assistant is a big deal, but to be asked by Pat, who is someone I look up to so much and have a tremendous amount of respect for was incredible. I am so excited I get to help her in this process and on this journey to 2021. It was an honor and I am super pumped to help team USA. 
AG: Of course, you are still hoping to qualify as a player too, right?
AS: I love the Solheim Cup, I loved playing in all six of them and of course I would love to play again. Just being a part of that group of people and being a part of that week is a big deal. I love it, and I say Solheim Cup week is my favorite week when it comes up every two years. 
AG: We have to talk about your major championship win at the Evian. I'm sure there came a time where it seemed like that day may never come. What were the emotions like when you finally reached that mountaintop?
AS: Going back to 2003 and being runner-up in the U.S. Open, you think I'm 25-years-old, I will get another chance. No problem. But trying to win at the highest level and then trying to win a major is incredibly tough and I did get to a point where I had to be okay with never winning a major. I have always wanted to win a U.S. Open, because it's such a big deal, and as an American when I would show up that week and it was taking the joy out of the experience. I was so focused on winning, but I was bitter toward all of it. Finally, I had to tell myself you cannot lose the joy in this. Once I did that, I started appreciating the opportunity to compete in majors and some of that pressure went away. When I showed up at the Evian in 2018, I felt great and it all came together. I finally put myself back in a position to win, and I did. And it felt as great as you would imagine, but I think I enjoyed it more because it did take longer to win it.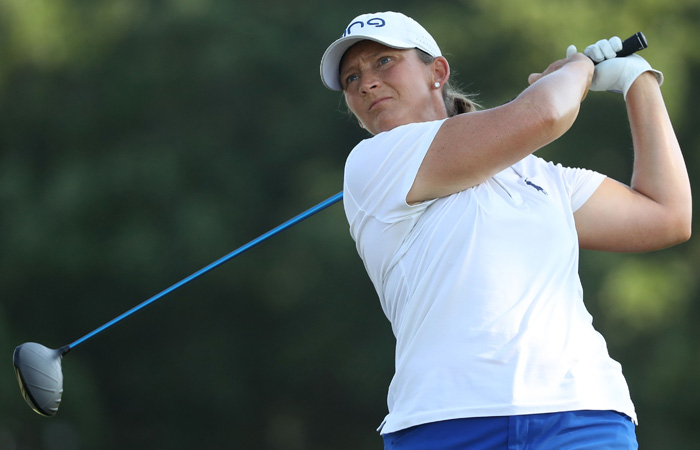 Photo Courtesy of the LPGA and Getty Images
AG: Now that you've been out on tour for a while, we are starting to see some of the younger players on tour mention you as one of their heroes or inspirations to chase their LPGA dreams. Are you flattered, surprised, or is it a little of both?
AS: I think it's one of the highest compliments you can get. I have always said that if I could influence one person to play the game, then that's a big deal, so when anyone says I'm the reason they wanted to play the game, then that's a huge compliment. Growing our game is super important. I love the kids, and I will do anything I can to help them because I wanted someone to help me. 
AG: What advice would you give to a young lady that is just beginning to realize they have a passion for the sport?
AS: Well, technically I should tell people to work on their short game. Because that's something I never did. My ball-striking always carried me. I think you also have to have a passion for the game, and you have to have a passion for getting better at the game. People always ask me when I will know that it's time to quit and I tell them that one day when I wake up and don't want to go get better, then that's when I'll know. I hope the younger kids are working at it and they love that part of it.     
AG: This has been a truly bizarre year not only for not only golf but for the sports world as whole. What have you been doing to stay busy during the pandemic?
AS: It's a lot like an extended offseason. I haven't taken more than two weeks off. Right at the beginning I took a couple weeks off and I was kind of going crazy. I set up a hitting bay at my house to hit balls, but we've been fortunate here in Texas that the courses remained open. I also have my weekend game with some members of Shady Oaks with and some of the other LPGA players in town and that's been helpful. To be honest it's been a nice balance between getting some rest, getting some practice in and playing some competitive golf on the weekend.  
AG: I know the Angela Stanford Foundation is something near and dear to you. Tell us more about what the foundation means to you?
AS: The Angela Stanford Foundation started in 2009. We give scholarships to kids with cancer or family members with cancer. My mother was diagnosed with breast cancer in 2009, and had she been diagnosed when I was a senior in high school, I may not have been able to go to college right away. Financially that might not have been possible. We're trying to help those kids that cancer has impacted their lives. We want them to continue their educations and want them to live their dreams even though cancer has affected them. We have an event every year, a golf tournament and concert and we give $10,000 over four years. We have an application process. My dream is to fully fund a scholarship one day, but right now we're just trying to help kids that have been impacted by this terrible disease.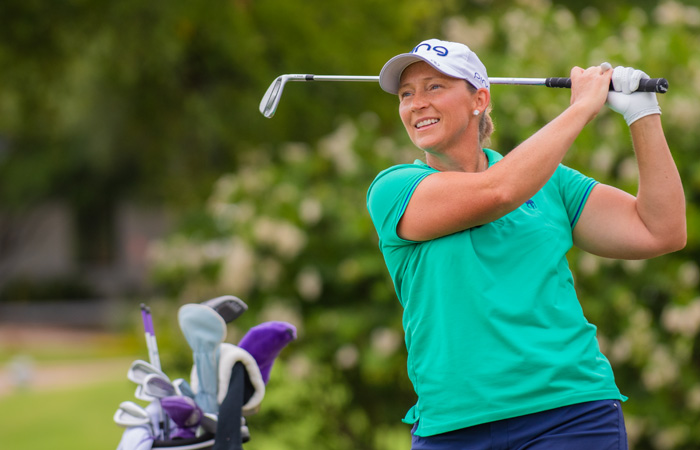 Photo by Jason Wesch
AG: Do you have any superstitions on the course?
AS: Oh yes. I always have four white TCU tees in my right pocket along with my 1958 quarter, and I never have anything in my left pocket. 
AG: Why a 1958 quarter? 
AS: Because 58 would be a nice number to shoot. 
AG: Number of aces?
AS: 10. The last one was in a pro-am in Kingsville, VA a couple years ago. 
AG: Any double eagles?
AS: One in an LPGA event at Half Moon Bay. 
AG: Favorite course you've has the opportunity to play?
AS: Cypress Point
AG: Favorite golf movie?
AS: Tin Cup
AG: What is currently on your playlist? 
AS: It's mostly country, and right now I have really been diggin' Lee Brice. 
AG: Most star-struck you have ever been?
AS: I have yet to see Tom Brady, which would be the ultimate, but at the Diamond Resort event back in January I was headed to a player meeting and as I was walking outside I saw Justin Verlander. I literally just stopped in my tracks and thought wow. Not only is he amazing on the field, but he's pretty easy on the eyes. 
AG: Of course, we have to ask the age-old golf question. If you could choose your dream foursome, who would it be? You and three other players.
AS: Ben Hogan, Michael Jordan and Tom Brady. 
AG would like to thank Mira Vista Country Club for allowing us to take photos at their club.