Drive Time – 2020 Aston Martin Vantage Coupe

­­­­­­­­As a car reviewer, sometimes you cannot wait for the opportunity to taste-test a truly exceptional vehicle. Such is the case when I had the chance to slide into the 2020 Aston Martin Vantage Coupe.  
This is a supercar in every sense. It's drop-dead gorgeous with a euphoric combo of incredible power, performance and exquisite throaty exhaust to make you swoon. You'll recollect what your younger self always dreamt when making vroom sounds with model cars you fantasised owning – if you had the means to do so. Men really are just young lads with more expensive toys. 
Aston Martin is truly the choice for all James Bonds. They produce only mouthwatering sports cars. And the British company does it well. Very well.
In fact, I contemplated running off with the tester in hopes of entering the witness protection program or leading a police chase until the tank went dry. And the seductive form is so sinful, so sexy, that while giving it a wash, I felt like I was having an affair.
The Vantage Coupe is the "entry" version of the Aston Martin line (base only $152,000) but hardly a stripped-down vanilla ride. And since it's from the UK, expect some delightful British quirkiness as well. 
You want to feel like a celebrity? Drive an Aston Martin, gun the exhaust and raise the hairs on your neck to complete the supercar persona. Trust me, allow for extra time when running errands. Big thanks to Park Place Aston Martin in Dallas for the experience. 
SKIN
As stated, the Aston Martin Vantage is a euphoric vision of sexy silhouette sleekness. The tester is adorned with a gorgeous cast of Solaris Orange paint with gold flakes ($10,000 option) that's anything but basic as the reflections glimmer and shimmer depending on the light. The slippery body is stunning from any angle with aerodynamic scoops and vents that actually work to move air in beneficial patterns rather than merely pretend. 
A large grille improves the air efficiency to cool the massive engine and side vents help keep the immense brake rotors from fading. The unique head and taillights artfully mimic the Aston Martin motif. The low-slung roof possesses more wind resistance details and the flank lines artfully disappear into rear bulging panels. 
Meaty staggered performance rubber (P255/40R20 front, rear: P295/35R20 around beautiful 20" Forged Textured Black rims add to the visual allure. I and many others were quickly smitten with the sinful lines. It's one of the few cars that's nearly identical to the concept design. Bravo!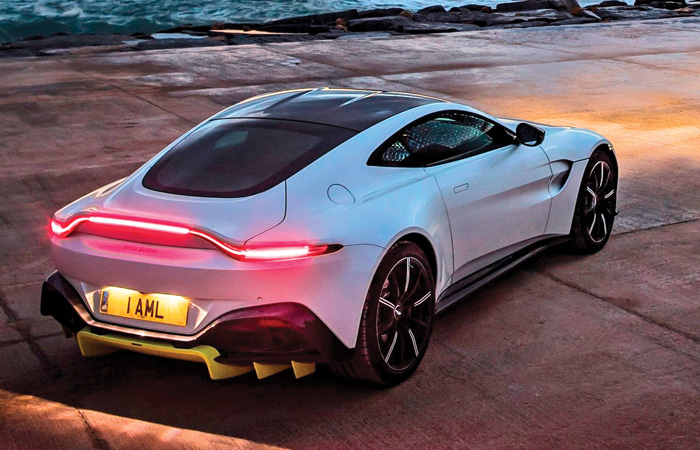 PERFORMANCE
Yes, the exterior is spectacular, but Aston Martin Vantage is all about driving and handling. Quickly. A fire-breathing twin turbo 4.0 liter Twin Turbo V-8 (borrowed from the Mercedes AMG GTS) pumps out 503 horsepower/505 lb. ft. torque whooshing you from 0-60 in 3.6 heart stopping seconds. Engineers shaved enough poundage to deliver an overall feather-light weight of only 3,600 lbs. while still providing excellent frame rigidity. 
The acceleration is like a sledgehammer but not in neck-snapping fashion. You do have to pay attention as the top speed can rise quickly and the rear-wheel drive handling takes a deft touch – especially in Track Mode. There is no noticeable turbo lag when gunning it from low-revs, but the boost is instantaneous at any RPM. The impressive 8-speed transmission is located in the rear to enhance perfect weight distribution. 
As befitting any true sports car, the "normal" mode begins in Sport which is quite comfortable during errands. Sport+ and Track modes tighten the suspension significantly – in Track you will feel every road contour and imperfection and best left to perfectly smooth roads or a speedway as the Vantage's power is sudden and shockingly impressive. Huge brake rotors and calipers slow and stop this rocket in fine fashion. 
Of course, there's that delicious exhaust note – a sound so intoxicating you'll choose it as your personal driving soundtrack rather than settle for mere music. It delivers exquisite roars, pops and barks that appeals to all senses. A manly thunderclap so grin-inducing, it should be the standard audio for any high-performance ride. 
You can opt for the all-wheel drive AMR version for roughly $30,000 extra. 
Surprisingly, gas mileage is very good at 24 mph on the highway. Not that your normal Vantage owner cares as they typically only add 5,000 or so miles a year. This isn't your cross-country cruiser but a projectile to be appreciated in short euphoric springs. It's interesting that the directions for correct octane on the gas cap is only in English, Arabic and Chinese – coincidentally Aston Martin's three largest markets. 
Bottom line is the Vantage is primarily a true race car that can be driven on the streets – but with its near limitless eager capabilities, it feels at times like you're unfairly hitching Secretariat to a buggy during daily commutes.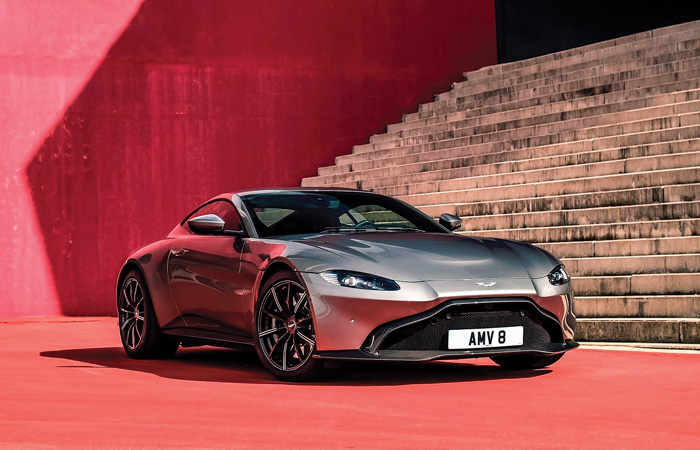 CABIN 
There's no mistaking this rocket for anything but a sports car. No one does leather like the Brits and you can choose from an additional array of exclusively tailored motifs to satisfy any whim. 
Carbon-fiber and Alcantara suede adorn the cabin. Supportive power heated and cooled sport racing seats delight the senses – seemingly like a gel that forms around your frame and the adjustment buttons are on the side of the middle console. The racing-shaped flat-bottom steering wheel feels perfect and typical infotainment controls are easily accessed. Two huge brushed metal paddle shifters are easily reached no matter how much you steer. Leg room length is ample and there are thoughtful knee pads to rest on for the driver and passenger. Even the low roofline allows a six-foot driver to wear a racing helmet comfortably. 
The attractive TFT LCD instrument cluster is clear, beautiful and programmable that changes colors depending on driving mode. A seven-inch infotainment screen is again borrowed from Mercedes-Benz (Daimler owns 5% of Aston Martin) and is fairly intuitive with easy to access climate controls. You select gears by merely pressing buttons on the console. An optional upgraded Aston Martin audio system is clear even with the windows open and the exhaust at full roar.  
The Vantage does have okay storage in the cabin (no glovebox) with a handy back shelf to house easy to access items. The trunk is decent as well, but you'll need to remove the driver in order to fit a golf bag. A thoughtful tire repair kit is included when needed.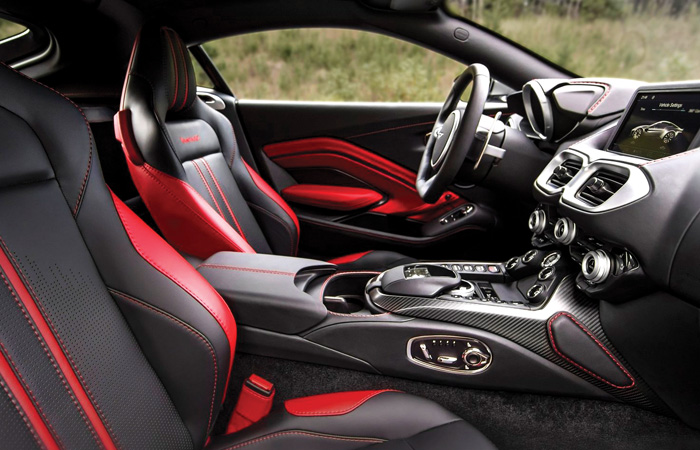 TECH CHECK
Most of the tech is borrowed from Mercedes-Benz. The 8" infotainment screen utilizes the same fonts and maneuverability. The camera is superb with several views to choose.  However, Apple CarPlay and Android Auto are curiously not available. There is a three-year, unlimited mileage warranty that'll rarely be required due to the typical owner aforementioned low annual miles. Best leave some to spend some hellacious time at the track.  
The 2020 Aston Martin Vantage Coupe is the epitome of supercar status. It's downright gorgeous, ridiculously quick, handles like a slot car with a sound that quickens your pulse like few in its price range can. Meaning, the Vantage is a must-drive for any true sports car aficionado with the appropriate wallet.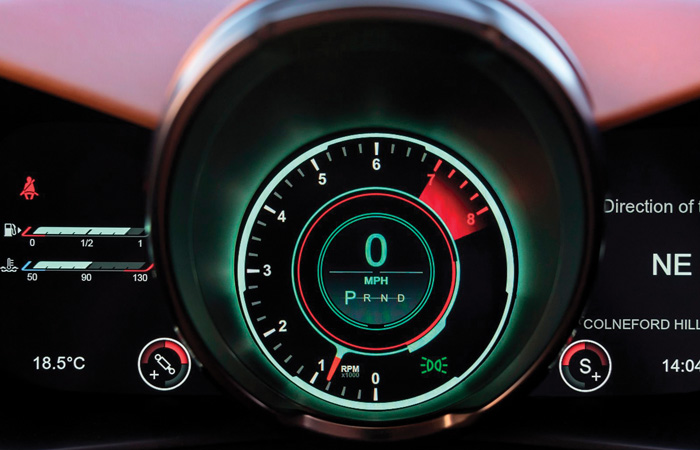 SCORECARD
Golf Bags: One, with the driver removed 
Curbside Appeal: Valets will fight over the gorgeous exterior and exhaust note 
0-60: 3.6 seconds! 
MPG: 18/24 Observed 19 mpg overall in spirited driving
Must Haves: Everything – why scrimp?
Warranty: 3 years/unlimited miles
Base Price: $152,995
Price as Tested: $201,964
Who Buys It? Those with the means who love driving with a grin
Finish Line: A superb supercar that checks all the boxes
Gleefully test-drive the 2020 Aston Martin Vantage Coupe at Park Place Aston Martin Dallas on Lemmon Ave.