After the Round – JOA Korean BBQ

Over in Big D, there is a new unique restaurant that needs to be onv your radar ASAP. Korean BBQ is a specialized concept, brimming with flavor-packewwd cuts of meat served in a fashion American diners may not be accustomed to. JOA Korean BBQ is a rebranding of the Nuri Grill, which was in the same spot under the same ownership. The vibe is great as soon as you step in the front door, with great lighting, some tunes on the speakers, and a fun energy that radiates as you sit down for your meal. If you aren't familiar with a Korean BBQ concept, the tables come complete with a small grill as the centerpiece where you prepare any of their delicious meats. One of JOA's friendly and knowledgeable servers will explain all the cuts and how you should prepare them. Once you get the hang of it, you can certainly handle the preparation yourself, or your server can come by every few minutes and help. It's a super fun way to dine, and perfect for a unique date night or celebration. 
One of the first things you will be presented with at JOA is a smorgasbord of accoutrement that compliments your upcoming meal. There is a refreshing and tangy cucumber soup, as well as a few small sides, including pickled vegetables, kimchi and salad. You also get a couple of dipping sauces that you can use throughout your meal. The pickled veggies are light and packed with interesting flavor components, and the kimchi is also world-class. Many Korean BBQ places load down your table with these as an afterthought, but not at JOA. You can really taste the effort put into every one of these little sides.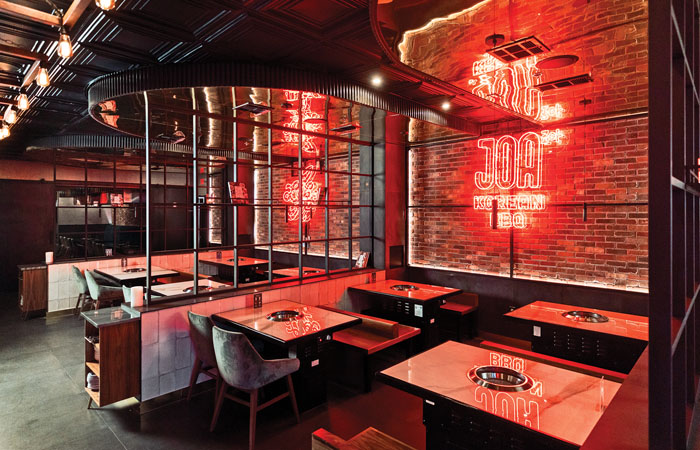 If you are in the mood for a pre-meal drink, then JOA has some very unique and tasty selections. Sake is always a popular choice while enjoying Asian food, and JOA has several, from the Soto Junmai Daiginjo, to the more exotic Otokoyama Kita No Inaho Daiginjo. There are several bottled beers, as well, from your standard Miller Lite or Shiner Bock, to the Asahi, Sapporo or the Terra, which is a Korean Pilsner. If you are in the mood for a cocktail, then the Ultimate Pink Martini is a solid choice, made with vodka, cranberry, peach schnapps and lime. It is a great refreshing cocktail to beat the summer heat. There is also a Texas Old Fashioned, or the Yuzu Mojito, which is a delightful combination of Yuzuri Liqueur, lime, mint, soda and a splash of Sprite for a little extra sweetness. 
There are plenty of starters that will not only dazzle your taste buds, but also get you on board with the flavor profiles of this delicious Asian fare. If you are a shellfish fan, then there are a few options to share among the table. The crab fritters are well prepared and packed with fresh lump crab. They are deep fried without being greasy, and everyone at the table will enjoy them. My personal favorite was the shrimp pancakes, which are light, fluffy and come served with a delicious dipping sauce. If you aren't a fan of seafood or maybe have an allergy, the Yuk Hoe marinated beef tartare is a hit, as it comes seasoned with garlic and soy. The Fried Galbi (sliced short rib) is also an option; it's served with a sticky caramelized sauce and can be dipped in some of those sauces.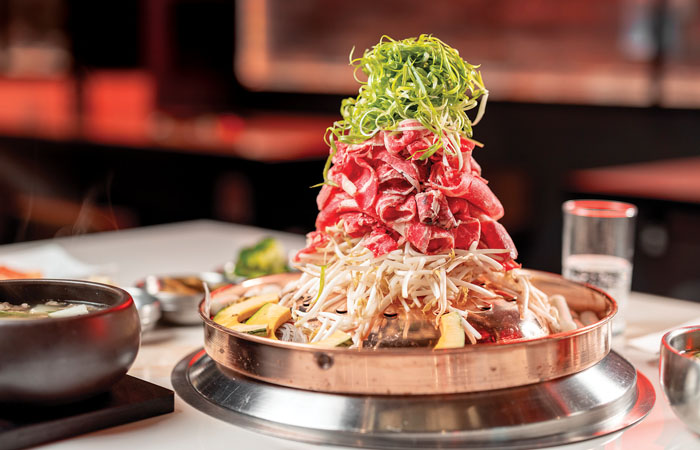 Main courses at JOA are protein-packed and stupendous. Beef options include the Flower Galbisal, which is a prime boneless short rib, the Marinated Galbi, which is the marinated Black Angus bone-in short rib, a ribeye, and even a hangar steak or porterhouse. One of the house favorites is the marinated Galbi, which is super tender from the secret marinade, which to my chagrin, the server would not divulge. Let's just say I detected plenty of traditional Asian flavor, and I will work on trying to dissect it at home so I can attempt to recreate it in the future. 
Pork is also on the menu, and all three selections are Duroc pork, which is known for its juicy, mild flavor. This breed of pork works well for Asian cuisine, as the delicate pork flavors really complement traditional Far-East flavors. A pork belly, pork collar and pork jowl are available, and each one is worth the price of admission. The belly, in particular, is wonderfully moist and has just the right amount of melt-in-your-mouth fattiness. 
A shrimp and a rack of lamb are also available if you are looking for something a little different from your traditional beef or pork options. Every individual meat option comes with rice, salad, and some piping hot soybean soup.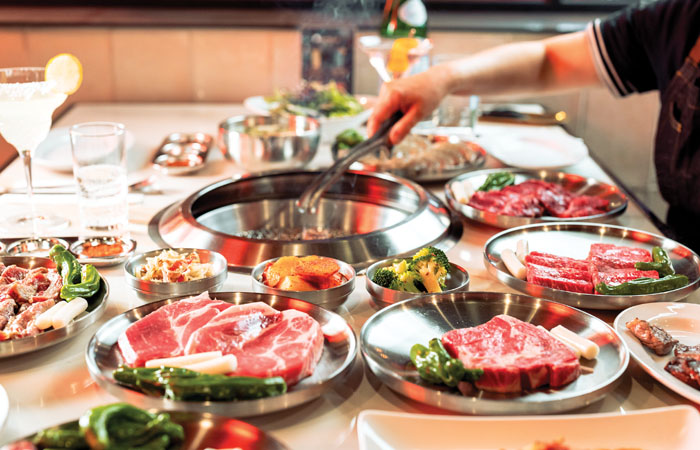 There are some a la carte options that can be ordered for the table to accompany your meats. An egg-fried rice is a nice option, or the incredible Steak Noodles, which are stir-fried with beef and black bean paste. If you have seen the movie Parasite, which captured Best Picture and Best Director honors at the 2020 Academy Awards, this is a play on a dish from that picture. It has quickly become a hit among those dining at JOA, and I will most certainly be back to have it again. 
If you have a big appetite or a group heading to JOA, then the all-encompassing Taste of JOA or the massive Taste of Texan might be the way to go. When you see these options on the menu, there may be a touch of sticker shock, as the Taste of JOA goes for right at $100, and the Taste of Texan at $179. But once you see the amount of food you receive, you will understand it is well worth the price. Not only do you get all of the aforementioned sides, sauces and accoutrement, but your group also gets a massive sampling of multiple meats with each order. The Taste of JOA is meant for two, but I can attest it could easily feed two with leftovers and maybe even three or four if you aren't looking to get too filled up before you head out on the town for the night. On the menu, it says the Texan can feed four, and I am guessing you won't walk away hungry even if you had six. Either selection gives you a great idea of all the cuts JOA features and is well worth the money. The Taste of JOA has prime short rib, hangar steak, marinated bone-in short rib, ribeye and shrimp. The Taste of Texan has all the above, as well as some of that Duroc Pork Belly. 
At the end of the meal, we were presented with a little scoop of chocolate ice cream. It was a perfect way to wrap up a fabulous dining experience at JOA. Overall, the food at JOA is fun to prepare and delicious. It's a concept unlike many you may have seen, and the whole menu is not only fun to prepare, but packed with flavor. The décor and atmosphere has an upscale look, with a casual, fun ambiance. From the music to the lighting and décor, it's a unique concept that is perfect for a first date or anniversary meal. 
JOA Korean BBQ 
2254 Royal Lane
Dallas, TX 75229
972-241-3900
www.joakbbq.com