Drive Time – 2023 Mercedes-Benz S580 4MATIC

So, let's say you're a persnickety car-lover who isn't easily impressed. You've experienced everything, and the new technological pizzazz and whiz-bangs hardly raise an eyebrow. 
Okay, fine. Yet I strongly challenge you to drive the exquisitely powerful and extravagant 2023 Mercedes-Benz S580 sedan before sighing "Meh." It's a car so loaded with wow looks, comfort, performance, techie toys and state-of-the-art safety features, that you'd be wise to dial 911 if not quickly smitten. Because it means you literally have no pulse.
The S580 raises the luxury bar to a very, very high rung. Mercedes-Benz designers aptly state the ride as "Something you don't really need, but you really want." This is the euphoric result when a company's directive orders engineers and designers to build the best luxury ride possible at any cost. 
I predict you'll echo the want sentiment after one look and drive with so much incredible opulence, engineering and technology at your fingertips. 
SKIN
The S580's rakish silhouette creates a long, streamlined and powerful presence. Its understated elegant Mercedes-Benz design and new LED headlamps highlight the robust front end. I do love the Mercedes three-pointed star logo atop the hood's front to better gauge length distance. The flush door handles present themselves when recognizing the key fob nearby. 
A gently sloping roofline swoops gracefully toward an attractive rear with dual chrome rectangular exhausts. Low noise performance rubber encircles lovely 20" AMG Multispoke rims. 
Our tester is adorned in lovely shimmering Nautical Blue paint (that appears nearly black at night), adding to the allure. The entire package brings a stately gorgeous presence to any driveway and country club parking lot.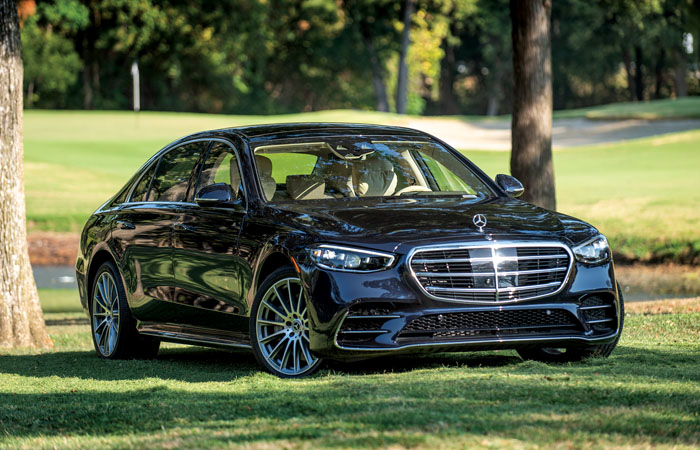 PERFORMANCE
The S580 houses a powerful twin-turbocharged V8 with 496hp/516 lb.ft. torque and an EQ boost 48-volt mild hybrid that scoots this 5,000-pound ride in 0-60 in 3.9 seconds! Its sublime Adaptive Air Suspension aptly swallows up even the harshest potholes. An optional E-Active Body Control has a "curve" function that subtly leans the car into corners, and the 4MATIC constant all-wheel-drive confidently provides excellent traction. 
An all-wheel steering system can turn the rear tires 4.5 degrees to decrease the turning radius by 6.5 feet. Driving modes ECO, Comfort, Sport, Sport+ provide welcome options to satisfy your driving mood, as well as Individual settings to alter steering, throttle and damping levels. Auto front seat side bolsters hug you lovingly when leaning into turns. 
The mileage for this robust cruiser is a commendable 16/25, but I squeezed 32mpg during my testing.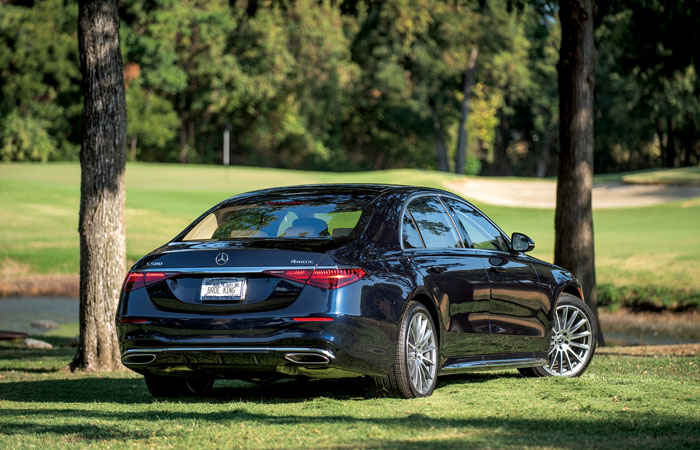 CABIN
The royal treatment continues once you enter the cocoon. You are surrounded by special Macchiato/Magma Grey Nappa Leather that's incredibly soft and luxurious. Fit and finish are incredible. The quilted heated and vented front seats feel perfect on your tush and back, with excellent adjustable lumbar support for comfy long drives. Automatic front seat side bolsters lovingly hug you when plowing into turns. There's even a heated center console armrest and heated door panels. Extraordinary Silver/Aluminum Fanned Walnut Open Pore Wood adorns the front dash, giving the cabin a luxury yacht-like presence. 
A swooping dash houses an eye-catching cluster gauge, along with a large navigation/infotainment screen. All controls are haptic (just touch), but I do wish there were some simple knobs for volume controls, radio stations, etc. 
Ten-mode massaging fast-heated seats are a dream along with the pillowed headrest covers, leading my passengers to coo in response. The Hot-Stone setting was perfect after a long day of golf. Double insulated Infrared-Reflecting glass isolates you from annoying outside noise and bright sunshine. The generous double panoramic roof illuminates the sumptuous cabin. A power rear-glass and rear passenger sunshades are a nice touch. 
Seat adjustments are conveniently placed in the doors. I'm a big fan of the gearshift on the right steering wheel stalk that frees up valuable room on the console. Lighted kick plates and illuminated extending door handles are a welcome touch. Visibility is decent for such a streamlined exterior. 
The heated leather steering wheel delivers the right amount of texture and girth. Plentiful air vents deliver subtle scent controllers to keep the cabin fresh. A plethora of Adjustable Ambient Lighting options are at your whim's changing mood. However, the trunk is a bit cozy in this class with 12.9 cu. ft. of storage.
Magic Vision Control uniquely cleans your windshield with water jets inside the wipers, sending out laser streams of fluid onto the glass without splashing the rest of the car (or those behind you). Genius.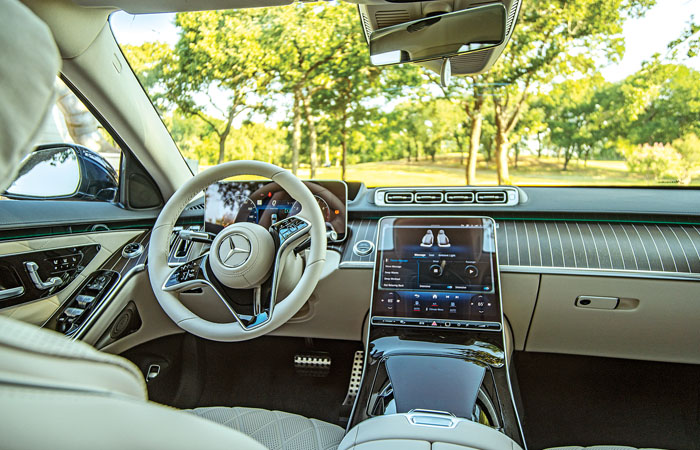 TECH TOYS
Oh my, the tech! There are so many whizbang futuristic toys for even the most ardent techno-geek to enjoy. This S580 had the 12.8 OLED tablet infotainment screen. The touchscreen tablet is clear with Apple CarPlay and Android Auto capabilities. Your personal concierge "Hey Mercedes" will grant your every wish. 
Enjoy a superb 710watt 15-speaker Burmester 3D Sound System's equalizer or opt for an incredible 1,750watt 30-speaker 4D package that will impress any finicky audiophile. 
The S580 delivers the latest reassuring safety features, including the handy Driver Assistance Plus and Parking Assistant packages. It will also gently remind you to stay in your lane and can detect driver eye movement to optimize safety and access certain functions. The only tech nitpick on this six-figure price tag is you're required to purchase a $3,000 3D technology package to get the helpful Head-Up-Display.
The 2023 Mercedes-Benz S580 sets the bar high for smooth power, sumptuous luxury, and futuristic technology. At a base price of $124,000, this impeccable cruiser will deliver its inhabitants in astounding creature comforts while effortlessly gliding over road imperfections. Give the S580 a long look and test drive if you want the best in upscale sedans.  
SCORECARD
Golf Bag Storage: Two
Curbside Appeal: Understated sublime class 
0-60: 3.9 sec. 
MPG: 16/25. Observed 32mpg hwy
Must-Haves: Everything
Warranty: Four years/50,000 miles
Base Price: $124,000
Price As Tested: $139,045
Who Buys It: Those desiring the best in upscale luxury travel
Finish Line: A very well-deserved S-Class designation
Test-drive the 2023 Mercedes-Benz S580 4MATIC at Mercedes-Benz of Plano.