After the Round – Quarter Acre Dallas

"Quarter Acre" is a saying familiar to New Zealanders. To paraphrase, it represents hard work, success, and eventually owning a home. Kiwis everywhere dream of that "quarter acre" with a comfortable home, a couple bedrooms and a little plot of land. Off Greenville Avenue in Dallas, Chef Toby Archibald has created his own little personal quarter acre, and we're all invited. 
Chef Archibald is a master of his craft. His many travels over his career have not only refined his techniques, but also impacted his overall conceptual creations, complex flavor profiles and plating techniques. Having worked in kitchens like The Greenhouse in London and Café Boulud in Toronto have helped develop this wunderkind into a culinary power player. Now, with Quarter Acre, Archibald brings his talents to Dallas for a one-of-a-kind dining experience.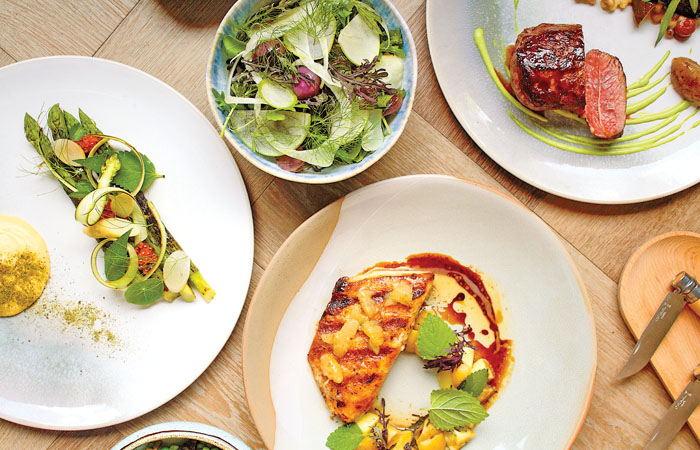 The décor at Quarter Acre is sublime. Cozy, comfortable, and with a perfect combination of elegance and casual appeal. When in the restaurant, my wife made the comment, "How can it be so dim and yet so bright?" The comment was puzzling at first, but after a few seconds, I actually understood what she meant. The lighting is perfect, with just enough ambiance to make you feel like you are on an intimate night out, but also well-lit enough to still be able to take in all the elements of each dish and see the others dining around you. The waitstaff at Quarter Acre is extremely knowledgeable about the entire menu and concepts. They are able to recommend any number of wines or cocktails to accompany various menu items, and they are also locked in on the menu, ingredients and the way they complement one another. Each staff member is welcoming and greet patrons with a smile and simple banter, as they not only serve you and your party but make recommendations about the dishes and what to expect as you dine. Their attention to detail is all part of the magical experience. 
The food at Quarter Acre is unlike anything you have likely seen. Conceptually complex, yet simple and delicious to the last fresh ingredient. To start your evening, a glass of wine or a cocktail might be the way to go. Quarter Acre has plenty of wines by the glass or bottle, coming from various regions and countries. The cocktail menu is also unique and delicious, with selections like the SPF 42, which is 42 Below vodka, which is a New Zealand spirit that is shaken with a Suze, which is an aromatic bitter aperitif derived from fresh gentian root. These two are then combined with Anise Hyssop to create a bright, refreshing cocktail with wonderful citrus notes and a clean finish. This cocktail is perfect for the hotter summer months. The Redheaded Stepson is another one of Quarter Acre's specialty cocktails, featuring Teeling Small Batch Irish Whiskey, cucumber and ginger. This cocktail is not only one of the most refreshing and flavorful I have ever tried, but also one of the most unique.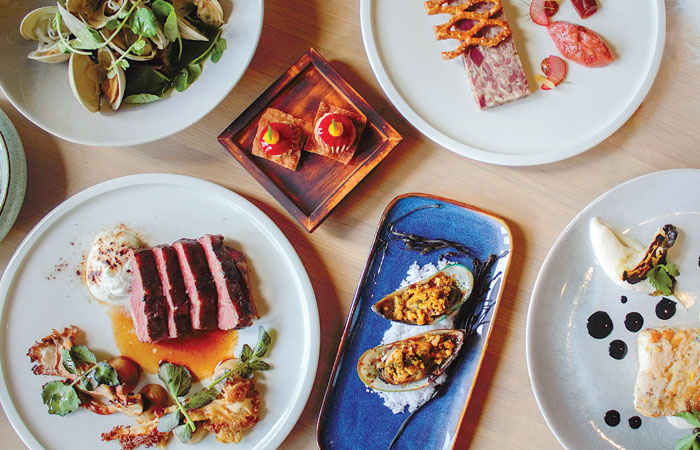 After an opening stanza with some wine or cocktails, those who dine at Quarter Acre will navigate one of the most well-thought-out menu concepts in Dallas. To start, Chef Archibald has some fresh grilled sourdough bread for the table. It comes with some soft butter and is a great way to start off the evening. Then comes the simple snack menu. These amuse-bouche bites are perfect to begin the meal, and can be ordered as singles or multiples to share for the table or as a lighter bite during happy hour. The crispy pork belly was a definite highlight, with a nice crunchy skin that adds some texture to the savory, fatty pork belly. This is accompanied by some whipped avocado and sour lime, which really adds a lovely silky texture and some acidic, bright bite. Half-shell oysters, watermelon bites, and mushroom croquettes are also on the snack menu, along with a seasonal bite that rotates depending on fresh available ingredients. 
The second-course appetizer menu features more substantial options that can be shared at the table. From the Kingfish ceviche to the smoked beef tartare, there are several options for you and your fellow foodies. My wife and I sampled the croute on paté, which was a bit of a step outside the box, as neither of us had ever tried paté. This duck liver delicacy is served with rhubarb and ginger and will dazzle your palate. The paté is smooth and delicate, with plenty of flavor. It comes with a dazzling pastry that can be used to accompany the spread along with some of the rhubarb, completing a great bite of food. I also recommend the clams, which are served with grilled bread, watercress, white wine and shallot. It is a simple, but delicious appetizer that will satisfy the whole table. 
There are only a handful of entrées at Quarter Acre, but each is well executed and delicious. Chef Archibald's attention to detail is second to none, as each dish is a conceptual masterpiece with plating that is pure artistry. Many world-renowned chefs feel we eat with our eyes before we ever begin consuming what's on the plate, and Archibald is obviously one who subscribes to that theory.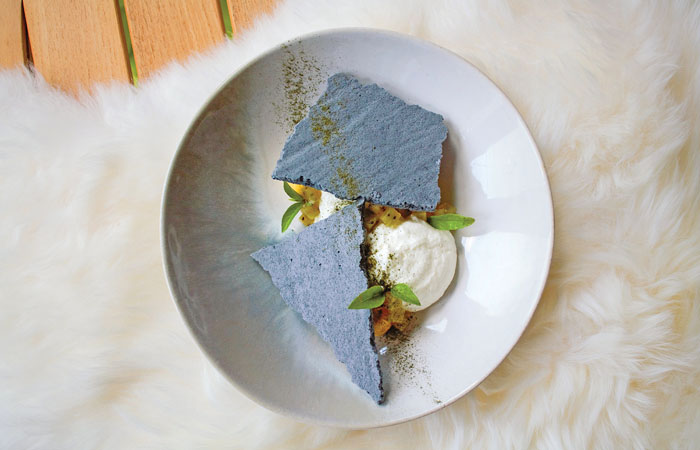 The grilled Amberjack is a great choice for those who don't want a heavier option, as the fish is perfectly presented with some salt and vinegar potatoes, brown butter vinaigrette and lemon balm. You won't believe how light and moist the fish is, and the accompanying potatoes really make this a wonderful selection from this creative menu. Another fish option is the hot-smoked Glory Bay Salmon. A lot of chefs cold smoke their salmon, but Archibald goes with a hot smoke method often used in his native New Zealand. The Glory Bay salmon comes from the cold waters off the coast of his native land, offering a higher fat content that leads to a succulent result and a piece of fish you won't soon forget. It comes complete with some sourdough croutons, a fresh salad composed of seaweed from Monterrey, California, and baby lettuce, along some preserved lemons. The whole dish looks like something you might find in the ocean, and it really sings as you enjoy. 
If you are interested in something with a rich quality, then the roasted lamb is a great selection. The lamb is perfectly presented with some charred cucumber, fregola, tamarind and some herb yogurt. The lamb speaks for itself, but the real underrated star of this show is the sausage patty that accompanies the dish. The fatty note really complements the lean lamb, and I couldn't help but think how incredible the sausage would be in a brunch dish of some kind. A beef short rib, ricotta gnudi, and even a vegetarian-friendly charred carrot entrée is also on the menu, if you are looking for something else to enjoy. 
Quarter Acre also offers certain special dishes depending on season and ingredient availability, and when we visited, that special was a dry-aged bone-in tomahawk steak. It came complete with dipping sauces and sides for the table. This particular special needed to be reserved in advance, so be sure to give them a call and see what they might have available in that department. The table next to ours ordered the tomahawk, and it looked tremendous as it passed by our table. 
I would be remiss if I didn't mention one more item we tried during our time at Quarter Acre, and that was the tremendous seasonal pea side dish. These charred snap peas are served with some sunflower seeds for some additional texture, and let me tell you, this may be the most intensely flavorful side item I have tried in my many restaurant adventures. Again, this is a seasonal item, so you might check to see if they are available before you head over and try to order them. 
No fine-dining experience is complete without something sweet, and Quarter Acre has you covered on that, too. We sampled the Banoffee Pie, which is a glorious combination of dulce de leche, brûléed bananas and some brown butter ice cream. It was a wonderful end to the meal. A matcha cheesecake, and Archibald's whimsical take on the Kiwi specialty Pavlova, are also offered as a way to satisfy your sweet tooth. 
From beginning to end, Quarter Acre is a wonderful culinary experience. The concept is unique for Dallas, with playful, artistic plating that might be slightly foreign to many who are used to the other fine-dining establishments in Dallas. The whole concept is unique and different, yet inviting and casual. Of course, snappy dress is welcome, but I was comfortable in some khaki pants and a golf polo. As mentioned, the staff was extremely knowledgeable about the menu and the conceptual nuances of the restaurant, but they also seemed to radiate a passion about being there, which undoubtedly trickles down from Chef Archibald. 
Quarter Acre is as unique as it is tasty, and it's a place that every foodie in DFW needs to experience.